Reading Time:
2
minutes
Buyer's Guide 2021 published week of August 31, 2020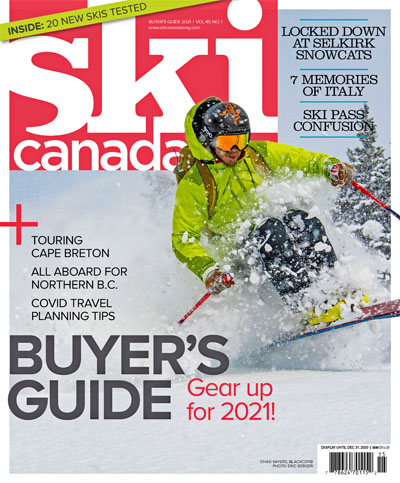 photo: ERIC BERGER * skier: Chad Sayers * snow: Blackcomb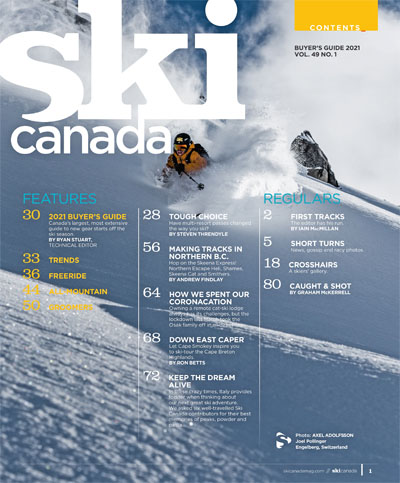 photo: AXEL ADOLFSSON * skier: Joel Pollinger * snow: Engelberg, Switzerland
Buyer's Guide 2021 issue
Vol 49 #1
FEATURES
2021 BUYER'S GUIDE
Canada's largest, most extensive guide to new gear starts off the ski season.
BY RYAN STUART, Technical Editor
TOUGH CHOICE
Have multi-resort passes changed the way you ski?
BY STEVEN THRENDYLE
MAKING TRACKS IN NORTHERN B.C.
Hop on the Skeena Express! Northern Escape Heli, Shames, Skeena Cat and Smithers.
BY ANDREW FINDLAY
HOW WE SPENT OUR CORONACATION
Owning a remote cat-ski lodge always has its challenges, but the lockdown last March took the
Osak family off in all directions. BY PAUL OSAK
DOWN EAST CAPER
Let Cape Smokey inspire you to ski-tour the Cape Breton Highlands.
BY RON BETTS
KEEP THE DREAM ALIVE
In these crazy times, Italy provides fodder when thinking about our next great ski adventure. We asked six well-travelled Ski Canada contributors for their best memories of peaks, powder and pasta.
REGULARS
FIRST TRACKS From One Season to Another
The editor has his run.
BY IAIN MacMILLAN
SHORT TURNS
CROSSHAIRS
A skiers' gallery.
CAUGHT & SHOT
BY Graham McKerrell