---
by Iain MacMillan in Buyer's Guide 2021
Even though I couldn't see the contents of my ski bag displayed on the airport X-ray machine monitor, I knew immediately why the suddenly not-bored security clerk at Pearson raised her eyebrows.
"It's just my ice axe," I answered her unasked question as indifferently as possible, "you know, for skiing."
A confused nod of agreement was her only response and off my bag went down the conveyor belt. One potential crisis averted.
March 2020 seems like a long time ago now, doesn't it? The Ski Canada Readers' Trip to Madonna di Campiglio, Italy, had 25 signed up, but only two, Marianne and Malcolm, presented themselves at the check-in counter on departure day, March 6. Hindsight is 20:20 of course, but even though northern Italy was getting hot, everything was long paid for and the trip was still on. And what seemed most important to me: Madonna hadn't had a single case of Covid-19. All hotels and lifts were open, we had hand sanitizer and some N95 masks "just in case"—plus, they'd had a 50-cm dump just a few days earlier.
Like everyone with big March and April ski plans, I'd been looking forward to this trip all year. My ice axe purchase was on the instructions from my friend Alessio from Passo Tonale near Madonna, where his family runs the lovely Hotel Dahù and with whom I was going to spend my second week in Italy. "I was afraid you weren't going to come," said Alessio on the phone after we'd arrived in Milan. "I like your adventurous spirit, Iain!"
Passo Tonale remains one of the Alps' few secret freerider destinations, and together with the long meandering groomers of the much gentler interconnected sister resort of Ponte di Legno, make a great destination for a mixed group. Add it to your Bucket List.
For our week that never happened, Alessio had planned some warm-up laps in couloirs that require getting roping into off Tonale's Paradiso gondola, then skinning up at night under the March 2020 Super Moon to bivouac high above the Val di Sol in the Adamello mountain range. The week's itinerary of researching and photographing this stellar alpine region near the Lombardia and Trentino regional border would finish grandly with a hut-to-hut, glacier ski-tour. We were to meet at Hotel Dahù on Friday the 13th.
But before all of this, Marianne, Malcolm and I were going to enjoy (my family might say "survive") our "group trip" to Madonna di Campiglio.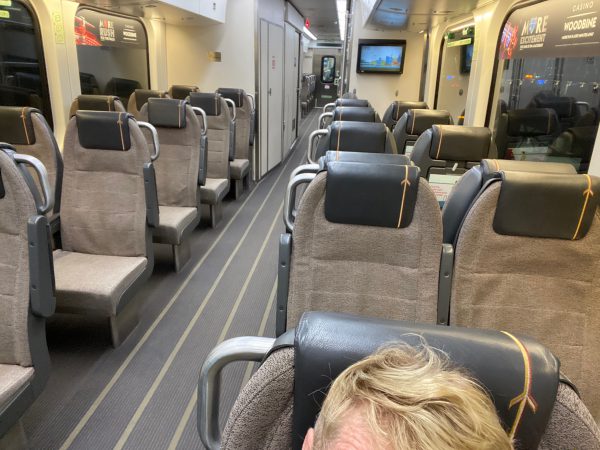 Despite our A320 carrying only five passengers into Milan Linate, British Airways still managed to lose all our luggage. Maybe it was the ice axe, but it arrived on the next flight—which turned out to be BA's last into Milan and one of its last into Italy. While we waited, we laughed about the name of the accommodation for last year's Readers' Trip to Cortina: Hotel Corona.
Soon enough, we were being warmly welcomed at the Hotel Crozzon in Madonna, shown the impressive spa and pool, and invited for cocktails and canapés the next evening after skiing. The food in the dining room was excellent and the guests scarce, making social distancing easier than home.
Our first and, as it turned out, our only day skiing was in glorious sunshine humbled by the enormous distracting views that are synonymous with the Dolomites. The only non-Italian spoken was coming from seemingly oblivious Brits.
We avoided the jammed sundecks and decided to splurge on lunch at Chalet Fiat. The online description, "spectacular, if you can ever get a seat," was almost humorous given we shared the floor-to-ceiling stunning alpine views from our linen and crystal table at 2,100m with only four others. Feeling like Nero playing the violin while Rome was burning, we clinked glasses and chatted with the friendly waitress, whose casual comments about being told to pack her own belongings in the staff apartments below suggested we too might be heading home earlier than we'd hoped.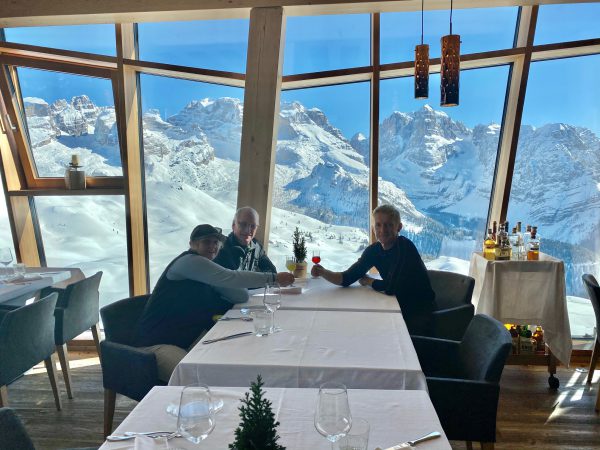 With rumours swirling, Alessio texted me later that night with the bad news that the entire region of Lombardia was shutting down, including all ski lifts; everyone was going on lockdown. Like nicely clothed refugees with ski boxes on Alfa Romeos and Maseratis, everyone was packing quickly and scrambling home to Milan before the barriers went up. Unfortunately, our critical access lift for the following week, the Paradiso gondola, sits on the Lombardia side of Passo Tonale, not the still-open for business Trentino side where we were in Madonna. There would be no roping into couloirs. No Super Moon. No cozy mountain huts. No ice axe.
The next day's grey clouds were deeply foreboding, and despite Malcolm's, Marianne's and my "Damn the torpedoes" jokes we spent half the day hassling British Airways reps on the phone, who managed to find us flights home out of Zurich. We hired a driver the following day to take us, but after crossing the Brenner Pass into Austria (which closed 40 minutes later) a series of frantic phone calls had him changing destinations and he nearly threw us out of his still-rolling van at the Innsbruck Hauptbahnhof. Okay, now I'm exaggerating, he did stop and he was very nice, but he was clearly more stressed and moved a lot faster after receiving updates on border closures. His tires squealed in a U-turn as he headed back to Italy.
On the flight to Heathrow, I was waiting for the lavatory at the back of the plane and noticed a flight attendant rinsing her hands with a little bottle of vodka. With a very British confidence she explained, "We're out of sanitizer but it's okay, I don't drink vodka." It was the 11th of March and sometime over the Atlantic, the WHO declared a pandemic.
With no Passo Tonale story for you, I polled several senior contributors about their best memories of skiing the Italian Alps and Dolomites, which begins in this issue. If you're sticking closer to home this year, there are plenty of ideas in these pages and more in issues to come. And of course, as the country's only Buyer's Guide for skiers, there are pages and pages of new gear ideas to keep you distracted while we wait for snow.
It's easy to look back, and it feels as though we need a crystal ball to look forward right now, but we all know we'll ski again. I take solace in knowing skiers are more adventurous than ordinary folk. And whether you're planning to put on your boots in the parking lot and wear your Buff in the bathroom, or get cozy under an N95 mask on a flight west or to Italy, keep dreaming and planning, and we'll all find a way to make skiing happen this season.
_Iain MacMillan in Buyer's Guide 2021
From the archives: Ciao Tonale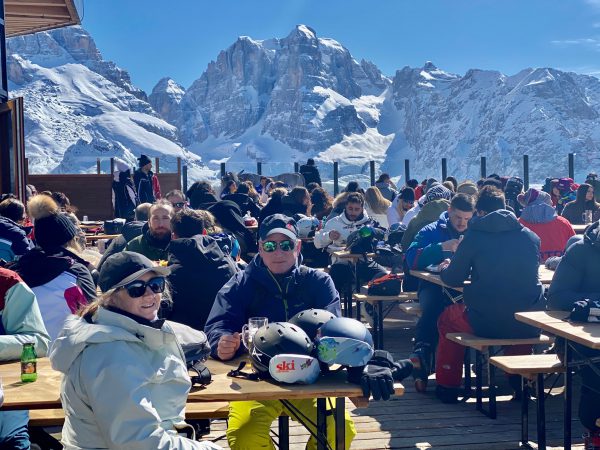 Tags: Europe, Italy, Tonale