Reading Time:
7
minutes
One of Italy's best-kept secrets is not just for freeriders.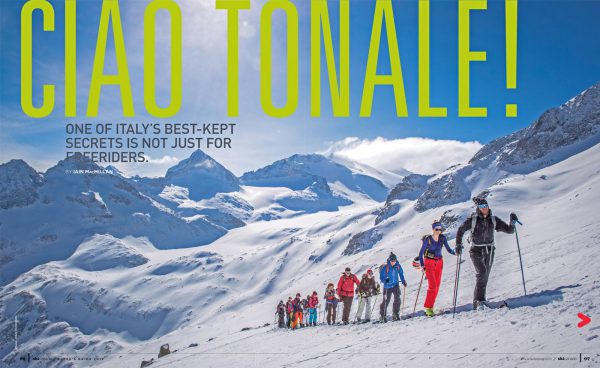 It was a blistering hot—but fateful—July day at the cottage back in 2017 when the call display on my ringing phone showed country code "+39." Italy. A cheery voice from Milan prattled on about the possibility of using decades of Ski Canada ski test results for part of his PhD research. In the ensuing conversation, Alessio also mentioned that his parents owned the slopeside Hotel Dahu in Passo Tonale, where he grew up.
"North of Verona, not too far from Switzerland…" he said, "…the pass between Trentino and Lombardia…Monte Adamello? You probably don't know about it."
No, I didn't. But it was another of his passing comments, "We have very good freeriding," that piqued my interest. Soon we were talking less about gear and more about his secret stash in the Italian Alps.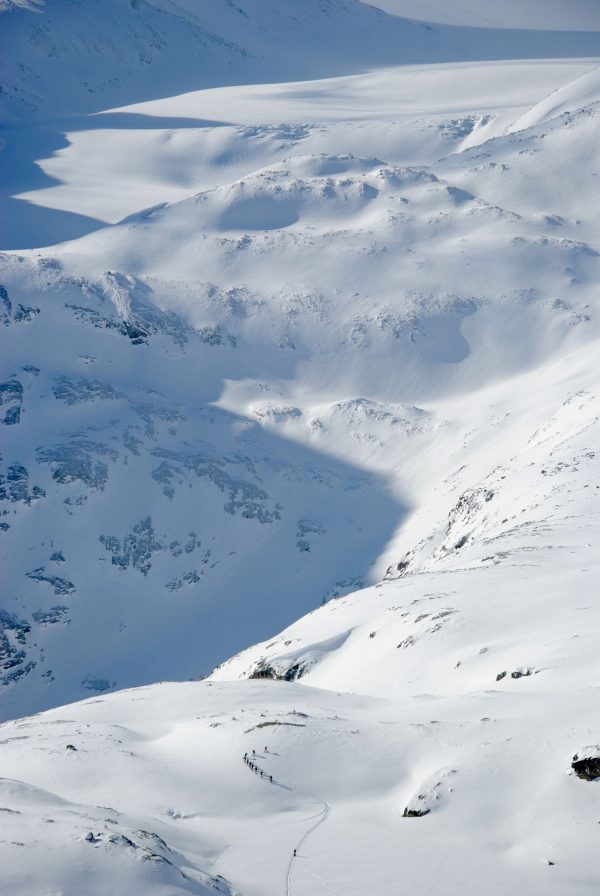 Six months and 50 or 60 emails later, there we were, 19 friends and family giggling and squealing in nipple-deep, Japan-like powder—welcome to Passo Tonale. It was day six beneath our Go-To gondola, the Cabinovia Paradiso, and we were wrapping up a stellar week, still following a lovingly patient Alessio and our smiley mountain guide Matteo. One of my best-ever ski days.
As I write this and reminisce over photos, I see it was actually 13 of us playing lost and found off the Ghiacciaio (glacier) Presena on our last day in Italy. Self-appointed trip-mixologists Debby, Sarah and Vix were busy proselytizing their newly invented "avant-ski" while Maggie, Jane and Ginny had skied to Tonale's sister resort Ponte di Legno, laughingly cougaring their young instructor/guide Giacomo who had been carefully chosen ahead of time on looks and age.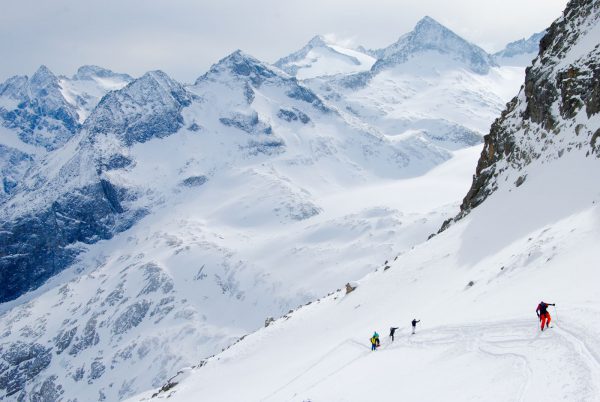 After several seasons in the Alps of often too much sun and not enough natural snow, the winter of 2018 brought pretty much the opposite, with some much cooler temperatures and snowy surprises to many regions. Our late-February visit coincided with several storms laden down with moisture from the Adriatic.
As Canadians, we couldn't understand why people kept apologizing for not having sun every day. While we declared Alessio (who had taken a week off work as an assistant university professor in Milan) our snowy talisman, he made the reverse claim, saying the connection was obvious since we were the first Canadians to ever stay at the hotel. (Indeed, Alessio's friend Vania from the Tourist Office believed we might possibly have been the first Canadian skiers to ever visit Tonale.) Their reasoning was seconded by the rest of the hotel occupants, all of whom had arrived for their annual ski and party visit to the Dahu after a 24-hour coach ride from Sweden. And if there is any nationality that can lead you to "the next great freeride destination," it's the Swedes.
My family, two other neighbourhood families and five in-between-aged latch-ons were welcomed to the Dahu by Alessio's delightful parents Cinzia and Lino, wife Lorenza and darling toddler Matilde. The cast of characters quickly included our doting Romanian waiter Vio, a shirt-seam-splitting bodybuilder bartender TJ from Senegal doubling as social convenor, and two St. Anton-based skiers Felix and John who'd tracked me down again in their climbing-gear-packed Westfalia.
Passo Tonale, sitting at 1,883m, divides the regions of Trentino to the northeast and Lombardia to the southwest, where the town and interconnected ski area of Ponte di Legno sits. Because the pass has always been strategic, particularly so during the First World War when Italy was battling with the Austro-Hungarian forces, the region is still littered today with evidence from the fighting that took place a century ago.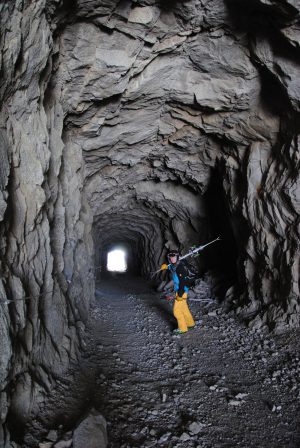 Off-piste we would ski past crooked lines of rusty barbed wire over snow-filled trenches and view pockmarked stone and concrete forts in the distance while imagining the pristine alpine environment under deafening bombardment. Our main route home from the hour-or-two-long backcountry runs of the Val Presena most days was via a long dark tunnel that was blasted through the mountainside to transport artillery and supplies.
A hundred years ago during "The White War," the ancient town of Ponte di Legno was obliterated by Austrian cannons, and in the alpine thousands of soldiers died both in battles and from exposure and poor or little food.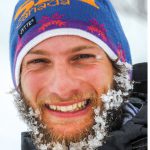 Well beyond Roman history, the region's Adamello Mountain Range is also home to more than 200,000 rock petroglyphs of hunting scenes and ancient religious ceremonies dating back more than 13,000 years. When wide-eyed Evan, one of our barely-20-somethings, listened to us talking about the area's previous visitors, he announced excitedly to the dinner table one night he had a history boner.
On the other hand, Matteo, our guide for the week, wasn't much help explaining any of the area's rich history or singing opera in the gondola, although he received an A for effort. Indeed, his entire English vocabulary consisted of two phrases: "I think eez okay" and "Attenzione to danger stones!" interpreted as: "Green light," "yellow light." Which fit our group mentality perfectly.
On the first day, Matteo and Alessio subtly tested our unwieldy large off-piste group in the couloir beneath the Paradiso gondola in conditions that were wintry and challenging but not yet spectacular. We accepted a compliment I've heard many times, which effectively released the hounds: "You're Canadian, you know how to ski." Soon we were heading for Tonale off-piste classics like Squaldrina, Cantiere of the Val Presena and Canalino del Diavolo or the Devil's Couloir. An even tougher route that I had read about, Canalino del Dito, would have to wait. Requiring a 15m repel to get into it, the maximum group size was limited to four.
Together, Tonale and Ponte di Legno's trail map has 28 lifts, about half in each ski area. The on-piste terrain is ideal for beginners and intermediates with PdL slopes being a little longer, more varied and often lower in elevation, and therefore with trails cut into forests. Slopes are also not as directly south-facing at Ponte di Legno so the routine for those not skiing off-piste typically started in the morning sun on Tonale groomers and ended up in Ponte di Legno in the afternoon before returning by a new multi-stage gondola.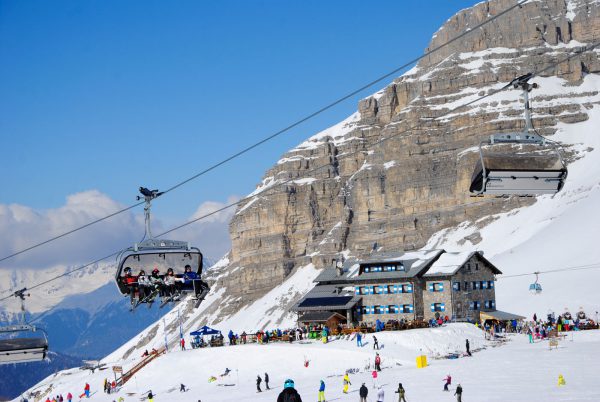 Almost all lifts and accommodation at Tonale are on the south-facing sunny side of the pass with its much more gentle slopes. Across the valley loom the impressive peaks (including the region's highest, Monte Adamello, 3,554m), glaciers and forests. Although this north-facing side of the pass has only two gondolas, we spent more than 90 per cent of our week exploring a small part of the massive area it accesses.
The two gondolas rise 1,155m up and over the one-time colossal (but over the last couple of decades, rapidly shrinking) Ghiacciaio (glacier) Presena where we would begin most mornings. With the help of our guides, we would head out under the ropes (metaphorical in the Alps) to put in runs up to 1,500 vertical metres, ending in a small parking lot where we would find Alessio's strategically parked truck. Single runs down the nearby Val di Sole that end in the town of Vermiglio will put 1,800 vertical metres on your counter.
Our multi-aged gang sniggered over the name of day II's sporty couloir, Sgualdrina. While Alessio was blushing over the translation (evidently not just "prostitute" but a naughtier term for one), curious Evan smiled delightedly and suddenly enquired, "Oh! Wait, what does Va fancoulo mean?"
Alessio, whose excellent English partly comes from his time spent at the University of Toronto completing an MBA, brought the house down with "Well, Evan, the direct translation means 'Go to explore your asshole'." Which of course became the week's response in various inappropriate situations.
Meanwhile, ski-buddy Holly, who's closer in age to my kids than to me, had fallen in love again, a regular occurrence when mountain guides are involved. However, establishing Matteo's availability proved challenging given his limited English. And the fact that he's Italian.
By midweek, our gang released keepers Alessio, Matteo and Giacomo for the day to head to nearby Madonna di Campiglio. Some lift passes include this major international resort as well as the 30-minute ride on a local bus to Mezzana on the northern edge of the Madonna domain. Miraculously, all 19 of us managed to not only make our way there, but return.
One day at such a large resort is understandably only a taste, and as much as we all love Italian food, culture and spectacular alpine scenery on a bluebird day, it's possible to have too much during the third week of February when school holidays double or quintuple the resort's numbers. Polar opposite to Tonale and Ponte di Legno, many of Madonna's lifts were mobbed by the anti-christs of queues, leaving us with our Canadian politeness and dull elbows often with the fallen and forgotten.
To make up for it, on our return home the snow gods of Tonale delivered both powder and sun for our next day of touring. Followed by more powder, a lot more, for our final day. It's hard to say which day was better.
Alpine touring in a cumbersome group of 17 was a new experience for, well, everyone involved. Apart from the safety aspects of glacier travel and skinning and skiing avalanche terrain, I learned three helpful requirements were also song, humour and patience. We thankfully brought along lots, as well as a drone, and took in the magnificent, neck-craning beauty of Pisgana glacier and its surrounds. The ski, skin up, and finally 2,000m vertical, 11km-Pisganino descent back to beers in Ponte di Legno was legendary.
Hotel Residence Dahu & Spa:
(hotelresidencedahu.it) has a wide selection of accommodation from classic Alpine rooms to recently renovated modern design chic. Seven nights, including all taxes and half-board (full breakfast and multi-choice, four-course dinner), €440-700 January-March.
AerLingus:
(aerlingus.com) flies its four-star service to Dublin daily from Toronto and then on to Milan Linate and 80 other airports in Europe. Passo Tonale is a 2.5h drive from Linate (a closer and smaller airport than Milan Malpensa). A 24-hour stopover in Dublin on the way home was part of the magic.
6-day lift pass: mid- and high-season: €192-222 Start planning: pontedilegnotonale.com