Reading Time:
4
minutes
Owning a remote cat-ski lodge always has its challenges, but the lockdown last March took the Osak family off in all directions.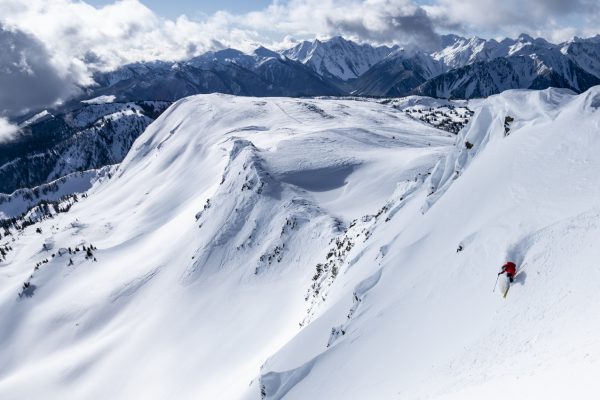 by PAUL OSAK * photography STEVE SHANNON
On March 18, at the height of what was arguably the best ski season in recent memory, my wife, Megan, and I decided to pull the plug and bid our guests a hasty goodbye as they began the mad dash for points across the country and over the border. Within 72 hours Selkirk Snowcat Skiing went from fully operational to unexpectedly closed for the season. Through laughs, tears and hugs, our dedicated staff, who have become our extended family, were also sent scrambling to begin their social isolation.
Like Jack Torrance and family in The Shining, there we were—along with daughter Shannon, son Liam, his girlfriend Erica, a Bernese mountain dog named Ullr and Loki the corgi—all "stuck" at our remote wilderness lodge. And nothing says love like quarantining with your new beau's family, whom you've never met. As Erica said later, "I was afraid my Meet the Fockers weekend would turn into a month-long episode of Family Feud—but the Osaks rock!" Erica receives full credit for putting up with all of us.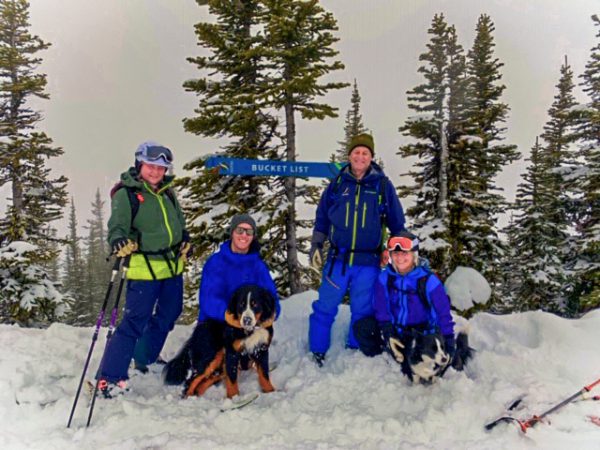 Like most other B.C. cat, heli and backcountry ski operations, we were ready to share the best snow of the season with guests for several more weeks. Instead, we suddenly found ourselves alone with a walk-in fridge and freezer filled with racks of lamb, pork tenderloin, 150 kg of carrots and a lot more, plus a fully stocked bar, sauna, hot tub, four snowcats, eight snowmobiles and a backyard of nearly 5,000 hectares of world-famous untracked Kootenay pow. I ask you, what's a hard-core ski family to do?
As the rest of the country self-isolated at home, barely able to stick their collective noses outside, our smorgasbord of quarantine activities included cat-assisted ski touring, snowmobiling, cat-driving lessons, tobogganing, cross-country skiing, snowshoeing and any combination of the above. The only caveat being a big dose of caution given the warnings not to overwhelm the search-and-rescue and healthcare systems: no serious avalanche terrain, no super-tight trees and no unnecessary risks.
The weeks seemed to fly by, but almost every day we awoke to yet more freshies, the largest dump being 45 cm. On that particular morning, I was more than a little concerned as we made our way up into the alpine and discovered heavy winds from the night before had blown in parts of the cat road. Full disclosure: I'm a self-taught cat driver. But what followed was an epic day of ski touring accompanied by our canine companions, allowing us to forget the craziness swirling just beyond our quiet piece of paradise.
Without Selkirk's culinary wizards, dinners became a group effort. With an overstuffed pantry and commercial kitchen at our disposal, we attempted some of the exotic dishes our chefs typically prepare for our guests. They say necessity is the mother of invention and our attempts at tikka masala, Moroccan lamb stew and a beef bourguignon birthday celebration were met with varying degrees of success. We had fun experimenting with various dessert recipes, but whatever ingredient found its way into Selkirk Snowcat's signature cinnamon buns definitely wasn't yeast.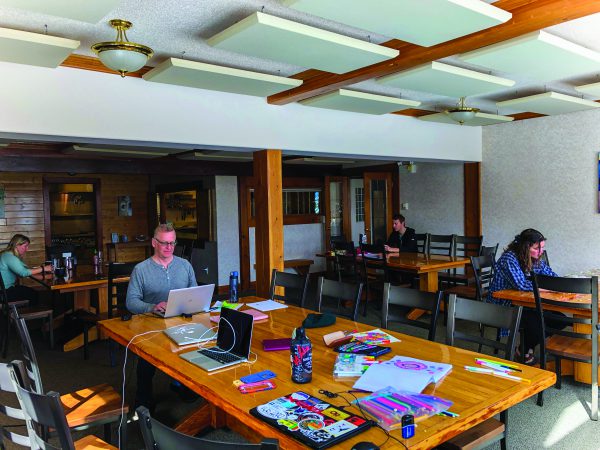 Our evenings were spent playing pool, shuffleboard, ping-pong, cards and board games. One night we built a nine-hole indoor golf course around the lodge and played the first, and hopefully last, Covid Open. Shannon summed it up well: "It was nowhere near as painful as anticipated being trapped with your parents and idiot brother for a month." Megan and I noticed immediately that with so many other distractions, our three 20-somethings almost forgot about their phones and friends in the outside world. It was as though the virus had also infected the internet. Pandemic? What pandemic?
To say our first month of the lockdown was like a trip to Fantasy Island would be an understatement. "Best ski holiday ever!" declared Liam one night. However, all good things must come to an end and although there was still plenty of snow, evidence of our waking resident grizzly family not far from the lodge made our outdoor fun a little less carefree.
In any given year, owning a cat-ski operation has its challenges, but the sudden collapse of the 2020 season ultimately gave us a winner. Our lodge pack-up and final shutdown was both poignant and reflective. As the last cat left the safety of our snowbound Shangri-La, we were all quietly grateful for the privilege of this unplanned and extended shared family experience.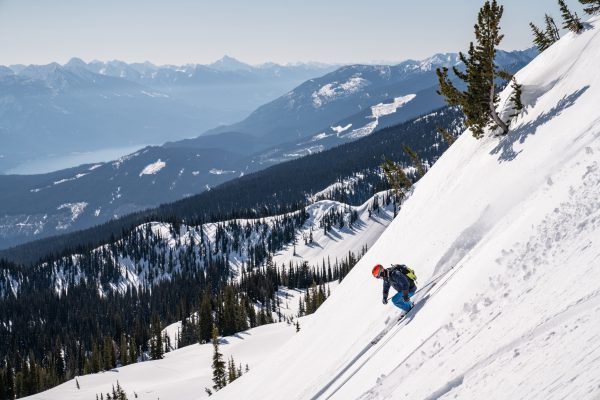 THE WINTER AHEAD
If cat-skiing is on your bucket list, this is your year. Since it's unlikely that international clients will be crossing the border this winter, the entire heli-cat industry is getting creative as it faces an uncertain 2020-21 season. Selkirk Snowcat Skiing, for instance, has put all its previously booked prime-season seats back on the market at discounted prices for Canadians. selkirksnowcatskiing.com