---
There's a spirit at Selkirk Wilderness Skiing, and it feels like home.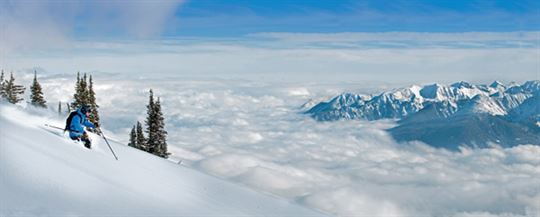 There's something overwhelming about driving through the Selkirks. It's late March and I'm steering a tin-cup rental car under the glare of towering peaks, across rushing rivers and past impenetrable logging roads. Navigating the vertical valley bottom, alongside the impossibly long Lake Kootenay, the black-and-white tarmac of Hwy 31 reads like the pages of a Jack London novel. With each click of the odometer, another episode of an epic man-versus-nature battle passes. The spoils of this ongoing war include Georgian-styled homes heavily weighted under a century of massive snows, rusting steamships, dilapidated warehouses and the odd clear-cut.
Clearly, in this very place, continental tectonics have created a unique geologic phenomenon. The undulating highway I'm driving along sweeps north, near the leading edge of the Coastal range as it crashes into the Rocky Mountains. Older and sharper-edged than their more volcanic cousins to the west, the Selkirks were fortunate enough to have dodged the glaciers that carved the giant, U-shaped valleys of the Rockies to the east. Sandwiched between the rain coast and the ice age, and distal enough from Calgary and Vancouver, amazingly their rugged, angular nature and great terrain remain preserved.
Ironically, despite their breathtaking beauty, until recently the principal draw to these peaks had more to do with what couldn't be seen. To geologists the Selkirks have always been Eldorado. These deep volcanic intrusions launched skywards an eternity ago harbour the royal suite of igneous mineral offerings: gold, silver, lead and zinc to name a few. Since the 1800s, men have come here to extract these ores, blasting tunnels and mines every step of the way. But now, the gold and silver rushes along with the bar-and-brothel towns have gone, brushed off into the region's colourful lore.
My trip here, however, has to do with a more sustainable kind of mining—the carving of lines in powder. And as I veer north on the Powder Highway toward the once anonymous settlement of Meadow Creek, my senses are immediately raised. Ahead, the motherlode and the original stake of an entirely local invention: snowcat skiing.
— + —
The first things you become aware of at Selkirk Wilderness Skiing's (SWS) so-called "farmhouse" at 105 Meadow Creek Road are the fine points: the curls of smoke from the chimney, the homemade banana bread, the generosity of spirit and, perhaps most notably, the all-hands-on-deck mentality. The legendary pioneer, Brenda Drury, with her endearing brown eyes and gentle kindness, welcomes me to her home like an old friend and presents me to a living room full of guests. After the introductions, tea and home-baked goodies, the well-mannered guides take over, moving gear from our mud-splattered vehicles into their even more mud-splattered SUVs which will take us to the trailhead and their shiny, new Bombardier BR275 snowcats complete with custom passenger cabins. Minnesota-based publisher and longtime Selkirk skier, John Gaterud, spots my innocence a mile away. Overwhelmed by this effusive beginning and attention to detail, he takes me aside to explain that this is the way of Selkirk Wilderness Skiing. "Get used to it," the Mordecai Richler look-alike says with a wink.
En route to the fabled 1,260-metre-high slopeside lodge, the chatter in the cabin accelerates, particularly from the group of excitable 40-something-year-old professionals from south of the border. Starved for skiing, they have made the pilgrimage from a winterless Colorado and brought with them a lexicon of terminology that goes from downright incomprehensible to making half sense ("I can't wait to Gordon Lightfoot it tomorrow" and "Yeah, dude, let's cook some Cinnabuns out there").
John explains that our party is fairly typical. More than 70 per cent of guests—like he and his daughter Abbey—are repeat customers. Genteel Herb Pinder (who I'll later catch flipping through a stash of New Yorkers while riding the cat between ripping deep powder runs—how civilized is that?) and his wife, Madeleine, just across the aisle from us have skied here every season since SWS opened its doors and created the industry 37 years ago. But with the ease of powder riding from today's alpine technology, the numbers of converted are bursting among all facets of the population. While once in the 60s, SWS's average age hovers now at 49 years old.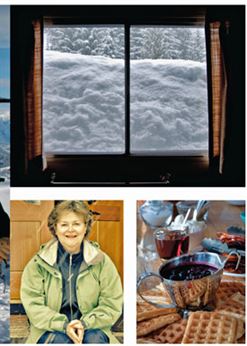 The scent of the braised-to-perfection faceplant lamb shanks in a dynamite chocolate sauce awaits us in the spacious timber frame lodge. Looking around at my table mates—Brenda, daughter Rachel, guides Kevin Marr and Carla Aldinger, along with my new buddies John and Abbey—I come to the almost illogical conclusion that after a short time warp in the most modern of snowcats, I'm really transported back in time: the 30-minute ride up has truly brought me to a tableful of wonderful people in a spectacular environment with snowbanks above the windowsills, reminding me of the idealized ski experience of my childhood.
Warmed by the candlelight and lulled by the tableside banter, the atmosphere ripens for details. After the dishes are cleared, we adjourn to the living room for a PowerPoint briefing and safety talk. Here lodge manager Russ Turner goes straight into logistics. After highlighting safety procedures, Turner projects a map of the area tracing the innumerable contour lines of the mythical Selkirk Wilderness Skiing tenure. Blazed on the wall are 4,500 hectares of skiable terrain located in some of Western Canada's most incredible mountain scenery.
This is but one of the many facets that has turned Brenda and her late husband Allan's idea of cat-skiing into an incredibly successful family business: quite simply, they got their pick of the land. Long out of the gates before anyone else had even thought of the concept, they spent years travelling through the country (it didn't hurt that Allan was not only a gifted skier, but also a professional geologist) and carefully chose this mountain paradise which abuts the towering peaks of Goat Range Provincial Park to the west and the Purcell Wilderness Conservancy across Lake Kootenay to the east. Kokanee Glacier and Glacier Park, to the north and south, finish off the frame. All told, it's the size of Whistler, Blackcomb and Vail combined. But while Whistler manages close to two-million skiers a season, all you need is to look around the comfy chesterfields: these 24 souls are the only riders we're splitting the loot with. So for those who measure their pleasure in vertical, here you're glory bound. Russ says we can expect a manly 12,000–20,000 vertical feet each day.
But to make that happen tomorrow's timeline is clearly programmed, starting from the 6:45 a.m. wake-up. A 12-year SWS veteran and former guide, Russ knows how to run a tight ship.
— + —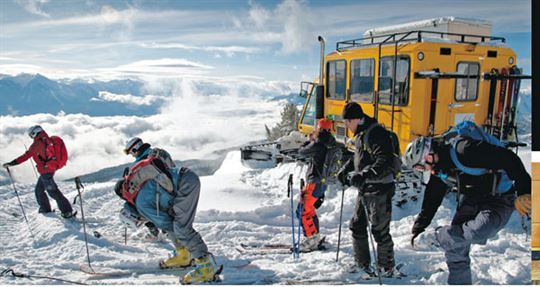 After the optional downward dog stretches, maple syrup-drenched waffles, the oohs and ahhs at last night's massive snow accumulation, and the simulated beacon rescue, it's time for our first run. Cabin pressure has risen and a dozen of us (we split into two cats and never crossed paths) are staring like children at a shimmering, candy-store-like mountain paradise. Far more comfortable (and warm!) than any chair or gondola I've ever ridden, the cat cruises through anything and we speed upwards. At the 2,350-metre-high peak above Cougar Ridge we hop out and reassemble with our skis on. With 30 years in the business, lead guide Kevin cuts to the chase, overviewing skiing and safety strategies for our first turns. Pole straps loose, we ski with partners and follow his lead. Then Kevin points down at the descent we're about to rip up and does an impromptu voice change.
"Vant a leettle air?" he teases with a faux Austrian accent.
"Yeah!" call the Coloradans, giggling with excitement. This is what they've been jabbering about—or at least I think that's what they've been talking about—since last night.
"Zen who vants big air?" Kevin taunts.
"Yee-haw!" they call in unison, fully sparked.
Kevin flashes a devilish smile to the old-timers before turning back to the group of Coloradans with his gloved index pointed and says, "Zen pull my finger."
While the joke is on them, the truth is pillow lines are everywhere. And getting air isn't a question of "if," but rather how much you're willing to take on (SWS also has a learn-to-powder-ski package for those who prefer to keep their feet on mother earth). One by one the group drops into a reverie punctuated by hoots and hollers of pure delight. After a dozen or so turns of perfectly light, waist-deep snow on a line that goes on for as far as the eye can see, I stop to make a note to self: Forget the snorkel and bring a defibrillator—this is absolutely cardiac for anyone with a passion for powder.
"Allan would have it no other way," Carla, our rear guide, tells me as the group "Gordon Lightfoots" it down, kicking up massive Cinnabuns along the way. "He loved getting airborne."
After we load into the waiting cat at the valley bottom, Carla continues the story. Allan's father coached the great Jim McConkey (father of the late Shane) back in Barrie, Ontario. And after Allan's own teaching stints in Aspen and Sun Valley, he got an industry job working in oil and gas in the late 1960s. During this time, Hans Gmoser—the pioneer behind Canadian Mountain Holidays helicopter skiing—took him for a ride that changed his life. Wowed by the experience of limitless terrain, Drury decided he wanted to make this happen with specialized snowcats. An absolute skiing fanatic, he bet that the difference between helicopter and cat was quantity and was right on the money. Unlike airborne operations at the time, it was incredibly rare to have weather-inflicted no-ski days on the ground.
Over the days we spend churning up terrain from peak to peak to peak, down vividly named runs (like The Guides Must Be Crazy, Rolling Thunder and Chuck Your Lunch), I come to the realization that SWS is essentially the ski experience of yesteryear on steroids. For in today's age of atomized individualism, this collective approach provides so much more. Like the wilderness we ski in, the joy of the experience comes from the pleasures of participating in a network of symbiotic relationships, a community that thrives as a whole. And by partaking, we are offered the best of both worlds: the utmost quality in skiing, safety, hospitality and technology, but with the collective sincerity of yesteryear. A visit here is a trip home, but with endless runs of mind-blowing skiing added in.
After dinner on my last night, I head outside to soak it all in. I find Brenda sitting on the edge of the steps looking toward the peak of Meadow Mountain. The snow comes down like angels. I sit beside her and watch it float earthwards: half air, half crystal, all mesmerizing. The slow-moving spectacle comes as a welcome distraction. I was going to interview her about her late husband, but perennially awkward with condolences, I opt for silence. After skiing here for days, I have felt Allan's spirit and know how sorely he is missed. As our eyes move outward in search of answers, the sublime spectacle of a massive snowfall reveals itself as a resounding closure that's achingly difficult to quote.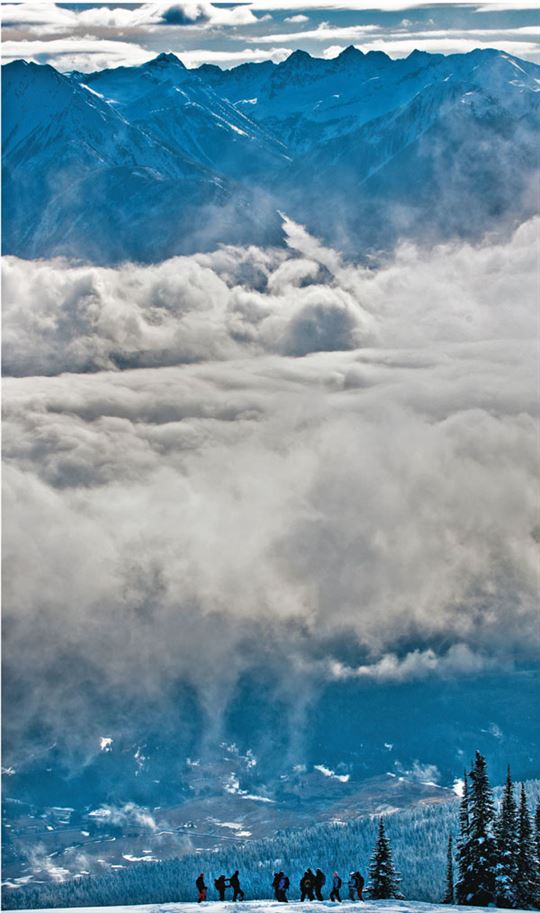 ---
Tags: BC, Brenda Drury, British Columbia, Featured, heli-snowcat skiing, Lake Kootenay, Meadow Creek, Meadow Mountain, Powder Highway, Selkirk Wilderness Skiing, Selkirks, snowcat skiing