Reading Time:
4
minutes
David Harley believes the mountain resort business model is broken. The sport's future does not lie in bringing planeloads of skiers into Denver International Airport and shuttling them off to cookie-cutter areas along an interstate. Rather, Harley thinks adventurous skiers will come to Zincton, his proposed new four-season resort near New Denver, a remote mountain town on the shores of B.C.'s Kootenay Lake.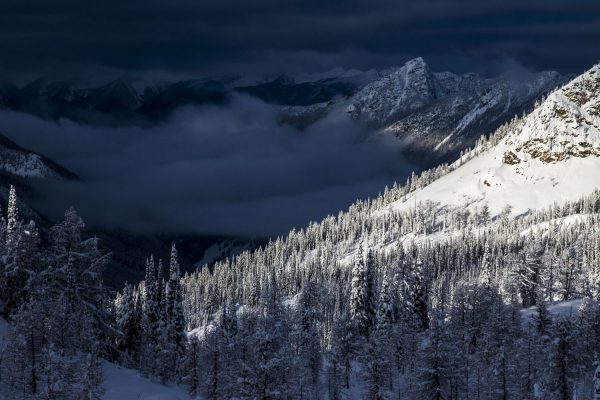 The 68-year-old entrepreneur has a long history in the outdoor adventure world. In 1983 his FarWest clothing brand was the first in Canada to use a new waterproof-breathable fabric called Gore-Tex. (The company's success was rewarded with a cover feature about Harley in the Globe and Mail's Report on Business magazine). He moved on from FarWest in the mid-'90s to start Valhalla Pure, a chain of a dozen locally owned backcountry stores in Alberta and B.C. that have been able to successfully compete against corporate giants like Sport Chek and MEC. He's been a keen backcountry skier since the early '70s, hitting first tracks at Rogers Pass "at a time when we had zero safety gear: no beacons, no probes, no airbags, no Canadian Avalanche Association app on our phones—nothing."
Access to Zincton (its name is a nod to the early days of zinc and silver mining in the Kootenays) will be via B.C. Provincial Highway 31A from New Denver over to Nakusp. In terms of mountain passes in southern B.C., this is about as remote as it gets. The parking lot is at 825m, and a short gondola will whisk skiers up to the car-free village at 1,036m. A range of accommodation options—from simple pensions to more luxurious lodges comparable to current heli, cat or backcountry skiing offerings—would be offered.
Two fixed-grip lifts will service an inbounds acreage about the size of Silver Star, with a vertical drop of approximately 670m. "Inbounds skiing would go up to around 6,000 feet and experienced skiers could access an additional 1,000 vertical beyond the area boundary," Harley says. "There are certainly possibilities for runs as long as 3,000 vertical feet."
Obviously, safety is a key issue here, since most of the skiers would be self-guided and self-propelled. "We'll have a very engaged ski patrol to perform avalanche control and effective signage," Harley says. "There would likely be some form of skills testing to ensure that skiers have at least the basics of avalanche safety complete." Local guides will also be available for hire.
"Zincton is a wide-open canvas that will evolve over time," Harley believes. "People will come up here and create their own experiences, whether it's the family from the nearby Slocan Valley or highly experienced backcountry skiers from Europe or the United States." Harley envisions a tightly knit, pedestrian-only Alpine-style village similar to Mürren, Switzerland. The resort's operation will emulate Silverton, Colorado, where a limited number of lift tickets are sold in order to preserve the powder for everyone. The ideal carrying capacity for the resort would be somewhere in the range of 1,500 skiers per day.
Harley says, "The only real growth in the past decade in ski equipment has been in the alpine touring category, and if the current trends persist, AT gear might eventually sell as much, or more, than downhill does."
People who follow the rather broken arc of resort development in B.C. might see glimmers of Al and Nancy Greene Raine's ill-fated Cayoosh project near Lillooet, B.C., in the '90s.
There are, of course, the realities of negotiating B.C.'s notoriously plodding public approval process. Harley is banking on strong community support to realize his dream, since Zincton is hardly on a scale that will make anyone rich. "There's already a highly educated and influential group of skiers who understands what Zincton is all about," he says. "Small is beautiful, green energy is good and consumers want to support local businesses. Zincton is the perfect resort for these COVID times."
It's not all been smooth sailing. Zincton has been targeted by Nelson, B.C.-based Wildsight, the environmental organization that helped bring down Oberto Oberti's Jumbo Creek project.
Most major North American resorts—Whistler Blackcomb, Jackson Hole, Kicking Horse, Revelstoke and Aspen Highlands—offer some form of slackcountry skiing already. But even there, it's often a stampede during the "rush hour" from the time the lifts open to just before noon, when the inbounds is trashed and keen powder seekers are slapping on the skins to get after the goods or just get away from the crowds. Harley says, "At some of the places covered by the Ikon Pass you even see a swarming effect, where skiers from all over North America can track incoming storms and make flight arrangements into Aspen or Jackson for the next day. This creates a lot of tension with the locals, who are used to having the mountains to themselves on powder days."
Rest assured, there will be no shortage of powder days at Zincton, whose tenure is bounded by the Retallack cat-skiing lodge and Stellar Heli-Skiing. "It snows an average of about 60 feet per year on our tenure," Harley says with obvious pride. Harley's philosophy could be described as "Life is short. Powder is precious."