Reading Time:
4
minutes
In another generation, Heather Smith might be helping her charges as a nurse, or a stewardess. But it's 2017 and the mountain guide who looks more like a model has just analyzed the most recent weather data and snow conditions, finished answering our avalanche training questions and, while waiting for morning stragglers to board our cat at Retallack, is working on her hatchet-throwing skills. I'm wearing my helmet. And trying to stay out of her way.
Of all the cat-skiing in B.C. (by which, of course, I mean in all the world), Retallack surely lies in the top two or three for having the most consistently steep lines (most of them in the trees), most skiable cliffs and, judging from the few days that I was there late last March, in the club for deepest powder. Retallack is not a cat-ski operation for first-timers. I had eagerly accepted an invite to test gear with some company executives from Smartwool who'd been let off-leash, as well as a few of its sponsored athletes and other media hacks.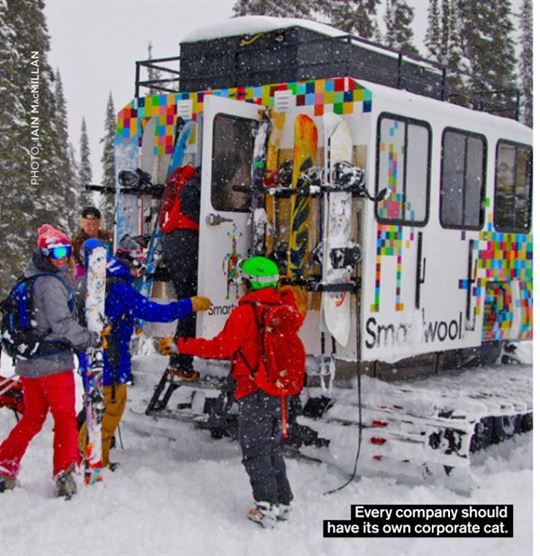 Like many resorts, cat-ski operations have built reputations and genres. Not too far away, for example, Selkirk Snowcat Skiing got first dibs on B.C. terrain when it gave birth to the concept of "skiing by boxcat" more than 40 years ago. Selkirk's share of deep Kootenay powder continues to appeal to any strong intermediate on up who's happy to head off the groomed for a week.
The cushiest of cat-ops is undoubtedly Island Lake near Fernie, where memories of dinner and the quality of sleeps are almost as strong as skiing untracked powder. Only have time for a day or two in the powder? Big Red Cats at Red Mountain is an ideal add-on to a few warm-up days at Red. (And the list goes on at helicatcanada.com.)
But Retallack, which only received its tenure in 1996, has always appealed to groups of younger, aggressive skiers and snowboarders—significantly more snowboarders. The grey-hair (or no-hair) set who can afford more than $1,000 a day to ski, seemed to have been replaced here by dreadlocks and tattoos who are skiing on someone else's budget.
"The vast majority of Retallack skiers come in groups," confirms Smith, referring to ours as an example. "If you weren't a strong skier or snowboarder, you wouldn't want to join most of the groups who ski here." And I can see, as an individual, you wouldn't want to join a posse of chargers if there's a possibility of you bringing the pace down.
I often think of skiing as being the great "age-equalizer," as in, our sport isn't about how old you are, it's whether or not you can keep up with the group. Despite knowing Retallack's rep, and realizing I'm the oldest in the group, my only trepidation was on our 45-minute slog into the alpine the first morning. Where I might choose to listen to folk or maybe just the conversation above the whirr of the cat's engine, the headbanger music is cranked to 11. I smile and agree to something unintelligible that my American seatmate Molly says, which I can now tell from her expression wasn't a yes-or-no question. Which makes me laugh. Which makes her laugh.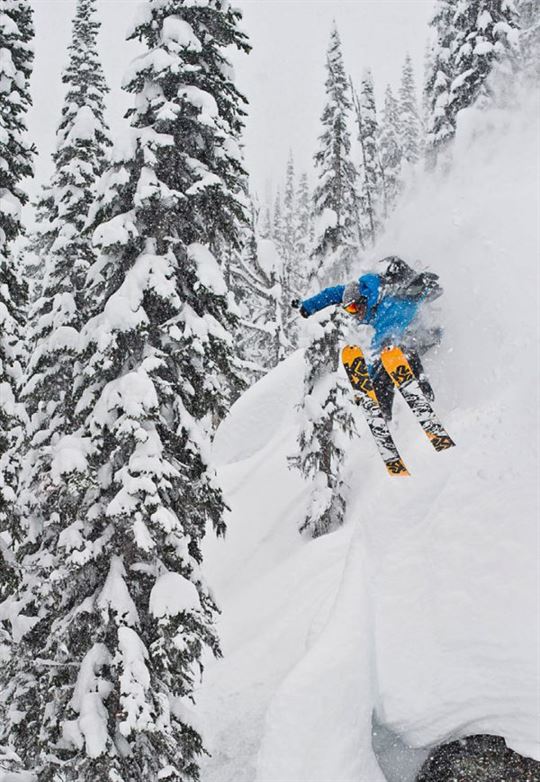 But before long Heather unlocks the cat door and, skipping most of the stairs, we instead launch into the 40 cm of fresh that sit atop the 40-gazillion cm of existing. Within minutes, my new ski buddy, Molly, and I are chirping, singing and squealing in the trees—which is Retallack. (I want to at least hear how far I am from the one whom I may need to call on first for help.)
There's little wind but with the snow still falling in enormous cakey groups of flakes, it's indeed easier to ski in the trees, which offer good perspective. When we pop out into logging cuts, the slope suddenly disappears. Is it steep? Super-steep? Is it a cliff? My eyes tell my brain one thing, but I'm a lazy skier and like letting gravity dictate the size of my turns. "Stay centred, stay relaxed" applies here.
I'm often telling skiers who are new to powder not to "lean into the slope" and "don't sit back," but when the slope is obscured by heavy snowfall with a total lack of cues like trees or stumps and mushrooms, what I judge as a one-metre drop is more like three. I'm not an "air guy," but Kootenay powder is so forgiving I become one for three days. I get used to checking speed by measuring turns by the dropping feeling in my stomach and how deep I am on the compression: knees, waist or nipples. The stuff of dreams.
In the evening we dress for dinner in Kootenay formalwear of snapback trucker caps and plaid, and share in raucous conversation about the steepest and deepest day all of us has had all season. One of Retallack's more infamous owners, Karl the Gnarl, loudly recites more verse in preparation for late-night slam poetry with the younger set. I decline an invite for hot knives and can hear my fluffy duvet calling—I think tomorrow's going to be a big day.