Reading Time:
11
minutes
VIVA ITALIA!_
In these crazy times, Italy provides fodder when thinking about our next great ski adventure. We asked six well-travelled Ski Canada contributors for their best memories of peaks, powder and pasta.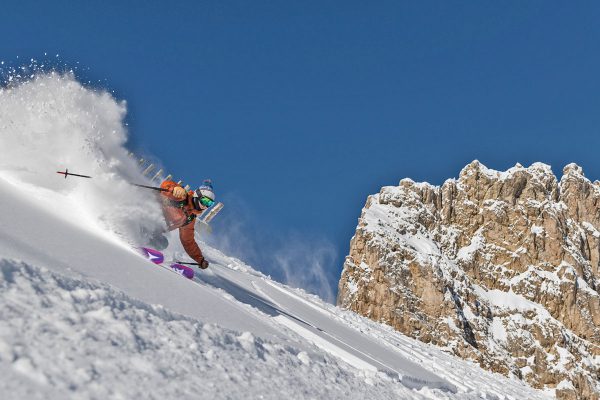 BY ERIC KENDALL
At the age of seven I was a ski-god. And to prove it, I still have my gold Scuola di Sci badge from one of our annual family holidays to Sauze d'Oulx/Sestriere and the Via Lattea.
Nearly half a century later, if you dropped me blindfolded onto those southern slopes of Piemonte's biggest ski region, just the smell of the larch forests and that certain warmth in the sun would tell me exactly where I was. It's where I fell in love with skiing. Back in Britain where I grew up, I thought of little else for the rest of the year.
With gratitude to my somewhat irresponsible parents, the freedom I was given to explore anywhere has remained with me through life. Corrado was my super-cool Italian instructor whom I'd follow down anything, even when I did little more than snowplow. Certain milestones stand out: graduating to banana-yellow Ellesse racing ski pants; and falling for and schussing after (for a week) an uncatchable (in every sense, despite the yellow pants) older girl. But the pinnacle was to explore the Via Lattea, or Milky Way, the eight linked ski areas with 400 km of slopes and seemingly unlimited off-piste that stretches from Sestriere to Sauze d'Oulx to the now Club Med cable car at Pragelato, or to Montgenevre in France. Everything was an adventure, Italian-style: high-speed, punctuated by Italian gastronomy, and spiced with the threat of a missed end-of-day connecting lift which more than once resulted in a long and expensive taxi ride back from who knew where.
My wife, Penny, and I have now lived in Switzerland for 16 years but we returned to Sauze d'Oulx just before the 2006 Turin Winter Olympics, and reminisced about the Fiat family history that built some of the clanky old lifts. "Of course it will all have changed…" How wrong can you be? Sestriere and the Milky Way wears its Olympic infrastructure lightly; even the terrifying chairlift on which skis have to be carried rather than worn, with a nerve-jangling icy run-off at the top, was still in operation and just as scary. But the best bits also remain: the larch scent, warm sun, and even—on a weekday anyway—rolling, deserted pistes. Skiing as it should be.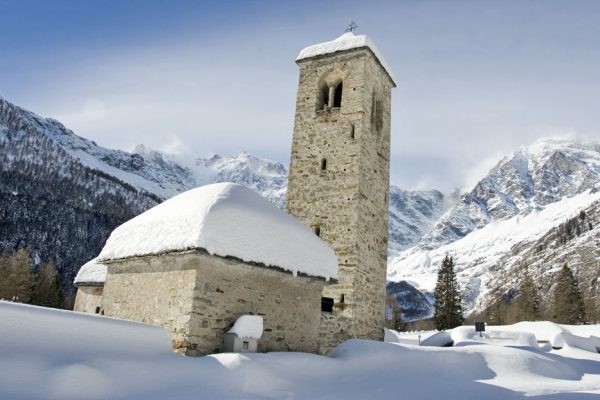 BY ARNIE WILSON
Some ski adventures will always linger in my memory, but none more so than an exhilarating 46-km, eight-hour trip that took in four valleys between the resorts of Monterosa (Champoluc, Gressoney and Alagna) and the glorious mid-mountain scenery that divides Cervinia, Italy, and Zermatt, Switzerland.
To ski from the infamous powder and steeps of the Italian resort of Alagna all the way to Zermatt presents a problem: Monte Rosa itself, the iconic massif that gives its name to some of Italy's finest ski regions. As Michael Caine never actually said, and not a lot of people know this, Monte Rosa is the second highest mountain in the Alps after Mont Blanc. So how does one get to the other side?
We could have spent days skinning and skiing between mountain refuges. But instead we simply asked Chamonix-based tour operator Ski Weekend for help—and did it all in a day with the help of a helicopter and a mountain guide safely leading the way.
Italy offers far fewer restrictions on heli-assisted off-piste skiing than other countries in the Alps, and we took full advantage of the rules. We climbed aboard an Ecureil (Squirrel) Eurocopter at Passo dei Salati, a mountain pass between the Valsesia and the Valley of Lys, which connects the villages of Alagna-Valsesia and Gressoney-La-Trinité, and headed for the shoulder of the Dufourspitze. On exit, a view of our day ahead presented itself: a stunning descent that leads skiers to either Zermatt or, to our choice, Cervinia, Italy. Dufourspitze, at 4,574m and the highest of Monte Rosa's 10 peaks over 4,000m, would be watching over us. We skied through lunch and returned to our base in Alagna via Champoluc and Gressoney with enormous smiles.
There's no skinning or heavy hiking and bootpacking required; strong intermediates who are comfortable and in control skiing off groomed slopes, including glacier skiing, will do fine. Don't expect to see any others until you've arrived back on-piste. There are different route options depending on weather and conditions, as well as your choice of final destination. Keep in mind that the cost of a taxi from Zermatt, Switzerland, back to Alagna, Italy, may be cost- and time-comparable to your overseas flight. The cost of a mountain guide and helicopter for four people should run about €1,280. The memories, of course, are priceless.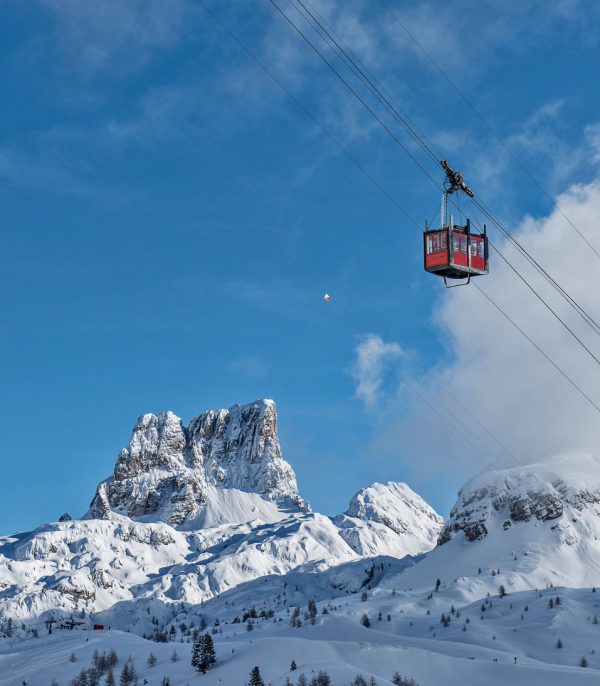 BY MINTY CLINCH
Cortina d'Ampezzo, self-styled Queen of the Dolomites, is the essence of Italy. With 1,000 years of history as a staging post between Venice and Vienna, a chaotic 20th-century lift system and a sense of personal preening, it reflects well the country's tangled personality. In the vast Super Dolomiti ski domain (with more than 400 lifts on one pass, the world's largest) it stands apart from Sud Tyrolean Teutonica. As a clodhopping Briton with no mate in matching pelts and no leashed poodle to join the passeggiata strolling the Corsa (Cortina's tony pedestrian street) at dusk, I am an inter-planetary interloper.
But such a happy one. I dine and sleep sybaritically in the Hotel de la Posta, first licensed in 1804. In this panelled cocoon, I embrace Persian rugs and sparkling stemware. Emerging onto pedestrianized cobbles, I roam among boutiques, pasticceria and shops dedicated to Salewa, Dolce & Gabbana and animal fur emporia: too fattening, too size-ist, too unacceptable. I'll have to go up a mountain.
The first bus free to skiers heads to Cinque Torre where I can slalom among forts, tunnels and trenches in the outdoor Museum of the Great War. Then onward by cable car from Passo Falzarego to Lagazuoi for the glorious swoop to Armentarola. But hey, I'm in Cortina where cliffs touched with rose, purple and gold (depending on the time of day) reach into azure skies. Reds and blues are groomed to flatter the minority who ski at all, but there is one cracker of a black. I approach from Ra Valles, brace, set, schuss as straight as I dare. The blast between rock faces is intoxicating—and terrifying. On the terrace of Baita Pie Tofana, I lose the space race to second-home owners from Milan wearing silver foil collars to reflect sun onto their chins. When the sun goes down, I enjoy food of the mountain gods.
Cortina d'Ampezzo hosts its second Winter Olympics in 2026—its first was in 1956. Will its classy allure survive? Beat the flame to know for sure.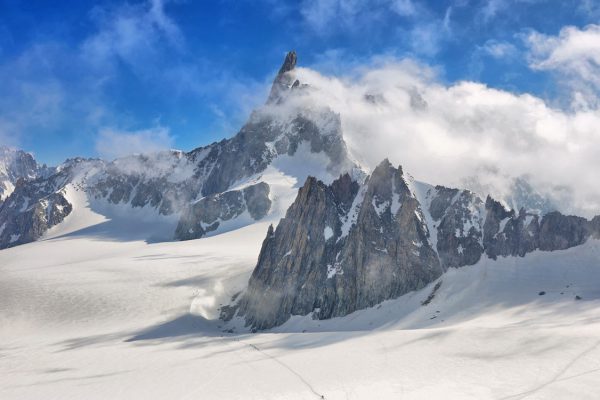 BY GEORGE KOCH
At some entirely unpredictable point good planning, blind luck and the statistical force of enough days spent on the road and on skis converge into a perfection so complete that the result doesn't seem real. So it was in Courmayeur in late January of 2001. A multi-day, metre-plus blow had ended one day before my arrival with young friend Jonas Delogne. It was mid-week and most Italians were in the office. The Mont Blanc road tunnel, the exit of which lies a few kilometres from Courmayeur, usually bringing crowds from busy Chamonix in France, was closed. The weather was sublime. We were housed in an old castle, for God's sake, the owners personally cooking our meals. Our mountain guide was eccentric but keen. We were at the top of our game.
And so began a succession of giant peak-to-valley powder descents, stretching over three days, that added up to something I'd never experienced before, nor quite have since. The Toula Glacier, the Marbrée Couloir, the Couloir Dolonne. And on and on and on. Overwhelming sensory impressions. Days in which thousand-vertical-metre, bowl-gully-apron combos were the warm-up, where a hand touching the slope while standing upright was standard, where each turn felt like Master of the Universe, and each glimpse at the monumental scenery lifted one up toward the heavens and down some infinite crevasse fading to black awed one into ant-like insignificance.
It was glorious beyond belief. I felt like James Salter in Burning the Days. In a now 55-year skiing life, Courmayeur in '01 was a singular instant, unique and never to be repeated. So far. Hope lives, and sustains.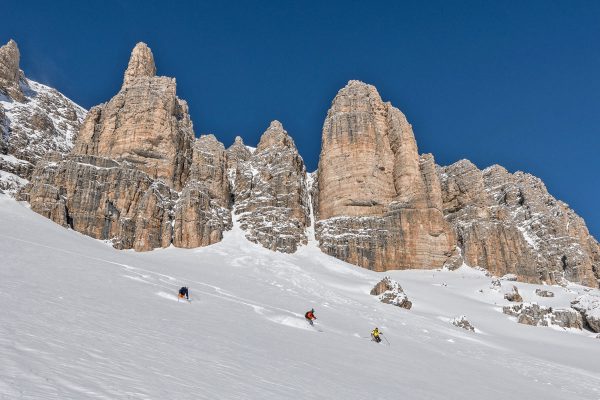 BY RYAN STUART
I intentionally attempted to get on the Fedaia-Pian Fiacconi solo—it only takes one skier at a time. On my first attempt, I failed miserably. Boarding the austere solo gondola alfresco is like jumping onto a moving merry-go-round. I haven't done that in more than 30 years. And never in ski boots with a pair of skis and poles in hand. With an audience. Nevertheless, when this nostalgic, very non-detachable human-sized tin can whipped around the bullwheel, I confidently took a couple of strides toward the opening at the back, telling my partner I'd see him up top, but right before I jumped at the moving target, playground instincts kicked in. I'm moving too slowly I realized, and I would need another hand. With clangs of ski gear hitting metal, I aborted just before a certain faceplant.
For attempt two, I got a running start, grabbed the back bar with a death grip and…well…the actual mechanics of how I crawled aboard without dropping my skis is a bit blurry. All I know was moments later I was flying high, getting closer to the spectacular Italian Dolomites, with a little metal railing protecting a nearly 200m fall to the massive Marmolada glacier below.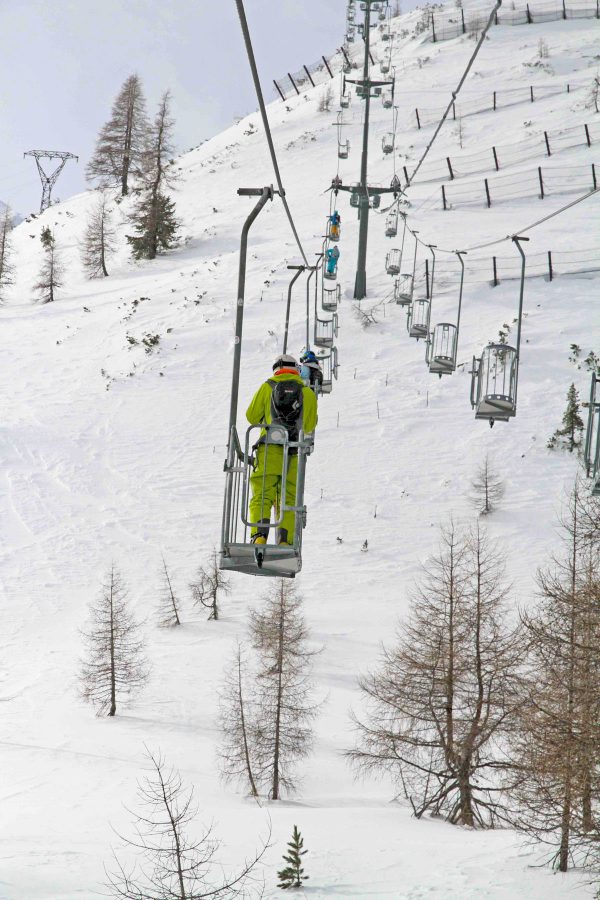 There was no need to bring an annoying drone; from up there the wide-open face stretched as far as I could see, and continued all the way to the upper station high above. It was wild, raw and exciting in its own way, rising nearly straight out of the valley with a mid-station cut into a nearly vertical cliff face and a summit unload tunnelled directly through the mountain. As I neared the top, I didn't want to take my eyes from the views—until I suddenly realized I had no idea how to get off.
The Fedaia-Pian Fiacconi at Arabba/Marmolada is open in springtime only and part of the 400+ connected lift network known as Dolomiti Superski. More than the memorable skiing it provided, riding this lift is what I will always remember of my first ski adventure to Italy.
Talking with Reinhold Messner in Kronplatz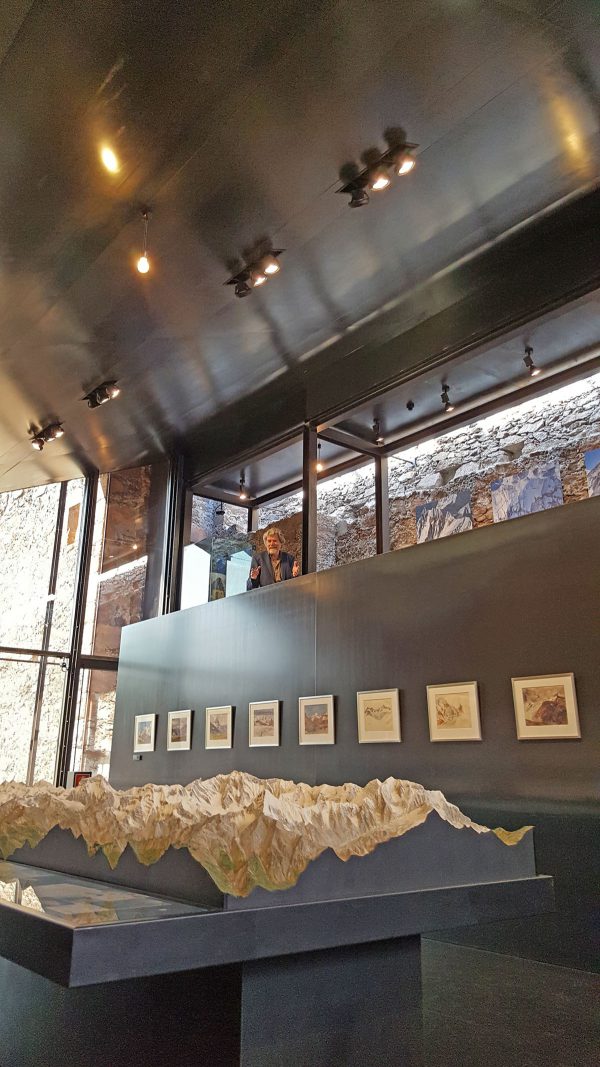 BY LESLIE WOIT
In 1978 Reinhold Messner became universally famous for being the first to solo summit Mount Everest without supplemental oxygen. Unfatigued, in 1986 this maverick of the mountains became the first to conquer all 14 8,000m peaks. He also crossed Antarctica and Greenland without a dogsled or snowmobile, and he did the Gobi desert alone. More recently, he dedicated a decade to building six stunning Messner Mountain Museums (MMM), an exploration of mountain people and their culture, all in his home region, the Dolomite-dappled South Tyrol.
At the tippy-top 2,275m summit plateau of Kronplatz, an eerie wave of curves and glass interrupts the spiky Dolomite panorama of rose and coral. The view is forever—beyond South Tyrol to the Ortler in the west, the Marmolada in the south to the Zillertal Alps in the north. The building, created by Zaha Hadid, is a space-age wonder and, inside, are paintings, equipment, sculptures, relics and even Messner's (unused) oxygen bottle from the Everest expedition. Chronicling 250 years of modern mountaineering—the Eiger, Matterhorn, Cerro Torre, K2—all the biggies, the triumphs and the tragedies, are personally collected and curated by patron and visionary, the iconic mountain man himself, Reinhold Messner. I met with Messner, now 76, at the ski-in/ski-out MMM Corones, one of the alpine world's most beautiful museums, to ask about his motivations.
What made you build museums dedicated to mountains?
I do only what I like to do. After doing thousands of climbs and hundreds of expeditions, I want to share what I know. There is a lot of history, literature and art behind mountaineering.
Is staying safe in the mountains about skill? Or is there luck, too?
Go at the right time. Go in good shape. Go with open senses. The art of alpinism is simple: to go in the most dangerous places but not die.
What is your ski history?
I learned to ski as a small boy like everybody in the Alps. When I became an expedition climber I did not totally forget about skiing, but it was too dangerous. I prepare an expedition with a lot of cost and time. I could not break my leg before going to Everest.
How was it when you crossed Antarctica on skis?
This is not skiing. Once we had a moment that we could ski down, which was very nice. The rest was hiking—and you don't hike like you're doing cross-country, you hike with a very heavy sledge.
Did you use skis to conquer any of the 8,000ers?
I'm not such a good skier. I skied on Shishapangma after 7,200m. We used skis because it's very flat and with skis you are much quicker, going up and also on the way down. I used skis on McKinley up to 4,000m.
Do you have sympathy for normal alpine skiers who use lifts?
It's okay; it's maybe not even a sport. Naturally, it's a sport for the famous downhillers, but with millions of people going to the pistes for three or five days of holidays…this is a big hype.
How so?
Skiing in the mountains was once part of alpinism, then in the 1930s someone invented this new sport bringing the people up with a lift and going down on a prepared piste. These are two different activities today. Both are okay—it's part of tourism but it's not part of alpinism anymore.
Where do you like to ski?
One of the best places for me is the Dolomite area. It's not overdone, but it's on the limit of lifts. You can go for 800 km—easy and difficult pistes, morning light, evening sun. I ski with my children, especially in Sulda because I have a house there and a museum. I go ski touring once or twice a year.
You've been involved in the campaign to stop heli-skiing. Why?
I'm not totally against heli-skiing. If you bring people up with a helicopter you leave the mountains wild, but you cannot do it in the Alps—it is too small and the noise is bothering other people.
You've had to make impossible life and death decisions. How can we deal with fear in the mountains?
Normally the stressful situation is before you start. On the mountain, if you are really strong enough, you're secure and quiet. Only if something happens that you are not expecting is it a stressful situation—but in this case, you are very concentrated and calm: you react. If you are good, you react in the right way.
Are there dangers on the pistes, too?
Young people are so quick and they don't look left and right. Many are not controlling their own speed. This should be forbidden.
You've seen beauty, pain, death, joy in mountains. Do mountains ever make you laugh?
No, laugh is not the right word.
Do they have a sense of humour?
Not the mountains. Humans, they can have it. I think that a person who has a sense of humour is better off in the mountains than a person without it, because it's absolutely schizophrenic what we do; an intelligent person would not go where he or she could die, but we do. Doing mountaineering on your own is a very good school of life.
What has it taught you?
That you can only make human experiences if you take responsibility. If you leave the responsibility to someone else, you are still a child. If you do it in an extreme way, death is part of it—every second.
What is your next dream?
I am a great admirer of Milarepa, a Tibetan philosopher who lived in a cave and wrote beautiful songs—he was the Bob Dylan of 1,000 years ago. I will not be able to spend my old days on vertical walls, so I would like to go in the mountains and spend a month and stay in a cave to be by myself. Still, maybe for a few years my energy is needed for other things.