Making Tracks in Northern BC
---
Hop on board the Skeena Express! Northern Escape Heli, Shames, Skeena Cat and Smithers.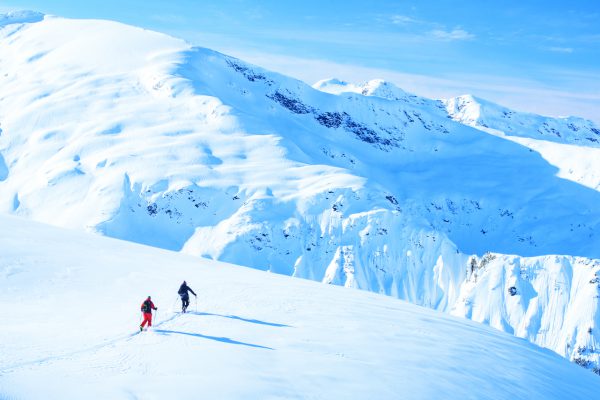 BY ANDREW FINDLAY | PHOTOGRAPHY BY STEVE OGLE
Skiing is a fickle business. You plan months in advance then hope for three things: powder, bluebird weather and snowpack stability. In other words, a miracle.
We're sitting in an Air Canada Dash 7 circling high above the Terrace airport eating complimentary pretzels, while a blizzard hammers sideways a few thousand metres below. I imagine the pilot eyeing the fuel gauge as it steadily drops, as does our probability of landing.
People have headed north for all kinds of reasons—open space, illusory dreams of sanctuary in wilderness, gold nuggets the size of baseballs… My compass had been tuned to the north with a nostalgic vision of a B.C. version of a Swiss ski train. But first things first—this bird needs to land. Regrettably our pilot is forced to return to Vancouver.
Four hours after leaving YVR, photographer Steve Ogle, Nelson skier Sam Kuch and I are back where we started, hoping for better luck the following day. Last word from up north was that VIA Rail's Jasper to Prince Rupert Skeena Express, which snakes through epic ski country and stops on the doorsteps of some folksy operations, like Shames Mountain, Northern Escape Heli Skiing (NEH,) Skeena Cat Skiing and Ski Smithers, was temporarily shut down while avy techs hustled to bomb the countless avalanche paths hanging above the tracks between Smithers and Prince Rupert.
Too much snow—the ultimate First World problem. Luckily our friend Dean Wagner, a Prince Rupert fisherman, co-owner of the boutique ski design-and-build company Divide Rides and a long-time local Shames Mountain shredder, has offered to step in as shuttle driver until the train starts chugging again and join us for a week of northern powder.
The next morning, our second attempt is seamless. We land under brilliant blue. Cars in the parking lot are buried to the windows. When we finally pull into Northern Escape's HQ, a 10-minute drive west of Terrace, we are just in time for the mandatory avalanche safety briefing that would get us flying that afternoon. Soon we're huddled with a Norwegian foursome on a ridge smack in the middle of NEH's expansive tenure near Terrace. Storm clouds have cleared and 50 cm of fresh blankets the Skeena Range. Snow—check. Weather—check. Stability—check. If someone had declared free beer for the entire week, I wouldn't have been surprised.
"I've never seen snow fall with such intensity for so long, with no wind effect," NEH owner John Forrest told us when we joined the post-breakfast guides' meeting.
For chumps like us, heli-skiing is like getting randomly selected for a test flight on an Elon Musk SpaceX mission. For the affluent Norwegians with whom we're sharing the chopper, strapping into the seat of an A-Star is as mundane as loading a high-speed chairlift. Yet even this crowd of seasoned heli-skiers is giddy over the promise of blower, top-to-bottom conditions. Guide Oyvind Aanes, also a Norwegian, leads us into one of NEH's marquee runs, Sleeping Beauty Bowl.
My first legit faceshot of the season comes five turns in, and it doesn't stop until the pickup 800 vertical metres later. These 60-something Scandinavians can shred. Norwegians are like the Western Canadians of Europe—they ski, fish, farm fish, log and suck fossil fuels out of the ground. The only difference is that they have leveraged their oil and gas riches into a national cash cow while we have squandered ours. Oh, and Norwegians eat whales, and we don't.
We spend the day in NEH's bread-and-butter zone, the Promised Land, and manage to knock on the border of the farther-flung and less skied Wild West. It's as Forrest described—each run knee-deep in fluff with hardly a hint of wind crust. Near mid-day we spot a mountain goat traversing a sun-baked slope above another Promised Land powder run and watch as this nimble alpine ungulate nonchalantly kicks out a size-one slab avalanche.
That evening, after dining with our fellow guests and poaching ourselves in the outdoor Jacuzzi, we slip back into dirtbag mode and drive to Terrace for a tour of the taps at Sherwood Mountain Brewhouse. There's a buzz of excitement among the chatter and clinking of sleeves. I check my phone for updates from VIA Rail—still no train, still no problem. Tomorrow is Thursday, opening day for the week at Shames Mountain, the co-operatively owned ski hill that is the embodiment of community spirit in Terrace.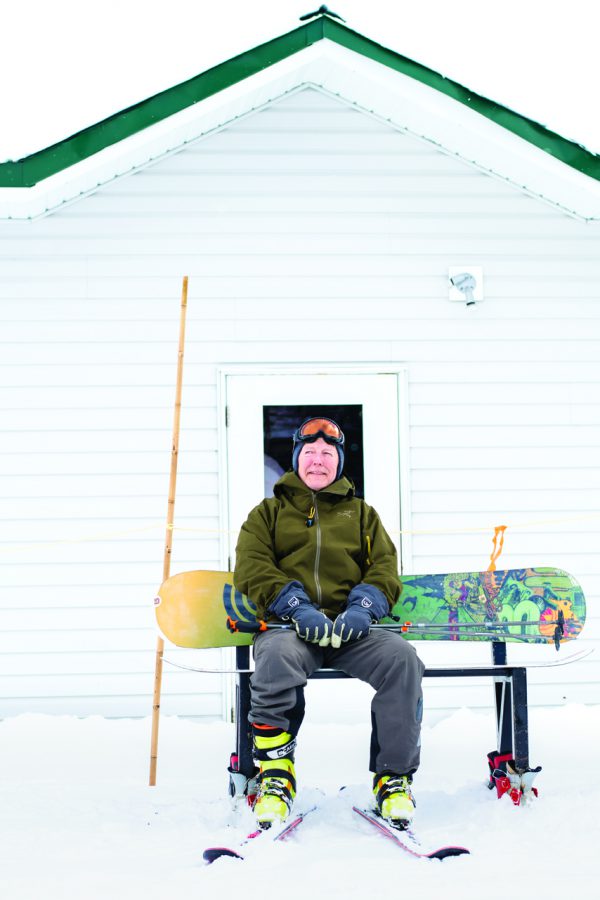 An espresso and an egg-and-bacon wrap to go from the Elephant Ear in downtown Terrace, and before long we're rallying at Shames's top T-bar, where a young Nisga'a liftee listens to heavy metal at impressive early-morning volumes. A sticker on the top tower reads Shred Pow—Save The World. Like its twin antithetical non-corporate ski hill, Mount Cain on Vancouver Island, Shames is best known for its bountiful slackcountry goods. We tag up with another Shames local, Chris Pucci, Wagner's business partner at Divide Rides. With his tangle of long, black hair and tall, wiry frame, he's a Frank Zappa doppelganger. His friendly energetic nature is a welcome addition as we start skinning up to the Dome, following a knee-deep trench of an up-track.
"Wow, this place is busy," Pucci says as we crest the Dome and scope a handful of other parties traversing the long crescent ridge above Burgers and Fries.
Busy is a relative term. The backcountry around Shames is what Whitewater near Nelson once was—like strutting into a neighborhood pub where you know at least 90 per cent of the patrons.
Soon we meet a lone wolf searching for ski touring buddies. Corey Boux is a recent Terrace transplant from Whistler with an unconventional résumé, which includes TGR whitewater paddler and adult entertainment "star." Turns out he can add expert skier to his Linked In profile. After traversing above the North Bowl, we watch as Pucci and Boux pair up to ski a spicy north-facing line into Hidden Lake.
We're bound for Thunderbowl, an eye-catching face across the valley from the well-traveled North Bowl. Fifteen minutes later my spine tingles at the top. Three days after the storm, the alpine snowpack has settled substantially, but last night's breeze left the top layer with the suggestion of a slab. Below us lies a 600m trackless bowl that, although no steeper than 35 degrees, is the catchment basin for house-cleaning avalanches.
Wagner drops in first, surfing at speeds that quickly gobble the vertical, followed by Kuch who seeks out a wind roll midway down for a 360 tail grab. Wind-effect snow up high gives way to easy skiing boot-top down low. We regroup on a protected knoll and my quads are barking, thanks to yesterday's Everest and a half worth of heli-skiing vertical. From there we pick our way down a series of steep thinly treed spines of solar schmoo that spits us onto the flats. We glide toward the safety of thick timber beyond the reach of avalanche run-out before skinning up.
That night I check my phone—train on, game on, tomorrow afternoon. At noon the next day we're standing next to the tracks and Terrace's one-room station house, awaiting the elusive ski train. The clock ticks; the train is behind schedule.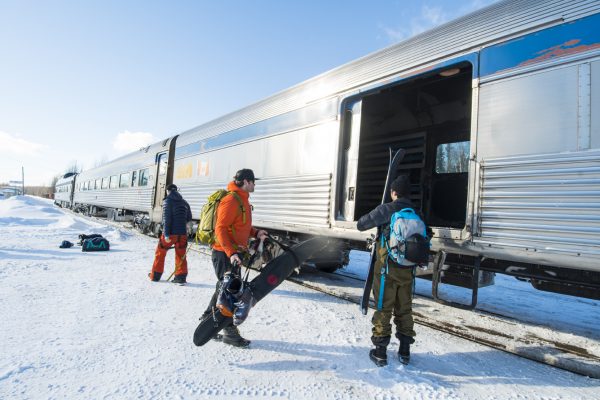 Eventually our diesel locomotive and five coaches arrive. We show the conductor our tickets and clamber aboard then ascend directly to the domed observation car. Fifteen minutes later we're rolling east. The train sways and I settle in to watch the winter wilderness roll past, like a Destination B.C. promo video. The tracks meander alongside Skeena River, one of the world's great salmon rivers that slices through the mountains on its journey to the Pacific Ocean. Today it's a frozen beast, jammed with heaving ice blocks.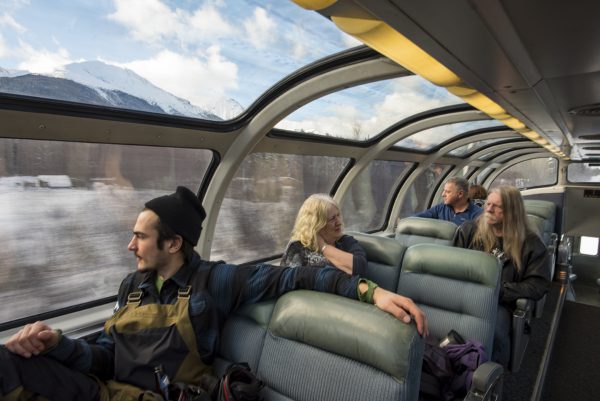 Train travel allows for plenty of time to make acquaintances, like it or not. Though my eyes are focused on the scenery, my ears are tuned to Joe Viscount from Prince Rupert, a striking character with long silver hair tied in a ponytail, a guitar and a catalogue of anecdotes stranger than fiction. When he hears that we're going cat-skiing, he tells us he once ski-raced for Head, before ending his career with a broken femur after a crash at Mont Tremblant. He also once street-raced an on-duty cop in a marked police cruiser—and won. I begin to wonder if he may be a VIA Rail staffer, an interesting character embedded among the passengers to add colour to the journey.
"This is your stop," the conductor announces, bringing Viscount's monologue to a close.
The train squeals into a desolate industrial yard, the New Hazelton train station. Fifteen minutes later we're bouncing along a bobsled track of a logging road in a crew cab driven by a fella with a stock of embellished stories that quickly rivals Viscount's—Jevon Zyp, who launched Skeena Cat Skiing back in 2011 with his mum, Lynn.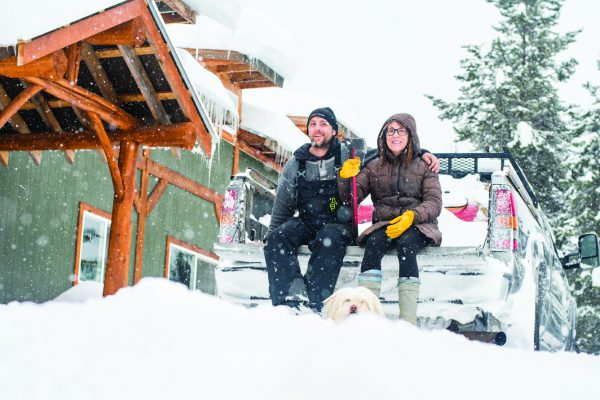 "It takes me eight hours to plow this road," Zyp says, as we slide around a corner, just as I spot the frozen carcass of a pine marten dangling morbidly from a roadside trap.
The road ends in a pull-out but the journey continues. We step into bracing -18C air, then load ski gear and food boxes into a snowcat that sputters to life. Gently falling snow glitters in the headlights as we wind through the forest for 30 minutes before finally pulling into base camp. We chuck our bags into our wall tents then crunch over to the main dining tent. Cook Jenn Anderson has prepared a five-star feast: grass-fed Bulkley Valley beef tenderloin and cheesecake drizzled with wild huckleberry coulis.
The following morning, after a safety briefing, Zyp informs us that we'll be riding sleds while the other guests load the cat. A half-dozen years in and un-skied lines remain in Zyp's tenure. This morning he has his eyes on a short but gamy line close to camp but beyond the reach of the cat roads.
"You fuckin' suck at riding a sled," Zyp informs me, 10 minutes after we leave camp.
He's right, I do suck. I fell off twice trying to ride tandem with Wagner before we'd even reached the ridge overlooking the line in question. Consequently, I'm booted off the machines and relegated to ski a low-angled, wind-buffeted bowl in time to meet the cat on its second lap. Kuch and Wagner sled around a horseshoe ridge with Zyp and drop a quick 10-turn wonder.
In the afternoon we join the rest of the guests for a few laps on Chocolate Factory, a choose-your-own-adventure run through steep trees. Buddying up, we seek virgin untracked lines left behind by the previous week's guests.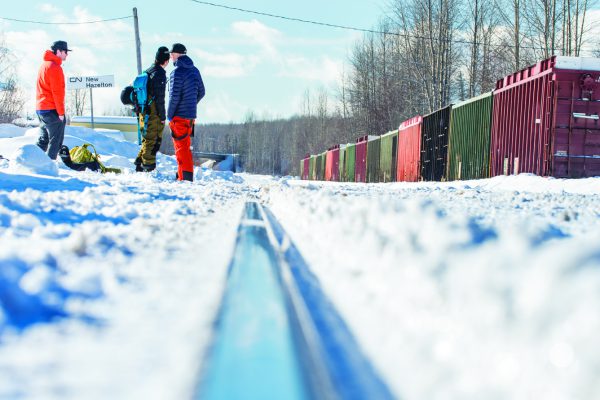 Two days of powder skiing later, we leave Skeena Cat Skiing with a fresh supply of off-colour jokes and are back at the New Hazelton industrial yard waiting for our train—the final leg to Smithers. The Skeena Express eventually arrives and we board and resume our position in the dome car. This time we have it to ourselves. The train rolls on. A moose standing in a marsh next to the Bulkley River releases puffs of warm breath into the clear winter air. A half hour later the train passes the crossing for the logging road that heads into Hankin Evelyn, the community created and maintained backcountry-skiing zone with a couple of day huts and a dozen or so runs slashed through thick timber.

An hour later we pull into the quaint station in downtown Smithers. Hudson Bay Mountain looms above, presenting its tantalizing 2,000m north face. Blaine Estby, a local boy and gregarious co-owner of Smithers Brewing Company, is there to greet us. Tomorrow we'll ride the lifts at Ski Smithers, but now it's time to chill and enjoy the ambience of this northern B.C. mountain town, complete with a giant alpenhorn at the top of the main street.

En route to our hotel, Estby drives past a long-closed elementary school to show us the arched gymnasium roof that collapsed a few days earlier, a testament to the storm of the season. Too much of a good thing?

A train whistle echoes through the broad sweep of the Bulkley Valley, like a call to the north. For those on a time-sensitive schedule, maybe not. But for others willing to settle into the lazy rhythm of northern time, the Skeena Express will deliver you to golden nuggets of winter magic.

BC, British Columbia, cat-skiing, Featured, heli-snowcat skiing, Northern Escape Heli, Shames, Skeena Cat, Smithers