Reading Time:
5
minutes
Have multi-resort passes changed the way you ski?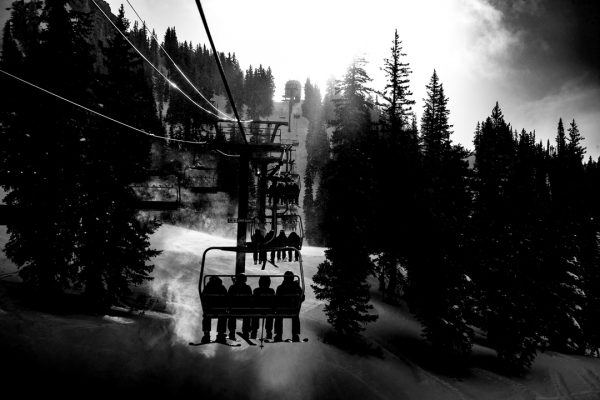 Few innovations have disrupted—and reconfigured—the cost of ski holidays, and indeed how we choose where to ski, quite like Vail's Epic Pass, Alterra's Ikon Pass and the Mountain Collective membership. According to the National Ski Areas Association (NSAA), more than a million of us in North America bought either an Ikon or Epic pass, accounting for an estimated one in nine skiers, with Vail saying roughly half its ticket revenue now comes from its prepurchase pass programs. Effectively, that's a million skiers who paid $1,500 for an Ikon Pass or US$979 (roughly $1,400 with exchange rate and credit card foreign currency charges) to go Epic and ultimately become de facto season pass holders at not just one, but dozens of different ski resorts across Canada, the U.S. and well beyond.
What the Epic and Ikon passes have done is greatly expanded what might be called the "aspirational reach" of the urban skier. For as low as $1,089, a skier in, say, Ontario would receive an unrestricted Blue Mountain season pass in Collingwood, or a Quebec skier at Tremblant. But their Ikon base passes are also good for a limited number of days at 43 ski areas, including some truly A-list western resorts like Revelstoke, Banff/Lake Louise, Jackson Hole, Aspen, Taos, Snowbird, Alta, Squaw Valley/Alpine Meadows and Mammoth, as well as eastern skiing like Killington and Sugarbush, even Zermatt in Switzerland, Chile, Japan and five Down Under.
What these passes have done is favour corporate loyalty over "localism" (think of Vail Resorts as closer to Microsoft than a town in the Colorado Rockies). Until the pandemic hit, cheaper flights, the rise of owner-rentals like VRBO and Airbnb, and highly accurate storm-tracking weather forecasts, a trio of skiing buddies might decide to blow out of the city on Thursday morning and fly to the mountains for a long weekend—and do similar trips to another province or country several times over the season.
Is your 2021 looking epic, indy, collective or iconic?
With the Epic introduction, the cost of a season pass dropped significantly at big resorts like Whistler, while overall numbers of pass holders increased dramatically. Which is fine until weekend sun is predicted after a stormy week of powder and village lift lines become part of the Hwy 99 queue from Vancouver.
There's no lack of online chatter from so-called "locals" of North American mountain towns (even if they're just there for the season van-camping in a parking lot), calling out urban dilettantes who, of course, can "never be core." As an example, in mid-2019 Vail Resorts purchased a ton of small "feeder resorts" in the East and Midwest. Now Epic passholders at Hunter Mountain outside of New York City (or the ironically named Afton Alps in Minnesota) can get their skiing fix locally, while gaining unlimited/no-blackout access to superb western resorts like Crested Butte and Keystone/Breckenridge. That same pass buys 10 "non-peak days" (i.e. Christmas through New Year's is a no-go, as well as Martin Luther King Day and mid-February's Presidents' Day weekend) at Vail's big three: Vail, Beaver Creek and Whistler Blackcomb.
Now, what about those smaller, independently owned "little areas that rock"? Well, there's even an Indy Pass that provides two free days of skiing at each of 52 different resorts for only US$199. The challenge is that you probably haven't heard of half of the American ones, and they're definitely a bit of a haul from major towns and cities. But in Western Canada, your Indy Pass will get you to some fantastic skiing at Sasquatch Mountain (80 minutes east of Vancouver), Apex Resort (near Penticton) and Castle Mountain (southern Alberta). At SC's press time, no eastern Canadian Indy resorts had yet signed on. Perhaps Indy Pass's tagline "Get America Skiing" sounds too much like "Make America Great Again."
Finally, there's the Mountain Collective. For US$469 (or roughly C$640) you get two "free" days at some pretty Canadian A-list resorts such as Lake Louise, Banff/Sunshine, Revelstoke, Sun Peaks and Panorama—which makes the Collective an ideal choice if you want to road trip with a few friends for 10 days or so in Western Canada. Collective passholders also get a nice bonus of a 50 per cent discount on any additional days.
Thanks to COVID-19, we don't know what the 2021 ski season will look like. The operational challenges of social distancing in lodges and gondolas didn't stop resorts both large and small (Whistler, Grouse, Blue Mountain, Mont-Sainte-Anne…) from opening during the summer months. Come winter, however, sharing billions of molecules of steaming mouth vapours while crammed inside a cabin with a group of "Live Free or Die" anti-maskers from Florida or Texas doesn't sound likely.
The ski industry thrives on adaptability and resilience, and skiers are intrepid. Active people hate being cooped up indoors, and so there will likely be plenty of pent-up demand, even if social-distancing restrictions are in place. Still, resorts are enormously fickle businesses; they depend on both a robust economy plus blessings bestowed by the weather gods of snow and sunshine. Coronavirus fallout may result in more skiers vacationing closer to home mountains this season—only time will tell. Then again, a lot more of us may have fresh powder and smooth corduroy past 10:30 a.m.
PASS POINTERS
A staggering percentage—as high as 80 per cent at some resorts—of lift tickets are still purchased at "full retail," that is, the ticket window price. (Note that Liftopia, the third-party ticket reseller that many skiers would use for cheap(er) last-minute tickets, filed for bankruptcy in the spring.
The biggest issue—unresolved at press time—is "What if I buy an Epic or Ikon pass and the U.S. border is closed?" Vail Resorts policy will be to pro-rate your pass refund based on the number of days it's used during the season. New this year: Vail will refund that money onto your credit card or provide you with a credit, your choice. Ikon passholders can defer their 2020-21 passes to the next season—see the Adventure Assurance fine print.
Both Epic and Ikon passes are charged to your credit card in American dollars that are then "converted" to Canadian dollars. Unlike say the airline industry, Vail hasn't figured out how to price a Whistler-only season pass to Canadians in their own currency. Yes, an unachievable exchange rate is quoted on Vail's website but avoids reminding buyers that almost all credit cards charge an additional but hidden five to six per cent exchange rate and credit card foreign currency fees.
Restrictions often apply; Vancouver area skiers who try using their discounted EDGE Cards (in three, five or 10 tickets) are often surprised to find out that those passes are not redeemable on American holidays like Martin Luther King or Presidents' Day weekends.
Ancillary discounts are often available on meals, rentals, gear and lessons, but are not always heavily publicized. For 2021, Epic passholders will receive 20 per cent off accommodations, lessons, meals and merchandise at Vail Resorts' businesses.
As usual, the early bird gets the worm. Pre-season pricing seems to get earlier with each passing year; guests can lock in payment if they make a commitment as early as May, with this year's deadline delayed a couple of weeks because of that little pandemic thing going on. Smaller resorts in both the East and West often provide their season passholders with "reciprocal pass" arrangements that offer discount, and even free, lift tickets at larger mountains.
Vail Resorts makes it easy (maybe too easy?) to lock in savings on an Epic Pass. You can put down $49 in the spring and not pay the remainder until the autumn.