December/January 2022 – Vol 50 #3
---
December/January 2022 published week of December 13, 2021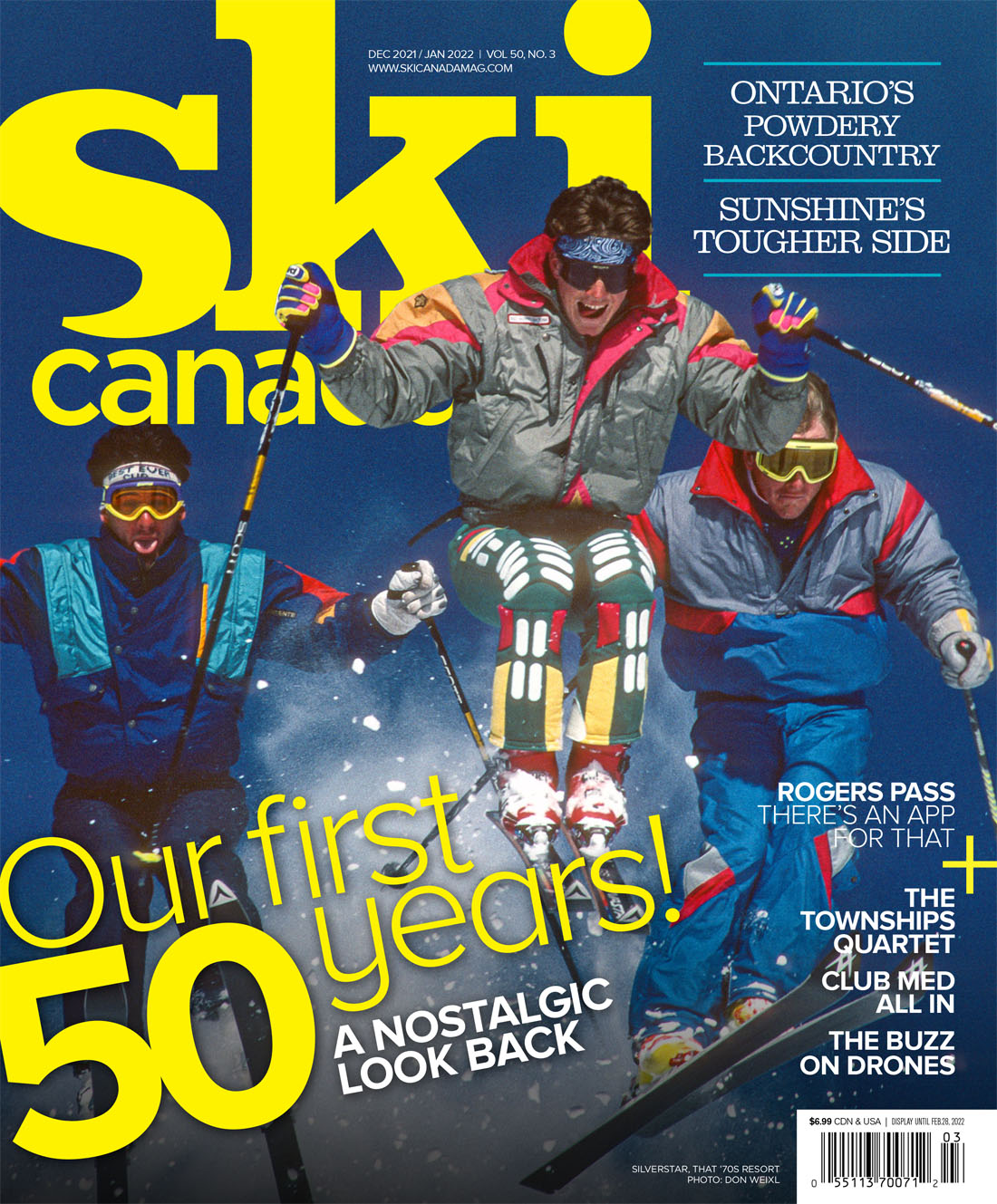 photo: DON WEIXL * Silverstar Mountain Resort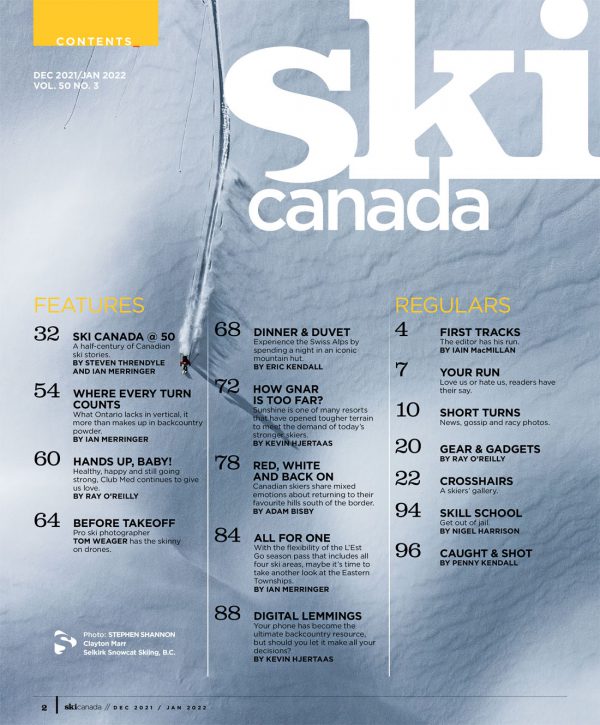 photo: STEPHEN SHANNON * skier: Clayton Marr * Selkirk Snowcat Skiing
SKI CANADA DECEMBER/JANUARY 2022
VOL. 50 NO. 3
FEATURES
SKI CANADA @ 50
A half-century of Canadian ski stories.
BY STEVEN THRENDYLE and IAN MERRINGER
WHERE EVERY TURN COUNTS
What Ontario lacks in vertical, it more than makes up in backcountry powder.
BY IAN MERRINGER
HANDS UP, BABY!
Healthy, happy and still going strong, Club Med continues to give us love.
BY RAY O'REILLY
BEFORE TAKEOFF
Pro ski photographer TOM WEAGER has the skinny on drones.
DINNER & DUVET
Experience the Swiss Alps by spending a night in an iconic mountain hut.
BY ERIC KENDALL
HOW GNAR IS TOO FAR?
Sunshine is one of many resorts that have opened tougher terrain to meet the demand of today's stronger skiers.
BY KEVIN HJERTAAS
RED, WHITE AND BACK ON
Canadian skiers share mixed emotions about returning to their favourite hills south of the border.
BY ADAM BISBY
ALL FOR ONE
With the flexibility of the L'Est Go season pass that includes all four ski areas, maybe it's time to take another look at the Eastern Townships.
BY IAN MERRINGER
DIGITAL LEMMINGS
Your phone has become the ultimate backcountry resource, but should you let it make all your decisions?
BY KEVIN HJERTAAS
REGULARS
FIRST TRACKS
50 Years of Fun
BY IAIN MacMILLAN
YOUR RUN
Love us or hate us, readers have their say.
SHORT TURNS
Seemed Like a Good Idea – Scott boots
Powder King – Diamond in the Fluff
Sun Peaks Resort – 60 Years of Cold Bums and Hot Toddies
GEAR & GADGETS Black Crows Pilus skins * Dynafit Alpha jacket * Racer Glove Connectic 4 mitt * K&B Sport double ski bag * Odlo Performance Warm baselayer * Descente Zack insulated jacket * Rab Valiance jacket * Avalanche Jasper jacket * Swany TS e8Supreme Toaster mitt * Auclair Outseam * Patagonia AlpLight Down jacket
BY RAY O'REILLY
CROSSHAIRS
A skiers' gallery.
SKILL SCHOOL
Get out of jail.
BY NIGEL HARRISON
CAUGHT & SHOT