Reading Time:
3
minutes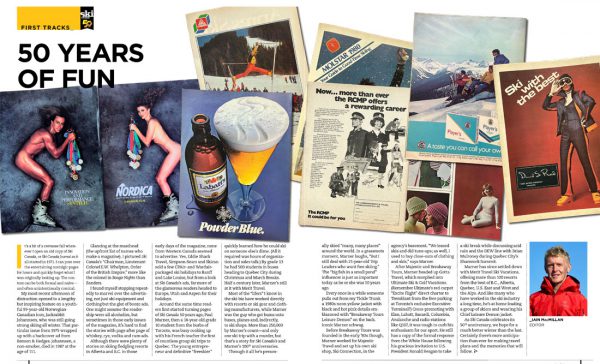 It's a bit of a crevasse fall whenever I open an old copy of Ski Canada, or Ski Canada Journal as it all started in 1971. I can pore over the entertaining nostalgic pages for hours and quickly forget what I was originally looking up. The content can be both formal and naïve—and often unintentionally comical.
My most recent afternoon of distraction opened to a lengthy but inspiring feature on a youthful 99-year-old Norwegian-Canadian icon, Jackrabbit Johannsen, who was still going strong skiing all winter. That particular issue from 1975 wrapped up with a backcover ad from Benson & Hedges. Johannsen, a non-smoker, died in 1987 at the age of 111.
Glancing at the masthead (the upfront list of names who make a magazine), I pictured Ski Canada's "Chairman, Lieutenant Colonel E.W. Whelpton, Order of the British Empire," more like the colonel in Boogie Nights than Sanders.
I found myself stopping repeatedly to marvel over the advertising, not just ski equipment and clothing but the glut of booze ads. One might assume the readership were all alcoholics, but sometimes in those early issues of the magazine, it's hard to find the stories with page after page of whiskey, rye, vodka and rum ads.
Although there were plenty of stories on skiing fledgling resorts in Alberta and B.C. in those early days of the magazine, none from Western Canada seemed to advertise. Yes, Eddie Shack Travel, Simpson-Sears and Skican sold a few CPAir- and Wardair-packaged ski holidays to Banff and Lake Louise, but from a look at Ski Canada's ads, far more of the glamorous readers headed to Europe, Utah and Aspen for their holidays.
Around the same time readers first started turning pages of Ski Canada 50 years ago, Paul Marner, then a 14-year-old grade 10 student from the burbs of Toronto, was busy cooking up with his French teacher the first of countless group ski trips to Quebec. The young entrepreneur and definitive "freeskier" quickly learned how he could ski on someone else's dime. (All it required was hours of organization and sales talk.) By grade 13 he had 500 students in buses heading to Quebec City during Christmas and March Breaks. Half a century later, Marner's still at it with Merit Travel.
Most of the "lifers" I know in the ski-biz have worked directly with resorts or ski gear and clothing manufacturers, while Marner was the guy who got bums onto buses, planes and, indirectly, to ski shops. More than 250,000 by Marner's count—and only one ski trip with a murder, but that's a story for Ski Canada's and Marner's 100th anniversaries.
Through it all he's personally skied "many, many places" around the world. In a grassroots moment, Marner laughs, "But I still deal with 21-year-old Trip Leaders who want free skiing." The "big fish in a small pond" influencer is just as important today as he or she was 50 years ago.
Every once in a while someone pulls out from my Tickle Trunk a 1980s neon-yellow jacket with black and hot pink details emblazoned with "Breakaway Tours Leisure Demon" on the back. Iconic Marner schwag.
Before Breakaway Tours was founded in the early '80s though, Marner worked for Majestic Travel and set up his own ski shop, Ski Connection, in the agency's basement. "We leased skis and did tune-ups; as well, I used to buy close-outs of clothing and skis," says Marner.
After Majestic and Breakaway Tours, Marner headed up Gotta Travel, which morphed into Ultimate Ski & Golf Vacations. (Remember Ultimate's red carpet "Excite Flight" direct charter to Tremblant from the free parking at Toronto's exclusive Executive Terminal?) Cross-promoting with Elan, Labatt, Bacardi, Columbia, Avalanche and radio stations like Q107, it was tough to curb his enthusiasm for our sport. He still has a copy of the formal response from the White House following his gracious invitation to U.S. President Ronald Reagan to take a ski break while discussing acid rain and the DEW line with Brian Mulroney during Quebec City's Shamrock Summit.
Marner has since settled down with Merit Travel Ski Vacations, offering more than 100 resorts from the best of B.C., Alberta, Quebec, U.S. East and West and the Alps. And like many who have worked in the ski industry a long time, he's at home leading a group of skiers and wearing his Chief Leisure Demon jacket. As Ski Canada celebrates its 50th anniversary, we hope for a much better winter than the last. Certainly there's more anticipation than ever for making travel plans and the memories that will follow.