Hands Up, Baby! – a Club Med history
---
Healthy, happy and still going strong, Club Med continues to give us love.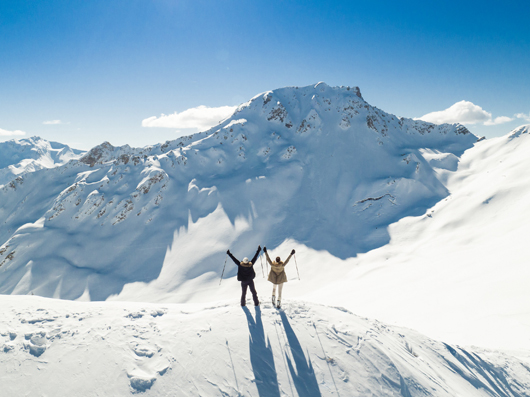 The term "AI" may be bantered about in conversation everywhere these days, often in reference to how our lives are going to change for the better, but older skiers, ones who like to travel and appreciate good value, know the concept is nothing new. In fact, Club Med invented it more than 70 years ago.
"AI" or All Inclusive was introduced to war-weary Europeans in 1950 when Gérard Blitz, a water polo champ from Belgium who wanted to emulate life in an Olympic village, teamed up with French tent-maker Gilbert Trigano. Et voila! Club Mediterranée was born. From the first buffet laid out shortly after food-rationing rules had lifted, the multi-nation community and tents on the island of Majorca was an immediate success. Quickly added was a second camp on the Tunisian island of Djerba to help alleviate the waiting list of prospective club members.
Penned in 1950, the mantra remains ageless: "The aim in life is to be happy. The place to be happy is here. And the time to be happy is now."
Within three years, Club Mediterranée was bankrupt.
Thankfully the friends, food, music, sporty activities and happy hedonist memories were so resilient that restructuring was swift and the pleasure-seeking pursuit of happiness continued unabated. Soon, straw huts in Salerno, Italy, were added to the real estate (still with shared WCs and no electricity), and by 1956 Club Med had opened its first all-inclusive ski village in Leysin, Switzerland, with many to follow.
For the uninitiated, a ski week today includes pretty much everything it did 65 years ago, like Club Med's signature gourmet spreads four times a day; never having to pull out your wallet to get the next round at après-ski, the nightclub or wine at dinner; child-minding—and what most first-timers don't value enough until they've experienced it: group lessons and ski guiding.
Whether you're checking in as a single knowing no one, or you're part of a group of 50 or 100 Ski Canada readers, you quickly find company to ski with, to share stories, drinks and dinner with, and at the end of the week, leave making plans for the next trip. Club Med's tried and true recipe for happiness.
Quebec is actually a return to North America for Club Med. Although the upscale Crested Butte village in Colorado, favoured by families of expat Euros, shut down in 2006 after only six years, the affectionately monikered "Club Bed" singles-and-couples scene at Copper Mountain, partied on (with its incredulous policy of no locks on bedroom doors) for more than two decades during the 1980s and '90s.
Possibly the first-ever Jim Carrey film, Copper Mountain: A Club Med Experience, is a 1983 Canadian movie that also included the wacky skiing antics of Alan Thicke, the musical distractions of Ronnie Hawkins and Rita Coolidge, and bizarre cameos by Vladmir Putin's future friend Jean Claude Killy. For good reason, the thinly disguised ad for Club Med has been well suppressed on Carrey's online CVs; just getting through the trailer is painful.
It was 1980 when the French disco duo Ottawan had everyone from Europe to New Zealand singing "Hands Up, Give Me Your Love," but Club Med in North America waited until 1987 to hire the Canadian band Sway to re-record the earworm for its long-running TV ad campaign. You remember it; you're probably humming it now. The following year, the song reached RPM's number 7 in Canada.
Une porte se ferme, une autre s'ouvre. Like beach villages, Club Med's digs in the mountains have come and gone over the decades. Although Copper Mountain's mod multi-million-dollar concrete statement was purpose-built, back in the Alps many of its now-forgotten destinations were booming in some iconic, if austere, historic art deco "Palace" hotels in places like Wengen, Chamonix and Cortina d'Ampezzo. And through it all, GOs (gentil organisateurs, i.e. staff) were spreading the gospel teaching the signature Crazy Signs dance to GMs (gentile membres, i.e. guests) who were happy to dance up a storm at lesser-known ski resorts from Axamer Lizum, Austria, to Zinal, Switzerland. That said, many Anglo-skiers will say, thankfully, that the zaniness of staff talent shows and entertainment at beach villages is somewhat subdued in mountain locations.
The '90s were trying years with attempts at brand diversification, or some would say watering down of the name, like the opening and closing of Club Med World in Montreal, branded gyms, bars and restaurants. The not-for-profit "Club" legal concept was dropped in 1995, although "membership" fees are still charged today. The future wasn't looking so happy when 9/11 happened.
But in 2002, Henri Giscard d'Estaing took on the presidency of Club Med. (His father, Valéry, was also a former president. Of France.) Recognizing the many copycats that were offering (and discounting) their versions of "All Inclusive," Giscard d'Estaing began a major rebranding by taking the experience more upscale. Tired two- or three-trident villages were mothballed for extensive renovations or closed entirely to be replaced with four- and five-trident lux digs. By 2013, after long negotiations over a friendly bid from Italian interests, the enormous Chinese conglomerate Fosun Group began circling and eventually nearly doubled the sold sticker to €939 million.
From croissants to noodles, the shock to the nation of losing ownership of such an emblematic French brand was enormous. Yet the new definition of happiness, with more posh surroundings and the corresponding higher rates, hasn't seemed to slow the charge—even with the pandemic. Whether its gentile membres are returning for another ski week or they're first-timers just curious to experience it all, Club Med continues to keep us young. And happy.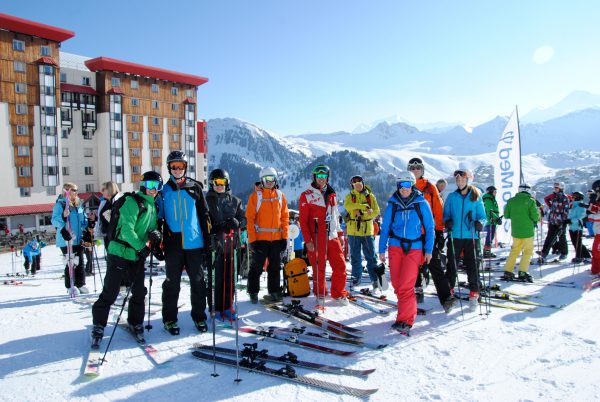 Club Med, Le Massif