Reading Time:
2
minutes
Move over, Ski Canada. At 60, Tod Mountain has a decade on you. Wait, where's that? Well, you probably know it by its more recognizable name, Sun Peaks Resort. But to those who've been skiing at the Kamloops ski area all their lives, it's still Tod, and those early ski pioneers are still referred to as "Toddies."
Back in the late '50s, if you were a skier in Kamloops, your nearest option was a day trip over to Vernon's SilverStar. It was on the drive back from one of those excursions that a couple of Kamloopsians (yes, that's really what they're called) eyed the imposing Tod Mountain and began wondering.
So Donald Munro (the namesake of the Munro Ridge run) and Donald Whyte decided that the mountain warranted a bit more investigation. With the help of a local rancher and his horses, the pair, along with a few other conscripts, set out to explore the upper reaches. What they found inspired them to form Tod Mountain Ski Resort Ltd., and by the winter of 1961 a chairlift was carrying skiers to the Top of the World, the highest lifted point on the mountain.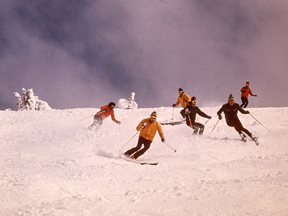 At the time, at 9,300 feet, the lift was the longest in North America. On chilly days, skiers were handed horse blankets at the bottom to stay warm on the half-hour trip to the summit. Today, with the Burfield Chairlift, Sun Peaks proudly holds claim to the longest fixed-grip quad on the planet: almost three km in 21 minutes.
To celebrate the occasion, the resort has commissioned local artist Zuzy Rocka to produce an artwork commemorating 60 years of skiing. Rocka's work, titled Dreams Aglow, is featured on special-edition mountain cards with a limited print run, and on the label of a collaborative beer brewed with local craft beer maker Red Collar Brewing Co. Cheers!