Reading Time:
3
minutes
Experience the Swiss Alps by spending a night in an iconic mountain hut.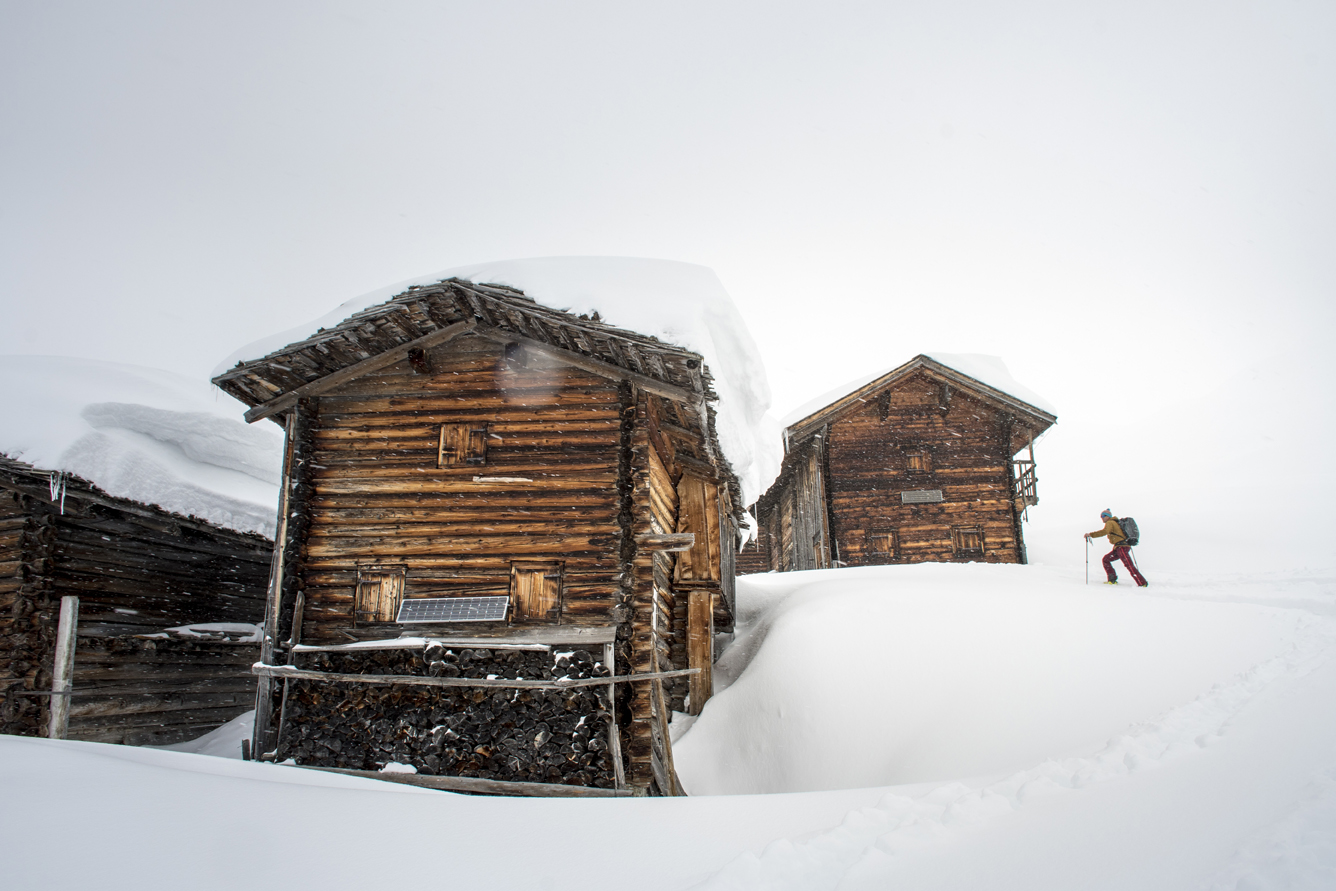 All photos: PENNY KENDALL
For more than 150 years, remote alpine huts across the Swiss Alps have been welcoming weary travellers whether on foot or skis for the night. The notorious Haute Route, which connects the mountaineering meccas of Chamonix and Zermatt, may be the world's classic multi-day, 120-km ski-touring experience. But, if that's too much of a marathon for you, there's a hut and route for almost any strong intermediate skier who wants to get off the groomers and uniquely enjoy Switzerland's Alpine terrain in near solitude.
Generally spaced within a day's skiing of each other, the network consists of roughly 250 huts, of which 150 are part of the Swiss Alpine Club. You can hub-and-day-tour some of the high valleys, or enjoy weekend or week-long forays into the semi-wild. In season, typically late winter into spring, these solid buildings provide bed and board for skiers. Small teams cook pre-dawn breakfasts and three-course evening meals, while melted snow may be the only source of water. Given the remoteness (huts are typically supplied by helicopter), rates are a relative bargain. Where else can you get bed, breakfast and dinner in such a truly spectacular off-grid setting for CHF60-80?
Accommodations range from dorms—often with open bunks sleeping a group of up to 10 people side by side—to comfortable double rooms. Visitors need to bring a cotton or silk sleeping bag liner (pillow and blanket/duvet laundry might only be annual!), but other than that everything is provided, including hut slippers, though you might want to bring your own earplugs. Running water is occasionally available, but modern indoor composting toilets are the key 21st-century upgrade over rudimentary "cold-seat long-drops" reached by a trudge through the snow.
Reaching some huts is relative child's play, starting with Switzerland's famous train and bus network (or even ski lift) before continuing on skins; others verge on mountaineering objectives in themselves. And as always, the hiring of a mountain guide for most hut-to-hut adventures is strongly recommended.
HEIMELI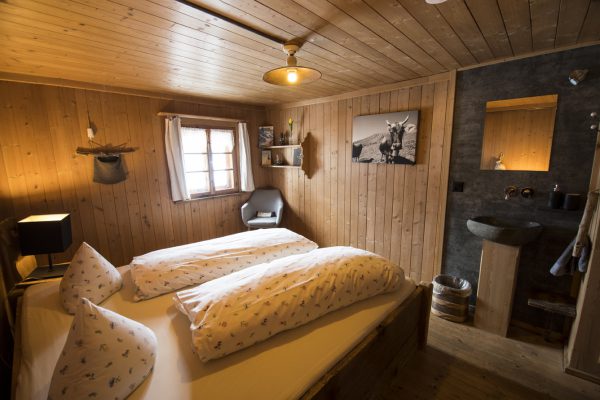 Who says you have to rough it?
Elevation: 1,832m
Beds: 30
Co-ordinates: 46°48'56.320″N 9°46'04.478″E
Nearest access point: Langwies, GR, train station; walk 15 minutes through the village, then a 1.5-hour skin on track for a total ascent of 500m. heimeli.swiss
BRITANNIAHÜTTE
The colonial one.
Altitude: 3,030m
Beds: 101
Co-ordinates: 46°03'37.599″N 7°56'06.472″E
Nearest access point: Top of Egginerjoch Poma lift, Saas Fee; a 30-minute undulating ski/skin normally on plowed track from lift-top (just 10 vertical metres below the height of the hut). britannia.ch
FINSTERAARHORNHÜTTE
High on an ice cap.
Altitude: 3,048m
Beds: 106
Co-ordinates: 46°31'20.277″N 8°06'51.883″E
Nearest access point: Jungfraujoch, above Wengen and Grindelwald; typically reached by two days of touring and another overnight (e.g. Konkordiahütte), with daily ascents of 800m+. finsteraarhornhuette.ch
CHAMANNA DA GRIALETSCH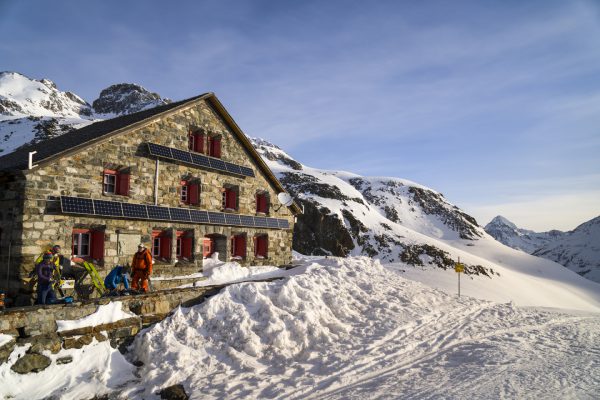 Old school re-born.
Altitude: 2,542m
Beds: 58
Co-ordinates: 46°42'38.143″N 9°57'37.995″E
Nearest access point: Davos train station and shuttle bus; 4- to 5-hour skin, 900m ascent, 250m descent. grialetsch.ch
CAMONA DA MAIGHELS
Family hospitality in a valley made for touring.
Altitude: 2,310m
Beds: 83
Co-ordinates: 46°37'33.115″N 8°41'24.560″E
Nearest access point: Oberalppass train station; 1.5- to 2-hour skin, 300m ascent. maighelshuette.ch
CABANE DU MONT FORT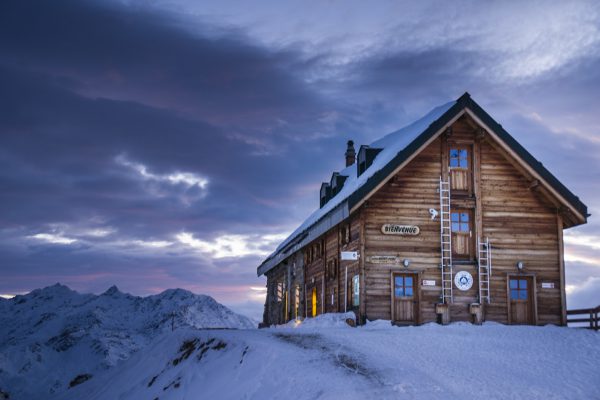 Piste-side—but still a hut.
Altitude: 2,457m
Beds: 58
Co-ordinates: 46°05'02.731″N 7°16'52.106″E
Nearest access point: Jumbo cable car, Verbier; ski-in direct. cabanemontfort.com
CABANE DE TRACUIT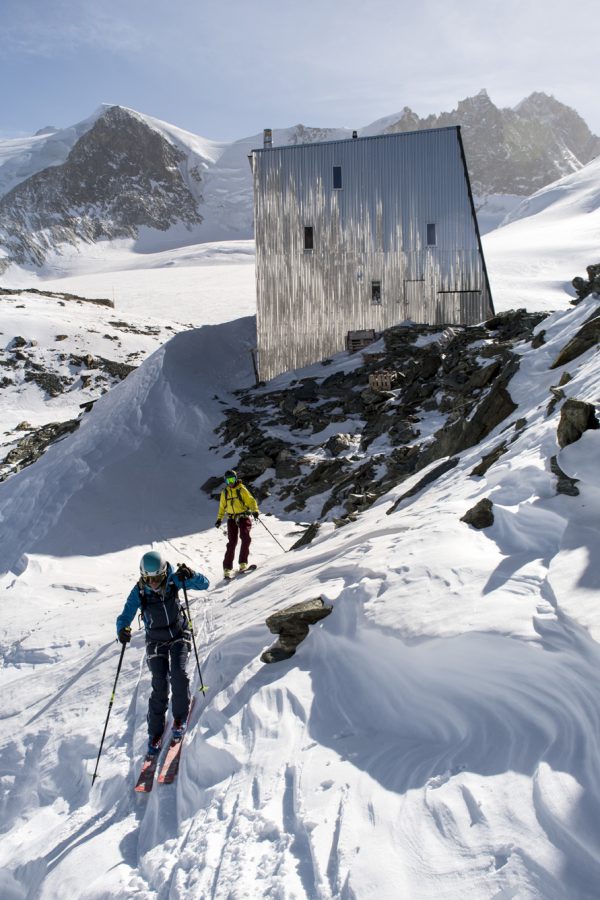 High hi-tech hut.
Altitude: 3,256m
Beds: 120
Co-ordinates: 46°07'50.351″N 7°40'45.765″E
Nearest access point: Sierre train station/bus to Zinal; 6- to 7-hour skin, 1,600m. tracuit.ch