All For One – Québec's Eastern Townships
---
With the flexibility of the L'Est Go season pass that includes all four ski areas, it's time to take another look at the Eastern Townships.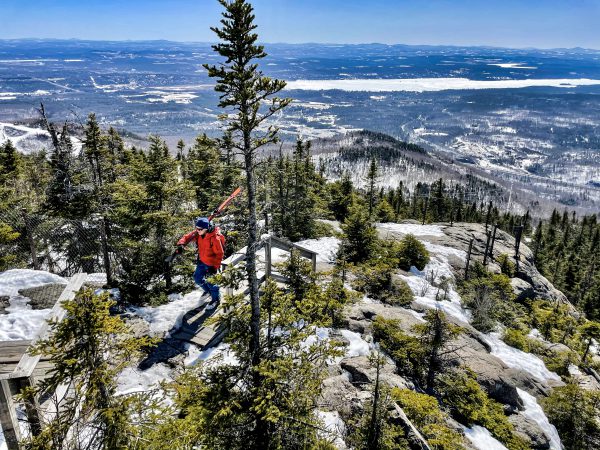 The quartet of ski resorts that cluster southeast of Montreal have been favoured destinations for Eastern Township loyalists for decades. If they've failed to attract the attention that Tremblant to the north and Stowe to the south have garnered, it may have more to do with modest marketing budgets and a lack of large real estate developments rather than the quality of skiing available.
The four resorts are all within a one- to two-hour drive from Montreal. Bromont and Mont-Orford are both just a few kilometres off Hwy 10, with Sutton and Owl's Head visible to the south.
The whole region is dotted with countless auberges, inns, B&Bs, restaurants, and even a few hotels and spas.
Taken together, it's a mass of tourist opportunities that has recently qualified as critical with the introduction of a communal lift ticket option.
The L'Est Go pass may not possess the big-name bling of the Epic or Ikon passes, but it has geographic concentration going for it. (At press time, purchase details were still being ironed out.) You're curious about the Townships but don't know where you want to ski? Previously you'd have to piece together individual day tickets and miss out on bundle savings. Now you can get the L'Est Go pass, good for up to eight days at any of the resorts, and ski them all at a discount. No resort is more than 45 minutes away from the other, so you can hit Bromont and Owl's Head if conditions call for cruising the groomers on a fresh coat of artificial snow. If you have your ski legs under you and want to make the most of a fresh dump, hit the steeper and narrow lines at Mont Sutton and Mont-Orford.
At six hours, the drive from Toronto to Bromont is the same as to Mont Tremblant. And with the opening of Hwy 30, which skirts Montreal to the south, you no longer have to worry about timing trips to avoid Montreal rush hour.
That new road will get you to a brand-new, magnificent alpine lodge at Bromont, a newly expanded base lodge at Mont-Orford, a recently renovated base lodge at Owl's Head and newly upgraded snowmaking at Mont Sutton.
Each resort has its own distinct flavour, and as a whole they combine to make the Eastern Townships more than the sum of its parts. Here's a primer on the fab four.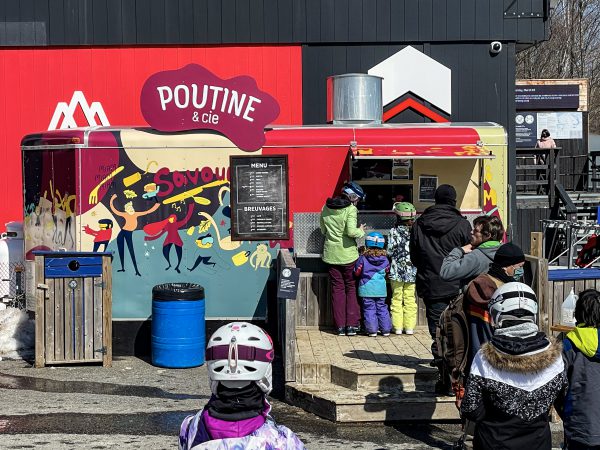 BROMONT
Bromont lends itself well to being described numerically. Its seven faces are home to 141 trails and six snowparks serviced by 1,500 snowguns and nine lifts. It's a robust spec sheet that separates it from the rest of the pack in the region, but it stands apart in other ways, too.
Being close to Montreal, it has more of a big-city feel than the others. There's more bustle here, but it's well-suited to handle the comings and goings from urbania by virtue of its lighting array. With more than 100 runs lit for nightskiing, Bromont is the largest nocturnal network in North America. The result? Skier-visits are spread evenly throughout the day and night. Sit at the base area at 2:30 on a sunny spring day. After a while you notice there are more people coming in from the parking lot with their straps still on their skis than there are spent skiers leaving on wobbly legs. A variety of lift tickets are available including a start-anytime, eight-hour pass.
Bromont has been on a spending spree, called the Altitude Project, that will see it dole out $101-million by 2026. Most notable to skiers is the Village Express, a hybrid lift with 18 eight-seat gondolas interspersed among the six-pack chairs. It pumps 3,200 skiers per hour 357 vertical metres uphill, getting them out of the base area in a hurry. When skiers disembark, they are on the threshold of a stunning new, 316-seat alpine chalet with panoramic windows covering 80 per cent of the outside wall space. It's almost enough to keep you from exploring the runs that lead off in all directions.
The base area's condos blend into more hotel-style accommodations and then into a strip of restaurants and stores back out toward Hwy 10. Three terrace hot tubs and touches like a lobby vending machine that dispenses glasses of wine put Hotel Chateau-Bromont on par with other higher-end accommodations in the region.
Runs: 141
Vertical: 358m
Skiable terrain: 180 hectares
Lifts: 9
Annual snowfall: 485 cm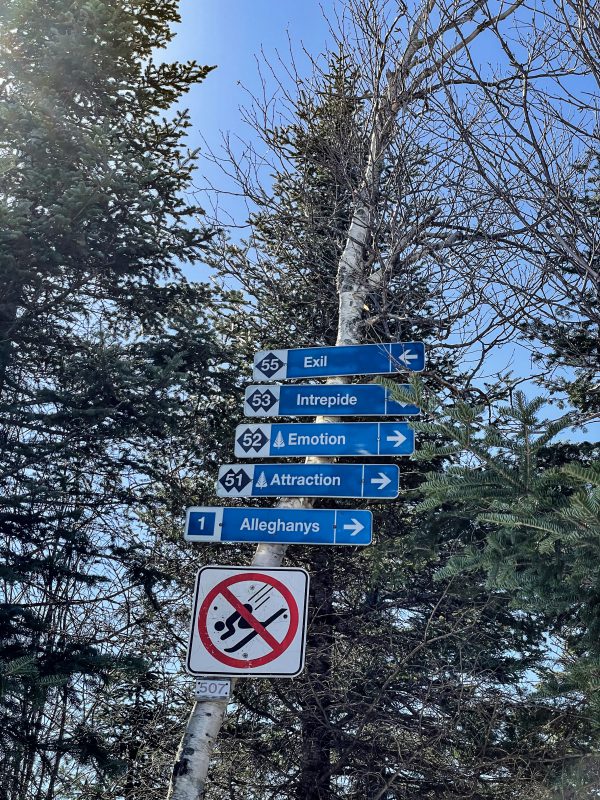 MONT SUTTON
Mont Sutton is one of those places where locals might give you a funny look if you ask them what their favourite run is. Skiing here is less about ticking off boxes on the trail map and more about deciding your way down the mountainside, in sets of a dozen turns or so.
There are 60 runs here, but that doesn't tell the whole story. Those 60 runs punch above their weight because of the oft-cited stat that there are fully 200 junctions between the runs. It's not a case of each run being intersected by cat tracks and access roads leading skiers into near-death collisions on perpendicular trails. It's more a function of the way original owner and surveyor Réal Boulanger cut narrow, twisting lines that followed the fall line wherever it looked most interesting.
Importantly, Boulanger was not heavy-handed with the chainsaw. The heart of Mont Sutton remains the sous-bois or gladed terrain around the easternmost three chairs. Boulanger left many trees in the midst of narrow runs that often play out under an intact forest canopy. The result is as interesting to the skier's legs as it is pleasing to the nature-lover's eye. And in today's fast-paced world, the trees help slow skier's speeds
But Sutton isn't one of those places that caters to experts at the expense of beginners. The western three chairs are decidedly laid back, and for the true beginners there's an initiation area with its own Magic Carpet and chairlift that's right beside the main lodge but separated from any traffic. Daycare here offers a dedicated drop-off zone and an hour-long lesson for kids aged two to five.
Being just about the highest peak in the area, Sutton gets an impressive snowfall of just under four metres a year, a total that's supplemented by a $5-million investment in snowmaking upgrades since 2016, when the Boulangers sold to a trio of Sutton regulars. This season will see a second randonnée or alpine touring trail, this one up the eastern side of the mountain, and the introduction of RFID pass technology.
The hill's first slopeside hotel may be in the works, but no one is willing to officially talk about that yet. In the meantime, there's plenty of slopeside rental stock along the westernmost trails, and just two km down the road the recently renovated Hotel Horizon offers a pool and restaurant for those who like the feeling of front-desk hospitality.
Runs: 60
Vertical: 457m
Skiable terrain: 96 hectares
Lifts: 10
Annual snowfall: 392 cm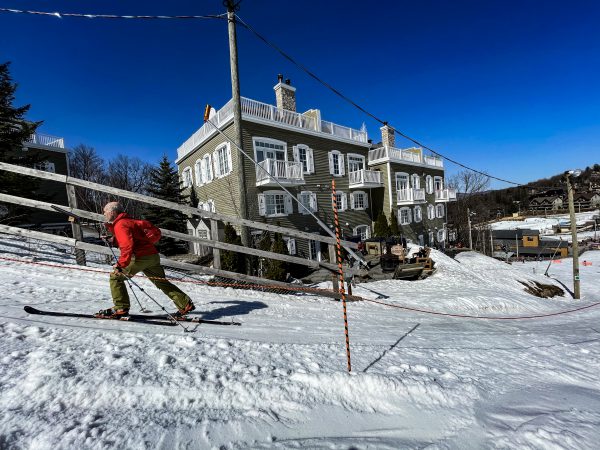 OWL'S HEAD
With Owl's Head, what you see is what you get, and you see a lot. The peak rises straight off the shores of Lake Memphramagog, giving it an impressive welcome as you drive in from the north. Passing l'Abbaye de Saint-Benoit-du-Lac leaves one with a distinct Europe feeling (and some excellent cheeses). There's practically no other way to get to this resort that's hard up against a beautiful lake to the east and the Vermont border just to the south.
The layout is there for all to see—wide-open, fall-line runs that offer consistent pitch and long stretches of uninterrupted cruising. But the distracting view is even better while heading downhill, with the 50-km-long lake stretching out below providing great sightlines from many of the runs.
The memorable views of the lake haven't changed since the 1960s. Until recently, the same could be said for much of the resort, but since new owners took over from the founders in 2018, the place has undergone an overhaul. The formerly austere base lodge has been totally renovated from within to the tune of $5-million. The underused dining hall has been converted into a lively bar with enormous windows opening to the hill, the formerly dingy basement bar now hosts the rental shop and a boutique with a ringing cash register, and the 20 cramped rooms of the former auberge have been turned into 10 swishy suites and renamed the Mtn Haus Hotel. Guests of the hotel get an RFID card on which to load money for lift access, cafeteria food and access to the ski lockers in the basement.
The modern black, grey and white colour scheme is missing some of the warmth of yesteryear, but it's a huge step forward in the amenity department and is complemented on the hill by a new Lakeview Chair—fixed grip, but with a loading Carpet for faster cable speeds.
The snowmaking system usually doesn't get much attention in brochures, but it's an increasingly important selling point for ski resorts, and Owl's Head is playing along. During the first year after the sale, the new owners spent $8-million on snowmaking. Now 350 snowmakers blanket the terrain with bespoke snow that can be made in greater quantities, at warmer temperatures and with more precise moisture content controls. Add the acquisition of a winch cat, which pulls snow up the hill as it works, instead of pushing it down, and the locals are reporting noticeably improved snow conditions.
Runs: 50
Vertical: 540m
Skiable terrain: 40 hectares
Lifts: 6
Annual snowfall: 250 cm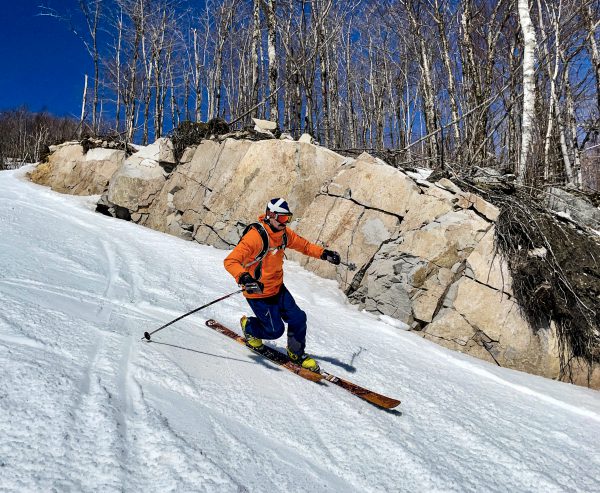 MONT-ORFORD
Mont-Orford is looking pretty good these days while in the midst of a major, $11-million renovation begun in 2018.
The most visible result of the revitalization is a hugely expanded base lodge. Now visitors just go through one set of doors to buy a ticket, pick up rentals and set up private or group lessons. And new for 2022, a quad will replace an austere, if nostalgic, double chair to speed intermediate skiers up the often sun-soaked Mont Alfred-Desrochers.
Orford's three peaks and four faces offer a complete range of terrain options, but like Mont Sutton, it has a hefty share of advanced and expert terrain. Two regions in particular abound in steep and tight terrain. One is skier's left of the east chair on Mont Giroux, and the other is either side of Chevreuil off the top. The black-diamond-studded trail map only hints at the surprises that await just a few trees left or right of the marked runs. Not to be left out, beginners get special treatment while riding the double Magic Carpet that runs inside a transparent tube.
Being part of a "national" (i.e. provincial) park, the base area is relatively pristine, but that also means there's no ski-in/ski-out accommodation or on-site hotel. Park visitors (skiers and otherwise) make themselves at home toward Magog along Hwy 141, where long-established lodges and inns welcome guests with hot tubs, pools and on-site fine dining.
Situated just 25 minutes from Sherbrooke, the resort also gets its share of day visitors. But not all of them slide into the lift line. All four of the regions' resorts have embraced the new enthusiasm for alpine touring, but Mont-Orford offers the largest network of options for those who want to walk up the hill before skiing it. For those who opt to climb, there are five main routes, with plenty of on-off options along the highest route that ends at the top of the Townships' 850m-high Mont Orford itself.
Runs: 44
Vertical: 589m
Skiable terrain: 99 hectares
Lifts: 7
Annual snowfall: 444 cm
Bromont, L'Est Go, Mont Orford, Mont Sutton, Owl's Head, Québec