Reading Time:
4
minutes
Reece Howden is proof you can set your sights on the prize early in your career. Not many World Cup athletes have been named both Rookie of the Year and won a ski cross Crystal Globe for their overall season all in the same year. Having recently finished his studies, he's now ready to tackle his ski career full time. At age 23, standing tall at six feet four, Howden is calm, cool, confident and looking forward to his first Olympic Games in Beijing. We caught up with him at his home in Cultus Lake, B.C., just a few days before he left for Switzerland to train on Saas-Fee's glacier.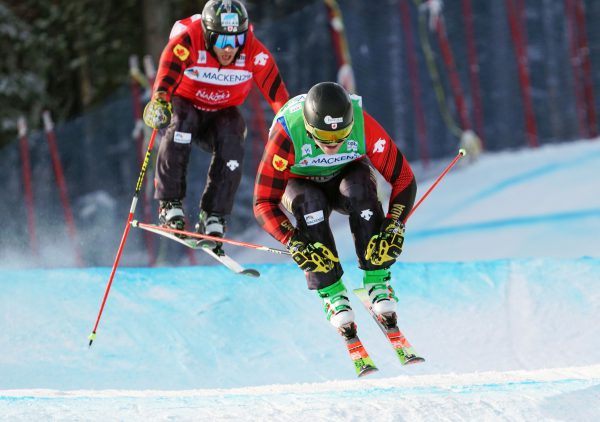 SC: What's your first event on the FIS calendar right now?
RH: We have a test race in Beijing that's planned at the Olympic venue. Then it's the typical cross-Alps tour.
SC: You don't have the same experience as some of your teammates, since they have the advantage of the last Olympics in South Korea. Yet you came in with confidence, having won NorAm events and BMX bike racing as well. What makes you so ambitious about reaching the top of your sport so quickly?
RH: I think I just set myself up really well. I didn't rush into it, by not starting World Cup racing at a super young age. Usually with alpine and ski cross, as soon as you make the national team you are racing in World Cup races, and at 18 or 19 years old it can be a real struggle. So instead of committing early on, I went to school. I continued to ski on the side and that kind of gave me time to mature, both as an athlete and as a person. Now I have my geomatic engineering diploma so I can just focus on skiing.
SC: Do you train a lot on your own since you can't always be with your teammates?
RH: Especially with the pandemic we're doing more training on our own, and I run and bike, too. I probably spend the least amount of time in the gym just based on where I'm located, but that being said, I probably have one of the most active lifestyles on the team, so that keeps me in really good shape. Being a larger guy, I try to bring my weight down as we start the race season versus bulking up.
SC: Some have shared that their key to success is mastering multiple disciplines and avoiding overtraining. Would you agree?
RH: Oh, for sure. Everything that you can do to improve your strength and flexibility is great. But if you only have strength, endurance and flexibility, but you don't have the feel of skiing, you'll never win races. So it has to be a combination of both. You need to be as fast as you can, and working with the physical geometry, your body composition and finding the best technique for your type of skiing you'll become faster. That's how a guy like me can win a Crystal Globe, while the year prior my teammate Kevin Drury won it. I have almost 10 inches of height difference—and 50 pounds!
SC: Ski Cross Canada has already won a lot of events. Heading into this Olympic season, who else would you say are teams to watch out for?
RH: France, Sweden for sure, Germany. A few other guys, too, but those would be the superpowers in ski cross now.
SC: Tell me what it was like to win on home soil at Nakiska, being the homeboy and hearing the crowd cheer?
RH: That was huge for me. I've won six races since then, but none have even come close to the energy that I experienced at Nakiska. My whole family was there, the entire Ski Cross team and even all the Alpine Canada staff, so it was awesome, plus having us going one and two for Kevin and me.
SC: We know the ski cross ski market in Canada is not that huge, but what do you use for top performance and at your size?
RH: I've been with Völkl skis for years now so having that history with a company is great. I've had solid support from the European side and the North American side, and we race on GS skis for the most part. The ski radius is similar, the length is similar, and the stiffness is pretty close in range, too. Mine are a bit longer at 193 cm and have some special bend on the tail, but they're solid with really good rebound. The radius is 30 metres. Since I have size 13 feet, I haven't been able to get fitted in a proper race boot, and it was tough because GS turns weren't really as sharp as they should have been. I just figured I needed to worry about skiing fast. The DIN setting is at the highest for sure.
SC: How do you mentally prepare and cope with so many uncertainties?
RH: We have a psychologist that works with the team. And I was fortunate that I figured out my groove right before the 2016 Youth Olympic Games. I try to be as calm as I can, and because I know that my strength is there, I just need to make sure that I have full control when I'm in the start gate. I run a few words through my head: calm and composed. If something else comes in your mind, just work on acceptance, don't worry about it. That was huge for me, too, in dealing with the tragedy of Mikayla [teammate Mikayla Martin died while training on her mountain bike in 2019] because she was always there, and instead of trying to force that out, I just accepted it and let it be part of my mind. Then once the start gate drops, it's game on.