Reading Time:
10
minutes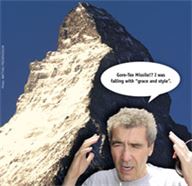 Ursula, the helpful, effcient woman from the Swiss Tourist Board, was sitting across from us. "Have you thought about where you would like to go?" she asked me.
"I've been thinking maybe Verbier."
She turned to my ski partner, writer and director Ken Finkleman (CBC's The Newsroom). "And you?"
Ken was leaning forward, running his hands through his hair in a familiar expression of angst. "I'm thinking of going to Iraq. I have a friend who can get me embedded in the 82nd Airborne. They're in Mosul, the most dangerous place in the world. But I'm only going if I can get a gun. I don't want to be one of those guys who's beheaded on CNN in grainy black and white. Especially without hair and makeup. I want a gun. Maybe a Glock. They're expensive. I think I can get one. You have to supply your own ?ak jacket and your own helmet. I don't know, I think I only want to go to get away from my life."
Ursula stared impassively at him. "Verbier," she said, "has hills for all types of skiers."
So Verbier it was.
The trip was intended partly as escape, partly one of those tests that middle-aged men set themselves to prove something undefined, something vaguely Hemingwayesque and touching on our creeping mortality. We intended to hire a guide and ski off-piste, exploring the ravines and meadows and avalanche boulevards that prosper at those altitudes. But our March departure date was thwarted by kidney stones (mine, regrettably), an early omen of frailty. We chanced the conditions and chose to leave a month later on a quest for mountains that were at least partly metaphorical.
At Toronto's Pearson airport, the Air Canada woman looked at Ken. "You have the funniest show on television," she said. "Next to Corner Gas."
"You'll upgrade us to business class then?" Ken asked.
"No."
We transferred to Swiss airlines in Montreal and flew to Zurich, where Ken's carry-on bag disappeared five minutes after landing and we got our first taste of Swiss efficiency. A clear announcement instructed Ken to report to Information, where his bag was waiting. We had breakfast in a café in the airport. I had a croissant. Ken had a beer. He accidentally broke a glass. We left for Zermatt, two men of a certain age, jetlagged into rumpled primates.
We had decided on three days in Zermatt before going on to Verbier and it took four trains to get there, though they were Swiss trains, scrupulously on time, the connections only a few minutes apart. I'd been to Zermatt as a teenager and had skied the glacier in July, collecting a melanomic sunburn that I always thought would surely come back to bite me. The town, which doesn't allow gaspowered vehicles (except for the local doctor and police), had in memory only three or four flat-bed electric trucks in 1969 that carried luggage. Now it has dozens of electric vans, and the village has spread a long way up the valley, though it still retains its 19th-century sensibility. It's filled with skiers in their late 60s with tans so dark and so deep that two years in a windowless basement wouldn't lighten them.
In the morning, we took the funicular train up to Sunnegga and then a large cable car to Hohtalli, where Ken was the last to be sandwiched on in a Tokyo subway-like crush. He was pressed against the glass of the door, which allowed both his claustrophobia and height issues to flower nicely as we drifted over hundred-metre gorges. We went to the top of Stockhorn and skied through ragged powder on a steep, unpopulated pitch, then cruised the groomed trails. By three o'clock, we were deeply regretting our lack of physical preparedness and the excess that Business Class bar service encourages. The thin air at 3,400 metres above sea level was tickling our lungs so that every laugh turned into a 10- minute tubercular fit.
The Matterhorn, despite being a postcard cliché with few equals, is startlingly impressive when you actually see it. It has a weird power that draws your eye, and it interacts with clouds in a way that's kind of mesmerizing. The only cloud in an otherwise flawless blue sky was pressed against the east face of the mountain for more than an hour and gave the impression that the rock was somehow producing cirrus clouds. The town has a disproportionate number of graveyards, one of which is dedicated to visitors, many of whom have died on the mountain. The Matterhorn's iconic postcard majesty attracts thousands of climbers and an almost equal number of nitwits who try to scale it in running shoes and baseball hats and end up a tourist attraction with a short epitaph.
In the evening, we met a 23-year-old North Carolina man in a bar who said he was a professional snowboarder. He told us about the religious mysteries of NASCAR racing and how when Dale Earnheart Sr. died there was not one but three days of official state mourning. He told us you could buy a Hummer with the military Kevlar body armour and an M-60 machine gun mounted on the back. "I don't believe they will sell you the ammunition," he said gravely. A kinder, gentler America. He gave us a long, largely incoherent lecture on sports medicine and biochemistry as he smoked Marlboros and drank Jack Daniel's with Diet Coke, then pulled out a bottle of pills, which he said converted lactic acid into energy. We each took two.
The next morning, relatively little of the lactic acid had decided to convert. We were stiff, but our lungs, at least, had begun to acclimatize and we could listen to a joke without a coughing ? t. (Eighty-five-year old Jewish guy goes to a Catholic priest to confess. "I've been married 65 years to the same woman and for all those years I've been faithful," he tells the priest. "Then last night I had sex with two 21-year-old Swedish twins." "You're not Catholic," the priest says. "Why are you telling me?" Guy says, "I'm telling everyone.")
We took the cable car to Schwarzee, then up to the Klein Matterhorn, the year round glacier. It was another comically beautiful day: blue, uncrowded, above zero. The ski lifts at Zermatt are an interesting combination of cutting-edge technology and quaint, attendant-free T-bars. Europe's laissez-faire attitude toward mountain sports is a refreshing contrast to the often cloying patriarchy of local resorts. Although the unfenced drops into oblivion, which are features of many traverses, would be a bit problematic with my four-year-old or in a whiteout.
We skied to Italy for lunch, eating on a terrace that looked over the stunning mountain range. The gastronomy was remarkable, the opposite of certain resort cafeterias I could name (you know who you are) which still serve foil-wrapped food that might have been catered by a British boarding school during wartime. We were surrounded by Italian voices and a surprising number of Brits, the accents ranging from east London to that aristocratic version that sounds both bored and drunk. North Americans make up only one per cent of the tourist traffic. We were exotic, we told ourselves as we stared at the heartbreaking, absolutely uninterested Italian women smoking cigarettes, their faces turned upward like sun?owers.
Last season, in mid-April, it wasn't really possible to do much off-piste skiing, and our plan to find danger and transcendence had to be modified. Skiing is the one activity that can take me outside my cluttered urban head, but we had hoped for something more. To each man his own Everest. The next morning at breakfast, we related disturbing dreams. Ken dreamt of driving his car into a tunnel that got progressively smaller and didn't have an exit. I dreamt of walking down into my basement, then exiting into a tropical garden that had newborn birds in a nest on the ground. Beside them a large snake was eating another largish snake. The dreams, as it turned out, were reliable portents.
We left for Verbier, the silent Swiss train moving through a quilt of vineyards that reached improbably high up onto the mountain slopes. Every inch of arable land was under cultivation. We passed an anomalous Swiss trailer park and wondered if it were filled with sad country music and hurtin', cheatin', big-haired Swiss women.
The final leg was a bus up from Le Chable, which rises 800 metres along hazardous switchbacks into Verbier, a town filled with money and youth. At picnic tables outside bars along the main strip tanned, dreadlocked skiers and impossibly pretty girls lounged in states of undress, drinking beer. It was 17 C. In Zermatt, we had been the young guys; now we were the old guys. From a nearby bar on a terrace there was the sound of a band plowing through Rod Stewart and the Doobie Brothers with a sense of duty. Haunting, mysterious women in Fellini sunglasses glided by in dark BMWs. The bank machines dispensed only 100 franc notes.
We went to bed early and woke up to another absurdly picturesque day. A local guide, Pierre-Yves Deleze, took us to La Chaux, then to the top of Col de Gentianes where we stopped to stare up at Mont Fort, the tallest point at Verbier at 3,350 metres, a dauntingly steep, deeply moguled run. Beside it was a cordoned-off, groomed stretch that had been used for speed trials the day before.
"They were going 200 kph," Pierre-Yves said. He pointed to a grey horizontal slash in the hill to the right of the moguls. "You must avoid the crevasse," he said.
"Crevasse?" Ken said.
"Stay to the left."
"There's a crevasse?"
"You don't see them easily from the top."
"Why is there a crevasse?"
We went up and stopped briefly to look at the extraordinary view. I noticed that a healthy number of the people who came up on the cable car also went down on it. The snow was hard; there hadn't been any new snow in two weeks, and it was scraped bare from a thousand skiers sliding hesitantly downward. The moguls were end-of-season large, the initial plunge flirting with free fall. Here was our challenge. Without the life-threatening offpiste skiing, this would be our bête noire.
Pierre-Yves went down in his graceful, controlled, slightly Swiss way. Ken and I followed. Early in the descent, Ken's skis got crossed and he began to tumble. One ski broke loose, then the other, then both poles tore free in what was starting to look like a Formula 1 crash. In the first 50 metres he managed to get turned around so his boots were facing down, streamlined now and picking up speed nicely, looking like a luge driver who had decided against the expense of a luge.
He crossed the 100-metre point like a Gore- Tex missile, making cinematic noises in his head, both directing his own accident and providing the foley effects. I was thinking that even with his helmet (a rarity in Switzerland) he could be in for lethal internal injuries and while that would be a tragedy etc, I was reminded that he was wearing a very expensive new ski suit and we wore exactly the same size and life is for the living. Pierre-Yves was on the other side of the hill, looking down like a scientist observing a failed experiment.
The next 50 metres of the fall was covered in Olympic time and Ken seemed to be angling subtly toward the crevasse. Earlier, a Swiss rescue team had been conducting training exercises in case some tourist rocketed into the gorge. As Pierre-Yves and I watched, he thinking about how Ken's untimely end would affect Swiss tourism and I with my Gore- Tex thoughts, Ken began to slow down and came, finally, to a chattering, reluctant stop. Then that brief, suspended moment when you wait for signs of life. After a few seconds, Ken waved both arms—albeit in different directions. Pierre-Yves picked up his skis on the way down and we stopped to survey the wreckage. Ken's previously injured back, which was suspect when we left Canada, was now completely screwed.
One consequence of the fall was that our alcohol-painkiller quotient, which was already approaching Betty Ford levels, was cranked up a notch. The other consequence was that Ken talked about his back more or less constantly. In an uncharitable moment that afternoon, I accused him of being a kvetcher.
"What! A kvetcher…I am not a…how can you even think…and you're not even pronouncing it properly."
His back began to assume a personality; it came to be a third entity that went everywhere with us, a vivid, tortured Quasimodo. Ken wanted to continue skiing, to return to Mont Fort and face the hill that had thwarted him. What if the literal extended to the metaphorical? This isn't the kind of thing you want to leave unresolved at our age. He became obsessed about returning to the top. Q wanted to lie down in a bar that served martinis. We stopped at an 80-year-old hut between Col de Gentianes and La Chaux to figure out a plan. It's one of the overnight stops on the Haute Route, an exhilarating, exhausting six-day ski trek between Chamonix and Zermatt. Ken and I had lunch while Q drank beer and popped Tylenol 3s like Smarties. On the breathtakingly picturesque terrace, we studied the ski map for routes that wouldn't torment him.
We took some high-speed afternoon cruises and ventured on a few mogul runs that were manageable. Q was hunched forward and howling ("The hills, the hills"), but game. It was April and it had been unusually warm and the snow near the bottom was suspect and slushy by 1:00 p.m., and the off-piste was a rock garden but you could see the almost unlimited potential of the place in mid-season. Ambitious ski tracks were still visible on every possible bowl and ravine, along gorges, down faces, over cliffs. We vowed to return and ski off-piste. Pierre- Yves had described it to us, gliding along the untravelled face of the mountain in the morning. "Then you ski like a god," he had said.
In the evening we went to Garbo's, an elegant bar filled with beautiful people where Ken and I each had a pint of Cardinal lager. Q drank gin and popped painkillers. Oddly, skiing was easier than walking for Q. He was bent forward and to the left. The three of us had a brilliant dinner at Le Vieux Verbier, then went to the bar at the Millennium for a nightcap. Ken and I left to go up to our respective rooms. Q ordered a vodka and tried to pick up a glamorous woman who was eating alone at the bar, the kind of European who looks as if she stepped out of a Truffaut film and who with a single glance can make you feel like Gomer Pyle.
The next morning, Ken and I were anxious to get on the hill and were thinking about a mid-morning run at Mont Fort. Q wanted to buy a bottle of Stoly and watch Meet the Fockers, which was playing at the local cinema. We all ended up on the hill. Q borrowed Ken's cell phone to call a doctor in Toronto.
The day went surprisingly well, but took its toll. We didn't go back up to Mont Fort and Q was distorted into the shape of one of those gnarled trees that grow on barren Scottish hills. Ken and I left the next morning at 6:00 a.m., already plotting a return. The last we saw of Q, he was in the middle of the main street, bent over, swaying slightly and howling up at the mountain.
GETTING THERE: Lufthansa's purchase of Swiss airlines has provided skiers with more direct routes to Switzerland. Fly with Swiss airlines non-stop from Montreal to Zurich. And new this winter, Air Canada offers nonstop service to Zurich from Toronto. As well, Lufthansa and Air France have connecting service to Geneva via Frankfurt and Paris. When ? ying into Switzerland, take advantage of Fly-Rail Luggage. Your ski equipment and luggage will be sent directly to the resort with same-day arrival.
ZERMATT
Both Zurich and Geneva airports have railway stations connected to the national railway system. Travel time by train from Zurich airport to Zermatt is four-and-a-half hours, and from Geneva airport it's four hours. The Swiss transfer ticket is the best deal and can be bought from any travel agent or RailEurope.
If you rent a car, it's 235 km or just over a threehour drive from Geneva airport to Zermatt, and from Zurich airport it's 236 km or a four-hour drive. Leave the car in a parking garage in Taesch since Zermatt is a car-free resort.
STATS: Resort altitude, 1,620 metres; marked trails, 230 km; highest peak, 3,899 metres; 62 lifts (including a cogged railway and funicular); longest run, 17 km; vertical drop. 2,300 metres.
VERBIER
GETTING THERE: See Zermatt above. Swiss from Montreal to Zurich offers the most direct route. The train from Zurich airport to Verbier takes four-and-a-half hours; three hours from Geneva airport.
STATS: 412 km of ski runs; 94 lifts that connect Verbier with the other resorts in the 4 Valleys (La Tzoumaz, Nendaz, Veysonnaz and Val de Bagnes/Entremont); resort altitude 1,500 metres; highest peak, 3,390 metres; longest run, 16 km; vertical drop, 1,230 metres.