---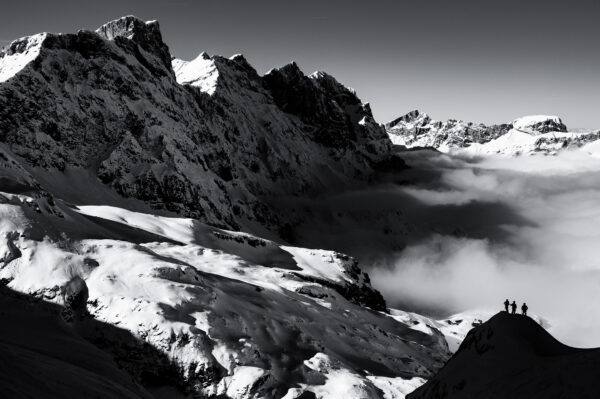 Photo: Mattias Fredriksson
With more moving parts than a Swiss Army knife, two duelling editors ski their way from Saas-Fee and Zermatt to St. Moritz and Engelberg.
STORY AND PHOTOS BY NIGEL HARRISON AND IAIN MacMILLAN
SAAS-FEE
IAIN It was such an odd feeling when the doors of the Metro Alpin, the world's highest funicular railway, opened at Mittelallalin, its uppermost station at 2,980 metres. Instead of elbowing our way out with 115 other Saas-Fee skiers and sightseers clambering for first tracks or a dining table with a view of the Allalinhorn, we stayed put. Our Scottish mountain guide Dougal Tavener had instructed the magazine'sinstruction editor Nigel, our ski-buddy Holly and me to hang back and wait for the alpine subway conductor to close the doors and start the descent, the four of us, now the only passengers.
About a third of the way back down, the funicular made a brief, unscheduled stop and we hopped out onto a tiny platform scoured into the solid rock. A moment later, we watched the train drop into the darkness like a sloped elevator and then turned to Dougal with a "So, what now?" look on our faces. Our first run on a 16-day Swiss trip was looking very interesting.
From keeping you safe off-piste to knowing when the last bus is coming through some far-off, après-ski village, we already knew countless reasons to hire a mountain guide. A new one for us was learning that sometimes mountain guides have the keys to a secret access tunnel. A stroll through solid rock spits the adventurous onto the back side of the ski domain and the front door of the Hohlaub and Allalin glaciers, two of several incredibly imposing blue-ice monuments that Saas-Fee is famous for.
NIGEL The exit tunnel from the train onto the Hohlaubgletscher could not offer a starker contrast: in a single stride you emerge from within the guts of a mountain out onto its very skin. Not quite one giant leap for mankind, but probably a breathtaking moment for those of you who haven't yet been to the moon, as I have.
It was a thrilling end to what had been an uncharacteristically normal train ride with Iain. For once he had a valid ticket and wasn't trying to hide in his ski bag ("Quick! Zip it up! The conductor's coming!").
Saas-Fee, the resort, is a Swiss postcard: perfectly groomed slopes give skiers with zero glacier travel experience a safe way to get up close and personal with a stunning alpine landscape they could normally only see outside of ski area boundaries.
Skiers on marked runs of all levels glide below ice domes, seracs and bulging blue cliffs, through crevasse fields and alongside monstrous million-tonne icefalls. The visitor can gain a sense of what large parts of our world looked like when mammoths were browsing through what are now our suburban backyards. The back side of Saas-Fee is the earth stripped back to its bones: rock, and ice, all moving, as if alive. And this is what we were here to ski, for if Saas-Fee is a Mecca of skiing, then its backcountry is certainly heaven.
And so we stepped from a train inside a mountain, to be up close to terrain I've only ever seen before in places like Greenland and Alaska. One small step; one giant leap indeed.
IAIN As we applied our climbing skins I wondered out loud why we'd just dropped all that precious vertical the funicular had offered us. Dougal pointed out the massive wall of rock looming behind me which he claimed was skiable with climbing gear. Nigel, an accomplished climber himself, added, "Climbing gear and maybe a helicopter and body bag."
And so, we began to skin and slip and traverse our way toward the slowly sliding seas of ice with young Holly a metre or two behind Dougal, and Nigel and me lagging further and further behind as we recited lines from Monty Python, Young Frankenstein and Fawlty Towers and bantered about shoes and ships and sealing wax, cabbages and kings. If there had been any bushes, we would have been pushing each other into them.
Saas-Fee, the main village of the Saastal or Saas Valley, that sits just north of the Italian border, is ringed by 13 peaks higher than 4,000m and is quintessential Swiss. The Dom, Switzerland's fourth highest peak, touches 4,545m. Sitting at 1,800m, the car-free village has kept just enough traditional Swiss wooden buildings, like the sun-blackened granaries that welcome you to town and frame the peaks and glaciers in neck-hurting vistas. There are few ski resorts anywhere that offer such distracting alpine scenery, from the lift, pistes or town.
You can ski the resort's 22 lifts and most of the 1,800m vertical for 10 months of the year. We decided (in a good way) that the ranking of slopes was aggressive. A Canadian intermediate run might be rated beginner here. Nigel also pointed out Wham! filmed their 1984 hit single "Last Christmas" in Saas-Fee. Holly asked "What's Wham!?"
NIGEL The thing I like most about skinning (apart from stopping, of course) is the swish, clack, metronomic rhythm that sends my tiny mind off into other worlds. While MacMillionaire, a pauper/travel writer who lives more like a Saudi prince, was in front of me, plotting which of my jokes he would steal for the upcoming story, the icy world slid slowly, pleasantly by. I could still taste the butteriness of the 16 croissants I'd had for breakfast an hour earlier in Saas-Fee's Schweizerhof Hotel; a marble-panelled temple to mountains—with really great food. Come to think of it, I could still taste a little of last night's rather lovely quail in aspic. MacMillan suggested I might need to brush my teeth more.
Dougal snapped us out of our repartee. "Skins off!" he announced excitedly. "Time to make some turns." We peeked down over the ridge crest into a sweeping bowl of untouched… powder? Powder. There had been four weeks of alpine sun since the last storm, yet Dougal still knew where to find the fluffy stuff. And that is also why we hire mountain guides.
Our day ended, as it began, in a tunnel. This one alongside a hydro reservoir, then out onto a green cruiser down to Dougal's favourite little pub, run by a Polish matriarch and nestled under glowing larches on the edge of a wood. Iain knocked out a few tunes on the hurdy gurdy. Holly posted to the 'gram. I checked my socks to figure out what day of the week it was and mulled over our dining options for the night in Saas-Fee: upscale, waiter-served gourmet, or family-run casual, tucked in among the goat barns. Either way, you win, don't you? I had the cheese platter. MacMillan had the goat.
Next day, more croissants, more turns. This time on-piste yet still among the icefalls and crevasses. More sun and perfect grooming gave us confidence in speed, and abundant, easily won grip. The only thing the Swiss do better than cheese and goats is grooming.
Suddenly, we found ourselves running for the bus down the valley to Stalden and the train to Saas-Fee's nearby Hollywood cousin: Zermatt, crucible of mountain sport, home to the peerless Matterhorn, and, as MacMillionaire noted, "Several thousand people who can't ski very well."
HOLDING COURT IN ZERMATT
IAIN Like all quotes Nigel attributes to me, I question its accuracy. I believe my words were something more like: "Zermatt is so enormous it truly has something for everyone. It doesn't matter the weather, snow conditions, time of day or season, there's always a slope to match the level of skier." Zermatt's massive CV includes Europe's highest lift station (3,883m), 200km of pistes (360 when you include Cervinia on the Italian side of the Matterhorn), almost year-round skiing, a 2,279m vertical drop and a 25km single run…and a collection of mountain hut menus with few rivals in the Alps.
Despite Nigel's dietary requirements limiting him to two food groups, chips and pizza, Holly and I did have to give him credit for introducing us to Donald Scott, lux chalet rental specialist—and alpine epicurean. Ripping up groomers behind Donald under omnipresent blue skies was a perfect prelude to long lunches and bouncy conversations on sunny decks.
Along with a business partner and a team made up of Swiss and expats, Donald the multilingual, bon vivant and question-answerer ensures that all his clients are cozy, pampered and well fed in catered or self-catered private chalets that accommodate groups from two to 35. He's not only an excellent skier, he also knows every area eatery, whether it's a mountain hut or silverware-on-fine-linen establishment.
With Yorkshireman Nigel and boarding school Donald busy holding court during long feasts, Holly and I waved the colonial flag and absorbed the precious culinary moments. See Donald's tips (below) on how eat Zermatt.
NIGEL When heading to an upmarket destination such as Zermatt, I'm always nervous that I won't be able to eat my daily requirement of chips and cheese. For me, Japan is a food desert.
Despite Zermatt's glitzy reputation, however, it boasts a cheesy underbelly; within just a couple of hours I had found it, and knew that if I did not survive the week, it wouldn't be for lack of cheese and fried potato.
Our first day we followed yet another hunky mountain guide, Kilian, up a mountain. I had never seen Holly happier. At least not since the last time we followed a hunky mountain guide up a mountain.
The mountain in question was the 4,164m Breithorn, viewed impressively from the piste. Sounds burly, and its north face is indeed, but we practically sauntered up her 400-vertical-metre backside in three hours, first on skins and then crampons. The vertical on our run down was just a bit longer, 2,572m. That's metres, not feet.
If you prefer the views of the Breithorn rather than from the Breithorn, there's also a shiny, fast cable car nearby that takes skiers to 3,883m, with a very good café at the top: Alaskan scale, Parisian chic.
The summit was stunning. We gazed in 360-degree awe from the Bernese Alps, to Italy and even France, as one does at these times. MacMillan bounced about impatiently; I realized it was time to go to the dog park and throw some sticks for him. We skied off the very summit, linking patches of windblown powder among fields of writhing sastrugi, the wind-created ridges that looked soft, but weren't. Taking Kilian's instructions to keep up the speed to make it across the flats of the Breithorn Plateau below, someone crashed, but I don't remember who. Oh, yes I do; it was Holly. With a sore rib cage, she just breathed less and complained far less than MacMillan and I would have.
IAIN Holly and I had by now decided Nigel was a bit like Tony Blair: vote Labour but maintain a suspicious number of posh contacts that can lead to all sorts of memorable diversions from skiing. At an early breakfast the next morning, for example, Nigel's phone buzzed and in that 007 accent he uses to increase tips at the end of a week's gig of ski instruction, he announced that we were to report to Air Zermatt's heli-port where there was room in a helicopter for three bums.
The rules are very specific about where one can ski by helicopter in Switzerland. At Zermatt, there is typically a choice of five
heli-ski drop sites, the highest being at 4,200m on the Monte Rosa massif. Peeking out at 4,634m—the country's highest, and the Alps' second highest after Mont Blanc—the powdery Monte Rosa separates Switzerland and Italy.
Surrounding us on three sides of the aircraft were Herculean glaciers that filled enormous valleys and hung from vertical faces, leaving us snapping photos and babbling into our microphones and headsets. We swooped and swerved and hung suspended and tried unsuccessfully to capture the alpine grandeur on our phones as we ran out of adjectives for the Mettelhorn, Äschorn, and the tallest, the Weisshorn (4,506m). Zermatt's iconic and photogenic Matterhorn, a peak that has been photographed more than any other in the world, seemed both enormous and inconsequential as we zoomed noisily up to its north and east faces.
But all tasty things have to come to an end and with the Ski Canada Readers' Trip passengers soon flying into Zurich, it was time for me to make the journey in to greet them at the arrivals hall. Meanwhile, representing the proletariat, Nigel escorted Holly on the all-day lux Glacier Express railway trip to St. Moritz. The joke was on Nigel, though, because I had some time before picking up our charges. Equipped with his Canadian Ski Vacations credit card, I headed for the Dolder Grand resort and spa overlooking Lake Zurich, probably the finest hotel and spa in the country.
NIGEL As a dog owner, Holly knows just how to handle MacMillan's boundless energy. So in the process of throwing sticks for him, she tossed one down the cog railway toward Täsch, and beyond, to Zürich. And that was the last we saw of him until St. Moritz the following day. To start off our last day in Zermatt, I followed Donald and his gaggle of admirers into a too-cute-to-be-true café which of course held one of many commanding views of the Matterhorn.
"And when one is here," Donald intoned as he screeched to a halt at the ski rack, "One simply must have the quail."
Don't these foodies ever get tired of the same old stuff? Quail, quail, and more damn quail. Apparently not, for Donald and the gang made approving ah's and gastronomic groans as they tucked in.
After the inevitable post-prandial nap, broken only by the long January shadow of the Matterhorn passing over our mass of huddled bodies, we staggered to our feet and pointed our skis down the Wall of Death, a steep finish to a gentle run, with a bar at the bottom, where one "simply must have the Cab Sav" while watching the parade of intermediate skiers plough into the safety netting. The last laugh, as so often, would be on me.
Yes, when in Zermatt, one simply must have the quail, but one simply must also go do other things besides ski, eat, and drink. The other thing I chose to do was to go e-biking with my buddy Chris. Spiked tires and all, we pedalled up to the Gornergrat station where fate decreed we should meet half a dozen of Chris's friends, already into the glüh-quila. (That's fortified glühwein or strong mulled wine for the uninitiated.) And when one is in that situation, one simply must have the glüh-quila, so we did, and then decided to ride back down the ski runs.
Goodness me. The Wall of Death looks a great deal steeper from the saddle of a mountain bike than it does when you're on skis. The crowd of Brits in the bar, far, far below, looked up in eager anticipation. The approaching angry ski patroller made it clear he was no more impressed than I was. The Brits roared. Even at a distance of 700m I could tell they were Brits, I could feel the paleness.
"Well, these pants aren't going to shit themselves," I mumbled as I rolled over the precipice, icy spikes gripping the hard pack well, for about three metres, until suddenly, they didn't. I was first careering, then somersaulting, then simply sliding face first down toward the bar full of now cheering masses.
Over the SCREEEE of Gore-Tex sliding on snow the roar of the crowd grew louder. One woman nearby yelped, "Oh! The poor man is going to die!"—about the last thing I wanted to hear as the net rapidly grew to fill my vision. I was vaguely aware of the crunching sounds of the cartwheeling bike as it tumbled beside me. "This," I remember thinking, "is going to hurt."
Almost bizarrely, it didn't. Perhaps I was built to go floppy, or perhaps my guardian angel filled the net with invisible fuzzy ponies, but my stop, though rapid, was painless, and I now had the satisfaction of sitting on my grazed bum, watching Chris follow my lead, slip sliding into the net right next to me, laughing. The crowd dispersed, disappointed. No blood today.
Europe is a place where anything goes. Take what risks you like, but don't impinge on anyone else's quiet enjoyment of life, unless you're going to give them a good laugh. A pretty good rule to live by.
And when one is in Zermatt, one simply must have the quail.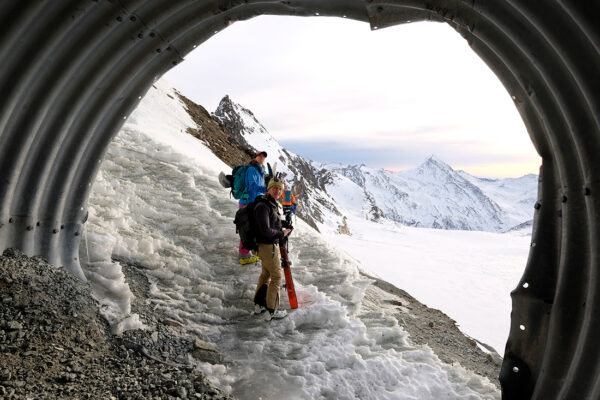 NEXT STOP: CLUB MED ST. MORITZ
IAIN Last January's Ski Canada Readers' Trip to Club Med St Moritz was set to be the magazine's largest-ever Alps excursion. More than 90 fully vaxxed, champing-at-the-bit skiers were excited for their first big ski trip abroad in almost two years. And then Omicron hit. In the end, 27 made it onto the shuttle bus from the Zurich airport.
And so by the grace of God go us. Adventurous? Foolhardy? I agreed with more than one reader who said we just couldn't afford to skip another of our allotted (and noticeably shrinking) number of lifetime ski seasons bestowed on each of us.
Besides, things were looking up. I've skied St. Moritz and the Engadine region three times in the past and despite its reputation of being one of the sunniest resorts in the Alps, on each of my visits I've also had powder fall from the heavens. Sure enough, the snow, which was so badly needed across the Alps, began here shortly after our arrival. When the sun returned, we were blessed with the best of everything.
For those who haven't yet been, the town name St. Moritz is shared by two neighbouring areas. "St. Moritz Dorf," (the village) is the older, posh, centre of it all on a hillside. "St. Moritz Bad" (from its Roman baths) is where Club Med sits, a 20-minute walk from Dorf, across the frozen Lake St. Moritz, dodging race and polo horses along the way. The closest actual skiing is at Corviglia with the main cable car a 10-minute walk or short shuttle bus ride from Club Med. Dorf dwellers, on the other hand, take a mostly above-ground funicular each morning to access first Corviglia before heading upward to the Piz Nair or across to the more gentle Celerina ski areas. Apart from Corviglia, there's also big skiing at Corvatch, Sils and Silvaplana (12-18 Swiss minutes on the bus depending on which station) and like Corviglia, there's plenty of terrain to keep most busy for a week.
Finally, Diavolezza and Lagalb (about 20 minutes toward the Italian border) lure skiers to spend a day or two of their ski week enjoying wide-open glacier skiing. For ski-tourers, seemingly endless ski-mountaineering options entice.
NIGEL The afternoon, spent with my new friend Wolfgang from Hamburg, was just taking a turn for the interesting when who should hove into view but MacMillan, excited skiers in tow.
"These aren't skiers," quoth the king, "These," with a majestic sweep of his stubby little arms (it's the inbreeding), "are my entourage." The entourage had seen the bar and were leaving. His Highness suddenly looked lost "Hey, Stop! Wait! I'm just getting to the fun bit." The entourage had heard his fun bits before, and legged it even faster.
IAIN While I've experienced more than I can count, Nigel was a Club Med ski week virgin. He soaked in the all-inclusive life, wandering between buffet, bar and evenings of dancing as soon as he returned to base camp, whereas I knew to pace myself. Fasting before the oysters come out at après-ski on Tuesday, for instance, or booking early for the quieter dining room on raclette and fondue night.
But once they've pushed away from the buffet, Ski Canada readers consistently comment that their number one Club Med "like" is the Monday-to-Friday ski instruction or guided groups. No one says you must join a group or stay with one but I have to agree, a trip wouldn't be the same without this integral part. The groups are made up of friends you come with, and friends you haven't met yet. I still keep in touch with different skiers from other countries whom I've met on a Club Med week years ago.
Our ski group had filled up quickly with friends although typically they're a mix of different languages, nationalities and cultures. One problem remained for us though: where to sort Nigel. Although Holly tried leaving distracting pizza slices and chips along a trail from the ski room to the pool, he still managed to find us.
Since the magazine's first Club Med trip almost 10 years ago, readers have been raving about skiing in groups. Everyone has someone to ski with, eat lunch with and après with. From novice to off-piste there's an instructor or instructor-guide to show you around and bring you home. Given the big options to ski around St. Moritz (and take advantage of the included on-mountain lunches) the appreciation of a ski group and guide was as strong as ever.
NIGEL St. Moritz ski trips are a magical mystery tour: One day you're skiing groomers at a glitzy resort with Prada ad banners on the lift towers, the next you're one of a handful of folk skiing some giant peak accessed only by a single cable car rising to near the summit. Both are fun. But overall, I'll take the giant peak.
Our little Italian Club Med ski guide, Francesco, led us on a merry dance the length and breadth of, well, pretty much everywhere. St. Moritz isn't one massive ski area, it's several big ones, propped up by a few other small, single-lift places. And don't let the idea of a single lift confuse you. These access huge amounts of high terrain.
We ended our St. Moritz week with a day at Lagalb. MacMillan and I, and our new Californian freeride friend Jay, skinned the short distance from the top station to the summit, a hair under 3,000m, where we sat and admired a stunning view of the Piz Bernina. ("Piz" meaning "peak" in the local Romansch language but, because I was hungry, I may have referred to it as "Pizza" Bernina.) In the distance I thought I could see the granite towers of the Cengalo and the Badile, its classic northeast face a hulking, dark mass of stone. But maybe I was wrong. I love being wrong. MacMillan loves it more. More important, it's often a chance to have an adventure.
With the sun somewhat past its zenith, we pointed our skis away from the lift-served area and wound our way down a series of hanging slopes, connected by runnels of snow between cliff bands, down, down, down to a lonely valley. With one eye on the descending sun, we skinned quickly to a windblown saddle where a circle of stones offered shelter for us to strip off our skins. The wind sighed over the treeless, desolate col. Once again, the Alps astounded us; from frontside glitz to backside grit in just two hours.
Our last turns in St. Moritz were a joy. We followed Francesco through complex avalanche terrain, weaving to avoid hazardous areas: sun softened pockets above terrain traps, run-out zones below 400m bowls, convex rollers with bulges of sinister, matt-textured wind slab on their lee sides. The satisfaction of keeping oneself safe in the mountains never diminishes.
Down at the road, because this is Europe, we found a bar. Like all good bars, this one had a bus stop. We had a beer, we waited for a bus. We watched the sun touch the ridges and chatted with a local ski tourer. "You found the Val Minor?" He said. "You're lucky. That's a real local classic." He was right.
IAIN At the bar that night, a jealous-faced, long-time ski mate Trevor slowly flipped through the day's photos on my iPhone with his "good" hand, the other in a cast. "Sooooooo," he said, fatalistically, "it looks like Jay has replaced me as your photo model." Poor Trevor has been in the magazine many times by skiing in front of the lens. But it wasn't Kodak courage that took him out in St. Moe, it was speed, hangtime and poor visibility in a brief moment of inclement weather off-piste.
Within an hour of walking into the hospital, Trevor, the travel insurance poster boy, had received an MRI and diagnosis by an orthopaedic surgeon and was in the operating theatre within two hours. The doctor said it was such a common type of wrist fracture, he repairs two or three a week. Including the overnight stay, the bill came to about $25,000. But that included the white linens at meal time—and the Prosecco. So St. Moritz.
The following day, I joined the troops with my clipboard on the bus and headed back to the Zurich airport knowing that we'd be back a year later with all the readers who'd deferred their trip to 2023. After a tearful goodbye at check-in I was quickly downstairs with my ski bag to catch a train to Engelberg. Nigel had earlier wished the group adieu back at Club Med, before handing his skis, Gucci and Bogner shopping bags and briefcase to his driver and setting off directly to Engelberg.
ENGELBERG & AQVAVIT
NIGEL MacMillionaire finally showed up in Engelberg, late, having photographed everyone on the train. While he'd been doing that, I dashed around town, confirming it could supply everything we needed for the planned Ski Canada Readers' Trip in 2023. Requirements: Skiing (lots of it), a great hotel (tick), easy access from Zurich (yup), a nice Swiss town to explore and some good options for a non-skiing rest day (because I've been told some humans need to rest from time to time).
Over breakfast in the glass-fronted dining room of the art deco Terrace Hotel that looms down onto the town, MacMillionaire gazed out over his new realm that included an ancient monastery and the forbidding bulk of the Titlis.
"I'm exhausted," he groaned. "I worked all day while you just larked about." He'd just shown me his photos from the previous day: trains, fountains, cat- and dog-selfies. "But this place looks amazing, so after breakfast we should throw snowballs at monks and then go for a ski." What a trooper.
How Engelberg has slipped under the radar of travelling skiers is a mystery. Not only is it the closest resort of any real size to the Zurich airport, but it boasts terrain which is, I would venture, as good as anything, anywhere. Plus, it's north-facing, with the lifts topping out at 3,028m, and skiing right down to the valley floor more than two vertical kilometres below. (That isn't a typo, dear editor, that's Titlis's skiable vertical.) Those who don't mind a short skin may find better slack country than anywhere else on planet Earth, bar none.
IAIN The thing about Swedes is they always seem to know where the best skiing is. Engelberg is full of Swedes. There is no IKEA but plenty of Swedish representation among our hotel guests, on the menu, the chitter-chatter on the cable car or train, pickled herring, aqvavit hangovers…you get the idea.
Swedish photographer and friend Axel Adolfsson who spends his winters in Engelberg has tried repeatedly to get me to visit. I finally made it to this revered ski Mecca for a couple of days…just as Axel split for a shoot to nearby Andermatt.
But he promised to leave us a present and sure enough our storm arrived, leaving us 40cm in the alpine. It was apparent, on what was our final day of our epic Nigel & Iain Swiss trip, that we had saved the best for last.
At a raucous après in the (Swedish-owned) Ski Lodge I wasn't surprised in the least to run into Chad Sayers. The Whistler freeride legend has been on more magazine covers, stories, videos and adverts than he can remember. Of course it was at Engelberg that our tracks should cross.
NIGEL Peter, the resort's smiley marketing manager, and (like everyone in Europe) an ex-racer, met us after breakfast, along with Thomas, a chatty mountain guide. They inhaled coffee and breakfast in the gondola, and at the top took off at Mach chicken, heading directly for the nearest boundary.
"This is the Laub," said Thomas. "It means 'avalanche', in the old local language," added Peter, just to make sure we were scared. It looked good, big, and, after last night's storm, um, avalanchey. "Sphincter says no?" questioned Iain.
We set off, one at a time, skiing short legs of about four-million turns and meeting up in whatever islands of safety were offered by topography, predominantly blunt ridges of rock poking out from between gullies: enough to keep us safe if the gully we were skiing slid, but with no protection from a bowl-wide release. The skiing was sublime: a consistent 35- to 40-degree pitch with perfect knee-deep powder magically anchored to a firm base.
"This didn't look that big from the top," I said, "but those buildings aren't getting any closer." I pointed at what looked like a farm. "That's the restaurant," replied Peter. "It's called the Ritz. It's more than 1,000 metres below us." Iain and I absorbed that for a moment. More than 1,000 vertical metres of 35-degree powder. In a ski resort. In one run. And we were absolutely the ONLY people skiing it.
I called my wife to tell her we were moving to Engelberg. "Is there a school?" she asked. I made a positive noise and looked at Peter, mouthing, "Is there a school?" He nodded. "Okay, then," said my ever-ready-for-adventure Chelsea.
More followed. Pillows, ridges, bowls, faces. All day long we asked Peter and Thomas if they had skied this, that, and the other thing, pointing all around us with our poles. "Yes." "No, but I'd like to." "You just skied that." "No, we don't want to die."
We didn't need our skins, all day: why would you, when terrain and snow like this are right there.
"Well," said Peter, in the Ski Lodge bar that afternoon, "what do you think of our little ski hill?" MacMillionaire, for once, was lost for words. Then he found some: "We'll see you next year—with a group of Ski Canada readers.