Reading Time:
2
minutes
Available now:
Ski Canada's 2024 Buyer's Guide! Dive into gear innovations, trends, and 23 Go-Anywhere Skis reviewed – your ultimate ski season prep starts here!
Available in print & digital editions.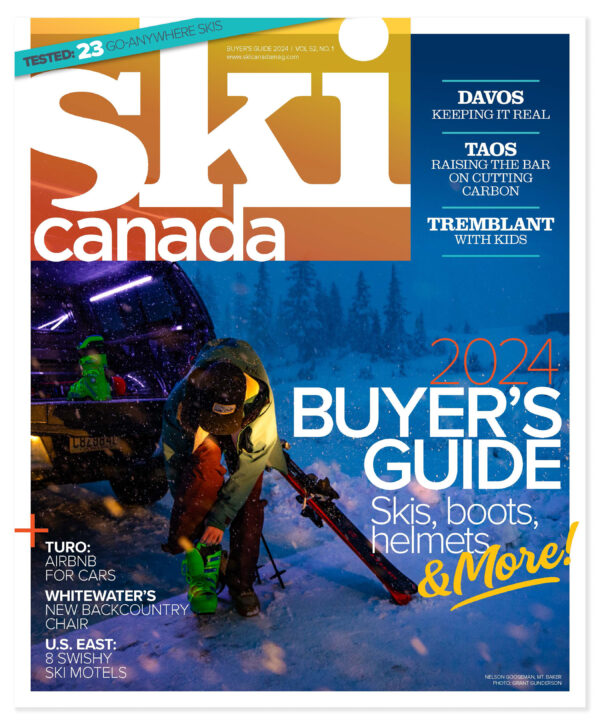 FEATURES
BUYER'S GUIDE 2024
Researching and testing the year's best new gear is a job with unique, if subtle, hazards best left to the experts. Our technical editor RYAN STUART obliges.
SKI CANADA TEST
And the winner is…anyone who uses our 42nd-annual Ski Test of 23 new models to find their own best Ski of the Year. / BY RYAN STUART
L'ESPRIT LIBRE
The new Tignes Club Med shows the famous chain is going all-inclusive on renewal. / BY IAIN MacMILLAN
CRASHING THE SUMMIT
At Davos, pretend power-brokers NIGEL HARRISON and IAIN MacMILLAN are okay with a new world order that involves Swiss cheese, potatoes and powder.
TAOS SUSTAINED
This New Mexican hideaway has a reputation for steep skiing, showoff bumps… and a net-zero footprint, an industry first. / BY LORI KNOWLES
MODESTY BECOMES IT
B.C.'s cozy Whitewater Ski Resort grows into itself. / BY IAN MERRINGER
Ski Bum 55
LOUISE HUDSON takes retirement to a whole new level by training as a ski instructor.
REGULARS
FIRST TRACKS
Our editor-in-chief has his run (at the publisher).
BY IAIN MacMILLAN
SHORT TURNS
News, gossip and everything in between.
SLOPE ANGLES
Don't even think about trying to bring sexy back.
BY STEVEN THRENDYLE
DROPPING IN
Guest columnist Naomi Buck knows what you might not about single-parent ski families.
CROSSHAIRS
A skier's gallery.
SKILL SCHOOL
Time to translate summer skills to the snow.
BY NIGEL HARRISON
CAUGHT AND SHOT
BY Mattias Fredriksson
---

---