Reading Time:
2
minutes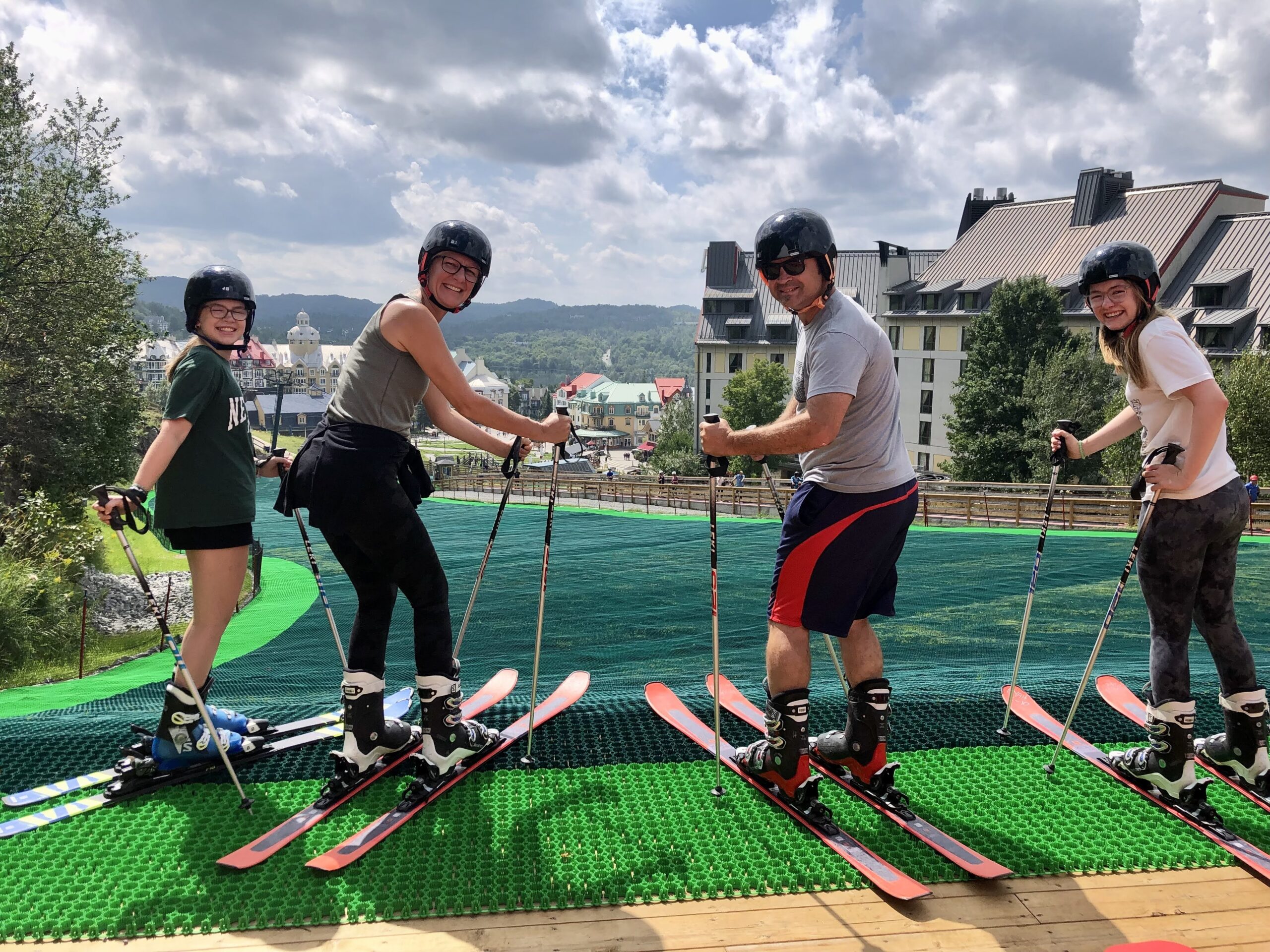 A new fabricated skiing surface offers an off-season fix for sliders who can't wait for winter
The temperature is a humid 28°C, the forest canopy around me is lush and green, yet here I am with my family at the top of Mont Tremblant's "Equilibre" beginner run. We have rental boots and skis on our feet, poles in our bare hands, helmets on our tanned noggins, and our first-ever turns on Neveplast on our minds.
On this sunny afternoon we're taking part in the official opening of Tremblant's first-ever summer ski slope, a 224m-long descent that covers a football-field-sized section of Tremblant's lower slopes with Neveplast NP30, a bristly carpet-like material made of recycled plastic (tip: wear pants). Two magic carpets help you attain the 20m vertical rise to the top.
Punctuated by embedded misters that keep the dark green surface slippery, the run looks more dream-like than daunting. My first turn, however, reveals an unexpectedly slippery surface that accurately mimics a uniformly icy beginner run at, well, Tremblant.
Not being a fan of uniformly icy beginner runs, I skid to the bottom of the lower magic carpet and consider the merits of a second descent. Merit one: Maybe it'll improve our form on uniformly icy beginner runs. Merit two: The view of the sprawling village on Tremblant's South Side isn't too shabby from the top. Maybe we can pick out an accommodating patio from up there! Merit three: I'm pretty sure I saw energy drinks being handed out in the remarkably efficient rental operation at the top of the run. Plus, we need to return our gear.
So up we go, and lo and behold, the second descent starts to feel like proper skiing. Noting that the top section of the L-shaped trail is wider and steeper than the lower section — average width is about 22m — we use the upper carpet to do several laps. By the third descent, I almost feel like I'm carving an edge, even though I know no such thing is taking place. My skis are flexing, my balance and timing on the super-slippery surface is improving, and my tan is darkening at a rate approaching that of the balmiest spring ski day on snow.
It takes about an hour for us to satisfy our newly found Neveplast needs, which just happens to be the duration of Tremblant's $50 off-season skiing sessions (price includes rentals). Coincidence? I think not: While I wouldn't visit the resort specifically for this single activity—there are many more diverting summer and fall activities in the area, after all—it does provide a legitimate taste of skiing turns for jonesing skiers, a reasonable facsimile of the snowy equivalent for keen beginners, and some satisfyingly weird Instagram material for anyone who's still into that kind of thing.
Off-season skiing at Tremblant is open on autumn weekends until Oct. 15. More information: tremblant.ca, 1-888-738-1777.
---

---