Reading Time:
7
minutes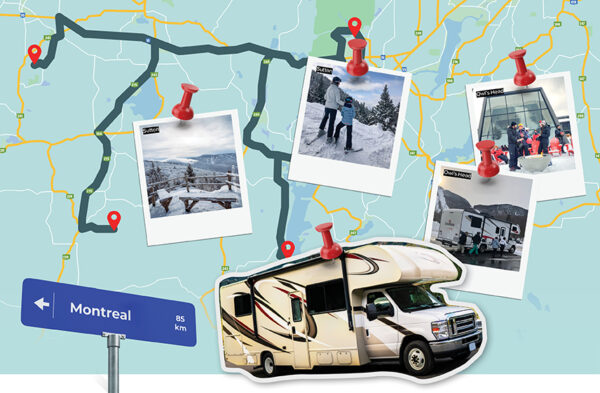 Going Mobile Through Quebec's Eastern Townships In A Rented RV
My family had fallen into a pleasant après routine three days into our second RV adventure of 2022. Step 1: Exchange ski gear for folding chairs stowed in our rented motorhome's cavernous rear compartment. Step 2: Fill plastic cups with local microbrews and sodas chilling in the propane-powered fridge. Step 3: Poutine. Step 4: Discuss whether to roll out or hunker down.
Hunkering was a viable option at Owl's Head, the penultimate stop on our road trip to all four of the ski resorts dotting the Eastern Townships region between Montreal and Sherbrooke. For one thing, Owl's Head allows overnight RV parking. For another, the brews were flowing freely. And last but definitely not least, the blackwater tank was still reading three-quarters full.
Having recently acquired a taste for snowy RVing in Banff National Park, we knew CanaDream ski vacations could comfortably and economically combine sub-zero transportation, lodging and dining. A follow-up RV rental, we reasoned, could save us even more moolah during the perennially pricey Ontario March Break, and provide an unconventional and adventurous alternative to the chalets rented during past ski trips to la belle province. Indeed, the money saved this time around had already been put to delicious use in several of the area's restaurants, brewpubs and poutineries, while a new "L'Est Go" ski pass covering Bromont, Mont Orford, Mont Sutton and Owl's Head was making our midweek tour of all four Eastern Townships ski resorts even more agreeable.
What we didn't know, however, was cause for concern. In Banff, we had become quite adept at using Parks Canada's superb facilities to empty our RV's wastewater tanks. The Townships were another story, as we had yet to find a dumping station that was open in winter. In short, No. 2 was fast becoming our No. 1 problem.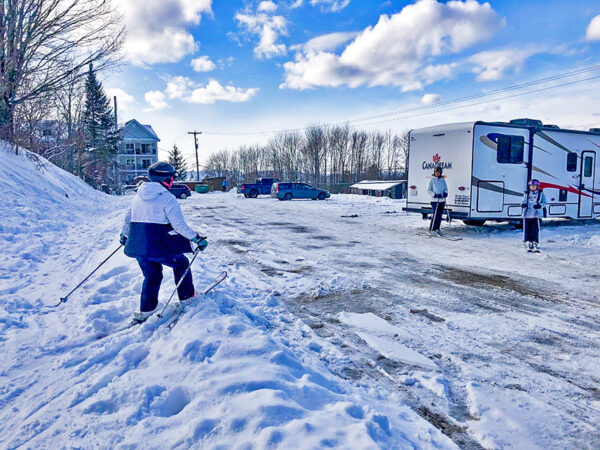 Top Photos: ADAM BISBY / Bottom Photo: MONT SUTTON
PLAYING PLINKO AT SUTTON
Parking was my No. 1 problem at Mont Sutton, the first hill we hit after motoring away from the CanaDream rental location north of Montreal. Sutton's mountainside parking lots are relatively compact, and on this sunny March Break Monday, fewer than 24 hours after six inches of freshie, the place was packed.
Using all the weapons in my RV-parking arsenal—a back-up camera, multiple mirrors, wildly gesticulating family members—I finally eased the front bumper of our nine-metre ride into one of the snowbanks lining the labyrinthine lot. Hitting the slopes was comparatively quick and easy from there, what with our spot being a snowball's throw from the rustic double chairlift climbing Sutton's western flank.
Parking the RV prepared me for the tight gladed terrain for which Sutton is famous. Almost half of the mountain's 60 runs dart into the trees, with the requisite clearing and thinning yielding a remarkable 204 trail intersections. Setting off from the summit chalet, I skied seven different runs—including one of three overwrought triple-black-diamonds—en route to the base. This evoked both a Choose Your Own Adventure novel and Plinko from The Price is Right.
The permutations didn't stop there. During our final descent our youngest daughter, Grace, spotted what she described as a "bum ski." Thinking she meant "ski bum," we nodded and smiled. What attributes, I wondered, made the skier a bum in Grace's eyes? Was he carrying a bong or something?
Then we saw one of Sutton's Yooners and it all made sense. Equipped with shock absorbers, these ski-mounted toboggans whiz down the intermediate trails accessed via Chairlift II. Sutton also rents Snowscoots—snowboard-BMX hybrids that can be steered down any marked run. This Choose Your Own Adventure book writes itself: If you take a Yooner down Bee-Bop, Ricochet, Mohawk and Caprice, turn to page 64. If you Snowscoot down Kangourou, Mohawk, Crocodile and Dynamique, turn to page 62. Spoiler alert: In both cases you end up back at the RV for an ice-cold beverage and takeout poutine.
A BRUSH WITH BOONDOCKING
Shortly after yelling "Opa!" for the fourteenth and final time—bumpy gravel roads and RV dishware do not mix—we turned into a dark driveway and pulled up beside Camping Lac Magog's dimly lit office. With the RV park's answering machine providing no clues as to the whereabouts of either power poles or dumping stations, and with deep snow making forward progress impossible, it looked as though we would be "boondocking," as hookup-free RVing is known.
In Banff we had only ever drawn on the RV's four batteries while parked for the day at Sunshine, Lake Louise and Mount Norquay. I knew they could be recharged using the on-board generator, but this was a bridge I was not keen to cross in a deserted, and possibly haunted, RV park. "Where there's light, there's power," I reasoned in dad-like fashion, and after a minute or two of fumbling around in the snowy darkness I located an exterior outlet on the side of the deserted office. Yet more proof that the built-in flashlight is an iPhone's best feature.
With the nearby comfort station similarly shuttered, the RV's on-board facilities were put to the test. The insulated freshwater tank supplied us all with steaming showers, while padded curtains and fleece bedding kits—one for the (almost) queen-sized bed at the rear, and two others for the twin mattresses tucked above the cab—kept us all warm and cozy in our 240-square-foot rolling chalet.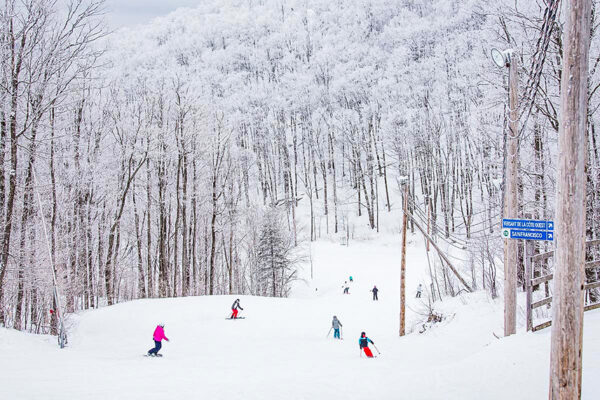 Top Left Photo: Owl's Head / top right Photo: MONT SUTTON / Bottom Photo: MONT SUTTON
SUNSHINE MEETS SCENERY AT ORFORD
We awoke to the sounds of a snowplow, and soon learned from the friendly driver that a meticulously cleared and electrically-serviced RV site had, in fact, been waiting for us all along about 10 metres down the main road. (Damn you, Google Maps! Damn you to hell!) On the plus side, the lakefront site we were supposed to occupy offered encouraging views of our next stop: Mont Orford, home to the largest in-bounds vertical (589 metres) in the Eastern Townships, and the fourth tallest in Quebec.
Spread over three peaks, Orford provided wonderful sunlit views of the forested hills and lakes dotting the surrounding provincial park. Some of the 61 runs, including the famed Grande Coulee, swing past rocky cliffs at Orford's summit before spilling down the mountainside in gloriously groomed fashion. Others, like Cascade and Contour, are littered with jumps and drop-offs that both delighted and exhausted my daughters, with a new quad chair up Mont Alfred-Desrochers adding a lap or two to the balmy bluebird day.
While thoughts of boondocking at Orford were quickly put to rest by signs forbidding overnight parking, both wallydocking and moochdocking were viable options. The former takes place in Walmart parking lots, one of which is 10 minutes from the hill. The latter would be mooching off Toronto friends who'd rented a chalet nearby. We chose to mooch, and while our friends' rental chalet lacked RV hookups and dumping facilities, it more than made up for them with proximity to an LED-festooned hot tub overlooking Lac Memphremagog. No regrets. We were now in full boondock mode.
OWL'S WELL THAT ENDS WELL
With the RV's waste tanks passing the three-quarters mark, it seemed prudent to tell the kids (and ourselves) to "hold it" until reaching the facilities at the base of Owl's Head. While the mountain's measurements are similar to those of its regional rivals—50 runs, 540 vertical metres and 66 skiable hectares—Owl's Head provided yet another example of the varied terrain that makes the Eastern Townships so well-suited for ski road trips. A single high-speed quad climbs to the summit, where extensively gladed double-blacks intersect blue runs that meander down a peak named after an ancient Abenaki chief. The runs serviced by the two quads closest to the lake proved ideal for working on our "Memphrema-goggle tans," as our ephemeral epidermal souvenirs of the nearby lake became known.
On this day, Step 4 of our après routine was a foregone conclusion. As much as we would have liked to hunker, driving to the 600-site Domaine des Érables RV park made way too much sense. It was on the way back to Montreal, and we had been assured over the phone that hook-ups and a dumping station awaited us.
Owner Reine Boisvert was true to her word, and 45 minutes later we sighed with relief as we relieved our vehicle, refilled its freshwater tank, and plugged into 90-amp power. Au revoir boondocking, bonjour half-hour showers!
The final day of our RV journey was by far the balmiest, with non-stop sunshine and temps in the teens turning Ski Bromont into a 385-metre snowcone sprinkled with skin-baring spring breakers. While we would have liked to have hit the lit slopes of what's said to be the largest night-skiing venue in eastern North America, our extra-wide ride was due back at the Montreal depot tout de suite.
So we stowed our ski gear next to the folding chairs, left the few remaining bevvies in the fridge, and ordered an XXXL poutine to go. After all, in about 90 minutes, the blackwater tank would be someone else's problem.
Dad's RV Tips
Get extra-oriented: All CanaDream winter renters are required to watch a series of instructional videos before checking in. If you've never RVed, I highly recommend paying $165 extra for an in-person walk-through orientation. 
Go with the gas card: Given the Maxi Motorhome's 208-litre gas tank, saving up to 12 cents per litre at participating Pioneer, Fas Gas, Ultramar and Chevron stations makes signing up for CanaDream's JOURNIE Rewards program a no-brainer. Our Eastern Townships trip used about three-quarters of a tank.
Stick to main roads: If the scenic route involves gravel, dirt or bumpy surfaces, steer clear. Your crockery will thank you.
Batten down the hatches: It is vitally important to secure all items, especially the fridge door, before hitting the road. Poutine tastes better on a plate than the floor.
Keep it cool: As well as being ideal for storing ski equipment—and misbehaving children, just joking—the uninsulated rear storage compartment can double as a beverage chiller.
---

---