---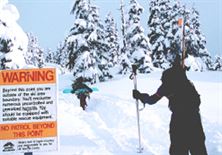 We're gathered around a sign that reads: "Warning! No Patrol Beyond This Point." It's taken us all of about an hour to attach ourselves to the local fraternity of skiers at Shames Mountain—a reassuring collection of diehards that includes a crab ?sherman from Prince Rupert, a millworker from Kitimat, an off-duty ski patroller who lives in a van half submerged in snow in the Shames parking lot, a schoolteacher from Terrace and Rod Gee, who knows the backcountry around Shames like a suburban kid knows the shopping mall.
Yesterday we'd been ensconced in a two-bunk cabin aboard the MV Queen of Prince Rupert. This rusting 40-year-old museum piece of a ferry boat on B.C.'s southern coast delivered us to a couple of areas in northwest B.C. that had languished on my to-do list for too long—Smithers and Shames Mountain. Our journey up the rain-drenched Inside Passage had taken us past misty islands where the spirit bear dwells and lonely abandoned ?sh canneries. Twenty-?ve hours later, we were deposited in this pocket of winter that seems all but forgotten by the ski world. As we pulled into the Shames base area, surrounded by head-high snow banks, we could only wonder why the lot wasn't stacked two deep with rusty vans and campers. Are there no more real ski bums left in Canada?
After brief introductions at the area boundary, we strap skins to our skis and fall in behind Duncan the schoolteacher, a virtual one-man trail-breaking machine. Rod, our unof? cial guide for the afternoon, is excited to share some Shames secrets with a trio of desperate souls from Vancouver Island. Rod has a dream job—avalanche control for a railway that cuts through virtually deserted mountains that get plastered with snow. When he isn't buzzing around the Skeena Mountains in a helicopter monitoring and controlling slide paths that threaten the CNR tracks, he's exploring the vast Shames backcountry, plumbing new lines with friends or returning to old favourites.
Our gently ascending traverse leads us toward a snowy dome above the T-bar called— you guessed it—the Dome. We're headed to an appealing trio of lines known as Zymbuctu 1,2 and 3. Kris and Lisa, my teammates on this northern sojourn, and I are feeling a tad smug as we crest the domed summit overlooking the North Bowl where we'd poached ?rst tracks earlier in the day.
"We've got an incredible playground here, but we're not going to make it too easy for you," says Rod with a sly grin, as we pry him for knowledge about his favourite lines in a lift-accessed backcountry that looks virtually limitless from this vantage point. "The warm fronts and cold fronts battle it out here and usually the cold fronts win."
When we stop to de-skin, I look far down the valley at the massive Skeena River as it journeys to the north coast at Prince Rupert. The summit T-bar at Shames tops out at a diminutive 1,200 metres, which would be molehill status farther south. However, up here in this corner of the Coast Range, where the trees give way to alpine much lower down and nature is generous to skiers, the mountains have a tremendously rugged relief that belies their low elevation.
We drop down into Zymacord basin, one-byone, but the snow has an ominously unsettled feel to it. Overnight winds have loaded the snowpack so we opt to skin back up to the ridge and ski steep glades that funnel into a narrow V-shaped draw and a waterfall that requires careful manoeuvring or meat hucking, depending on your tastes. In the trees the snow is thigh-deep, light and forgiving, and our group of seven fans out to seek private, steep lines through the trees. Semi-arid Vancouver Island seems like planets away.
Half an hour later we're bumping back up Shames's prehistoric two-seater chair, past the tower sign warning you not to use foul language because Shames is a family mountain. I feel like we've been welcomed into the family.
At the top of the T-bar our group reconvenes, with a few new faces and minus a few from our ? rst outing. Next on the menu is No Dogs, a precipitous treed run that plunges down from a corniced ridge across from the T-bar. Accessing it requires some tricky trail breaking, which we're happy to leave to Duncan, the route-?nding automaton.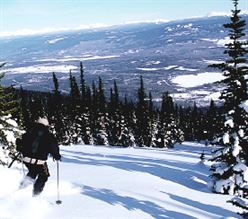 "On a busy day there might be 50 people in the backcountry around here," Rod informs me as we wind our way to the top of No Dogs.
A gentle wind buffets the ridge where we stop to refuel. Though we've only scratched the surface of Shames, it's time to bid our new friends farewell and head to the pub at the base lodge. Kris and I arc lazy turns along the ridge before dropping down elevator shafts of pristine snow. I'm starting to get an idea of the Shames Mountain game plan. Skins on; ascend to ridgeline, bowl or peak; snack on some fresh powder; ride the lift; repeat as necessary.
That evening we're hanging out with our host Randy Dozzi in his man cave, a wooden shack out back of the 1920s farmhouse in Terrace that he and his partner, Pat Gale, renovated a few years ago into a B & B—our home for the night. Randy is a ? sherman and he approaches it with the fanaticism of a southern preacher. We wax our skis and listen to his embellished tales of ? shing for steelhead on the Kitsumkalum River, just a few kilometres from their doorstep.
Dinner is a vegetable curry at a local Indian restaurant so hot it almost barbecues my gums. Later on at Spa Essentials, I'm lying bucknaked under a towel in a room festooned with blood-red blankets that gives the impression of a Bedouin king's tent. Soothing music, the kind played in shops that sell tarot cards and crystals, ?oats from invisible speakers and a woman is placing hot rocks on my lower back. I drift into a semi-conscious, dreamy state. The north is more civilized than I expected.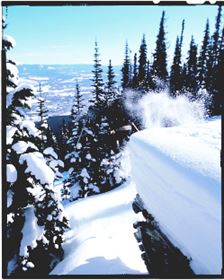 Early the next morning we're steaming east on Hwy 16 following the gorgeous Skeena River, choked in the narrow openings with massive ice ?oes. We count the vehicles that pass us, perhaps one every ? ve minutes or so.
At Hazelton, where the Skeena spews out of the mountains to the north, we pick up a young native guy hitchhiking into Smithers. I point to Rocher de Boule, an impressive peak that totters above the con?uence of the Bulkley and Skeena, and ask him if anybody has ever climbed it. He looks at me quizzically and replies, "Why would ya?"
The only reasonable explanation I can come up with is the fact that I have incurable summit fever, which is why we're heading to Smithers to ski the area and also climb to the top of that ancient volcanic massif, Hudson Bay Mountain.
In an hour's time we're driving down mainstreet Smithers past that little fella with the alpenhorn, thankfully the one thematic tribute to Bavaria in town. Unlike Kimberley, Smithers knew when to stop.
It's a bluebird morning and the parking lot at Ski Smithers is predictably deserted. Riding up the Skyline Chair, Kris says that the place feels haunted. "You never see a chairlift when you're skiing and you never see skiers when you're on the chair."
Indeed, it's as though we showed up to our own private little hill, dropped some loonies in the coin-operated chairlifts, pressed the button for grooming, turned on the taps at the Sunset Lounge that overlooks the pastoral Bulkley Valley and then proceeded to ski our hearts out. All morning we carve high-speed super-G turns on vacant groomers, the snow remaining in wonderful shape thanks to the brisk –5 temperature. By early afternoon, we're still ?nding runs groomed to carpet-like perfection.
At lunch I meet my friend Alex, a special effects guy from Vancouver who's up here ? lming a Hollywood ?ick about sled dogs with human-like personalities. The barren plateau below the ? anks of Hudson Bay Mountain serves as a perfect facsimile for the Arctic, and Alex's job is to make arti?cial snow from a curious seaweed-based compound. Evidently, even though Smithers is having a banner snow year, for Hollywood, it's not the right kind of snow.
In the afternoon we extract some offpiste beta from an old-timer with a clipped German accent, who sends us way skier's left of Holy Smoke to some steep gladed terrain known as 5-0, 6-0 and 7-0. It hasn't stormed for more than a week but we still manage to ? nd untracked snow as fresh as though it had fallen yesterday. 6-0 cuts a steepening line through hand-gladed trees, before popping us out into an opening with an old trapper's cabin that serves as a well-placed launch pad to clear a mining trail below. It's hard to shake the feeling of a haunted mountain, as though some catastrophe had befallen the rest of the world and we were left here in Smithers to ski in our own private oblivion.
Hudson Bay Mountain has always had some sort of magnetic attraction to me. It looms over the ski hill and the town of Smithers like a brooding volcano waiting to erupt. Wind hammers its slopes relentlessly, which means the skiing is rarely good on its long ridgelines. Still, it affords a ? ne aesthetic ski ascent, with a short and entertaining scramble through crumbling popsicles of snow near the summit.
The following morning at the ski hill we meet Bryan Hall and Kim Putnam, a couple of avid skiers and entrepreneurs who co-own a local outdoor store and B&B. Hyper-caffeinated, we set off for the long, endless climb up Hudson Bay. Bryan compulsively summits the mountain once a week in the winter. He and Kim sampled a number of mountain towns before falling for the Bulkley Valley's charms.
"We came up to house-sit for a friend. We looked around at some other towns and realized this was the place," Bryan tells me as we begin crossing the deceptively long plateau locals refer to as the "prairie." I think he's on to something. The movie set where my friend Alex is busy making absurdly fake snow is visible in the distance.
Slowly the angle begins to increase as we wrap around the rim of an ancient volcanic cone low down on the ridge. The mountain begins to take on a surreal quality—treeless, barren and so massive that it seems the smaller surrounding peaks are the offspring that emerged long ago from the belly of this impressive beast.
The wind picks up and the snow beneath our skis has been tortured into something that feels like Styrofoam covered in tiny ball bearings. We deposit our skis at a small notch on the ridge and scramble the ? nal few hundred metres to the peak. The sky is radiantly clear and we gaze down at the town of Smithers and at the Bulkley River as it winds off to meet the Skeena and beyond to Terrace and the mountains that harbour Shames.
Like all road trips, this one is coming to an all-too-abrupt end. It seems at a lot of modern ski resorts these days skiing has been relegated to the role of ?ller between shopping expeditions, double de-caf lattes and trips to the spa. Not so at the ski hills of northern B.C. Around here, it's all about unadulterated skiing—dressed down, unpretentious, simple. And $214 for an early-bird season's pass at Shames reminds me of when I was a ?ve-year old ripping around the slopes of the now longgone and ghost-like Grandview Ski Acres near Kamloops down south.
Ski Smithers is all about immaculately groomed runs and fall-line skiing with some nifty off-piste stashes, while at Shames big mountain backcountry is the order of the day. Neither mountain suffers from an overcrowding problem, which is why we'll be back soon, perhaps as southern refugees from global warming.
IF YOU GO
Check the B.C. Ferries website (www. bcferries.com) or phone (888/223- 3779) for winter schedules and fares on the Queen of Prince Rupert from Port Hardy to Prince Rupert. (Two, 25.5-hour crossings a week.) Passengers are free to bring a sleeping bag and crash anywhere on the deck or lounges if the price of a cabin is not in the budget. Alternatively, you can miss out on life and skip the Inside Passage experience entirely and ?y to Smithers or Terrace with Hawkair or Air Canada. Or you can load up the rig and hit the road.


SHAMES MOUNTAIN:

www.shamesmountain.com, 877/898-7547 for the snow report. The Mount Remo Backcountry Society has put together an excellent and informative webpage: www.mrbs.ca—follow the links to Shames backcountry.

For accommodation in nearby Terrace, try out the Lafeur Guesthouse, and don't miss Harayama's Restaurant for some of the best Indian food around.

SKI SMITHERS

www.skismithers.com, 866/665-4299
For accommodation in Smithers, the Stork's Nest is a good bet.

Tags: backcountry, British Columbia, Hudson Bay Mountain, Port Hardy, Prince Rupert, Shames Mountain, Skeena River, Smithers, Terrace