---
This year's bindings make it most apparent that the ski world is breaking boundaries. Virtually all the R&D for this segment has gone into multi-tasking solutions for skiers heading beyond the ropes with bindings that walk. In many ways what's old is new again: skiing's beginnings were precisely backcountry in nature—as far as Ski Canada can decipher there were no groomed trails or high-speed lifts among the ancient rock drawings that depict the first skier at Rødøy, Norway—and the first pair of alpine boards discovered were, in fact, ones that were walked and skied on. We just do it so much better today.
by Marty McLennan from Buyer's Guide 2013                                                                                                                                                                                                                                                                                                 
Link for ALPINE SKI POLES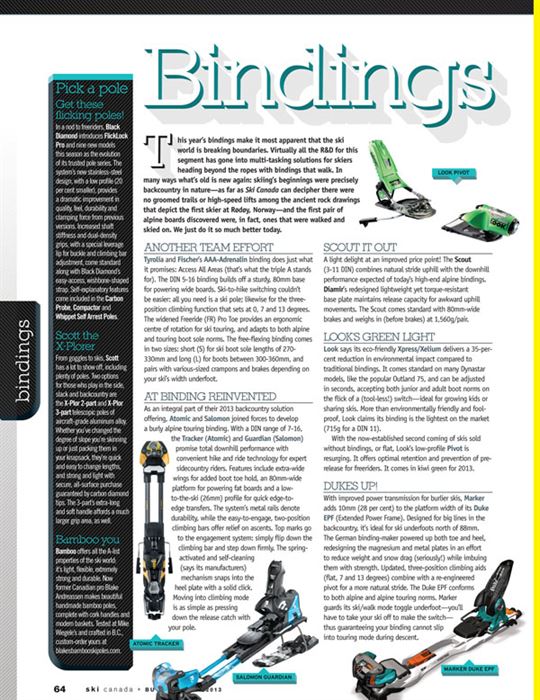 ANOTHER TEAM EFFORT
Tyrolia and Fischer's AAA-Adrenalin binding does just what it promises: Access All Areas (that's what the triple A stands for). The DIN 5-16 binding builds off a sturdy, 80mm base for powering wide boards. Ski-to-hike switching couldn't be easier: all you need is a ski pole; likewise for the three-position climbing function that sets at 0, 7 and 13 degrees. The widened Freeride (FR) Pro Toe provides an ergonomic centre of rotation for ski touring, and adapts to both alpine and touring boot sole norms. The free-flexing binding comes in two sizes: short (S) for ski boot sole lengths of 270- 330mm and long (L) for boots between 300-360mm, and pairs with various-sized crampons and brakes depending on your ski's width underfoot.
AT BINDING REINVENTED
As an integral part of their 2013 backcountry solution offering, Atomic and Salomon joined forces to develop a burly alpine touring binding. With a DIN range of 7-16, the Tracker (Atomic) and Guardian (Salomon) promise total downhill performance with convenient hike and ride technology for expert sidecountry riders. Features include extra-wide wings for added boot toe hold, an 80mm-wide platform for powering fat boards and a low-to-the-ski (26mm) profile for quick edge-to-edge transfers. The system's metal rails denote durability, while the easy-to-engage, two-position climbing bars offer relief on ascents. Top marks go to the engagement system: simply flip down the climbing bar and step down firmly. The spring-activated and self-cleaning (says its manufacturers) mechanism snaps into the heel plate with a solid click. Moving into climbing mode is as simple as pressing down the release catch with
your pole.
SCOUT IT OUT
A light delight at an improved price point! The Scout (3-11 DIN) combines natural stride uphill with the downhill performance expected of today's high-end alpine bindings. Diamir's redesigned lightweight yet torque-resistant base plate maintains release capacity for awkward uphill movements. The Scout comes standard with 80mm-wide brakes and weighs in (before brakes) at 1,560g/pair.
LOOK'S GREEN LIGHT
Look says its eco-friendly Xpress/Xelium delivers a 35-per-cent reduction in environmental impact compared to traditional bindings. It comes standard on many Dynastar models, like the popular Outland 75, and can be adjusted in seconds, accepting both junior and adult boot norms on the flick of a (tool-less!) switch—ideal for growing kids or sharing skis. More than environmentally friendly and fool-proof, Look claims its binding is the lightest on the market (715g for a DIN 11). With the now-established second coming of skis sold without bindings, or flat, Look's low-profile Pivot is resurging. It offers optimal retention and prevention of pre-release for freeriders. It comes in kiwi green for 2013.
DUKES UP!
With improved power transmission for burlier skis, Marker adds 10mm (28 per cent) to the platform width of its Duke EPF (Extended Power Frame). Designed for big lines in the backcountry, it's ideal for ski underfoots north of 88mm. The German binding-maker powered up both toe and heel, redesigning the magnesium and metal plates in an effort to reduce weight and snow drag (seriously!) while imbuing them with strength. Updated, three-position climbing aids (flat, 7 and 13 degrees) combine with a re-engineered pivot for a more natural stride. The Duke EPF conforms to both alpine and alpine touring norms. Marker guards its ski/walk mode toggle underfoot—you'll have to take your ski off to make the switch— thus guaranteeing your binding cannot slip into touring mode during descent.
Pick a pole
Get these flicking poles! In a nod to freeriders, Black Diamond introduces FlickLock Pro and nine new models this season as the evolution of its trusted pole series. The system's new stainless-steel design, with a low profile (20 per cent smaller), provides a dramatic improvement in quality, feel, durability and clamping force from previous versions. Increased shaft
stiffness and dual-density grips, with a special leverage lip for buckle and climbing bar adjustment, come standard along with Black Diamond's easy-access, wishbone-shaped strap. Self-explanatory features come included in the Carbon Probe, Compactor and Whippet Self Arrest Poles.
Scott the X-Plorer
From goggles to skis, Scott has a lot to show off, including plenty of poles. Two options for those who play in the side, slack and backcountry are the X-Plor 2-part and X-Plor 3-part telescopic poles of aircraft-grade aluminum alloy. Whether you've changed the degree of slope you're skinning up or just packing them in your knapsack, they're quick and easy to change lengths, and strong and light with secure, all-surface purchase guaranteed by carbon diamond tips. The 3-part's extra-long and soft handle affords a much larger grip area, as well.
Bamboo you
Bamboo offers all the A-list properties of the ski world: it's light, flexible, extremely strong and durable. Now former Canadian pro Blake Andreassen makes beautiful handmade bamboo poles, complete with cork handles and modern baskets. Tested at Mike Wiegele's and crafted in B.C., custom-order yours at blakesbambooskipoles.com
---
Tags: AAA-Adrenalin, all terrain, alpine bindings, AT, Atomic Tracker, backcountry, Black Diamond FlickLock Pro, Blake Andreassen, Diamir, Diamir Scout, Extended Power Frame, Fischer, Freeride (FR) Pro Toe, Look Pivot, Look Xpress/Xelium, Marker, Marker Duke EPF, Salomon Guardian, Scott X-Plor, ski bindings, ski poles, ski touring, Ski-to-hike, Tyrolia, Whippet Self Arrest Poles