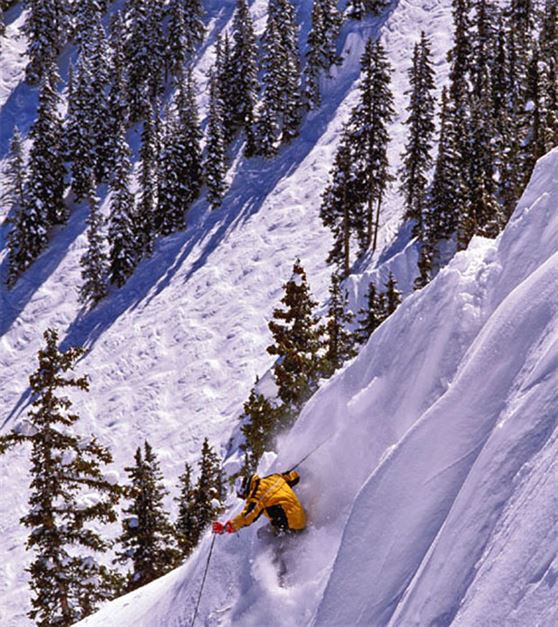 from Spring 2011 issue
As inspiring as ski photography in
magazines can be, it can also be
incredibly frustrating to the layman
with a camera who just wants a good shot of
himself or his buddy on some steep pitch
somewhere.
I've cheated by simply tilting my camera off
the horizon, but the shots look ridiculous when
you can see trees growing out from the slope
instead of up. Even in today's digital camera
age where there's no limit to the number of
shots you can take, it's still tough to come
home with just one shot of how really steep
that run was.
One of the steeper ski areas in North America
is Taos Ski Valley in New Mexico, where long-
time Ski Canada contributor Ken Gallard has
been shooting professionally since the mid-'70s.
Gallard puts the lesser-known Taos in with big
guns like Whistler, Revelstoke, Jackson Hole,
Alta and Squaw when it comes to "pervasive
extent of steep and challenging terrain." And
he knows what I'm talking about when it comes
to visually capturing the scariness of a slope.
The classic mistake? "Standing below the
skier and shooting directly up at him or her
coming at you," says Gallard. "This totally
kills the effect of steep-slope impact and, of
course, means your camera is no longer true
to vertical – further undermining your attempt
to convey steepness. This particular angle,
though, can yield great ski and powder-action
portraits."
Whether you've got point-and-shoot in
your pocket or an SLR and big lens in your
backpack, here's Gallard's advice to help you
make it look as steep as it felt.
• Let the terrain tell the story:
not so much the skier. Minimize the size of the skier in
his or her environment to underscore or
overstate the expanse and steepness of the
terrain.
• Shoot from the side,
even from behind to better establish the
angle of the slope. Keep your camera to
the exact vertical plane so as not to skew
the trees and the angle of the slope,
thereby messing up the impact of the
steepness you seek to convey.
• Try to include imposing background terrain or a "void/abyss" aspect to further
enhance the outer-limits nature of the
steepness that's being skied.
This issue's theme of the best ski photography
wasn't intended to intimidate you, but more
to entertain and inspire you. On the following
pages, Bryn Hughes, Mattias Fredriksson and Sven
Brunso show you some of the most impressive
photography coming from Canada, Sweden and
the U.S. Just in case your leisure time right now
includes less reading and more skiing, enjoy!