RYAN REPORT // November 3, 2017 // By Ryan Stuart
---
The newest GoPro is here. The sixth iteration of compact, super tough, and impressive shooting Kleenex of action cameras is an improvement on past versions, but you better have your computer or phone on the cutting edge too if you want to use it to its fullest potential.
Like the Hero5, the newest version is small, fitting in a palm of a hand or pant pocket, and super easy to use. Even without the instruction manual we had it running, formatting microSD cards and scrolling through the menus via the touch screen back. Shooting is equally simple, made even easier with voice commands. Tell the GoPro what you want it to do – "GoPro start filming." "GoPro turn off." – and it listens and usually does exactly what you want.
GoPro improved the image stabilization on the 6. Don't expect perfection or even as good as an iPhone 7, but it is better than before. A faster Wi-Fi system speeds up wireless file transfers.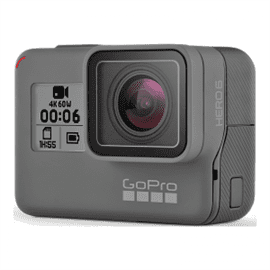 Size and toughness wise not much has changed. It's still super tough. Without the impact cover it's waterproof to 33-metres. And remains about the same size, despite the upgrades in performance.
GoPro amped up the Hero's video and photo capabilities with a better chip, GP1. It's capable of shooting 4K, pretty much as good as just about any TV can broadcast. That should excited videographers; the Hero6 can reach 240 grams per second for super slow motion and amazing image quality. But for the rest of us that can present a problem. To keep file sizes under control GoPro tapped a new coding called High Efficiency Video Coding or HEVC. It's great, compacting what would be enormous files, but only the newest and most powerful phones and computers are ready to handle both HEVC and 4K, meaning many will be super slow to process and view the footage and may not be able to at all.
So if you take your audio capture capabilities seriously the Hero6 offers a solid upgrade form previous iterations. If you don't know what 4K means, you may not want to upgrade just yet. And if you're somewhere in between, the Hero6 is a good choice for getting ahead of the curve and hopefully staying there for a while.
Available at SportChek for $650
RYAN REPORT is a frequent web post by Ski Canada magazine's technical editor, Ryan Stuart.