from Travel Guide 2010 issue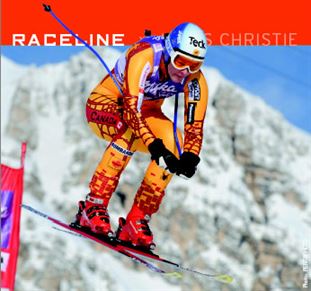 This time, Emily Brydon says, it will be different.
With the 2010 Olympic Games in her home province, in what will likely be her last year of high-performance skiing, there's no reason to hold back. She'll be skiing toward daylight, toward a future that probably won't include ski racing, hopefully toward an Olympic medal.
"After the last Olympic Games, I kind of ran away from the ski world and had to decide whether to continue. That's why I went to Australia, to think," said Brydon. The 29-year-old speed specialist from Fernie, B.C., has been on the national ski team since 1997. She's had seven visits to the World Cup podium, including her only win at St. Moritz two winters ago. She competed in the 2002 Salt Lake City Games after knee surgery, then at Torino in 2006 where she was disappointed to place 9th in super-G.
"If these Games were not in Vancouver, on hills I grew up on and I'm comfortable on, I probably would have stayed away. Ultimately, it's this goal at the end that's motivated me and has me striving for more." That more includes some very definite and realistic plans: to drop the technical events she has little hope of winning, and focus on speed; to win a downhill event before the Olympics; to place in the World Cup's top-10 in one of the speed disciplines; and to close her career with an Olympic medal.
"I've become a mature athlete and I know what I want and what I need," she said, as she watched the snow pile up in Sölden, Austria, early this season. She was anxious to get on the glaciers, shocked at how much they were receding from the lack of winter conditions, then shocked again that on-snow training was interrupted by too much snow. The time is limited and she cannot afford to lose days. The clock and the calendar are running on the Olympic season. Officially, her racing year begins in early December with Lake Louise, but before time runs out on a good but not yet great career, she wants to use what she's learned.
"I know I am not unstoppable," she said. "I just knew what I needed to be good. The physical had to be good and the mental had to be good… I've worked like I haven't before on dryland. I wanted to be better on the bike and get better on the weight rack. With a history of hip injuries, I can't do what I could before—but I realized I didn't want to have big thighs and hips. I did lower weights and more reps…and I don't have as many squat reps. I still lift but I don't do really heavy weight anymore. I work on the smaller muscles that go unnoticed."
Another part of Brydon that has been "massively changed" is her outlook. Instead of maintaining the introspective focus of the high-performance athlete—"I'd judge myself on my results: if I had a bad day, I'm a bad person; if I had a good day, I'm a good person"—she looked outward for what her ability could do for others. She began the Emily Brydon Foundation to support local sports near her hometown of Fernie and spent part of the summer in Ghana, with the Right to Play humanitarian organization.
"Right to Play and the Foundation have given me something outside myself. It kind of fuelled me to be better—the better I was, the more impact I could have. It showed me the value of sport and the stupidity of competition for the sake of competition. Going to Africa changed that. Sport gives me an opportunity to give a person a nudge forward. Sport is probably the biggest opportunity I have to help someone. It definitely changed me as an athlete."
In the 2007-08 season, Canada's women World Cuppers took seven of the country's 10 podium visits—including wins by Britt Janyk in the Aspen downhill and Brydon's super-G at St. Moritz—and wore dollar-store tiaras as the "Speed Queens." Last season, they got shut out of the World Cup medals and the best Canadian female result at the World Championships was Brydon's 11th-place effort in the downhill.
But Brydon was sick for much of last season. Kelly VanderBeek of Kitchener, Ontario, battled shoulder joints that kept popping out of place and Janyk struggled with equipment issues. They skied defensively.
"Now we're the underdogs again—which might be the way Canadians like it. Kelly, Britt and I had other obstacles to overcome, whether it was personal or sickness or injury. It hit all three of us at the same time, and we weren't there to help each other up. We were all down.
"We worked so hard this summer and we wanted it more this summer. It will give us more for this year. I know when I stand in the start gate I want to have no regrets. I want to be in the finish knowing I gave it my best."