---
published week of October 10, 2016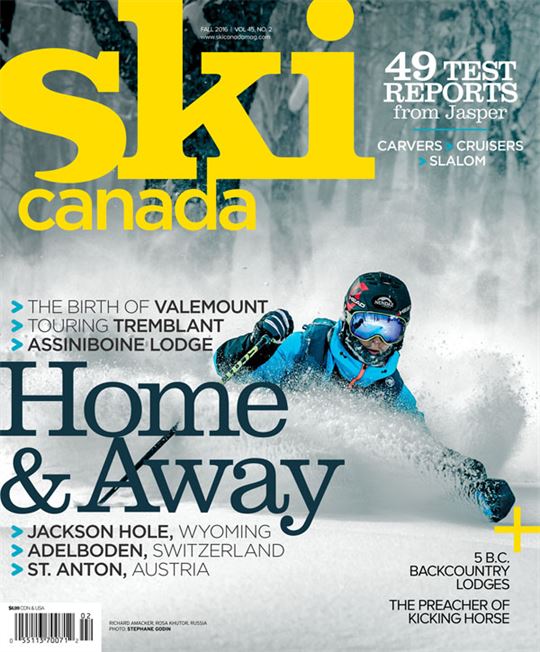 photo: STEPHANE GODIN  *  skier: Richard Amacker  *  snow: Rosa Khutor, Russia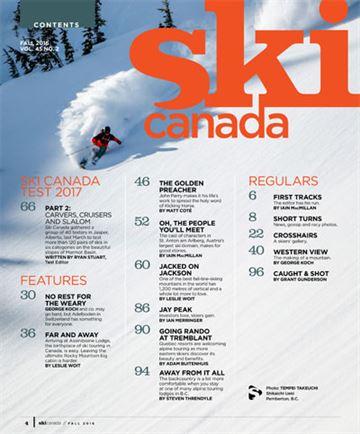 photo: TEMPEI TAKEUCHI  *  skier: Shikaichi Ueki  *  snow: Pemberton, B.C.
PART 2: CARVERS, CRUISERS AND SLALOM
Ski Canada gathered a group of 40 testers in Jasper, Alberta, last March to test more than 120 pairs of skis in six categories on the beautiful slopes of Marmot Basin.
Written by RYAN STUART, Test Editor
FEATURES
NO REST FOR THE WEARY
GEORGE KOCH and co. may go hard, but Adelboden in Switzerland has something for everyone.
FAR AND AWAY
Arriving at Assiniboine Lodge, the birthplace of ski touring in Canada, is easy. Leaving the ultimate Rocky Mountain log cabin is harder.
BY LESLIE WOIT
THE GOLDEN PREACHER
John Parry makes it his life's work to spread the holy word of Kicking Horse.
BY MATT COTÉ
 OH, THE PEOPLE YOU'LL MEET
The cast of characters in St. Anton am Arlberg, Austria's largest ski domain, makes for good stories.
BY IAIN MacMILLAN
JACKED ON JACKSON
One of the best fall-line-skiing mountains in the world has 1,200 metres of vertical and a whole lot more to love.
BY LESLIE WOIT
JAY PEAK
Investors lose, skiers gain.
BY IAN MERRINGER
GOING RANDO AT TREMBLANT
Quebec resorts are welcoming alpine touring as more eastern skiers discover its beauty and benefits.
BY ADAM BUITENHUIS
AWAY FROM IT ALL
The backcountry is a lot more comfortable when you stay at one of many alpine touring lodges in B.C.
BY STEVEN THRENDYLE
REGULARS
FIRST TRACKS  George's Gap Year
SHORT TURNS News, gossip and racy photos.
CROSSHAIRS A skiers' gallery.
WESTERN VIEW The making of a mountain. BY GEORGE KOCH
CAUGHT & SHOT  BY Grant Gunderson