Reading Time:
5
minutes
Arriving at Assiniboine Lodge, the birthplace of ski touring in Canada, is easy. Leaving the ultimate Rocky Mountain log cabin is a lot harder.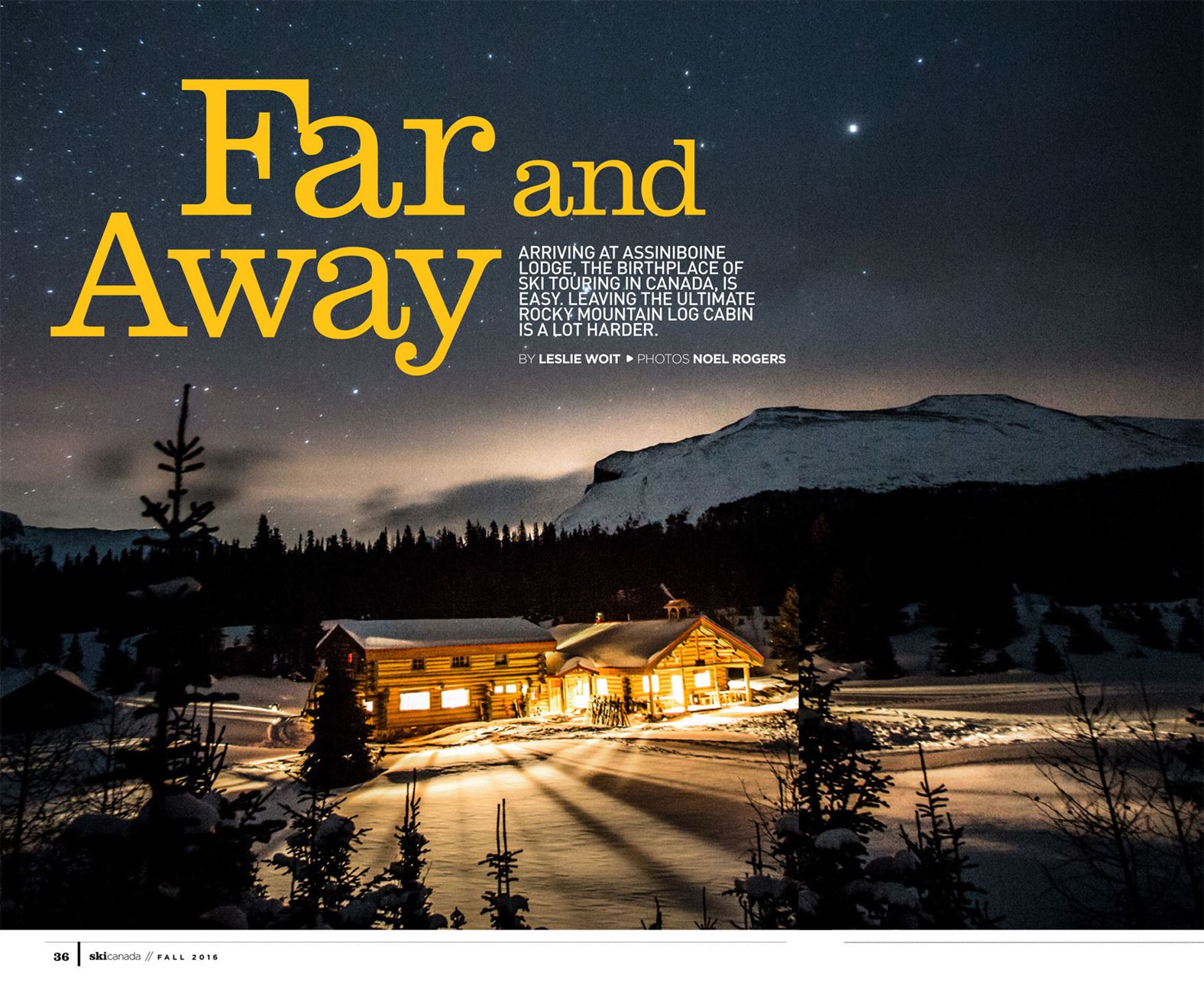 by Leslie Woit *  photos Noel Rogers  *  in the Fall 2016 issue
They say life is no picnic. They should come to Assiniboine Lodge.
The sun sparkles like diamonds on the snowy horizon. Flinty peaks poke high in the distance. And at our feet, dozens of effortless, beautiful turns waiting to be arced through the shin-deep light Canadian powder. Sometimes life is a picnic.
Ski touring is the wine and cheese and really good bread of skiing. The wine may be rough, the cheese salty, but the bread is the perfect kind you have to walk, bike or drive miles across town to find, building a thirst, a sweat and a chunky-man-soup-size hunger on the way.
Straddling the spine of Canada's rugged Rocky Mountains, historic Assiniboine Lodge is 28 km from the nearest road in B.C.'s Assiniboine Provincial Park. Traditionally reached on skis—a two-day journey many still opt for—one of the coolest parts is the helicopter shuttle that combines old with new, lifting off from Canmore, Alberta, to cover 50 km and a hundred years in exactly 13 minutes.
"This place is a time warp," explains our host Andre Renner, welcoming me to the lodge that lays claim to being the first ski lodge in the Canadian Rockies. Andre and fellow mountain guide Claude Duchesne are current co-custodians of this rustic snowbound retreat, built in 1928 by Norwegian ski instructor Erling Strom and Nicholas degli Albizzi, an Italian Marquis, in conjunction with the Canadian Pacific Railway. Even then, the lure of the backcountry called.
"There is not much to tell about lift skiing," the original powder snob Strom later wrote. "It is great fun, but one run is much like another."
I'm here for three days during which I'll barely chock up enough runs to crack double digits. But as Strom observes, each run will be unlike the other. And like many good adventures it begins with a goodbye. Waving to the pilot, the thwop-thwop of the Bell 407 helicopter grows fainter and any connection to heli-skiing fades to white. This is fly-in ski touring: reaching the remotest of remote terrain via helicopter, and skinning from there. No lifts, no people, one flight in, one flight out. That machine won't be back for three days.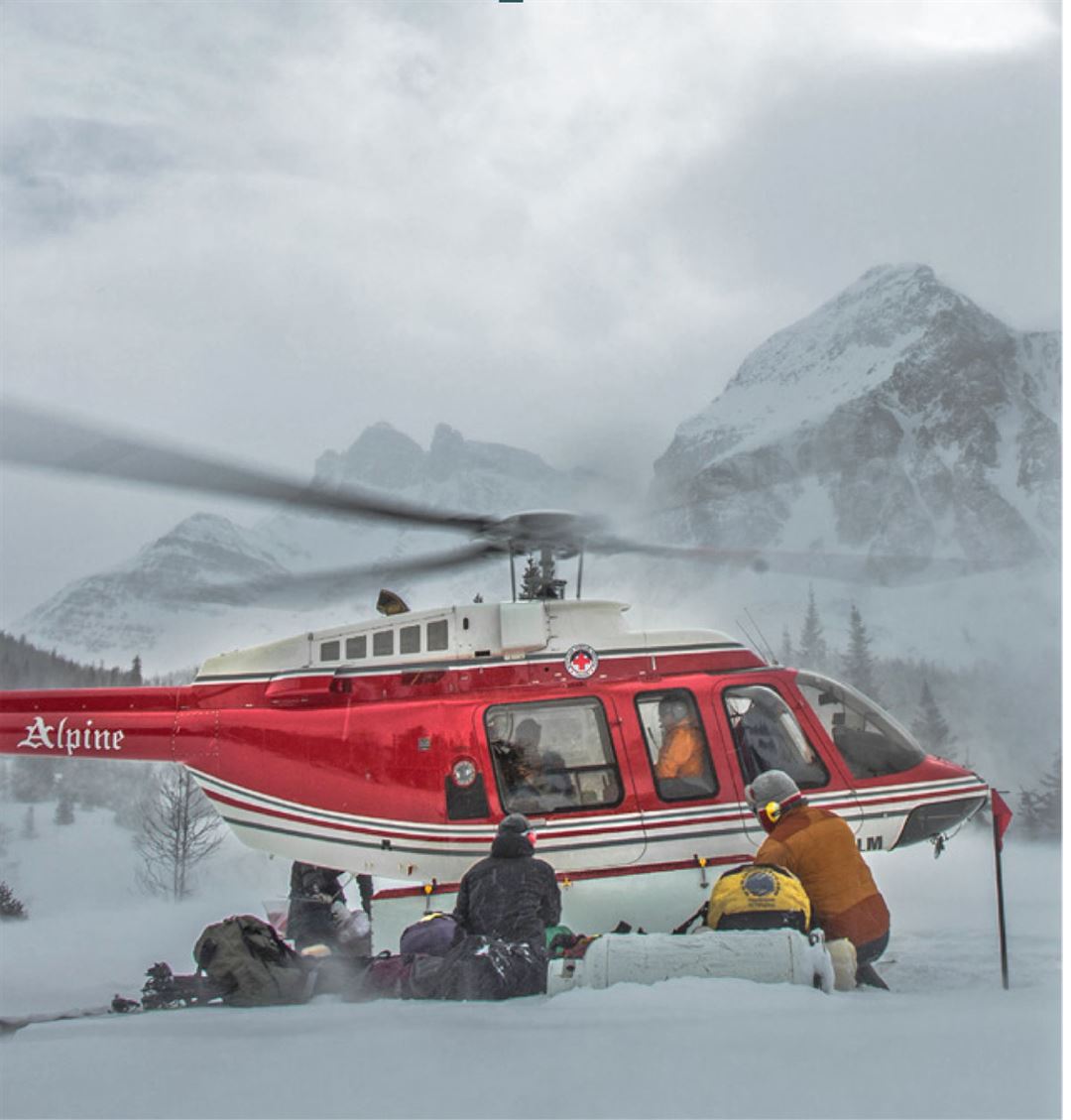 I turn to see one curl of woodsmoke rising from the chimney of a rough-hewn main lodge, and a clutch of small cabins hug frozen Lake Magog's edge. Skis are propped against the rack and Mount Assiniboine, tallest peak in the southern Canadian Rockies, fills the frame. Inside, a vintage poster suggests "Opportunity to see the Matterhorn of the Canadian Rockies at moderate cost" (Assiniboine's likeness to Switzerland's Toblerone Peak is uncanny) and the walls sing with Canadian alpine history: photos and books tell of guides such as Swiss-cartel-busting Ken Jones, first Canadian-born mountain guide; Jackrabbit Johannsen and his fishing pole; Lizzie Rommel and Hans Gmoser breaking trail… Eccentricities abounded: newspapers were delivered from the window of a bush plane; repeat clients were inducted into the Order of the Gopher (for three-timers) or the Order of the Packrat (for five); the first skier to fly in was Jack Heinz, soon followed by his planeload of ketchup.
The Lodge now holds 25 guests, serving three delicious meals a day plus "tea goodies" after guided skiing. Some experienced guests ski unguided and regular groups are formed according to ability and wishes. I join a couple from Banff and two Ontarians, including Rob Butler, CSIA Level IV and TV ski tip-meister. After the quick flight and lunch, with no lift schedules to abide, there is ample time for skiing. Following an avalanche transceiver session, our group smooths on our skins and follows mountain guide Mark Hammerschmidt across the peaceful plateau behind the lodge.
Right from the doorstep the terrain rises gently, and in every direction mountains are upholstered in downy powder. A chirpy chickadee, the rhythmic brush of Gore-Tex, and a little heavy breathing are the only sounds. A run down through a larch meadow on cold, fine talcum powder snow never felt so sublime.
"The pleasure of going somewhere under your own effort" is how Hammerschmidt characterizes the appeal of skinning. A long-time heli-guide, he's jumped the fence to guide at Assiniboine, a career path shared by others here.
"Heli-skiers don't even have time to look around at the top. They're only counting the metres," he says as we pause between runs (typically a 45- to 60-minute climb up followed by 20 minutes down), soaking in the pristine UNESCO-blessed peaks that form the Continental Divide. "Heli-skiers think it's Disneyland, that we turn on in December and turn off in April. Ski tourers have a better understanding of the elements."
The next day, as happens in this tombola of a weather zone, we wake to 15cms of fresh snow. After coffee, fresh muffins and a cooked breakfast, the door opens on a glittering powder world. Up and down low-angle drainages to the east and north of the lodge, up through trees and trails and along ridgelines—if you can see it, you can pretty much ski it. No rush, the nearest competition for fresh tracks is a two days' ski away.
After four or five runs, a picnic lunch is followed by a long gentle glide back to the lodge, where the spiffy new sauna and hot showers feel very luxurious indeed. (The Lodge had a full overhaul a few years ago yet still offers no WiFi: "I think people are looking for a refuge, though my parents did have satellite [internet] when my sister was in the Olympics," Andre admits. Cross-country skier Sara Renner took silver at Turin in 2006 and credits her talents to the family growing up at Assiniboine. She's bound to be unbeatable on the uphills.)
Time for a short nap before drinks and nibbles by the fire at six, and a delicious dinner: Annick's tomato and roasted pepper soup with fresh herbs, miso halibut, chocolate mousse with whipped cream and fresh strawberries and mint, in case you're wondering. Wine and conversation flow into the night, and eventually Andre brews a batch of the house tipple, a rum concoction invented by the very first guests in 1928. (The Marquis had hired a Cockney sled team owner from Banff, Ike Mills: 70-kilos-of-provision-hauling dogs and Ike quit halfway to the lodge at the foot of the pass. On eventual arrival, the party of two ladies and four gentlemen were prepared to drink whatever was in the pantry: condensed milk laced with rum and the Cougar Milk was born.)
Too soon, after three peaceful powdery days, the time machine would be revving up to fly us back to the 21st century. As Assiniboine Lodge noses up to celebrating its centenary—a hundred years of picnicking in the powder of the Continental Divide—I drift to sleep knowing I'm just two visits away from what could be one of my life's greatest achievements, the Order of the Gopher.
IF YOU GO
Assiniboine Lodge holds 25 people in seven cabins sleeping from two to five people, and five rooms in the lodge itself that sleep from one to three people. The cost, from $280 per person per night, includes all meals, afternoon tea, ski guiding, snowshoes, avalanche safety gear and instruction on use. Helicopter flights in and out are $175 a person return from Canmore or $155 from the Mount Shark helipad. assiniboinelodge.com