---
Q&A with Mikaël Kingsbury and Chloé Dufour-Lapointe.
When a coveted FIS Crystal Globe lands in Canadian hands for overall season results, it's kind of a big deal. When both the men's and ladies' World Cup mogul champions are from home soil, it's reason to celebrate.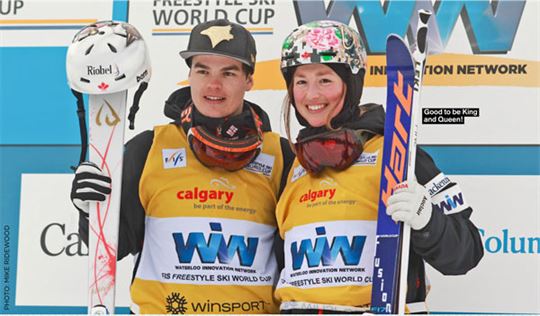 Ski Canada: Congratulations to both of you! How did you celebrate those impressive Crystal Globes?
Mikaël Kingsbury: I turned 24 on the 24th of July so this is my lucky year—ha! It was cool to have all my friends over to celebrate. We drank beers from my Globes at home and had a great time.
    Chloé Dufour-Lapointe: I was so excited to finish my season on such a high note. My sisters, our friends and I all went out dancing at the Mayfair bar. Surprisingly, two whole Champagne bottles fit in those Globes, ha!  It was such a special night.
    SC: You both also have a shiny silver Olympic medal from Sochi 2014 in your collection. How are you preparing for PyeongChang 2018?
    MK: Even though I'm happy that I broke so many records, I still have a lot to work on. Being consistent is my trademark, so I train in all kinds of snow conditions, water ramps, trampolines, and I study competition videos. Surrounding yourself with an awesome team of coaches and specialists like B2Ten, that helps a lot.
    CDL: Since I started competing with my older sister Maxime and my younger sister Justine, I never looked back. I hit the gym six days a week for circuit training, practised new jumps recently in Australia, etc. With the Canadian Freestyle Association, I also attend sports psychology seminars.
    SC: What's your biggest inspiration, your idols?
    MK: The great ski legends I call friends, like Jean-Luc Brassard and Alex Bilodeau.
CDL: Definitely Jennifer Heil, she taught me so much, and also guys like Jean-Luc and many others.
  SC: How do you manage to keep your life-balance?
    MK: I enjoy other sports like playing hockey, tennis, basketball, and also just kidding around with my friends. I wish I could take my dog on the road.
    CDL: I think it's very important to learn how to unplug and just take a real break. Recovery is so key to making sure we are in the best shape when the season starts.
    SC: What would you like your legacy to be?
    MK: I would like to inspire others and reach my full potential; I still think I have more to achieve and give back to my sport and others. I just love what I do.
    CDL: Young girls need sporty role models, and I'd like to inspire many to be active and live a healthy lifestyle, to be themselves, believe and go for it.
 by MARIE-PIERE BELISLE-KENNEDY in Fall 2016 issue
Tags: Chloé Dufour-Lapointe, FIS Crystal Globe, Mikael Kingsbury, moguls, Sochi 2014, World Cup