---
One of the best fall-line-skiing mountains in the world has 1,200 metres of vertical and a whole lot more to love.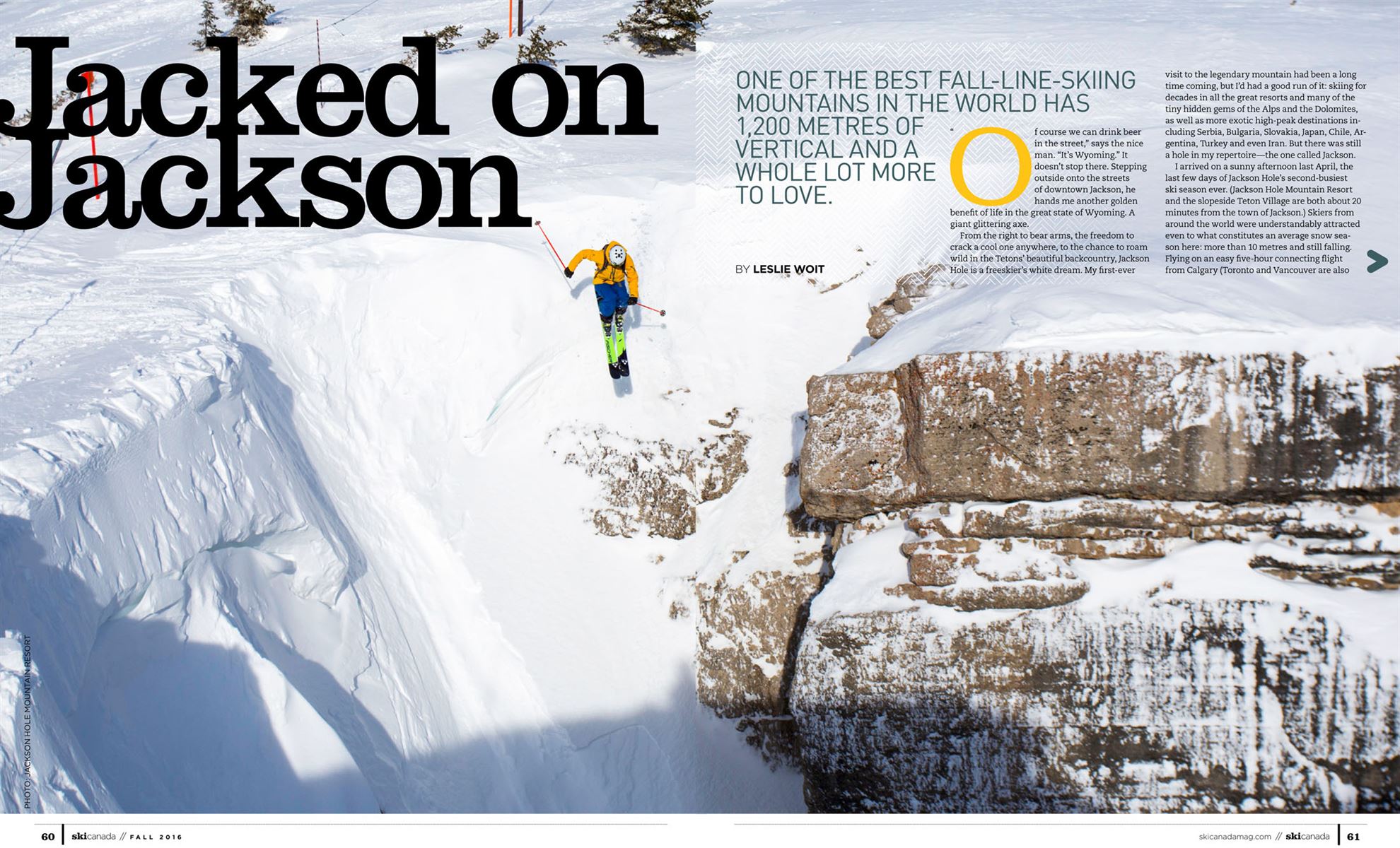 Of course we can drink beer in the street," says the nice man. "It's Wyoming." It doesn't stop there. Stepping outside onto the streets of downtown Jackson, he hands me another golden benefit of life in the great state of Wyoming. A giant glittering axe.
From the right to bear arms, the freedom to crack a cool one anywhere, to the chance to roam wild in the Tetons' beautiful backcountry, Jackson Hole is a freeskier's white dream. My first-ever visit to the legendary mountain had been a long time coming, but I'd had a good run of it: skiing for decades in all the great resorts and many of the tiny hidden gems of the Alps and the Dolomites, as well as more exotic high-peak destinations including Serbia, Bulgaria, Slovakia, Japan, Chile, Argentina, Turkey and even Iran. But there was still a hole in my repertoire—the one called Jackson.
I arrived on a sunny afternoon last April, the last few days of Jackson Hole's second-busiest ski season ever. (Jackson Hole Mountain Resort and the slopeside Teton Village are both about 20 minutes from the town of Jackson.) Skiers from around the world were understandably attracted even to what constitutes an average snow season here: more than 10 metres and still falling. Flying on an easy five-hour connecting flight from Calgary (Toronto and Vancouver are also two-legs and approximately the same duration), half an hour later we're in town. The attractive foot-friendly centre is a stroller's dream. Luscious lattes at Persephone Bakery. Multicoloured cowboy boots at Boot Barn. And whipping tomahawks against the side of a wall at Mountain Man Toy Shop. "Dangerous toys for big boys" manager Anthony Campolattaro is keen for us to have a go, a living lesson in the lack of restriction that defines life in the Wild West. "Montana thinks they're cooler, but they're wrong," explains Anthony. "We call them Montucky."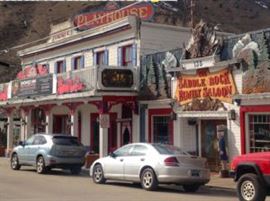 It's tough to tell them apart on Saturday. It's Gaper Day, Jackson Hole's annual hall pass for crazy dress, wacky hot-dogging and BYO-whatever-you're-into up the mountain. "Costumes and tomfoolery" is the official tagline, the geeky gap between a skier's helmet and goggles the spiritual punchline. Neon onesies, bikinis and giant bananas gyrate by the dozen around Lazy Eyes, the local seven-piece band that's rockin' the base of the tram under glittering spring sun.
That's first stop: the Jackson Hole tram. Riding the iconic red rocket, cheek to goggle-tanned jowl with 99 others is its own reward. Rising swiftly into the spiky Tetons, we cruise right past the infamous Corbet's Couloir and I peer down into the abyss just as the attendant delivers his safety blurb. Crowd participation is part of the drill as we crest the 3,185-metre top. "If…you…don't…know…" everyone chants, "…don't…go!"
Well, I don't know but what the hell, down I go, ever so gingerly, to the edge of the edgy-edge, that is. Arcing through soft spring corn, I engineer a cautious halt at the precipitous maw of legendary Corbet's Couloir. And whaddya know? It's named for Canadian Barry Corbet, a Vancouver native who dropped out of Dartmouth and moved to Jackson to become a skier, mountaineer and guide for Exum Mountain Guides. Higher education? Go, Canada, go!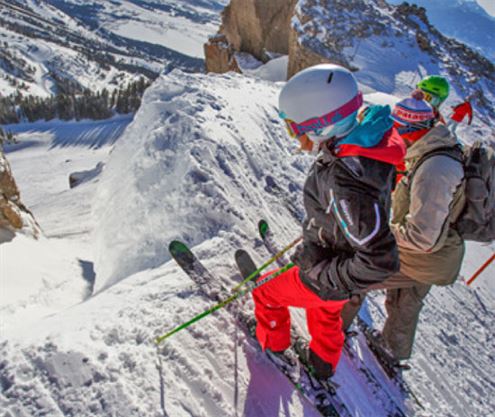 It was 1960 and Elvis was singing "It's Now Or Never" when Corbet climbed and skied the as-yet-unknown mountain. High on Rendezvous Peak on a recce with Paul McCollister, one of the founders of Jackson Hole ski resort, Corbet spotted what would become one of the Hole's—and North America's—most visible lines. Today the tram passes by every 10 minutes and spectators gather to look, wait and watch for the brave and the loony to drop into the resort's inverse-funnel of a mascot—a two- to six-metre leap of faith, depending on the year's snowpack, followed swiftly by one vital and immediate sharp turn to avoid a chunk of one of the youngest, flintiest mountain ranges in North America. That done, the rest is a gravy-filled open chute of fantastic 40-degree fall line as far as the eye can see—and then some.
It took vision to see these hills. Last year Jackson Hole donged the cowbell of ski life on 50 years of innovation, imagination and inspiration. From the start, resort founders Alex Morley and Paul McCollister were dreamers who yearned to create a Euro-style ski area and made it happen. After installing the awe-inspiring four-km aerial tramway in 1965, McCollister co-opted 27-year-old Austrian ski racer and Olympic medal winner Pepi Stiegler to cross the pond as ski school director at the fledging area.
Thereafter came decades of lifts and runs where before there were none, and legions of fans—first the hardcore, then the newbies—attracted by the frontier spirit and increasingly sophisticated food, booze and cultural offerings. Ski bums like Corbet and ambassadors like Tommy Moe. Famous shooters like Teton Gravity Research, Wade McCoy and Travis Rice's film company, Brainfarm. And come 1992, the local coal-mining Kemmerer family, who saved the resort from bankruptcy and ushered in the modern era with new lifts, base area and rebuilding the iconic aerial tram.
Most enduring of all was Jackson's pioneering of the big 'n' beautiful backcountry. Since the late 1970s, skiers here began venturing "out-of-bounds," a movement spearheaded by the Jackson Hole Airforce—"Swift. Silent. Deep." Among its secret rope-ducking renegades was the late Doug Coombs, sensationally kicked off the mountain in '96 for skiing out-of-bounds. The patrol policy was pushed to the edge and eventually, in the winter of 1999-2000, control gates were erected and the amount of lift-serviced terrain tripled. Jackson Hole's backcountry skiing was born to be wild.
————
I noticed the bumper sticker first. No, not the indecipherable Jesus one parked in front of the liquor store—"History to the world, foolishness to the wise, weakness to the strong, eternal life to those who pick it up"—but the one that read "Free Hoback Nation." A little town a few kilometres from Jackson named for an outfitter who guided the Astors around these parts in the 18th century, Hoback also gives its name to more than 600 vertical metres of snaking glades lying due south, middle and north of Rendezvous Trail. These 28- to 30-degree ungroomed routes right down to the resort boundary get regularly schmeared in deep, light powder.
As one might expect, the Hobacks don't care much for street signs—head down Rendezvous Trail to a cat-track traverse angling right and that's your cue. The "easiest" route is left of the rope line, but anyway you cut it, they're a long thigh-burning lap of open baby bowls, widely spaced trees, moguls and glades. Halfway down, you might want a little breather like I did at the sun pit, equipped with a mini driving range. Pink golf balls decorate the remainder of the way down to the slow, old Union Pass chair back to base.
After skiing, we take a drive through what's presumably ground zero for the Alsatian guard dogs whose long pink tongues and sparkling white teeth smile back from the pages of slick local magazines. A few miles outside town, Pratt Road cuts through hills of ochre tumbleweed and wispy grasses, leading to the spread-out estates of the likes of Sandra Bullock and Harrison Ford. Trouble is you can't actually see much real estate, mostly long lanes, big gates and pretty scenery—but according to Forbes, in the Mountain West only Colorado has more billionaires. Jackson's are names you recognize, faces you don't: Walton of Walmart, Mars of Snickers…that sort. A few kilometres over from Pratt Road and more accessible at a thou-or-two for the night, perches the Amangani hotel, oozing sleekness and discretion from its oriental-tinged great rooms and heaven-scraping picture windows that give uninterrupted vistas of the dog-toothed Tetons.
Back in town, I'm cozying into my scaled-down version of Amangani, the new stylish boutique Hotel Jackson. Handsome custom carpets, fine local art, haunting photos and a magnificent buffalo trophy are just the beginning, and the library is a peaceful place to catch up with the local paper, the Jackson Hole News & Guide. The front page catches my eye. "One big fight, one obvious theft and an angry drunk highlight off-hill hijinks." The most entertaining column is "The Blotter," detailing the week's DUIs, B&Es and basic domestics. This week involves an open window and attempted self-removal of a chest tattoo with a pocketknife. The incident resulted in no arrest since "acting weird is not yet a crime."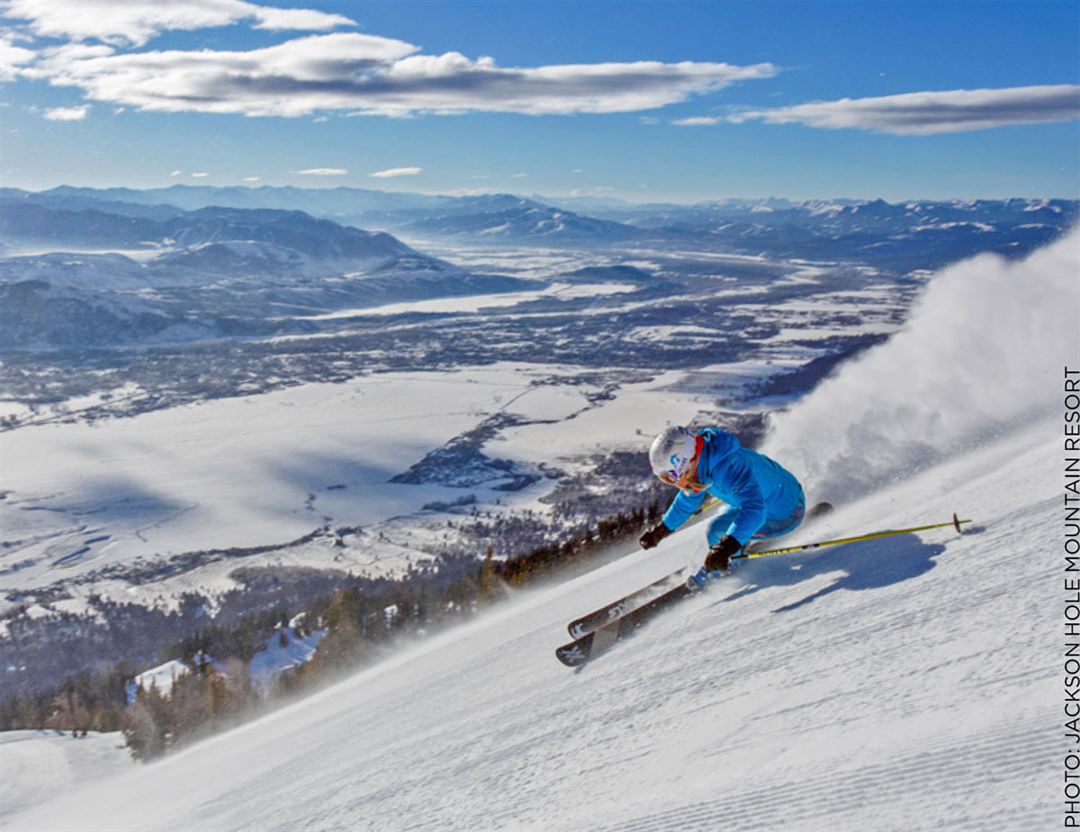 After that brush with Jackson's dark side, I'm ready for drinks and nibbles. Don't leave town without a slap up Lebanese dinner at Hotel Jackson, the delicious meze platter will set you up for an evening of rewarding exploration. In the compact streets of Jackson you'll find all you need to live like a Mars or a Walton: shearling vests, silver buckles, cashmere throws, Teton-shaped diamond jewelry, art galleries on every block… We duck in to catch the Roosevelts and a beer at the historic Pink Garter Theatre, then plan to peek inside the Silver Dollar bar inside the historic Wort Hotel. But first, I'm headed to the Million Dollar Cowboy Bar to meet a guy called Bubba about some gloves.

Bubba has a company that's a bit of Jackson in microcosm. It's a start-up. It's unique, high-quality stuff. And fun, as in, he's a great dancer. And it's called Give'r, owing, surprisingly, to his annual week-long kayaking trip in the wilderness of Northern Ontario. My soft, warm Give'r gloves—perfect for skiing, hiking and axing—are hand-branded with my initials. And as hard as they were to put down, I did in order to take a two-stepping swing round the saloon floor with Bubba. "Nearly as much fun as givener on the mountain," says Bubba.

That Wild West je ne sais quoi is everywhere, from stop signs saying "Whoa" to the ski area parking attendant who directs me to my space with a fake rifle. (Take that, PC Vail.) Jackson Hole stands proud on the podium of Western mountain culture. Aromatherapy massages, while available, are for out-of-towners. If you're local, or wanna feel like one, there's really only one place to stretch your ski legs on a Sunday night.

The Stagecoach, or what locals refer to as "church," is officially my new all-time favourite bar. Grey-haired cowboys in Wranglers 'n' beat-up boots sashay their womenfolk round and round to a band that's been playing there every Sunday for 50 years. At the base of Teton Pass, since 1942, the way it should be. I get to talking with the old guy beside us. A rancher from 30 km up the road—and ex-CMH heli-skier from back in the day when skis were skinny and thighs were willing—Jerry attends "church" every Sunday. With love in his heart and food between his teeth, he lowers his soda pop and sucks in his pot belly as we rise to twirl with Patsy Cline and Hank Williams. "Thank you, ma'am. You made my winter." Thank you, Jerry. Thank you, Jackson. You made mine.

TOWN OR MOUNTAIN?

When you ski Jackson Hole, there are two places to stay: either Teton Village or the historic town of Jackson. Teton Village is located at the foot of the ski lifts, which means waking up right at the base and putting you first in line for pow tracks. There's a bit of an après-ski scene, some live music at the Mangy Moose, a variety of condos, and hotels including the venerable Four Seasons. But soul? Not so much. On the other hand, the town of Jackson—located 20 km or a 20-minute drive from Teton Village—brims with historic Western culture. If you're more about lovely shops and galleries at your doorstep, walking to the best restaurants and two-stepping your way home from the cowboy bars, staying in Jackson is for you. Some downtown accommodations offer ski shuttles to and from the mountain. The ski hill charges for parking.

GRAND TARGHEE

Take a day out from the Hole to drive over spectacular Teton Pass to Grand Targhee. No lines, no pressure, and there's cat-skiing, too. Grand Targhee Snowcat operates in 240 hectares of deep, dry Teton powder in bowls, glades and steep tree pitches. Wyoming's only cat-skiing.

IF YOU GO

Yes, the strength of the U.S. greenback makes it tough for travellers, but we found this deal quickly, and surely there are others. Jackson Hole invites Canadians to forget about the exchange rate and come ski with Canadian Dollars at Par during specific-date packages that include lift tickets and lodging. On top of all that, receive a US$200 or $300 air credit on specific weeks and qualifying packages. Jackson Hole Central Res, jacksonholewy.com/par

Tags: backcountry, Featured, Four Seasons Jackson Hole, Grand Targhee, Hotel Jackson, Jckson Hole, Teton Village, USA, Wyoming