---
The backcountry is a lot more comfortable when you stay at one of many alpine touring lodges in B.C.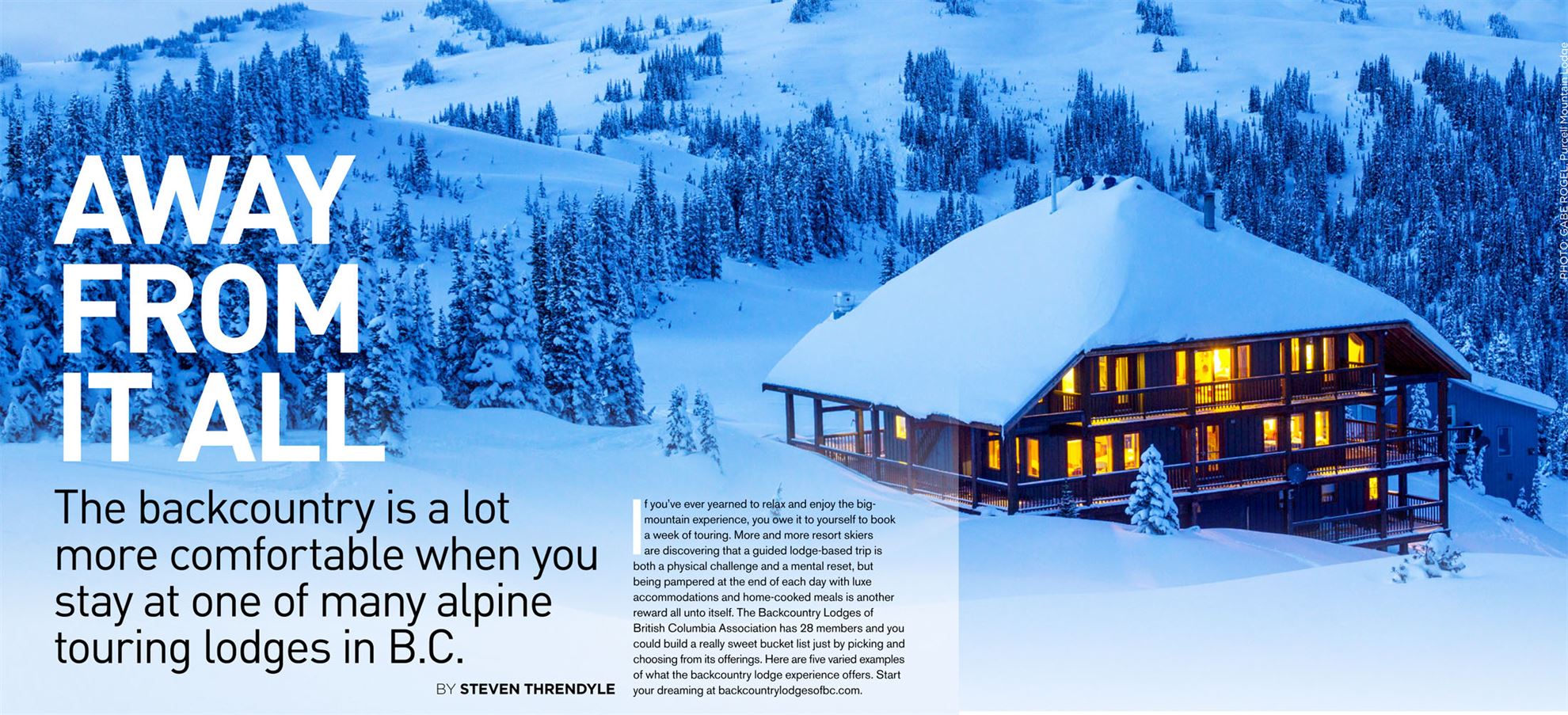 If you've ever yearned to relax and enjoy the big-mountain experience, you owe it to yourself to book a week of touring. More and more resort skiers are discovering that a guided lodge-based trip is both a physical challenge and a mental reset, but being pampered at the end of each day with luxe accommodations and home-cooked meals is another reward all unto itself. The Backcountry Lodges of British Columbia Association has 28 members and you could build a really sweet bucket list just by picking and choosing from its offerings. Here are five varied examples of what the backcountry lodge experience offers. Start your dreaming at backcountrylodgesofbc.com.
      Where: Purcell Range, north of Golden
      Best reasons for going:
Mellow terrain is ideal for telemark skiing and
getting used to practising sometimes awkward kick turns.
To take a first-time backcountry trip that does not mean "roughing it" in any way. (Hot showers in the backcountry? Yes, really.)
A luxe, self-contained out cabin is ideal for couples celebrating a honeymoon or other
special occasions.
New Lake to Peak program aimed at Nordic skiers combines three different lodge experiences in one: a night at Emerald Lake Lodge in Yoho National Park, four nights at Purcell Mountain Lodge, and a final night at Buffalo Mountain Lodge in Banff National Park.
      Insider tip: Spouse or significant other doesn't ski? The flat plateau that the lodge sits on is ideal for both snowshoeing and cross-country shuffling.
      If you go: Three-night, all-inclusive stays start at $1,972; purcellmountainlodge.com
      Where: Selkirks, northeast of Revelstoke, B.C.
      Best reasons for going:
It's the ultimate goal for many backcountry skiers everywhere to get beaten up (in a good way) by Swiss owner/mountain guide Ruedi Beglinger. (Strong groups can expect to ski—and skin up—more than 3,000 vertical metres a day).
Perfect for gung-ho jocks who have a few week-long trips under their belts already, and who want to go hard all day.
To ski backcountry lines that other companies won't touch, to enjoy amenities on a par with heli-skiing, and to be part of the "The Beglinger Club."
Hut-to-hut alpine adventure skiing is possible
when conditions align because of the unique
three-hut system.
      Insider tip: Selkirk also offers "relaxed weeks," with less-demanding travel and mellower jaunts from Durrand Glacier Lodge. This is a great introduction to the Selkirk Mountain Experience.
      If you go: Price per "Classic" week is $2,480; selkirkexperience.com
      Where: Southern Chilcotin Mountains, a sub-range of the Coast Range, north and east of Whistler
      Best reasons for going:
Certified mountain guide Lars Andrews literally grew up skiing these slopes since his father, Ron, was an active skier and climber who bought into McGillivary Lodge in the 1970s.
Superb variety of steep, wide-open slopes that offer long, sustained runs.
Outstanding glade skiing when the weather
closes in.
Closest backcountry lodge to Vancouver
and Seattle.
      Insider tip: You might just rub shoulders with former NHL stars like Trevor Linden, who skied at Whitecap before getting involved with the Vancouver Canucks in a managerial role.
      If you go: Price per week (high season): $2,700; whitecapalpine.ca
      Where: Esplanade Range north of Golden
      Best reasons for going:
Base yourself out of one of four lodges, each with access to a huge amount of terrain and vertical. For example, Vista Lodge offers skiing in five drainages encompassing every aspect of the compass, so outstanding snow conditions are virtually guaranteed.
Outstanding Selkirk powder from early November to late April.
One of the few operators to offer a high-alpine, lodge-to-lodge traverse in early April.
Lodges can also be rented by qualified groups who wish to self-cater/guide.
      Insider tip: Eric Hjorleifson (known as "Hoji" in the MSP movies) has skied numerous pillow lines here in the past and so should you. The freeride "Hoji" camp runs in early December.
      If you go: Price per week, $2,400; gah.ca
      Where: Several lodges in the B.C. Interior
      Best reasons for going:
Start your day with a little "heli bump." Rather than skinning and climbing right from the lodge, the same helicopter that transports heli-skiers will give you a lift to an alpine zone where you can tour all day.
At certain times of the season, trips are offered at CMH's top signature lodges: Adamants, Bugaboos, Cariboos, Gothics and Monashees.
Perfect trip for strong downhill skiers looking to chill out a bit in the backcountry.
Your spouse/significant other/friends who are heli-skiing can stay at the same luxe lodge during your trip.
      Insider tip: Want to upgrade to an even better bucket list option? Try a week-long Ski Fusion trip, which combines three days of ski touring with three-and-a-half days of heli-skiing.

      If you go: Price per week (high season) varies according to location, date and size of group; seven days
from $5,300; canadianmountainholidays.com

 

Tags: alpine touring, B.C., backcountry, backcountry lodges, BC, British Columbia, Buffalo Mountain Lodge, Canadian Mountain Holidays, Durrand Glacier Chalet, Emerald Lake Lodge, Featured, GOLDEN ALPINE HOLIDAYS, heli-snowcat skiing, Purcell Mountain Lodge, Selkirk Mountain Experience, WHITECAP ALPINE