Reading Time:
9
minutes
The cast of characters in St. Anton am Arlberg, Austria's largest ski domain, makes for good stories.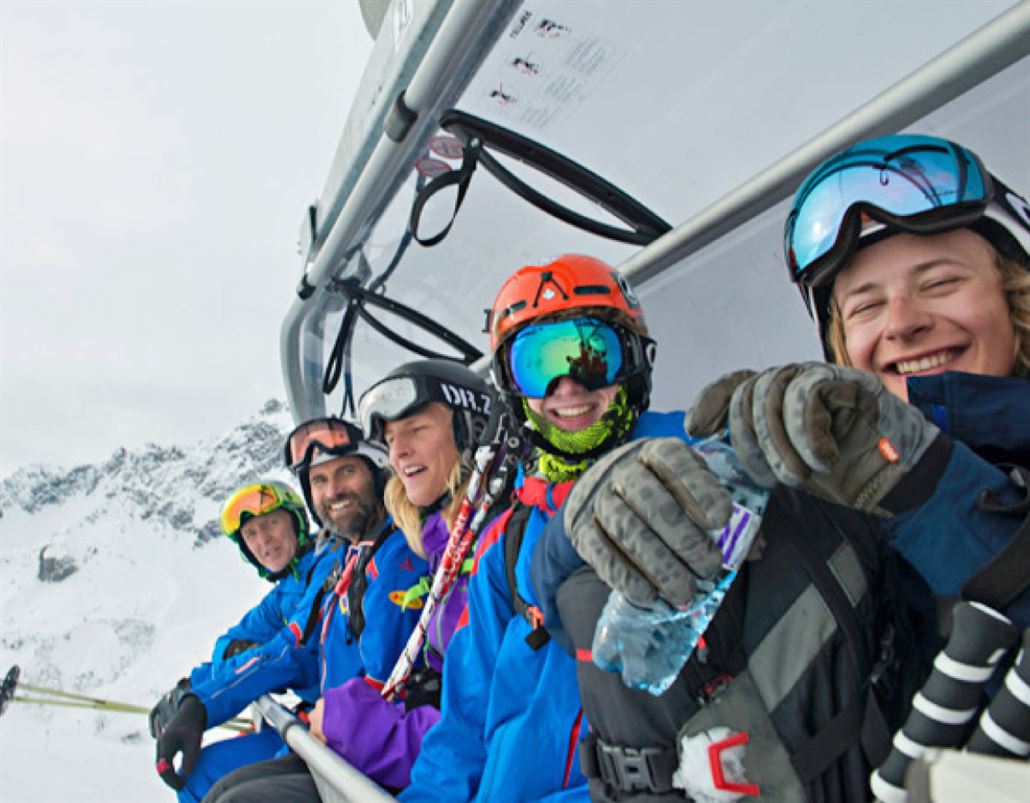 by IAIN MacMILLAN    Photos ADAM STEIN
"In my life, I have been in four avalanches," Paolo tells us, as though he's talking about après-ski bars he's visited. "In one I was completely buried, but they didn't have to search for me with a Pieps—they found my hair sticking out through the snow."
Adam and I have known Paolo for only two runs and the lingerie shopkeeper from Pordenone, near Venice, is proving to be a gold mine of entertaining anecdotes. But if there had been any doubt in our minds about taking his advice on where to find safe, untracked snow, his most recent admission cemented our resolve to use only his pocket-sized guidebook to off-piste skiing in St. Anton for help.
We first noticed Paolo when his lanky body and Bob Terwilliger dreadlocks slithered through a typical Euro lift line: a shemozzle of skiers with no corrals, no attendants, funnelling their way to finally board a Porsche-designed, heated-ergonomic-seat, eight-passenger chairlift—in twos and threes. Even though the wait was about four minutes, the lanky Italian Rastaman, who in a "normal" snow year would be skiing Cortina, managed to cut his wait time in half. It was on our second ride up that fate teamed him with us for the day.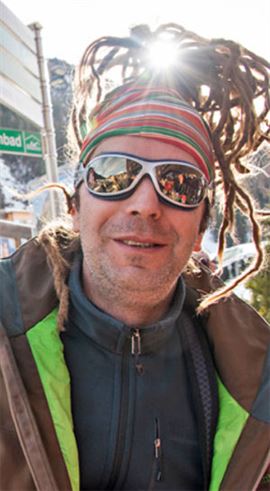 Our next run together saw the three of us trying to find a safe route to access some untouched powder directly beneath the Schindlergrat chair, just three lifts from town. The entrance proved to be the hardest part of the adventure. With skis on our backpacks, negotiating an icy scramble around a wall of tight safety netting above several challenging-looking chutes had us looking like prey caught in a giant spiderweb. It proved an interesting start to our run, especially with so many curious onlookers. But we decided it was better to have an intimidating start than finish, and the booty proved worthy of the tricky admittance. After two dreamy runs, one skier at a time, the mostly south-facing snow had begun to spoil with the rapidly warming morning sun, and the three amici headed off for photos and fun in more shadowy terrain.
By lunchtime, we met up with Paolo's wife, Louisapier, for würst, potato salad and beer at a sunny outdoor table while a crew of loud Russian men tried to dance to some goofy Austrian-pop version of John Denver. Après-ski begins early (and ends late) in the Arlberg.
Somehow, despite the low snowfall and warm winter of 2016, we'd managed to ski half a dozen repeated laps in light, untouched knee-deep powder. Looking at Adam's photos of me that night, you'd think I was the first in after a major storm. The perception and reality of ski photography. We'd checked off six lifts on the Arlberg lift pass so far on day one; that meant 81 to go.
A week ripping groomers and exuberant après-ski on sunny decks awaited those who chose not to venture off-piste for their ski week; for Adam and me, it was a week of exploration and photography, with the help of some crazy Swedish and German kids on perennial gap year happy to pose for Adam's lens, stoic mountain guides hired for a couple of days to help us find wintry isolation and seclusion far from the madding crowd—and for the first day anyway, Rasta Paolo and his off-piste guidebook.
————
Like Chamonix, Verbier and Whistler, for that matter, St. Anton and the Arlberg's cult-like reputation with the fat-ski freeride and expert off-piste crowd is long and legendary. Enormous and vast, the terrain that's open to discover on one lift pass stretches out along 305 km of marked runs, and for the off-the-beaten-track crowd, more than 55-sq-km of off-piste and sprawling backcountry. Together with big partiers, the area is full of good skiers, so I can imagine that after a storm has blanketed the endless expert terrain and the yellow flashing avalanche caution light is swirling, it's "elbows out" in the lift lines.
This season, with the addition of three new lifts, including the €45million 1.8-km Flexenbahn gondola, St. Anton and the neighbouring resorts of the Arlberg that blend into each other (St. Christoph, Stuben, Lech, Zürs, Klösterle/Sonnenkopf, Schröcken and Warth) will now be interconnected without the need of shuttle buses, making the St. Anton am Arlberg domain Austria's largest. (And all for about CDN$65 a day, including tax, on a six-day pass.) Suffice it to say, even with locals and mountain guides, piste maps and guidebooks, six days was only enough time to get Adam and me regularly confused about our whereabouts—and almost giddy while playing lost and found.
Accompanying these numbers is a staggering and varied lift infrastructure. Although the Galzigbahn supersize gondola in town is now a decade old, it remains an engineering marvel. Under four stories of glass at its base, the showcase technology loads 24 skiers per gondola then incorporates a Ferris-wheel design to raise everyone up about 15 metres before reattaching to a pulling cable that whisks you two km up into the alpine.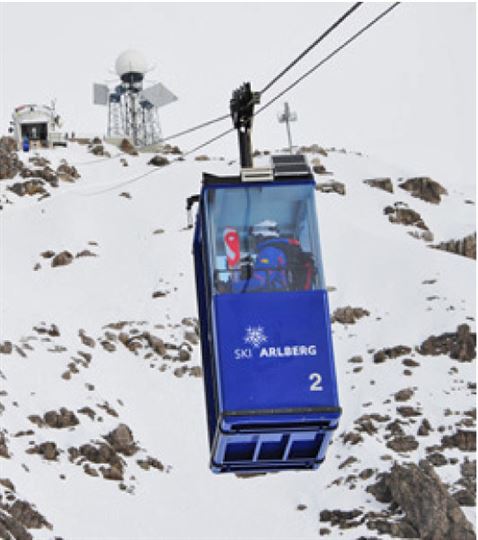 Juxtapositioned against St. Anton's Ferris-wheels and seats heated by Porsche is the leaf-like Valluga II cable car. Capacity: four. Well, three plus a mountain guide. As mighty as the Galzigbahn is at St. Anton's base, it's this little tin can of a lift that takes you to the Arlberg's highest peak, Valluga at 2,811m. If you want to bring your skis onboard, you have to be accompanied by a qualified mountain guide because to reach the starting point of the routes down to Zürs on our low-snow year required roping in or, at the minimum, closely watched guiding.
And this is where Adam and I found ourselves the next day. Billygoating along with skis on our packs again, the wind blowing yours truly and my hefty 133 pounds about while I question how long my clenched hands will maintain a decent grip on a smooth cable bolted into the mountain. Each step in our ski boots on rock, ice and scree is precarious. I wonder if I'll take out two of the 20-somethings below me at the same time or if the other two above me will start the ball rolling in this scary conga line. A fall to the left and they'll find me on the Stuben side; if I slide off to the right, I'll end up toward Zürs. Best not to fall. Or look down.
The surprisingly soft conditions we eventually reached, along with correspondingly spectacular views, terrain and the general feeling of accomplishment, of course made it all worth it. And with Adam regularly starting and stopping day two's troop of smiley young freeride rats to set up photos, I'm actually able to appreciate my surroundings more than if I'm with a gang of charging buddies. Within a few minutes of clicking into our bindings again, we don't see another human for more than an hour.
It had been on yesterday's bus ride from town back up to the Hotel Karl Schranz to meet up with Ski Canada readers and hear about their first-day adventures that I had started chatting with a blond Swedish kid decked head-to-toe in bright yellow Peak Performance kit. Only a decent skier could pull off the wearing of a €1,000 banana suit like this, I thought, so with photo models in mind I asked him in a less-creepy-than-it-sounds kinda way if he ever ski-modelled. Today being his only day off he declined, but set us up with two more fair-haired Swedes, Arbin and Arvid, whom Adam and I collectively called Alvin. Our posse of ski stars was added to later that night in town, where I found Felix from Frankfurt working in a ski shop and his friend Lovisa.
As I've recommended to many friends heading off to ski the Alps, the hiring of a mountain guide or a less-expensive ski instructor will exponentially expand your ski experience for the better. Even strong intermediates can experience the wonders of off-piste skiing and, most important, hired help will bring you back in one piece. In our case, Maris the mountain guide had joined our rat pack for the day. Curiously, our patient and observant man-in-charge hailed from the U.S. Pacific Northwest but after marrying a local Austrian Fräuline, moved in down the valley.
The Arlberg is now Maris's backyard and playground, and Adam and I marvelled at how how totally and utterly lost we would be if at any point we zigged when he zagged. Not a worry, though, when ski photography is involved. The day was anything but fast moving. And not only did the boys not need to be encouraged to hike up to untouched powder, they regularly suggested photo ops and were happy to wallow up hip-deep snow in hopes of adding images to their Instagram and Facebook accounts.

"Kodak courage" is what we used to call hair-brained moves young mostly-male skiers would muster up for a camera lens. The term was lost on our Swedish and German charges, given the once mighty photo empire was quickly spiralling into oblivion when they were born. Nevertheless, they're part of a "See Me" generation like no other, and when combined with spending the season in the Arlberg with countless other Alvin chipmunks, limits on skis are pushed like never before. This was the first day the boys had skied with a mountain guide, for instance. Regularly, and without warning, they would soar overhead, inverted, with no pre-emptive landing check. I wondered if today's courage also comes from wearing a helmet and avalanche airbag pack—and carrying a mobile phone.
Over the next couple of days, Pied Piper Adam and his heavy camera pack directed us to some of the seemingly most unlikely places simply because of how the shot will look after he's cropped out others' tracks, a road or other skiers. Taking the time to set up the ski shot is a basic rule that few holding iPhones today think about. And in Arlberg terrain, the opportunities are endless.
Of course, the dangers of being behind the lens are always present, as well. Standing in a slide path comes to mind immediately. Being struck by your photo model is a more likely injury, however. Not being able to see through a viewfinder while wearing a helmet means a shutterbug doesn't have noggin protection at a time when it could actually work.
Acting on past experience, Adam regularly shoots with one ski on (to hold an edge on a slope) and one ski off (to dodge his model who inexplicably, almost magnetically, gets drawn toward the lens). Gazing about hunting for locations or simply taking in the scenery can lead to an entertaining driver-error wipeout. Departing St. Anton's infamous alpine après-ski that sits several hundred vertical metres above town in raucous spots like the Krazy Kanguruh, the Mooserwirt or the Senn Hütte (for the dirndl and lederhosen crowd), leads to nightly train wrecks as literally (yes, literally) thousands of inebriated skiers don their skis for the final scoot home down a bumpy, crowded highway of fellow revellers. Ski Canada reader Mark Nye, with his maxed-out credit card buddies from Port Credit, Ontario, took the Bollé Après Ski Award with a unique double-ejection ballet move that left him facedown in the slush bumps with his boot liners on his feet and his boot shells still neatly clicked into his bindings. Spectacular.
————
From the crowds and cacophony of the Mooserwirt deck, to the solitude skiing of the sprawling Rendl ski area of St. Anton, couldn't make a more dramatic difference. Although Rendlbahn leaves right from town, the once separate ski area is incredibly close and makes outlying resorts like Warth seem another country away. We spent a day discovering one route after another that required almost no hiking but produced wintry snow that was so difficult to find on the St. Anton side. Peaceful hidden valleys await, some beyond phone reception, and with a guide, long descents on Hinterer Rendl (backside) that deposit you far down the valley at Pettneu are runs you may remember for the rest of your life.
Typical of many large ski domains in the Alps, trying to draw 87 lifts on a multitude of mountain faces on a flat map can lead to a deceiving piste map. The user is sometimes left wondering which direction is uphill. Discounting seemingly less-interesting areas without asking is a mistake. Time for another guide, Frank, and his suggestion to head toward three old double chairs at Stuben had me curious right away, and the day developed into a hidden trove of off-piste opportunities. After a 45-minute hike up a combo of rocky ridges and soft bootpack from the last lift, we made final preparations for a run into the shadowy and dry-snow Kaltenberg, or Cold Mountain, area with Frank pulling out a steel flask. Two shots of his homemade schnapps from apricots grown in his orchard were necessary: one to turn left and one to turn right.
Stuben's off-piste includes some memorable turns down 1,200 vertical metres of the north face of Albona, the trees of Langen and the Michboden descent to Ferwall. None of which would have been found, nor safe, without patient Frank leading the way.
Nearing the end of the week, Adam and I were getting better at skiing on our own, and indeed felt quite proud that we'd found the right bus to return us to St. Anton without our boys repeatedly pointing us in the direction. But for reassurance, or possibly because she was cute, Adam confirmed it with a smiling girl standing between us on the bus. "Yes, you're on the right bus." And "Yes, my English is pretty good, thank you." As it turned out, Brandy, from Fort St. John, B.C., had been living down the road in Pitztal for more than two years.
And for some helpful off-piste maps using Google Earth try alloffpiste.com