---
Quebec resorts are welcoming alpine touring as more eastern skiers discover its beauty and benefits.
One step after another. My head is down, my lungs are now starting to struggle to keep up with my body's oxygen needs and my heart is pumping enough to stop me from talking with the group. It's dark and we've been on this outdoor StairMaster for two hours. Tremblant's summit is still nowhere in sight. There's nothing ahead but trees with fresh heavy snow, the odd glimpse of the night sky and Guy's back in front of me. Still, it's become mesmerizing. The rhythmical sound of the skins under my ski bases sliding forward, gripping the snow, slowly gaining 30 cm of elevation with each slide. Otherwise, the forest is silent now.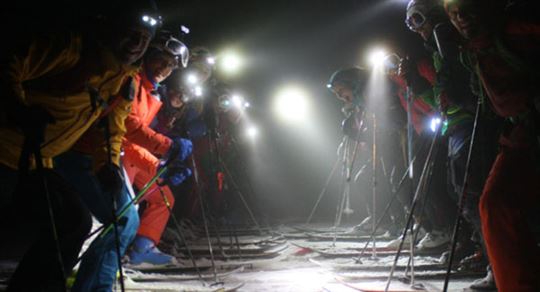 by ADAM BUITENHUIS in Fall 2016 issue
Indeed, it's amazing that there can be silence with more than 200 people making their way up to the 645m summit of Tremblant in the dark. Maybe the sound was muffled by the heavy winter forest. I know I'm not the only one quietly suffering with burning legs and the mental struggle at times. I wonder who has set the pace that we're all faithfully following.
We had started out with the fading light of the day with energy and almost joyful conversation. Once under cover of the forest and well into our steep ascent, everyone settled into a groove. It was almost meditative (in a non-relaxing kind of way) for those strong enough to avoid listening to that voice in their head telling them that they're crazy to put their body through this when earlier, during the day, they could have zipped up in a gondola.
But we do reach the top, and suddenly a feeling of accomplishment overwhelms me. Our long line of zigzagging headlamps started to pool together as everyone reaches the summit. Without our body-engines climbing, we notice the air temperature and layers start to appear from packs. Smiles and conversations begin again.
At the summit, we're also greeted with a cozy fire and refreshments in a rustic hut before we begin a celebratory descent down into the darkness of the resort long closed for the day, where an aromatic fondue dinner precedes and a presentation by celebrity event spokesman Simon St-Arnaud awaits. The Night Traverse hike proves to be the highlight of my first Festival Rando Alpine, a weekend-long festival celebrating Alpine Touring, hosted by Mont Tremblant.
2017 Festival Rando Alpine: January 20-23, 2017
Daily access Tremblant AT Pass: $10.00
Season Pass: $35.00
————

Alpine Touring (AT) or Ski Mountaineering (Skimo) or Randonée (Rando) has drawn a steady increase in participants and equipment sales in Canada, especially over the past few years. Like many resorts, Mont Tremblant recognized the trend early and responded by opening seven marked uphill backcountry trails specifically for those who want to earn their turns skinning up before joining the throngs on groomers back downhill. To help mark Tremblant's 75th birthday two years ago, the resort began hosting an annual event, Festival Rando Alpine—and there's apparently no looking back.

It's fitting that the timing of the first festival and trail opening celebrated the roots of Mont Tremblant. Indeed, the resort was discovered and founded on free-heeled touring skis in 1938 and the three-day January festival now plays homage. The gathering draws everyone from curious beginners to expert Skimo racers from all over Quebec and beyond. The 2016 get-together doubled its previous year's attendance to more than 450 people and organizers are hoping the trend continues, including more visitors from its number-one destination market, Ontario.

Attendees fill their day by signing up for different options, from a backcountry menu like beginners' clinics to help with technique and equipment, long and short guided hikes for various levels, sanctioned Skimo East races, as well as fat-bike demos using the trails around the base area. Lectures and workshops are offered, too, by some of the most knowledgeable people in the East. A tent city with equipment demos is run by manufacturers such as Dynafit, Scarpa, Blizzard, Atomic, Arc'Teryx and others. This past year the industry saw several large manufacturers join the AT market with new lines of skis and bindings.

————

Some may wonder, especially those in the West, where all the interest in AT skiing comes from in the East. Quebec outdoors media guru and AT advocate Simon St-Arnaud explains it simply that skiers' reasons for choosing to pursue the sport differ depending on their region and motivation. "In Europe it's just a way of life in the mountains. It's not uncommon to see a family in Switzerland with everyone from grandparents to kids out for a day touring in the high alpine. In western North America, AT equipment is used off-piste to travel, sometimes hut to hut through the mountains but primarily to get to pristine patches of powder outside the reach of tourists," says St-Arnaud. "They skin up and get a big powder reward at the end."

In the East, primarily Quebec, AT is mostly being driven by people who use it for "health and fitness benefits, the solitude—and to avoid lift lines," says St-Arnaud. It sure beats a real StairMaster experience indoors at a sweaty gym.

"The enjoyment of a physical challenge and the feeling of accomplishment that goes along with it is motivation enough," says Jeff Rivest, Skimo East race co-ordinator and sales rep at the iconic AT brand Dynafit. "Many skiers at Tremblant, Mont-Sainte-Anne, Bromont or other Quebec ski hills head out early to enjoy freshly groomed runs on downhill skis in the morning and then grab their touring gear for a hike up in the afternoon after the groomers have been skied out."

Most Quebec ski resorts are starting to allow alpine touring but check before you go. Those that have jumped onboard have even cut skinning trails throughout the woods or used their own series of marked summer mountain bike trails to let people get off groomed runs.

One of the most appreciated things about alpine touring at Tremblant and other Quebec ski resorts is the dedicated trails for skiers to ascend the hill away from the busy ski runs and enjoy the solace of the bois. You won't be faced with the danger of skinning up the side of groomed ski runs with people flying at you at 70 or 90kph. (That said, touring is still relatively new to the resorts in Quebec so don't be surprised when you get the odd comment from people skiing past you saying "you're going the wrong way!") Even in Collingwood, Ontario, where the best runs at private ski clubs are taken up by race gates, there's a growing trend of skiers who are looking for more excitement by exploring areas outside the resort. They find touring much more rewarding than snowshoeing.

Agreed, alpine touring provides a freedom and satisfaction not found with resort skiing, but I'm not pulling the switch yet, at least not 100 per cent. With so many distractions at a resort the size of Tremblant, alpine touring just happens to be my new favourite.

AT East, a sampling

    Mont Tremblant: Seven dedicated trails to skin up and 96 runs to ski down, gear rentals, weekly guided tours, lessons.

    Mont-Sainte-Anne: Two uphill routes and groomed runs for descent; gear rentals available.

    Mont Sutton: Two new backcountry alpine touring circuits with dedicated skinning trails.

    Mont-Edouard: This very Québécois Saguenay region ski resort offers 22 skiable hectares of true backcountry skiing with marked skinning trails.

    Mont Hereford: Opened last winter in the Townships, it has 864 vertical metres, trails to skin and cut glades to ski back down for a no-lift, pure backcountry experience.

    Le Massif: A 40-hectare powdery off-piste playground accessible for AT skiers.

    Jay Peak: The almost Canadian Jay Peak has a dedicated skinning track for uphill travel and a free uphill travel pass.

    Bromont: New this year, Bromont skiers will be using extensive mountain bike trails for their ascension into the world of AT.

Going Rando at Tremblant_

MORE INFO

Pick a parc: Quebec's true backcountry

    Parc national de la Jacques-Cartier (Quebec City area)

    Parc National de la Gaspésie (Chic-Chocs)

    Réserve Faunique de Papineau-Labelle (northeast of Ottawa)

    Parc National de la Yamaska (Eastern Townships)

Tags: alpine touring, AT, backcountry, Festival Rando Alpine, Québec, Randonée, Skimo, Tremblant