Ski Canada @ 50 – World Beaters
---
WORLD BEATERS
From the skin-tight grey suit of a young Ken Read to the baggy slopestyle britches of Megan Oldham, Canada's top skiers have evolved through the decades while competing against the best in the world.
Crazy Canucks
On December 7, 1975, Ken Read became the first non-European man to step atop a World Cup downhill podium. Two weeks later, Dave Irwin did the same. The era of the Crazy Canucks had begun.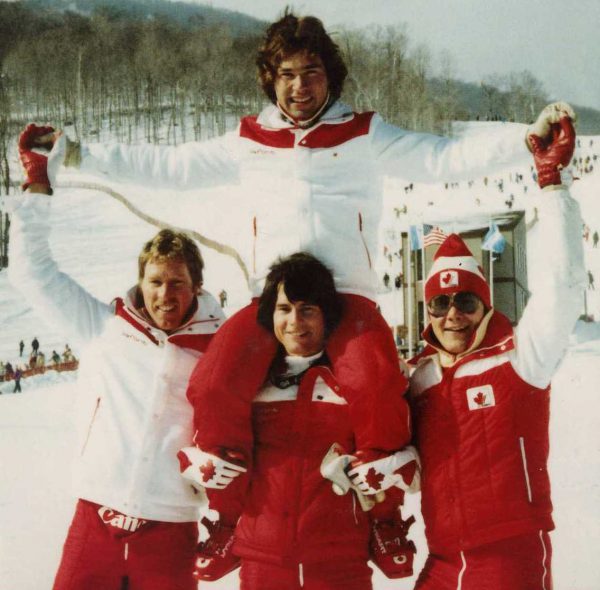 Consider Canada in 1975. The country's centennial eight years earlier had promised much about a nation coming into its own, ready to take on the world, but was anyone paying attention? Only 10 years earlier, we'd rolled up the Union Jack and unfurled our new and distinct Maple Leaf—and we were looking for reasons to wave it. Then along came four young men in form-fitting body suits who blew the European ski establishment off their crusty cornice.
Between 1974 and 1983 Canada's men's alpine ski team, represented by Dave Irwin, Ken Read, Dave Murray and Steve Podborski, won 14 races, climbing the podium 39 times. Podborski himself added an Olympic bronze in Lake Placid in 1980 and a World Cup downhill title to the haul. It wasn't just the races they won, but the way they won them. They were brash, daring, reckless, but also friendly and fun. Yes, Canadians were cheering for them back home, but suddenly Canada was cool in the Alps, too.
The era ended in 1983. That was also the fourth year in a row that Canadians won the feared Streif course that streaks down the infamous Hahnenkamm in Kitzbühel, Austria, the most dangerous on the World Cup circuit. Except the 1983 race was won not by one of the original four Crazy Canucks, but by the younger Todd Brooker. Like all Canadian skiers who came after him, Brooker took a path to victory through a deep trench carved by the four men who firmly established Canada's place on the podium.
Laurie Graham
It was a lean snow year around Quebec City in 1983, so Canada's first women's World Cup downhill race was relocated to Mont Tremblant from Mont-Sainte-Anne. Laurie Graham didn't miss a step, putting a Canadian atop the podium while winning her first of an eventual six World Cup races. Graham was a force through the 1980s, scoring 34 top-10 finishes. In 1986, the pride of Ontario's aristocracy at Osler Bluff Ski Club finished on the podium in eight of 11 World Cup races.
Horst Bulau
  He soared through the 1980s in a way that no Canadian had before—or has since. Horst Bulau, the kid from suburban Ottawa, won the world junior ski jumping championship in 1979, earning Canada's first-ever Nordic title. At the next four Olympics he finished in the top 10 three times. He competed from 1978-1992, earning 13 World Cup wins and climbed the podium 26 times. His 7th-place finish at home in the '88 Calgary Olympics even managed to steal some attention away from that awkward, attention-hogging, hapless Englishman (who Bulau beat soundly, by the way).
Karen Percy
Banff's Karen Percy did her province proud when she won the first Canadian medal of the Calgary Olympics in 1988. She followed up her bronze in downhill with another in super-G.
Brian Stemmle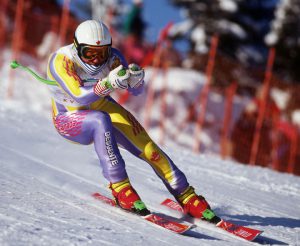 First, Brian Stemmle almost died on the ski hill, in a pelvis-rending 1989 crash still beloved by sadistic YouTube viewers worldwide. Not only did he live, walk and ski again, he won downhill gold at the first (and only) Winter Pan Ams at Las Leñas, Argentina, the following year, and in 1998 damn near won an Olympic gold medal in the downhill.
In 1998, the downhill course in Japan was deteriorating in the sun as the race went on, getting faster, perhaps, but also rougher. Stemmle was tearing down the course, eclipsing the split times of the leaders by almost half a second as the finish came into view. Then, three gates before the end, he hit a rut, was thrown off line, missed a gate…and it was all over.
Fortunately, he had already dealt with worse. Chalk both up to "life experience," something he obviously draws on to great effect as an able and affable commentator for Rogers Sportsnet.
Kerrin Lee-Gartner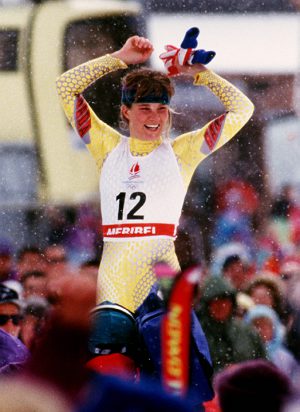 Canada had won Olympic skiing gold before. Anne Heggtveit, Nancy Greene and Kathy Kreiner had won in 1960, '68 and '76, but those medals were for slalom and giant slalom. Popular opinion has always considered the downhill course to be where the Queen of the Mountain is crowned. Kerrin Lee-Gartner's coronation came in 1992 at Albertville, France. To this day, it's our only golden downhill run.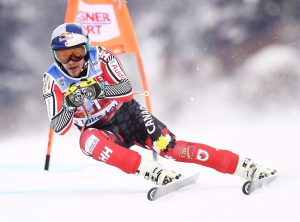 Erik Guay
Who's the most decorated Canadian alpine skier of all-time? No, it's not a Crazy Canuck or Nancy Greene Raine. When Erik Guay won his first World Cup race in 2007, he was the first Canadian to win a men's downhill since 1994. He finished the year 3rd in World Cup standings, but was just getting started. In 2010 he earned the overall super-G trophy, and the next he won the downhill World Championship. Final tally: one downhill World Championship, one super-G World Championship, one super-G overall title, five World Cup wins, 24 podium finishes and six knee surgeries before retiring in 2018.
SKIERS HIT THE HALFPIPE…And Launch A Revolution
With its roots in skateboarding, it's not surprising that snowboarding's popularity aligned with the creation of the terrain park. Early terrain parks mimicked features favoured by punk-rock-influenced skateboarders—most notably the vertiginous walls of the halfpipe. Terrain parks were not ski-friendly places in the least for the first decade or so of their development. Stoneham, Quebec, was a snowboarding hotbed, and its halfpipe scene was the site of numerous World Cup events. In the documentary, Becoming History: 20 Years of the New Canadian Air Force, JF Cusson said he "wanted to kick snowboarding's ass."
And with that, the New School movement was launched. Interestingly, the halfpipe invasion took off on Blackcomb Glacier's Camp of Champions in the summer of 1997, as Quebec's Three Phils, along with influential B.C. skiers like Mike Douglas and Shane Szocs, dazzled the baggy-ass-pants crowd with their off-axis and switch moves that were technically more challenging than anything snowboarders were doing.
Now, on any given day, skiers far outnumber snowboarders at the terrain park. And just to make you feel old, consider that the original Salomon Teneighty twintip was released 23 years ago!
A new freestyle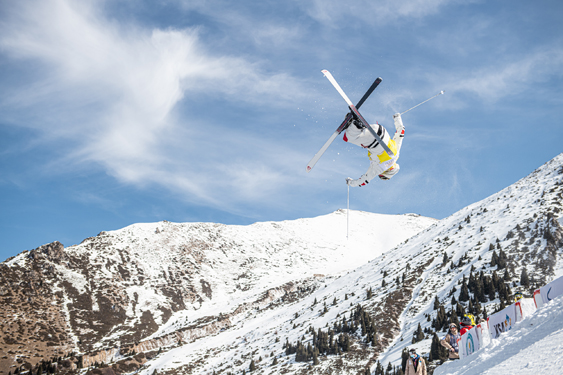 Our freestyle team has done much of Canada's heavy medal lifting. In just six Olympics since the inception of freestyle in 1994, athletes in the moguls, aerials, slopestyle, halfpipe and ski cross disciplines have hauled home 25 medals, 12 of them gold. In 2012, a banner year, mogul master Mikaël Kingsbury won six consecutive World Cups on his way to the Crystal Globe, while Olivier Rochon bested the aerials field. Many patriots remember that Alexandre Bilodeau was the first Canadian to win gold on home soil in Vancouver in 2010, but do they know that in 2014 he became the first Olympian to defend a freestyle title when he again won mogul gold? Speaking of moguls, how about Jennifer Heil? Two Olympic medals, three World Championship titles and five overall Crystal Globe titles for FIS freestyle dominance.
Out of our way!
Canada's ski cross women have won gold at every Olympics since it was introduced in 2010. Ashleigh McIvor started the ball rolling in 2010, with Marielle Thompson and Kelsey Serwa following up in 2014 and 2018 (when Brady Leman did the men proud with a gold of his own). In total World Cup ski cross wins, Canada is second only to France.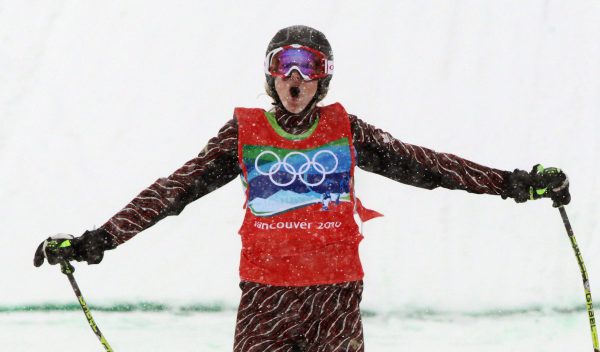 50th, Crazy Canucks, Ski Canada @ 50, ski racing