Short Turns: Buyers Guide 2011
---

A century of capital skiing
It's been a while, about 100 years, since Ottawa's posh Rockliffe Park suburb has seen a ski jump tower, but the Ottawa Ski Club (OSC) that built it is still growing strong. Back in 1910, a group of ski enthusiasts started proselytizing the benefits and wonders of skiing and soon an active club was formed. Although club activities were suspended during the First World War, by the 1920s the energy had returned. Most of the skiing activity in the Ottawa region was in the Gatineau Hills, and specifically around what became the permanent site of the OSC, Camp Fortune.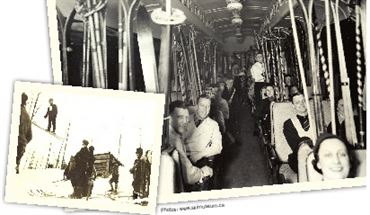 Over the years, the OSC has proven to be an important part of Canada's skiing heritage, considered one of the oldest public ski clubs in the country. Indeed, in the 1960s, it was the largest ski club in the world with more than 12,000 members, most of whom dutifully did their part in establishing the heydays of après ski.
"Known as the cradle of the National Alpine Ski Team, the club produced many Olympic and World Cup champions the likes of Andy and Art Tommy, Anne Heggtveit, Betsy Clifford and Patrick Biggs," says Ivo Krupka, chair of the Canadian Ski Museum and Canadian Ski Hall of Fame based in Ottawa. Today, the Camp Fortune Ski Club carries on the torch and strong heritage of all its former members and supporters.
On October 23, the OSC will be hosting a 100th anniversary gala in the Camp Fortune main lodge in Chelsea. Partnered with the Canadian Ski Museum, the evening will feature a slew of skiing legends and Hall of Famers such as Crazy Canuck Ken Read
and many alumni, topped with a special 100-years- of-skiing exhibit and videos to toast skiing's past, present and future.
More info: Camp Fortune Ski Club or Canadian Ski Museum. And next issue, the Edmonton Ski Club burns 100 candles on its cake too.
—Marie-Piere Belisle-Kennedy

After all the B.C. weather doom and gloom presented to us by the mainstream media before the Olympics, snow levels were surprising to some who skied Mount Washington last winter. Indeed, the Vancouver Island resort was on top of the world with more than six metres on the ground before the Games. And more than 15 metres (go outside and measure 15 metres up your house) fell in total during the season, keeping them skiing (and golfing and mountain biking and…) right into summer—a first in the ski area's 32-year history. Mount Washington is 40 km above the Comox Valley Airport serviced by
WestJet, Pacific Coastal Airlines and Mountain Air.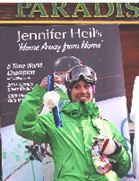 Canada's mogul queen Jenn Heil was back in Jasper last April signing autographs, taking a few turns at her favourite ski area and accepting honours when Run #24, Geike Street, was renamed in her honour Jenn's Run. For many years, home-hill Marmot Basin and Mountain Park Lodges have supported the five-time World Cup Freestyle Champ and Olympic gold and silver medallist for many years. And there's still plenty of gold left in them thar hills!

Bragging rights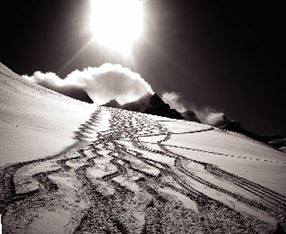 With a contest name that just rolls off the tongues of marketing hacks, the BLBCA's Big Ol' B.C. Backcountry Brag Off photo contest produced hundreds of fine amateur results. Grand Prize Winner David Gluzman's aptly named photo "Memories" left judges and pro ski shutterbugs Pat Morrow and Roger Laurilla commenting, "The black and white of ski tracks hit an artistic and creative feeling of the winter excitement of having a great run in a plum powder ski line." Prizes to Gluzman included goodies like a CAA avi skills course, G3 skis and skins—and a free subscription to magazines like Ski Canada.
To judge the finallists for yourself (or plan your next powder adventure): BC Backcountry

Who doesn't love a parade?
Fernie celebrated Emily Brydon's career last spring by offering the national team racer, among other honours, the key to the city, a ski run in her name (specifically dedicated to race training) as well as a long-favoured trail on the shoulder of the Elk River. "'Overwhelming' might be a good word," said Brydon at all the attention. "Having a parade, it's not something I expected to be done for me. It was a great day." Brydon, 30, announced her retirement at the Canadian Champs in March after 13 years with the national team. She finished her career with nine visits to the World Cup podium, tying her for third all-time with Betsy Clifford among Canadian women. Brydon won a World Cup super-G race in St. Moritz, Switzerland, in 2008 and also captured 10 national championship titles, including the super-G in 2010.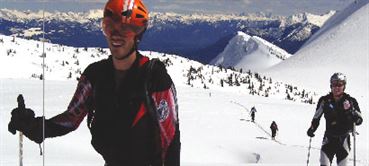 ESPLANADE EPIC CANADA'S FIRST OFF-PISTE SKI MOUNTAINEERING RACE
It wasn't quite Italy's Pierra Menta—which boasts a staggering 10,000 vertical metres of climbing for an equal measure of hard-earned downhill turns— but Canada's first off-piste ski mountaineering competition drew 26 keen backcountry skiers and one determined splitboarder to B.C.'s Esplanade Range to compete for prizes and watercooler bragging rights.
Hosted by backcountry operator Golden Alpine Holidays, the Esplanade Epic featured three courses of varying distances across high alpine ridges and untracked wilderness slopes between three GAH lodges. With dinner and transportation to the site,
accessible only by helicopter, the non-sanctioned event served not just as a spectacular getaway for the weekend-warrior competitors, but also as a rare and valuable—not to mention gruelling—off-piste training opportunity for members of Canada's national ski mountaineering team.
Growing in popularity over the past few seasons, ski mountaineering competitions have been held at Sunshine Village, Fernie, Whistler, Kicking Horse and Nelson's Whitewater. Competing on the World Cup circuit, Canada's national team battles valiantly behind the usual Euro powerhouses of Switzerland, France and Spain, whose athletes travel to races across international borders by the age of 14. Ranging in age from early 20s to late 30s, none of Canada's current team members has been competing for longer than six years, and all hustle to train while juggling day jobs. Plans for a 2011 Esplanade Epic are eagerly anticipated.
"It was awesome," said Reiner Thoni, currently Canada's top male racer who took the 1,741-vertical-metre, 19.3-km Elite category in 2:52. "For Canada's first off-piste race, the terrain rivalled anything in Europe. It's world-class."
—Lynn Martel

TESTA DURA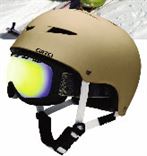 Although Canadian numbers are still being tabulated for helmet use, there's no reason some parallels can't be drawn from what's happening south of the border where 57 per cent of skiers and snowboarders are now wearing hardhats. According to the National Ski Areas Association, that 2009-10 figure is up 19 per cent over the previous year and has more than doubled since 2002-03. No word from the National Backyard Tobagganing Association about some claims that put their risk of head injury at more than 100 times that associated with alpine skiing.

POINTS FOR POWDER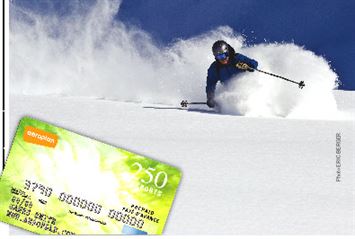 Many Aeroplan miles collectors still think it's all about scoring an airplane seat—but there's so much more, starting with an Aeroplan Sport Card that can be used like an AmEx credit card at ski shops, resorts and online. The ultimate Aeroplan reward (117,500 miles) is $1,000 off your three- or seven-day powder dream at Bella Coola Heli Sports in B.C.'s Coast Mountains, the single largest heli-ski tenure in the world.

Lange booty

For more than four decades, Lange has been pushing the limits with its choice of female boot candy each year. For the last three, the International Lange Girl has been a World Cup athlete—most recently Manuela Moelgg— but with Tremblant's infamous P'tit Caribou as the contest setting, Terrebonne, Quebec, skier Audrey Bourbannais won the honours to pedal footwear and defend Canadian women's rights in Lange's marketing campaigns and posters this autumn. Lange said judges "were impressed with the university finance major and long-time Oberson's ski shop employee's smile and energy." Yeah, um, okay.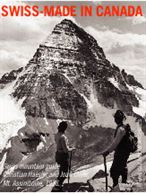 From the first CPR tracks in western Canada to modern times, it's hard to imagine the development of mountain culture in Canada without including the influence of the Swiss. This was formally recognized by Walter Depazes, consul general of Switzerland in Vancouver, who created the touring exhibition Swiss Guides: Shaping Mountain Culture in Western Canada. From mountain guiding, avalanche control, rescue and safety to first ascents and heli-skiing, the Swiss have always been an integral part of history. If you're not in the right town at the right time, an entertaining online version is available here
The Winners' Circle

Two more Alberta Alpine racers are on the Ski Canada podium thanks to BMO MasterCard. Robert Dunn (14) and Robyn Fiell (13) both collected $500 cheques to help defer equipment and other costs associated with their

quest. Dunn, who started racing with Banff Alpine Racers (Nancy Greene) and onto K1 and Robert Dunn K2 since moving to Calgary from New Hampshire five years ago, wore Gold and Silver at the Alberta Winter Games in K1 and

finished off K2 4th overall in Alberta, 2nd for GS national points and 1st for super-G. Fiell and family are long-time Panorama skiers. She tied for 1st place in her first K1 race and won the overall series in Alberta last season. Funding for the Ski Canada Award is generated by BMO Ski Canada MasterCard holders.
SHUCKS, JUST CALL ME YOUR WORSHIP

One-time national team head coach Al Raine was instrumental in the development of Whistler in the 1970s and '80s before he and wife, Senator Nancy Greene Raine, moved to the newly born Sun Peaks in 1994. But at 68 he's not slowing down. Shortly after the province granted "mountain resort municipality" status last spring (a first), Raine won 82 per cent of the votes in Sun Peaks's first mayoralty race.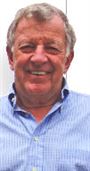 Raising a campaign war chest of almost $500 (a number larger than the voters' list), Raine should be able to well use his talents that range from those of a ski industry visionary to native bands negotiator.

"With Sun Peaks's new status as a municipality, we will be in a better position to lobby for essential community services like a school and health care," said Raine. "Of course, there are also financial advantages. In addition to municipal tax revenues, Sun Peaks will be eligible for a provincial grant for small communities, and as a mountain resort municipality, the local government will receive a portion of the hotel HST levied in the resort."

Despite running a campaign of holding the taxes at current levels, Raine still has high ambitions. "We, the council, are encouraging the families who are presently organizing a community school using a provincial program called 'distance learning.'" (Already council members have unanimously agreed to donate their honorariums to charities in the community and Sun Peaks Education Society will receive about $30,000 to kick-start its fundraising efforts.) Added Raine, "Incidentally, the school building, which is being provided by Sun Peaks Resort Corporation, is located at the top of the ski school area, so kids can ski to their school during the winter season. We hope to have a provincially funded school within a few years.

"Common sense in government is so rare today," Raine says, "it is often mistaken for genius. As a council we are committed to making Sun Peaks the best resort municipality in the country." Despite having an unfortunate surname for a ski resort mayor, the new mountain resort municipality is off and running.

Tags: Aeroplan miles, Al Raine, asper, Bella Coola Heli Sports, Big Ol' B.C. Backcountry Brag Off, Camp Fortune, Emily Brydon, Esplanade Range, Fernie, helmet use, Jenn Heil, Jenn's Run, Lange, Marmot Basin, Mount Washington, Nancy Greene, off-piste mountainerring race, Ottawa, Ottawa Ski Club, Reiner Thoni, Rockcliffe Park, Short Turns, Ski Canada, ski news, snowfalls, Sun Peaks, Vancouver Isalnd, Whistler