Reading Time:
2
minutes
The Changing Face of Gear
by RYAN STUART, Technical Editor, in
Buyer's Guide 2017 issue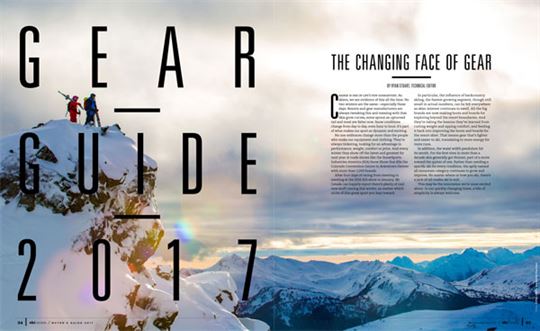 Change is one of life's few guarantees. As skiers, we see evidence of this all the time. No two winters are the same—especially these days. Resorts and gear manufacturers are always tweaking this and messing with that. Skis grow curves, some sprout an upturned tail and most are fatter now. Snow conditions change from day to day, even hour to hour. It's part of what makes our sport so dynamic and exciting.
No one embraces change more than the people who make our equipment and clothing. They're always tinkering, looking for an advantage in performance, weight, comfort or price. And every winter they show off the latest and greatest for next year at trade shows like the SnowSports Industries America (SIA) Snow Show that fills the Colorado Convention Centre in downtown Denver with more than 1,000 brands.
After four days of racing from meeting to meeting at the 2016 SIA show in January, Ski Canada can happily report there's plenty of cool new stuff coming this winter, no matter which niche of this great sport you lean toward.
In particular, the influence of backcountry skiing, the fastest-growing segment, though still small in actual numbers, can be felt everywhere as skier interest continues to swell. All the big brands are now making boots and boards for exploring beyond the resort boundaries. And they're taking the lessons they've learned from cutting weight and upping comfort, and feeding it back into improving the boots and boards for the resort skier. That means gear that's lighter and easier to ski, translating to more energy for more runs.
In addition, the waist width pendulum hit its zenith. For the first time in more than a decade skis generally got thinner, part of a move toward the quiver of one. Rather than needing a specific ski for every condition, the aptly named all-mountain category continues to grow and improve. No matter where or how you ski, there's a jack-of-all-trades ski to suit.
This may be the innovation we're most excited about. In our quickly changing times, a bite of simplicity is always welcome.
(The issue hit newsstands week of Sept. 6. Digital edition available here )