---
The grams keep falling. The quest for efficiency beyond the ski area boundaries continues to push innovation for lighter weights in ski gear without sacrificing performance. Today, a lot of the new technology we're seeing in all-mountain and big-mountain categories is coming from here. And we like where we're headed.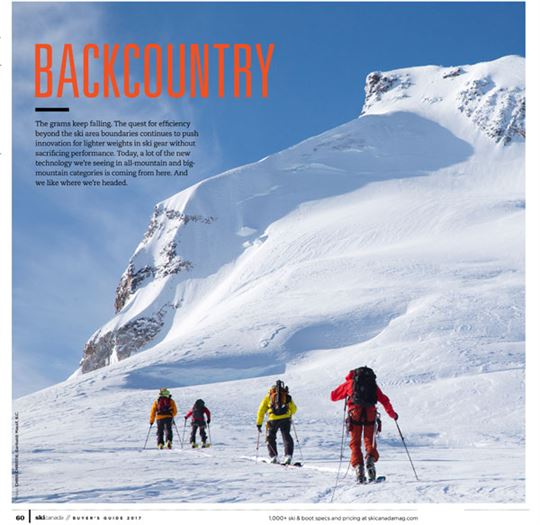 IMPRESSIVE DEBUT
Best known for its dependable outerwear and Canadian roots, Arc'Teryx is making a bold foray into the backcountry equipment world with two big product launches. The Procline boot ($900-$1,250) is a family of highly mobile touring boots that marches uphill like light hikers. A split upper cuff—the first in a ski boot—allows the ankle to flex not only front to back, but side to side, improving walking, bootpacking and skinning comfort. When it comes to skiing, a lever locks the cuff together, stiffening it up impressively.
The Vancouver-based company is also launching an avalanche air bag. Five years in development, the $1,800 Voltair Avalanche Airbag inflates with a battery and fan system in about three seconds. Available in a 20- or 30-litre version, there's enough juice for at least a dozen inflations on one charge, perfect for practicing—and no U.S.-bound flight restrictions.
FIND YOUR HAPPY PLACE
From spring couloir bagging to faceshot hot laps, the G3 FINDr is a lesson in yin and yang. To lessen the harsh stiffness of a carbon fibre, G3 used polyurethane along the sidewalls to dampen vibration. Early rise tip and tail adds float and easy initiation. Traditional camber allows the edge to dig in and hold. Milling out the paulownia and poplar core to shave weight, G3 left a spine down the centre for structure. It's a versatile ski that feels comfortable in any snow conditions, from early-morning ice to 50cm of fresh. With three widths available they're light enough to take you anywhere.
MYTH BUSTING
The Mythic is the backcountry equivalent of Dynastar's popular freeride Cham 2.0 ski. It started with the Cham shape. The combination of a five-point sidecut, spoon-shaped tip and pintail with moderate tip rocker creates a floaty ski that's easy to turn in untracked snow and smooth and stable in firm conditions. For the backcountry, Dynastar added a notched tip for easy skin attachment, and then lightened things up with a paulownia wood and fibreglass core wrapped in C-PLY, a carbon-fibre weave borrowed from the aerospace industry. Available in 87 or 97mm waists, both weigh in at an impressive one kilo per ski.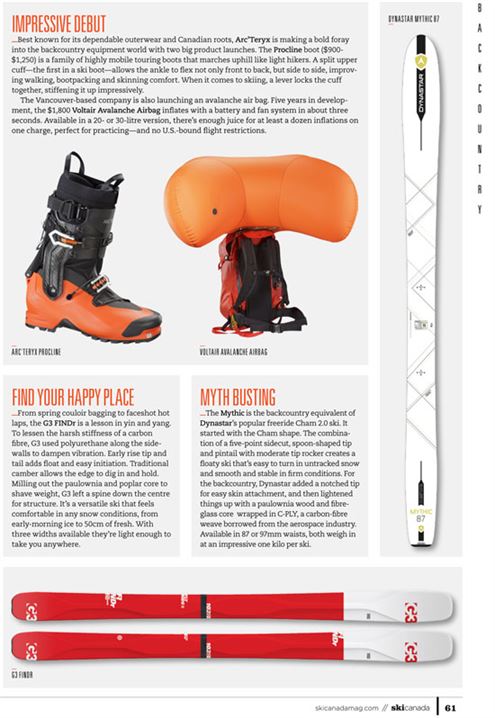 ICY LIGHT
Snow covering a ski's topsheet is no big deal when riding the lifts, but in the backcountry every gram counts. Even the lightest ski can feel like a pig if it's weighed down with ice and snow. That's why Völkl developed the Ice Off Topsheet for its VTA touring skis. Consider the VTA80 Lite, the lightest of the bunch. A special finish on the deck is especially slippery, resisting snow and ice buildup. To cut more weight, but not skiing performance, Völkl milled out the wood core to remove any unneeded material and wrapped the ski in carbon. Then it kept splurging, adding a tip mount for climbing skins and a P-tex 4500 base. The latter is usually reserved for race skis, but Völkl uses it in many of its categories when the best is all that's good enough. The VTA80 Lite weighs just over a kilo—pretty impressive for a ski of its size.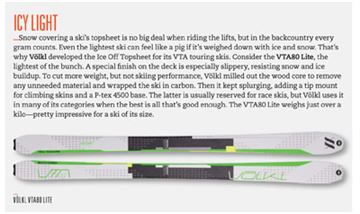 TONGUES OUT
Uphill touring comfort is all about range of motion, and with that in mind it's hard to beat the 67 degrees in Dalbello's Lupo Carbon T.I. The secret: the tongue pulls right out. Of course weight counts, too. By using a carbon cuff, Dalbello ditched 350 grams off its old Lupo. And because the cuff flexes independently of the lower boot, the flex remains progressive and the boot retains Dalbello's freeride performance.

Tags: Arc'Teryx, ARC'TERYX Procline, backcountry, Dalbello, DALBELLO Lupo Carbon T.i., Dynastar, Dynastar Mythic, DYNASTAR Mythic 87, Fischer, FISCHER Verticalp, G3, G3 Findr, Volkl, Volkl VTA80 Lite, Voltair, Voltair Avalanche Airbag