---
By day four of any trade show most of the new gear one sees blurs into a kaleidoscope of marketing verbiage. That said, a few products manage to stand out in the Colorado haze.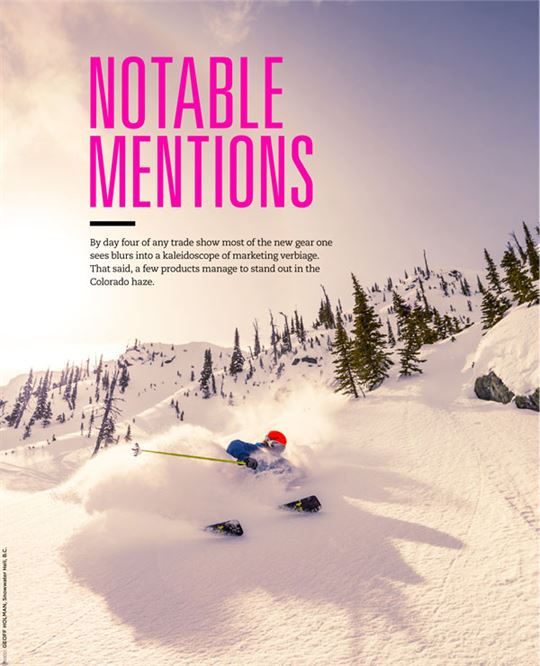 Photo: GEOFF HOLMAN * snow:, Snowwater Heli, B.C.
REVENGE SERVED COLD
From Colorado to Northern B.C., the mountain pine beetle scars mountainsides rust-red with dead and dying trees. Most of the wood is still strong and sports a funky blue streak that adds a unique twist to furniture, flooring and, yes, skis. The pine beetle streaks are visible beneath the translucent topsheet across Meier Skis' entire line. Hand-built in Colorado from locally logged aspen, Douglas fir and pine, the young brand is now available in select shops in Western Canada. The skis lean toward the backside of the mountain with floaty shovels, wider waists and a sustainability story. Beyond using locally sourced, renewable wood, the resin that glues the skis together is plant, not oil, based and the sidewalls are recycled ABS. But don't fear all the green: Meier is so confident in the quality of its boards it backs them with a two-year warranty.
MAHOGANY SKI
Traditionally the 70th-anniversary gift should be platinum, but Elan likes to party to its own beat. Every decade the Slovenian company celebrates with a special anniversary ski. For its big 7-0, Elan has taken its Amphibio 88 ski and given it a classy matte black finish and added a mahogany riser plate under the binding. Elan is only selling 20 pairs of the limited-release ski in Canada. The cost to join the party: a cool $1,400.
GROWING FEET
As kids grow, the shape of their feet morphs from wide and short to progressively narrower and longer. The last used for Head's Z1 and Z2 kids' ski boots do the same and a couple of other things to make learning to ski easier for tykes. A higher cut to the shell taps into leverage to help little legs transfer energy to the skis. The boots are more upright, for a natural, comfortable and balanced stance. And soft initial flex transitions to slightly stiffer, fast-tracking the move to carving.
PARTY IN A BUCKET
The construction site meets the parking lot with Dakine's Party Bucket. Like the tool-holding bucket sleeves, this one slides onto a 20-litre bucket. But rather than hammer and nails, fill it with snow and stuff cans in the sleeves lining the rim. It's a portable party without the need for a cooler. Fist bump for tailgate après.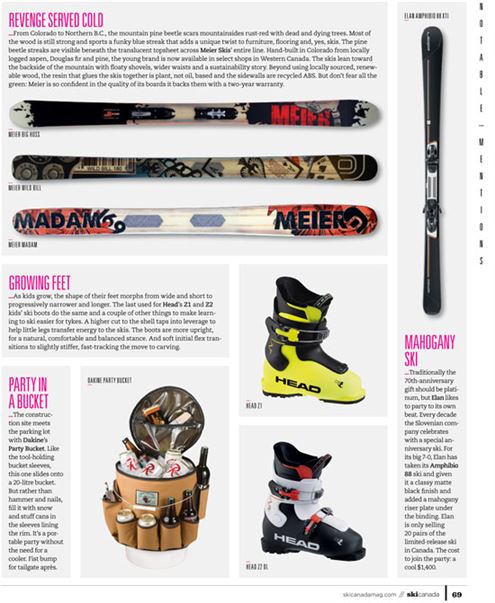 HAPPY FEET
Product names are mostly marketing, but when it comes to the K2 BFC boot, it's a sales pitch. BFC stands for Built For Comfort, as in happier piggies. Proof: the toebox is wider and taller, the liner is heat mouldable and the shell on the men's 100 and women's 90 sports a walk mode for dancing at après. All that without sacrificing performance, says K2. The heel cup is narrow for solid foothold, there's a stiff spine for energy transfer and the shell comes in two flexes: 90 and 100 for men, 80 and 90 for women.
SOARING FEET FIRST
Usually ski boot technology trickles down, from race boots, through all-mountain and down to recreation. With Atomic's new Hawk Ultra, it came from the side. In the quest to make a lighter alpine boot that still ripped, Atomic applied lessons from designing its first backcountry ski boot, the Backland. Like the Backland, the Hawk shaved shell thickness where weight and strength aren't needed. Combined with the already light Grilamid plastic, the Hawk is 25 per cent lighter than any of its other alpine boots. Thicker plastic along the Achilles creates an energy backbone, an all-mountain balance between forward lean, ramp angle and stiffness. The 98mm last is best for narrower feet, but it's 100 per cent personalizable; add heat and the shell adjusts by 3mm, and the 3M Thinsulate liner custom fits. With four buckles and a DIN sole, it's only a baby step down from a race boot, ready to shred from backside to hardpack.
RACE CAR SUSPENSION
To smooth out the ride on its new Speed Zone and comparable women's Intense families of skis, Dynastar went vertical—with the construction, that is. The Speed Zone sandwiches the poplar wood core on either edge with Powerdrive technology, three materials that work like active suspension on a car, smoothing out chatter and bumps while increasing edge grip. The Intense also uses the Powerdrive, but instead of wood, the core is a gas-filled PVC to reduce weight and smooth out the ride even further. All six skis in the lineup (three men's, three women's) incorporate Look integrated bindings.
JACKET WITH A THERMOSTAT
Helly Hansen worked with a Cambridge professor to position the H2Flow pods of insulation in the Elevation Jacket just right. They trap warm air when needed, but unlike a fully insulated jacket, they also help flush out excess heat when things start getting sweaty. On the back of the jacket the pods hold a backpack off the back, preventing swack, a.k.a. sweaty back. Loaded with pockets and made from a burly fabric, the Elevation is ready to withstand years of chairlift riding and ski carrying.
EASIER SELFIES
Saving that powder lap to invoke jealousy or capturing your solo ski trip just got easier. Several Leki poles are now compatible with its GoPro Adaptor, a built-in mount for the ubiquitous POV camera.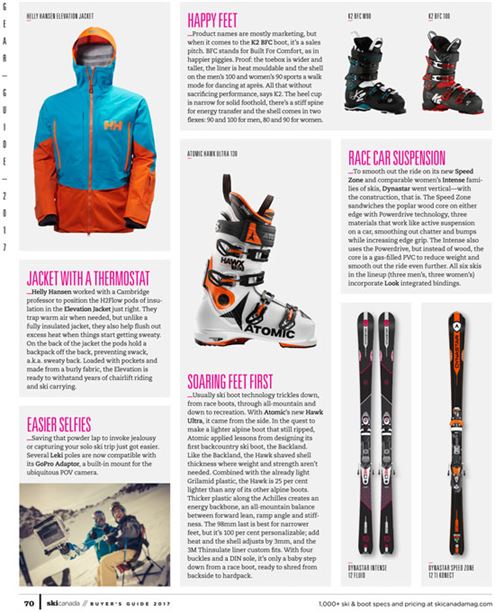 UPSIDE DOWN
For more than 30 years the formula to build a waterproof-breathable jacket was set: sandwich the membrane between two protective layers. Columbia inverts this law with OutDry Extreme, a tougher membrane that can stand on its own. With no outside protective layer, the jacket breathes better and seems more waterproof. For cold days nothing will keep you warmer and drier than the Gold Down Jacket, a 650-fill down jacket wrapped in OutDry Extreme.
LOADED
Wearing a pair of Nordica's SpeedMachine boots is like getting all the options at the dealership—it comes loaded from sole to powerstrap. Nordica invested serious R&D and energy to bring new ideas, material and technology to this powerful boot, available in a wall full of flexes. For instance, the plastics are all high-end for smooth flex and light weight, the hardware is top-drawer and adjustable, and the liner incorporates cork and Primaloft insulation. Cork is a good insulator, shock absorber and easily moulds. So, while Nordica says the 100mm last fits most feet right out of the box, there are three additional ways to tweak the boot: the heat-mouldable liner, adjusting all the hardware and Nordica's new infrared shell-shaping system. Indeed, we think it will fit just as nice as that body-wrapping massage chair in the Audi Q7 we got to drive to the ski test.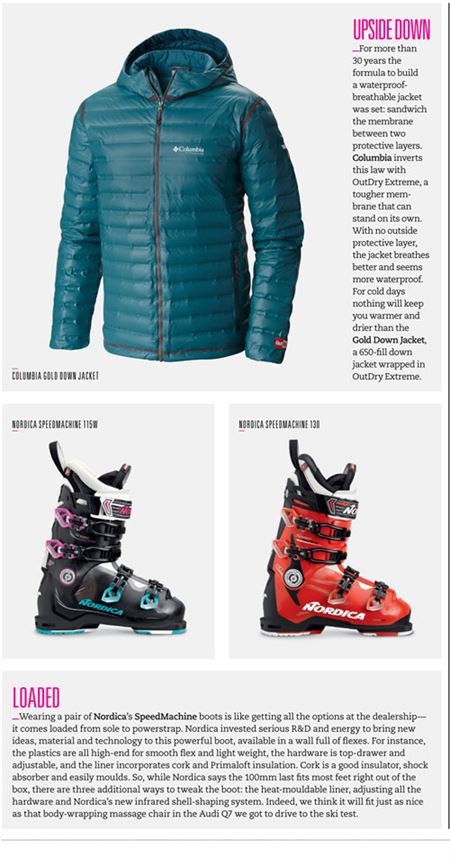 Tags: alpine gear, Atomic, Atomic Hawk Ultra, buyers guide, Columbia, COLUMBIA Gold Down Jacket, Dakine, Dakine Party Bucket, Dynastar, Dynastar Speed Zone, Elan, ELAN Amphibio 88 XTi, gear guide, gear reviews, Go Pro, Head Z1, Helly Hansen, HELLY HANSEN Elevation Jacket, K2, K2 BFC W90, Leki, Meier, MEIER Big Hoss, MEIER Madam, Meier Skis, Meier Wild Bill, Nordica, NORDICA SpeedMachine 115W, NORDICA SpeedMachine 130