Reading Time:
4
minutes
Experimentation is where it's at.
From bindings to boots, poles to skis, freeride has always been about trying stuff: tweaking sidecuts and ski shapes; widening and lowering bindings; even making quick-release poles. Anything goes.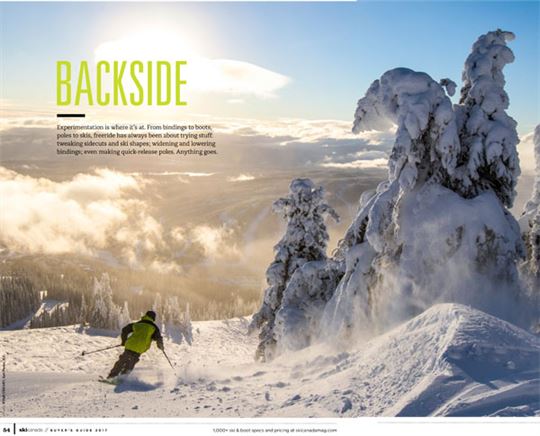 QUICK RELEASE
Pole straps are great at keeping you attached to your poles, but sometimes that's the last thing you want. If you get a pole wrapped around a tree, you can dislocate your shoulder. That's why manufacturers have designed quick-release poles over the years. Salomon's latest design is the Arctic S3, a pole with a safety release wrist-strap for those moments when your shoulder health is more important than staying attached to that pole.
IT'S DYNAMITE
When Elan set out to build a one-ski quiver, the new Ripstick, it started with a lightweight wood core, milled two channels from tip to tail near each edge and dropped in stringers of carbon tubes to add torsional stability and rebound. Then Elan added TNT, removing even more wood from the tip and tail and replacing it with VaporTip inserts, composites that lighten the swingweight of the ski and reduce vibration. With waist widths ranging from 86-116mm, there's a Ripstick for any mountain's backside.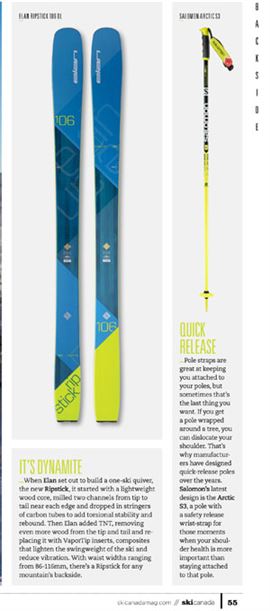 FLY LIKE A FISH
Eric Pollard's new signature ski was one of the most eye-catching new sticks launched for this season. The wood veneer Line Pescado (Spanish for fish) is a unidirectional ski with an ultra-wide nose, a 125mm waist and a swallowtail V in the tail. More popular in surfboards and snowboards, the swallowtail and fat and flat shape should create a surfy-feeling ski.
WAR CRY
Millimetres count and that goes for ski boots and DIN settings. Even the difference in height between an alpine touring boot, a walk sole or a standard ski boot can impact the DIN performance. But do you want to take your skis to the shop every time you shift from one pair of boots to another? In steps the new Tyrolia AAAttack 14 AT binding. An easy-adjust system shifts the binding into the optimal position for the boot no matter whether it's a DIN, touring or one of the new hybrid rockered soles.
NO COMPROMISE NECESSARY
Tour or ski? It used to be a ski boot could only do one or the other well. A new crop of multitasking boots is changing that truth. The new Tecnica Cochise may be the best example. With comparable stiffness to Tecnica's other 130-flex boots, the four-buckle powerhouse is easily customized. Dimples in the polyurethane shell at typical trouble spots make it easier to punch, and the liner is heat-mouldable and grindable, as is the boot board. Altogether, it's easy for a bootfitter to fix pinch points. Overall, it's a more powerful boot with more buckles, but weighs 400 grams less than last year's version.
The all-new Salomon QST Pro boot is essentially the love child of the MTN Lab and X Pro boot lines. The three-buckle, fully custom shell and liner uses different thicknesses of plastic to shed weight without compromising performance. It also has a new tongue design, borrowed from Salomon's trail running shoes, that wraps around the foot rather than pinching down, locks out moisture and makes getting the boot on easier.
Then there's Lange's new XT Freetour 130. It looks like one of Lange's alpine performance, four-buckle-plus powerstrap boots, but weighs less than two kg. Solid sole construction transfers energy and direction more precisely than multi-piece soles, as does the metal-on-metal (instead of plastic) hike-and-ski switch. For going up, there's more than 40 degrees range of motion, Dynafit-certified tech binding inserts, grippy and shock-absorbing soles, and an Ultralon customizable liner.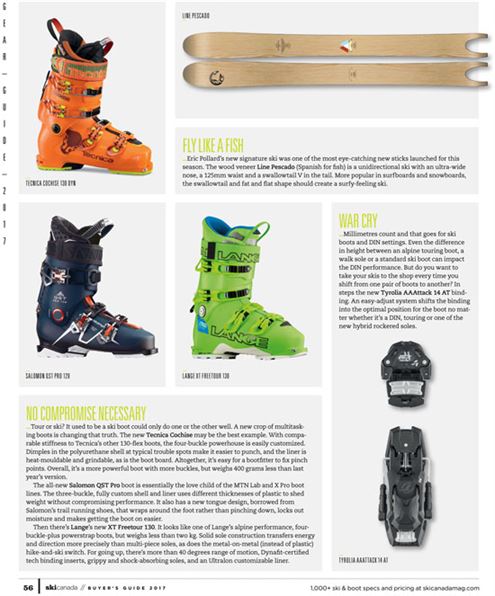 SUPER HD
Rossignol's Super 7 skis have always railed the line between edge grip and playfulness, stability and manoeuvrability, making them a justifiably popular ski with heli-guides and big-mountain chargers alike. To make it even more versatile, Rossi stiffened up the tip and tail with a Carbon Alloy Matrix. Laying the weaves of basalt and carbon to the Super 7 HD adds even more edge grip, stability, drive and dampness to the floaty ride.
WIDE, LOW AND LIGHT
Wear a lugged sole, like the ones on touring boots, in most alpine bindings and the toe won't release properly. Not good for joint health. So Atomic's Warden MNC 13 binding is made to play nice with any boot: regular alpine, Walk to Ride-style rockered and even touring boots. The difference? The Warden's toepiece has a slider that works with grippy outsoles and adjusts in height to fit different-width boot soles. Plus, to make the big-ski driver more effective, Atomic moved it closer to the ski and widened the toepiece. The shift makes transferring from edge-to-edge easier, even on fat skis.
TIME TO SIN
"Forgetting" to alternate in the liftline. Ditching your ski partner. Stealing a friend's line…. If these powder-day sins weigh on your conscience, Völkl's Confession is here to ease it. With a camber underfoot, rockered tip and tail, a wood core with a narrow layer of titanium and 117mm at the waist, this ski is made for charging down deep snow, steep lines, chewed-up powder and stomping airs. So, yeah, it may actually result in more time in confession.