---
Let's take it up a notch as we head into ski season. Adding power and explosive moves to your routine will prepare you for runs that need quicker reaction time. Combined with balance drills, these exercises will help you dance on the snow. This circuit workout can be repeated 1-3 times with a rest period of up to 30 seconds between each exercise—longer if you are new to this type of training. Be sure to warm up before starting.

1. SANDBAG SQUAT
Start with feet shoulder width apart, holding a sandbag at chest height. Push hips back into a squat position, keeping your weight mostly on the heels. Push hips forward and up to a standing position. Repeat 9-12 times. Note: try this with ski boots on but keep the weight lighter.
2. ONE-LEG DEADLIFT
Stand on a Bosu ball with both feet and slide one leg behind you. Bend forward keeping hips and shoulders square. With a strong standing leg and tight core, return to standing. Use arms for balance. Repeat 8 – 10 times per leg.
3. TRX LUNGE
Face the TRX, holding straps at chest height. Lift one leg and allow the hips to push backwards until your foot almost touches the floor. Keeping your foot off the floor, return to standing. Repeat 8-10 times per leg.
4. WALKING PLANK
Place a mini band around both wrists and "walk" out on your hands into a plank position to start. Walk hands to the right with 4 small steps, keeping pressure on the band. Repeat walking left. Do 4-6 sets.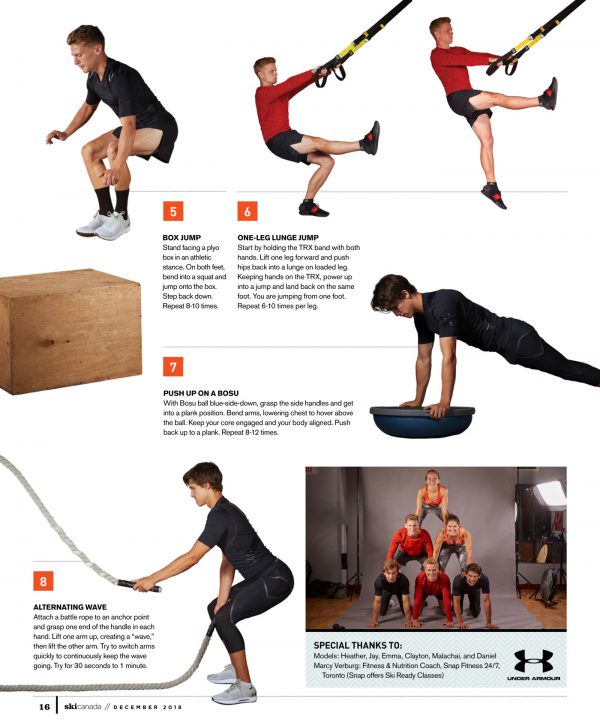 5. BOX JUMP
Stand facing a plyo box in an athletic stance. On both feet, bend into a squat and jump onto the box. Step back down. Repeat 8-10 times.
6. ONE-LEG LUNGE JUMP
Start by holding the TRX band with both hands. Lift one leg forward and push hips back into a lunge on loaded leg. Keeping hands on the TRX, power up into a jump and land back on the same foot. You are jumping from one foot. Repeat 6-10 times per leg.
7. PUSH UP ON A BOSU
With Bosu ball blue-side-down, grasp the side handles and get into a plank position. Bend arms, lowering chest to hover above the ball. Keep your core engaged and your body aligned. Push back up to a plank. Repeat 8-12 times.
8. ALTERNATING WAVE
Attach a battle rope to an anchor point and grasp one end of the handle in each hand. Lift one arm up, creating a "wave," then lift the other arm. Try to switch arms quickly to continuously keep the wave going. Try for 30 seconds to 1 minute.
SPECIAL thanks to:
Models: Heather, Jay, Emma, Clayton, Malachai, and Daniel
Marcy Verburg: Fitness & Nutrition Coach, Snap Fitness 24/7, Toronto (Snap offers Ski Ready Classes)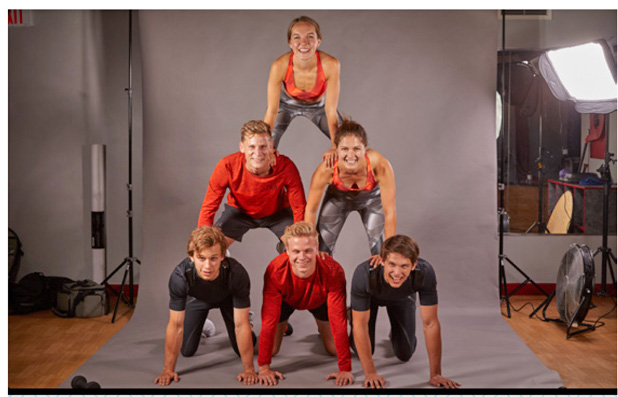 BY MARCY VERBURG * photos: Wally Stemberger * in

December 2018 issue
alpine ski fitness, fit to ski, fitness, ski training