Reading Time:
3
minutes
We place big demands on our bodies whether we're ripping it on hardpack and crud or skinning up looking for untouched powder in unfamiliar terrain. Even on leisurely days we still need to be in top condition to prevent injury and ski until last chair. Doing some dryland training ahead of the season can help prevent many common ski injuries (think ACL, for example) and make you stronger. Increased mobility, strength and endurance builds confidence and skill, and makes the day more fun. To help, we are providing a new workout in each issue. Start by doing the routine 2 to 3 times per week on alternating days. Perform the workout as a circuit, completing all the exercises in a sequence. New at it? Start by doing the circuit once; if you're experienced, repeat it 2-3 times.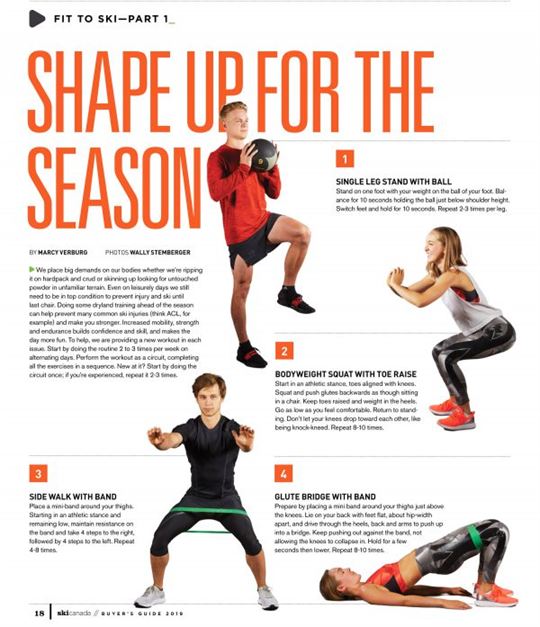 1. SINGLE LEG STAND WITH BALL
Stand on one foot with your weight on the ball of your foot. Balance for 10 seconds holding the ball just below shoulder height. Switch feet and hold for 10 seconds. Repeat 2-3 times per leg.
2. BODYWEIGHT SQUAT WITH TOE RAISE
Start in an athletic stance, toes aligned with knees. Squat and push glutes backwards as though sitting in a chair. Keep toes raised and weight in the heels. Go as low as you feel comfortable. Return to standing. Don't let your knees drop toward each other, like being knock-kneed. Repeat 8-10 times.
3. SIDE WALK WITH BAND
Place a mini-band around your thighs. Starting in an athletic stance and remaining low, maintain resistance on the band and take 4 steps to the right, followed by 4 steps to the left. Repeat 4-8 times.
4. GLUTE BRIDGE WITH BAND
Prepare by placing a mini band around your thighs just above the knees. Lie on your back with feet flat, about hip-width apart, and drive through the heels, back and arms to push up into a bridge. Keep pushing out against the band, not allowing the knees to collapse in. Hold for a few seconds then lower. Repeat 8-10 times.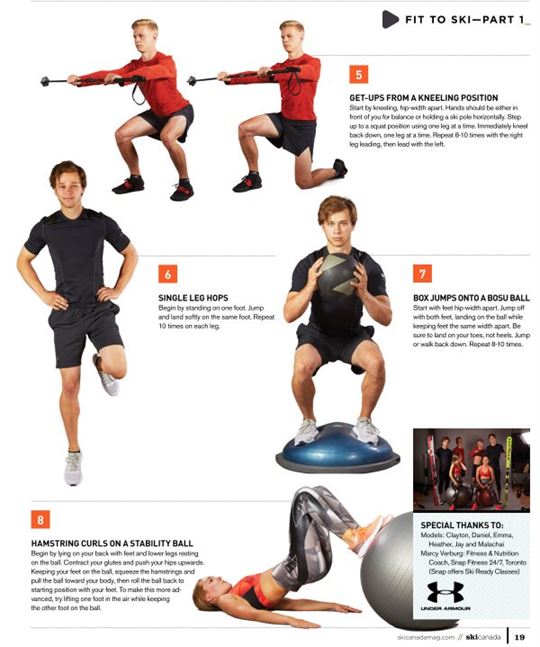 5. GET-UPS FROM A KNEELING POSITION
Start by kneeling, hip-width apart. Hands should be either in front of you for balance or holding a ski pole horizontally. Step up to a squat position using one leg at a time. Immediately kneel back down, one leg at a time. Repeat 8-10 times with the right leg leading, then lead with the left.
6. SINGLE LEG HOPS
Begin by standing on one foot. Jump and land softly on the same foot. Repeat 10 times on each leg.
7. BOX JUMPS ONTO A BOSU BALL
Start with feet hip-width apart. Jump off with both feet, landing on the ball while keeping feet the same width apart. Be sure to land on your toes, not heels. Jump or walk back down. Repeat 8-10 times.
8. HAMSTRING CURLS ON A STABILITY BALL
Begin by lying on your back with feet and lower legs resting on the ball. Contract your glutes and push your hips upwards. Keeping your feet on the ball, squeeze the hamstrings and pull the ball toward your body, then roll the ball back to starting position with your feet. To make this more advanced, try lifting one foot in the air while keeping the other foot on the ball.
SPECIAL thanks to:
Models: Clayton, Daniel, Emma, Heather, Jay and Malachai
Marcy Verburg: Fitness & Nutrition Coach, Snap Fitness 24/7, Toronto (Snap offers Ski Ready Classes)