---
Don't try to ski yourself into shape again this season. Get started on our pre-season fitness series now.
Good skiers know that the best way to prevent injury and have more fun on the mountain is to be in shape before their first turns. So let's help you get started with our series of workouts appearing in each issue of Ski Canada this season. Check out skicanadamag.com/fitness for ways to make these workouts more challenging (or easier) and to take the workouts with you on your device. The series explores a number of pre-season training techniques that skiers should focus on, with this issue targeting balance and leg and core strength. Be sure to do the warm-up on our website before starting each time. Perform the workout as a circuit starting with 2 times through and working toward 3.
Better skiing starts with better fitness and pre-season training is the way to your best winter ever. This issue targets the lower body and challenges stability and balance to help prevent injury and increase agility.
BY MARCY VERBURG, fitness & nutrition Coach, Snap Fitness
Fitness Models:
Ali Nullmeyer, Alpine Canada team member
Dustin Titus, WSWC Master Coach Developer/Amateur Athlete
Photos Wally Stemberger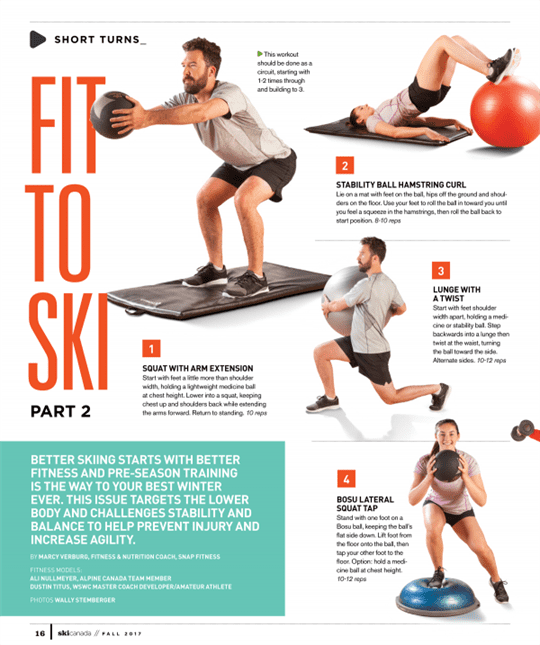 1. SQUAT WITH ARM EXTENSION
Start with feet a little more than shoulder width, holding a lightweight medicine ball at chest height. Lower into a squat, keeping chest up and shoulders back while extending the arms forward. Return to standing. 10 reps
2. STABILITY BALL HAMSTRING CURL
Lie on a mat with feet on the ball, hips off the ground and shoulders on the floor. Use your feet to roll the ball in toward you until you feel a squeeze in the hamstrings, then roll the ball back to start position. 8-10 reps
3. LUNGE WITH A TWIST
Start with feet shoulder width apart, holding a medicine or stability ball. Step backwards into a lunge then twist at the waist, turning the ball toward the side. Alternate sides. 10-12 reps
4. BOSU LATERAL SQUAT TAP
Stand with one foot on a Bosu ball, keeping the ball's flat side down. Lift foot from the floor onto the ball, then tap your other foot to the floor. Option: hold a medicine ball at chest height. 10-12 reps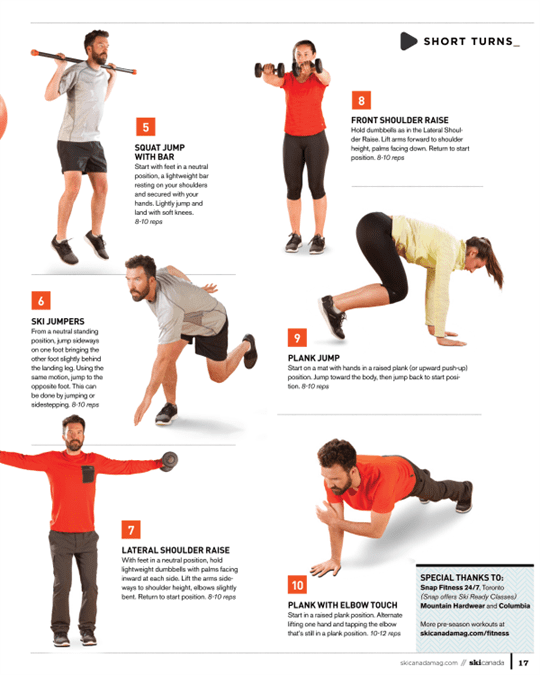 5. SQUAT JUMP WITH BAR

Start with feet in a neutral position, a lightweight bar resting on your shoulders and secured with your hands. Lightly jump and land with soft knees.

6. SKI JUMPERS

From a neutral standing position, jump sideways on one foot bringing the other foot slightly behind the landing leg. Using the same motion, jump to the opposite foot. This can be done by jumping or sidestepping. 8-10 reps

7. LATERAL SHOULDER RAISE

With feet in a neutral position, hold lightweight dumbbells with palms facing inward at each side. Lift the arms sideways to shoulder height, elbows slightly bent. Return to start position. 8-10 reps

8. FRONT SHOULDER RAISE

Hold dumbbells as in the Lateral Shoulder Raise. Lift arms forward to shoulder height, palms facing down. Return to start position. 8-10 reps

9. PLANK JUMP

Start on a mat with hands in a raised plank (or upward push-up) position. Jump toward the body, then jump back to start position. 8-10 reps

10. PLANK WITH ELBOW TOUCH

Start in a raised plank position. Alternate lifting one hand and tapping the elbow that's still in a plank position. 10-12 reps

More pre-season workouts at
skicanadamag.com/fitness

Tags: exercises, fitness, ski fitness