---
Craft Beer is a Natural Finish to a Great Day on the Slopes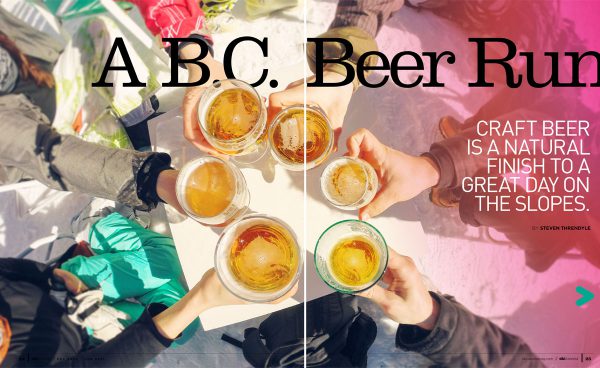 The first time I ordered up a Kokanee lager (with the tagline "It's the beer 'round here") was at après ski on a Kootenay road trip on what was much later coined by marketing types "the Powder Highway." I loved the label art—a rugged, glacier-clad mountain against a blue-metal sheen. It was so much cooler than the Blue or Ex or Canadian of my younger days. The product itself was pretty good, and its popularity skyrocketed with the launch of an imaginative advertising campaign featuring a mischievous Sasquatch and an earnest, befuddled park ranger.
Around the winter world, the association between beer and skiers is long and strong. And until a few decades ago, beer sales in B.C., as in most Canadian provinces, were dominated by Molson-Coors and InBev's Labatt and Budweiser. Their breweries are massive industrial facilities that churn out beer according to a strict recipe. Lighter lagers and pilsners dominate: Canadian, Blue, Bud and Coors Light. Craft beer is another game entirely, brewed by small-batch producers who command a premium price for beers that are handmade (hence the "craft" label) right on site. And in many ski towns and ski resorts, the association between a local beer and skiers is strong. Whether you ski to the door of your hotel, condo, pub or sunny deck in the spring, here's a look at some of our favourite wallop, worthy of extending your day on the slopes.
WHISTLER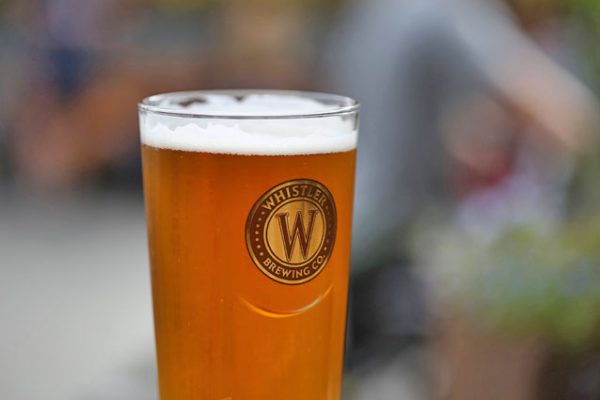 Decades before there was "craft beer" a phenomenon known as "microbreweries" began popping up across the country and in the early '90s Whistler boasted two fine examples of this nascent trend. In Whistler Village the family-friendly High Mountain Brewing Company BrewHouse jumped on the full-bodied IPA bandwagon early in the game. Christened Five Rings to commemorate the upcoming 2010 Winter Games, its IPA took home gold medals as Best IPA in the B.C. Craft Beer Awards in 2012 and 2014. Unlike most craft beers, BrewHouse product is only available on draught in its Village North location, right beside the Olympic rings. South of town in Function Junction, Whistler Brewing Company (est. 1989) beer is available at its expansive tasting room and is even a staple in the beer section of B.C. Liquor Distribution branch stores. Its Black Tusk Ale—named in honour of the striking volcanic plug visible from the top of Whistler Mountain—is truly a B.C. craft beer classic; it's been around since 1989.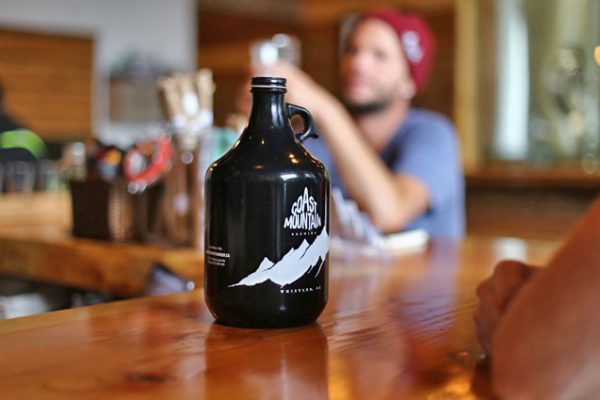 Staying consistent with the mountain theme, Coast Mountain Brewing (also located in Function Junction) has a small tasting room and boasts outstanding examples of vintage Whistler poster art, though you'll have to avail yourself of the gents' room if you want to see it (not sure about the ladies' WC). After your tasting, take a four-pack or two of Powder Mountain Lager tallboys back to the condo with you.
Worth mentioning:  Okay, so technically Squamish isn't a ski resort, but there's wickedly fine backcountry skiing in Garibaldi Provincial Park, the Tantalus Range and Sky Pilot. Aptly named Backcountry Brewing serves up a huge range of limited releases using all sorts of crazy ingredients (Key Lime Pie Sour anyone?), but its Widowmaker IPA is the best seller among the local mountain crowd.
NELSON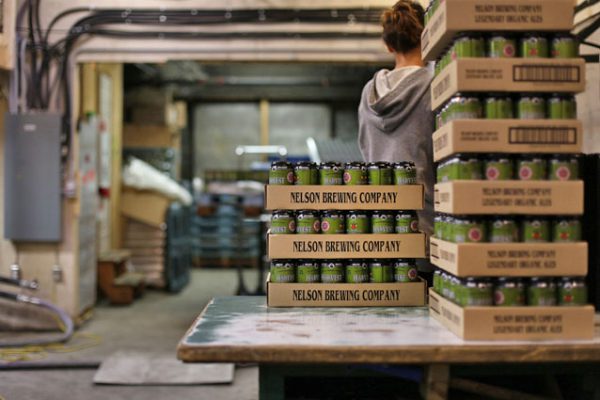 It's hardly surprising that a town known for growing a wide variety of, shall we say, mind-altering substances might have the first certified organic brewery in B.C. Nelson Brewing Company has been around since 1991 and has been certified organic since 2006. Looking for the full-meal deal when it comes to flavour and body? Then NBC's Faceplant Winter Ale is for you. Like most winter brews, Faceplant pours on the flavours—molasses, chocolate and sugar make this one a beer for those bracing winter nights, snuggled down by a crackling fire and reading Burning the Days. Besides, it has the best name in all of craft beer ski-dom.
Former NBC brewmaster Mike Kelly has gone out on his own, and in 2017 he opened up a hole-in-the-wall joint on Baker Street called Backroads Brewing. Yes, it's in a historic brick building. Yes, you're drinking at polished cedar picnic tables. To fit in you might want to grow a ZZ Top beard and sport a trucker's cap.
Why Craft?
• Many beer drinkers think craft beer is all about esoteric ingredients and complex flavours, but most newcomers comment on "freshness," which can be attributed to a lack of preservatives and premium hops, malt and barley.
• You don't need to like beer to drink craft! Flavours vary considerably. "That's not my granddad's beer" is what you might say after tasting Coast Mountain Brewing's Wild Cherry Sour or Fernie Brewing Company's Java the Hut Coffee Milk stout.
• One or two are usually enough. Craft beer is meant to be savoured, which is why "flights" are popular if you're visiting in person. These are tiny tasters in 90 ml or three-ounce glasses that allow guests to try a few beers at once. Note that many craft beers are pretty "boozy," as they say, with alcohol by volume (ABV) percentages as high as 10 per cent.
FERNIE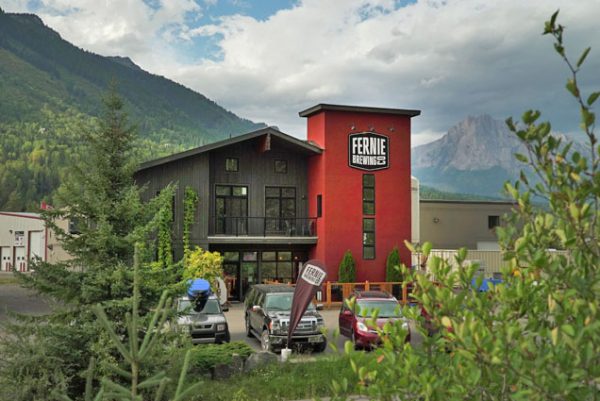 You've got to hand it to Fernie Brewing Company, it's definitely media-savvy when it comes to marketing. FBC is currently tapping into the influence (not to mention the Instagram accounts) of eight adventure addicts from Vancouver Island to Vernon to Canmore. Check out Team FBC on ferniebrewing.com. Beers here run the full gamut, from the fruity What the Huck Huckleberry Ale to the jacked-up Snowblind Belgian IPA, an unfiltered brew that weighs in at almost eight per cent alcohol. There's way more to FBC than just good vibes and hoppy goodness—this community-minded brewery has given more than $150,000 back into local charities since 2013. Its Tasting Room will be open this winter, but with group sizes less than six.
REVELSTOKE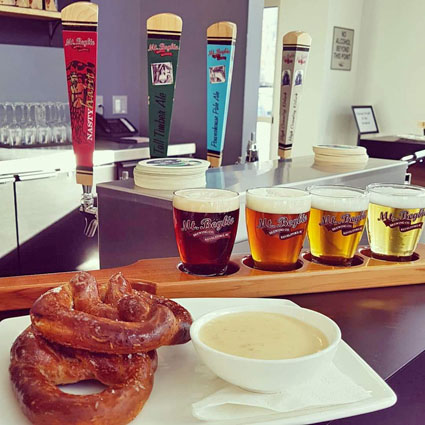 Named after the infamous hanging judge of the 1800s, Mt. Begbie Brewing is one of B.C.'s first-wave craft brewers. Its lineup is as stellar as the skiing at nearby Revelstoke Mountain Resort. The brand's products draw from a strong connection with living an adventurous mountain life (Marketing Director Darryl Shewchuk once worked for Island Lake Lodge and Mica Heli Skiing), and it even made a specialty Thigh Burner Pilsner to commemorate the 10th anniversary of the resort. Visit the Revy location and pick up the Bundle of Joy mixer 12-pack, which includes three Kolsch, IPA, Honey Lager and your basic Tall Timber Pale Ale.
GOLDEN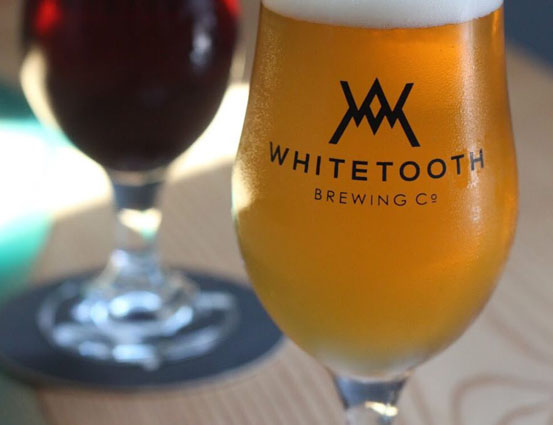 Before there was Kicking Horse Mountain Resort, there was an utterly unpretentious, town-owned local's favourite, Whitetooth Ski Area. That name lives on in Golden with the Whitetooth Brewing Co., located in a funky li'l warehouse just a short walk from downtown. Its label art is some of the best in the business as are the unique names; dig that Blower Pow India Pale Ale and Thread the Needle Witbier (that's German for wheat beer). You might even see fifty-something telemark goddess Paula Steinheber holding court!
KIMBERLEY
Clever slogans are as much a part of beer marketing as the amber nectar itself. "An honest beer makes its own friends," as founder John Molson apparently said. In Kimberley, Over Time Beer Works promises an "honest, modest, hard-working beer, more than a bit above average." We're not sure if Over Time refers to an extra period of hockey, an extra shift at work or a measured length of time; it could mean all three. Either way, it's worth checking out; 48 five-star reviews on Google can't be wrong. Over Time's Mountain Standard Ale is described as its "beeriest" of beers, which means that it will likely be preferred by friends who roll their eyes when you order Kolsch or Dunkel. Check your pretentiousness at the door.
SEE B.C. THROUGH BEER GOGGLES
It's going to take more than one road trip to visit the almost 200 members in the B.C. Craft Beer Guild. To make it easier, its marketing department has created 19 B.C. Ale Trails, regional itineraries that lead you to some of the best-tasting beers in the world—most of them in the shadow of magnificent mountain ranges. Its entertaining website features B.C. beer trivia, culture, stories and great travel ideas. Hell, who cares if it snows or not?

As for the Powder Highway, well that's tourism marketing at its finest. Now it even has its own beer, as brewmakers from no fewer than four Kootenay craft brewers (Fernie, Mt. Begbie, Nelson and Whitetooth) collaborate (or co-lab, as the hipsters call it) on "a Dark Saison style of beer that features a blend of seven specialty malts, naked oats, smoked malt and European hops."

from December/January 2021 issue

Tags: Backcountry Brewing, Coast Mountain Brewing, craft beer, Fernie Brewing Co, Mt. Begbie Brewing, Nelson Brewing Co, Over Time Beer Works, Whistler Brewing Co, Whitetooth Brewing Co