Reading Time:
3
minutes
7 Moves to Help Prevent Injury
by MARCY VERBURG Photos Wally Stemberger
This issue's skier-workout continues to focus on injury prevention by improving joint stability. It also helps to condition the body to better withstand the forces of our sport, conserve energy, and leave you with less muscle soreness and more stamina. Complete the workout as a circuit 1-2 times (beginner) and 3 times (experienced). Warm up before starting.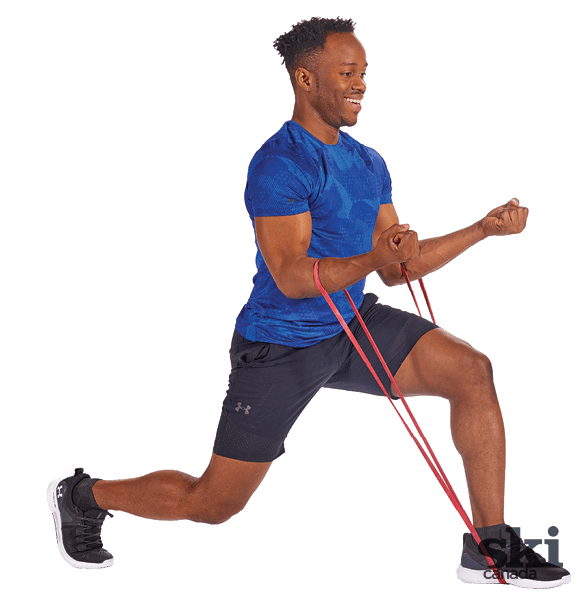 1. LUNGE WITH A BAND
Take a long resistance band and place it under one foot, looping the two ends of the band over your elbows, palms facing up. Step backwards into a split squat position, keeping the resistance on the band. Lunge down, driving your weight into the heel. Keeping the split squat, return to standing. Repeat 10 times per leg. 2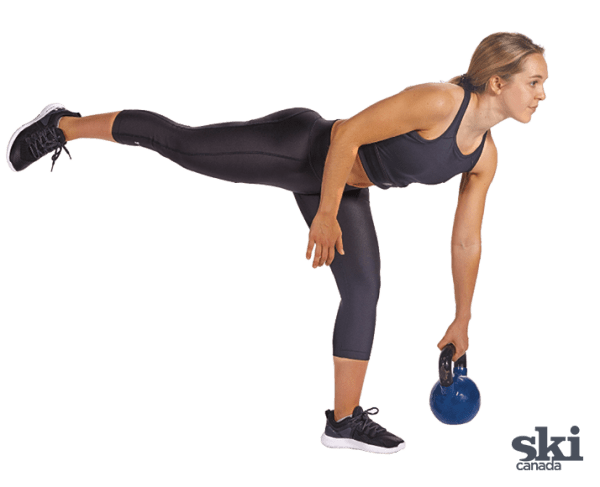 2. SINGLE LEG DEADLIFTS
Hold a dumbbell or kettlebell in one hand and, starting with your feet hip-width apart, hinge at the hip bringing the torso forward and down and one leg up and back. Keep hips and shoulders squared. With a strong standing leg and tight core, return to standing. Repeat 8-12 times per leg.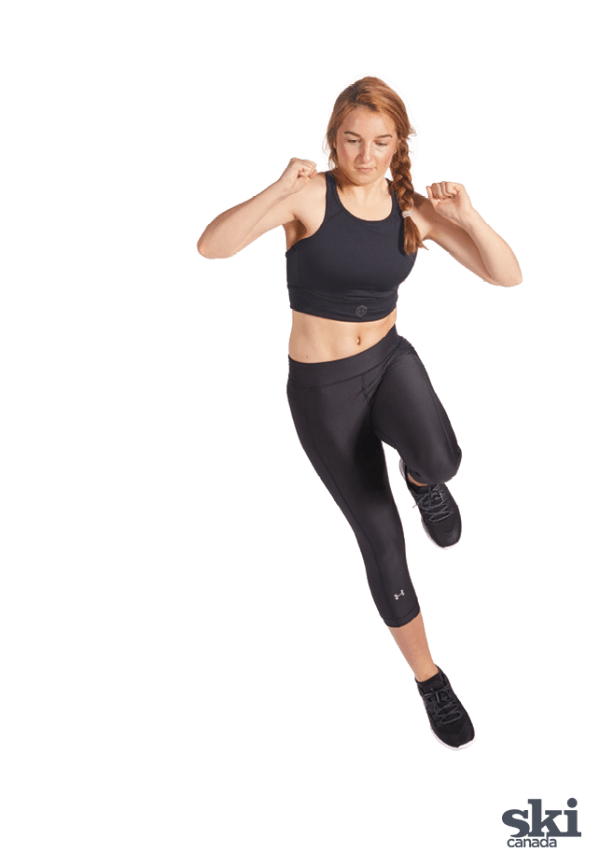 3. ONE-LEG ZIGZAG JUMPS
Start by standing on one leg. Picture a "Z" on the floor. On one foot, jump across the top of the Z, then down the Z and across in the other direction forming a zigzag motion. Do 5-10 zigzag jumps per leg.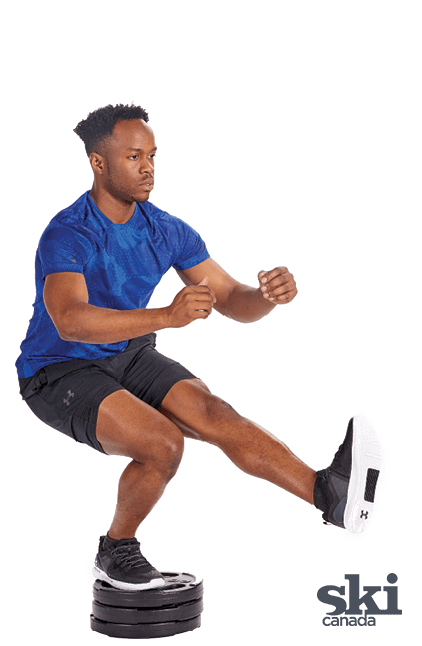 4. PLATE PISTOL SQUAT
Start with 3 or 4 plates stacked on the floor. Stand on one foot on top of the plates. Push hips backwards, "sitting down" while keeping one leg in front with a flexed foot. The plates will decrease the depth you need to squat and train you to go lower. It takes practice and progress to get to a full pistol squat. Do 5-10 reps per leg.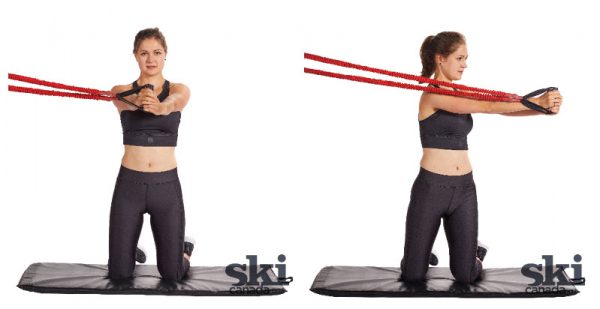 5. PALLOF PRESS WITH ROTATION
Use a resistance band or cable machine. Start in a kneeling position with the band about shoulder height. Knees should be hip-width apart. Grab the handles in front of your chest, then extend your arms and rotate away from the pulley, twisting your torso for a quarter rotation. Return to neutral and bring the handles back to your chest. Keep the core engaged. That's one rep. Do 8-12 per side.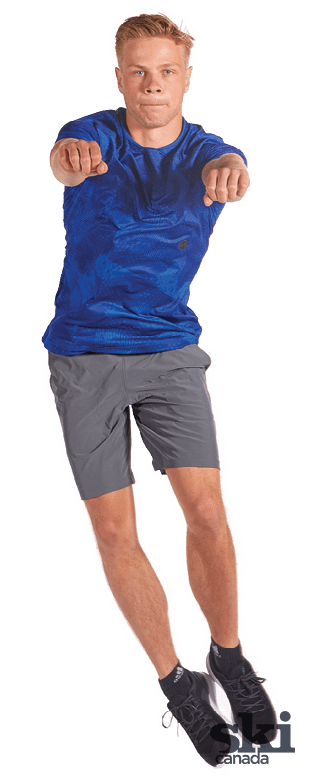 6. SKI JUMPERS
Begin by standing with feet hip-width apart. Lower into a semi-squat position and jump laterally, landing on both feet. Focus on deceleration and landing softly. To make it harder, jump over a box or bench. Do about 10-16 reps.
7. PLANK TO PUSH-UP
Start on the floor in a raised plank position with your arms extended and head in a neutral position, core strong and tight. Lower onto your left forearm, then the right. Then straighten each arm to return to a high plank position. Do about 6-10 reps per side.

SPECIAL thanks to:
Models: John, Emma, Daniel, Heather, Nick, Sophie and Malachai
Marcy Verburg: Fitness and Nutrition Coach, Snap Fitness 24/7, Toronto. Snap offers Ski Ready classes.