Reading Time:
4
minutes
BY MARCY VERBURG Photos Wally Stemberger
Many of us do little or no dryland training in the off-season, which can result in muscle soreness, fatigue and injury, or just make our first few days on-slope unpleasant. But this can be remedied. Skiing isn't like any other sport; you need to train for it specifically. Whatever your skill level or age, your program must include exercises that ready your body for the demands of the hill.
This workout is designed to help strengthen and stabilize the knees, improve balance, increase core strength and train the anaerobic system. Perform these exercises as a circuit. Beginners start 1-2 sets; intermediates and up, 3 sets.
1
TRIPLE LUNGE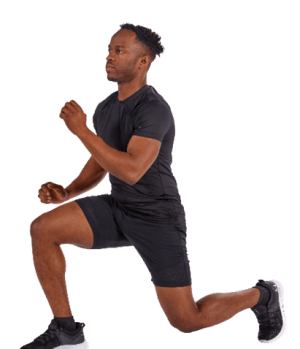 Begin in a standing position. Raise one foot and drive into a forward lunge. Return to standing. Drive the same foot to a side lunge. Return to standing. Drive the same foot to a rear lunge. Return to standing. Repeat 10 times on the same leg then do the rotation 10 times on the other foot.
2
LATERAL BAND WALK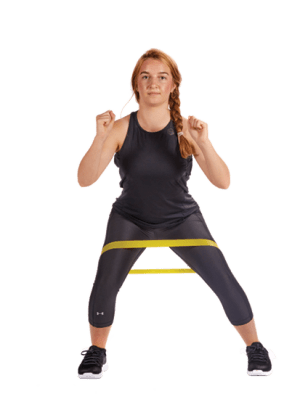 With a mini-band around the thighs, push your hips back and lower to a squat position. Staying low, step sideways with the right foot then bring your feet together. Continue stepping sideways 4 times. Repeat to the left. Be sure to drive the knees out and resist the band. Do 8-10 in each direction.
3
TOUCH DOWNS
Stack about 3 plates on the floor. Start by standing with one foot on the plates. Keep your weight on the plates as you bend your knee to lower the other foot to the floor, tapping the heel. Return to standing. As you gain strength, add more plates. Repeat 10 times per side.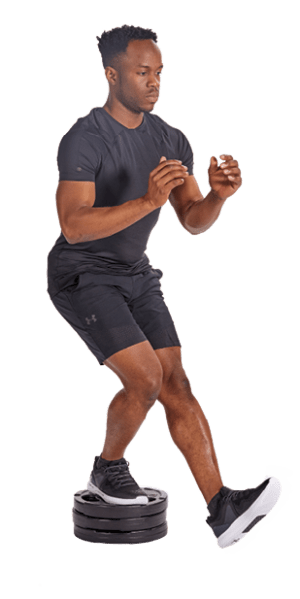 4
NORDIC HAMSTRING CURL WITH PARTNER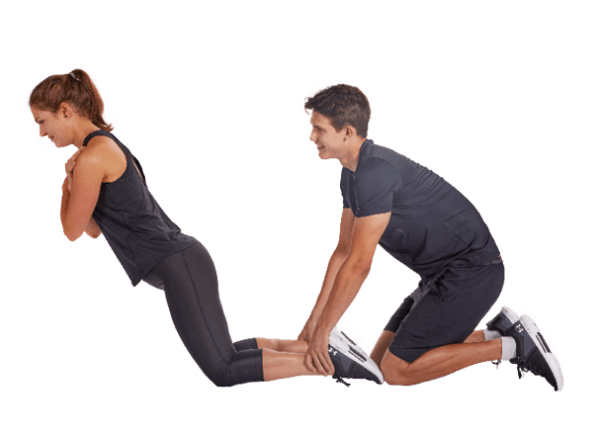 Start with one partner kneeling and the other holding his or her ankles. The partner in front leans forward keeping the body straight, core engaged, and not bending at the waist. If you are new to the move, lean only to where you feel tension in the hamstrings. As you advance, work toward leaning to 30 cm from the ground. Hold for a few seconds and return to perpendicular. Repeat 6-8 times.
5
CROSS JUMPS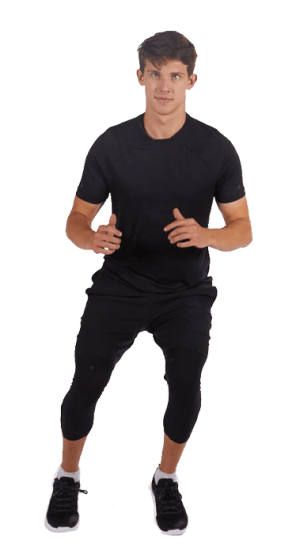 Stand with your feet hip-width apart. Picture a "cross" on the floor. Bend your knees and jump half a metre forward, backwards, sideways and diagonally. It's important to focus on a powerful jump up and a soft landing on the balls of your feet. Do 5-10 series of jumps.
6
PLANK HOLD WITH LEG LIFT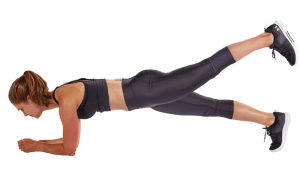 In a plank position on your elbows and balls of the feet, lift one leg and hold for 5-10 seconds. Keep your torso pulled up, not allowing your back to sag downward. (Picture a straight line from the ear to the ankle.) Repeat 4-8 times per leg.
7
GLUTE BRIDGE WITH BAND AND ALTERNATING LEG LIFTS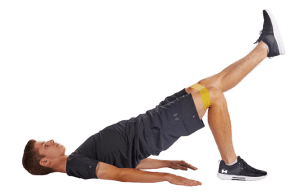 Lying on the floor, place a mini-band around your thighs just above the knees. With your arms, upper body and feet on the floor, push your hips toward the ceiling. Keep a strong torso as you extend one leg. Bring your leg back in and lower hips. Repeat using other leg. Do 10 reps.
8
BAND OVERHEAD PRESS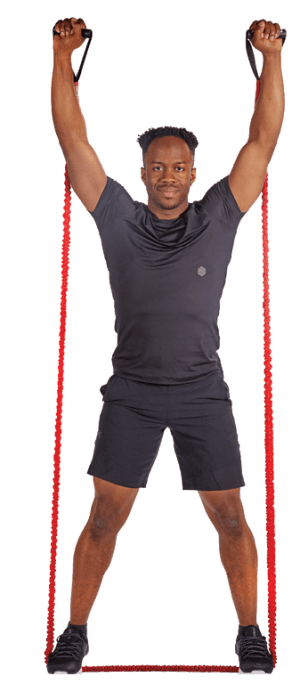 In a standing position place a resistance band under your feet with hips shoulder-width apart. Start by holding the band at hip level, then curl your arms and push the band above your head. Bring arms back to hip height. Repeat 8-10 times.
SPECIAL thanks to: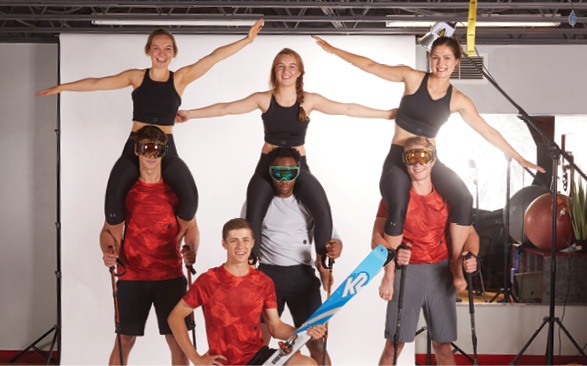 Models: Heather, Sophie, Emma, Danny, John, Nick and Malachai
Marcy Verburg: Fitness and Nutrition Coach, Snap Fitness 24/7, Toronto. Snap offers Ski Ready classes.