---
Skier cross has a strange and storied history in not only the sport of skiing, but in the evolution of skiing itself. The dark roots of skier cross involve nothing more or less than corralling your so-called friends (of all ages), heading to the pinnacle of your local hill and pointing it down in a no-holds-barred race to the bottom.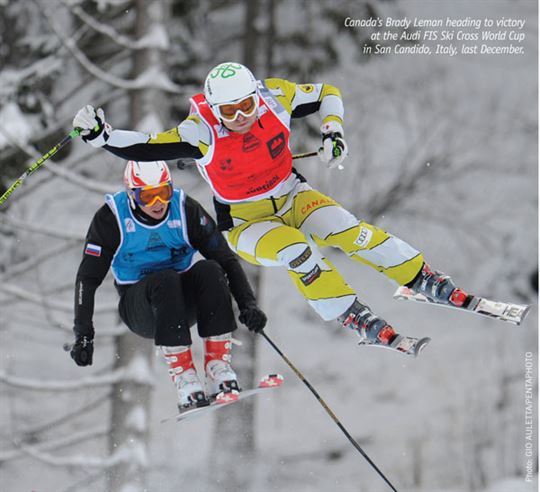 For some time now, this so-called improvised sport with the politically incorrect term of "Chinese Downhill"  has had mountain safety teams across the world waving their arms like crazed windmills in a vain effort to try and stop the madness. And perhaps for good reason: if you're doing it properly and launching from the steeps, straightlining a spring-littered couloir and jetting out the ice-rutted groomers into spring slush to the bikini scene, it's insane and somewhat dangerous—which is to say, it encapsulates something of the intangible reason we all love to go skiing. It also sounds uniquely Canadian, with our long winters and even longer mountains.
Skier cross (or X-cross, as it was deemed in the radical 90s) first came to be at the X Games n 1997. Legendary (and wacky) freeskier Shane McConkey claimed 2nd place in 1999, proving that guts-and-nuts alone could claim a podium place. Indeed, one could muse that the X Games transformed one of the offhand pastimes of Squaw Valley—where Chinese Downhill was a point- earning part of the game of G.N.A.R. —into a somewhat organized endeavour. Organization made the chaos of the on-piste downhill into a so-called sport. Unlike the raw deal, you now had to remain inside some kind of course, though, otherwise all bets were off.
Now, according to official history, skier cross was inspired by motocross, but I think most skiers know better. Racing alongside your chumps to become the daily bar champ is as old as eight-foot wooden planks and single staffs —say about 6,000 years, which dates the oldest-known evidence of skiing in modern-day Norway, when two skiing buddies decided to see who could whip down first to molest the reindeer, with the loser buying the mead.
In 2003, skier cross was rebranded ski cross , and incorporated by the FIS under "acrobatic skiing. " This circus designation is for reasons entirely unknown, and has undoubtedly to do with the FIS still being unable to get a handle on anything vaguely New School or freesking related —for there are no acrobatics in ski cross. There's just 1,200 metres of 15 per cent gradient with jumps, bumps and banks to kick our bruised body about. In short, it's a slicker approximation of the usual chunder and iceblocks found on a severely abused groomer, with curves thrown in to mimic dodging the snakes of snowplowing ski school kids.
Ski cross is kind of like mid-air rugby. As competitors fly down the tight, race-car- like course, skidding hard through sharp turns, powering off rollers and launching off berms, they not only have to keep on course but fight off the other racers. It's the closest skiing has come to gladiatorial battle; if this were Roman times, poles would have pikes and the blood would fly, like a discontented winter version of the chariot race in Ben Hur.
All of this is to explain why ski cross racers not only have the monster thighs of their downhill, gate-crashing cousins, but are generally tough-as-nails and built like a brick, er, icehouse. One hundred per cent iron meat, as they say. It should come as no surprise that London, Ontario, native and Alpine Canada team member Dave Duncan played the amoral sport of rugby at the club level. Indeed, almost all the men's (and women's) competitors in Canada's immensely strong ski cross team have suffered injuries of near career-ending variety. All of them have fought back to win medals. In short, Canada dominates ski cross.
Brady Leman, who hails from Calgary, used to ace alpine before switching over to ski cross in 2008. Since then he has broken his leg some three times—including injury at Vancouver 2010—before claiming 2nd overall in the 2011-12 season. One has to wonder what they feed these bulldogs. Chris Del Bosco, reigning world champion and now infamous for crashing into 4th place at the 2010 Olympics after refusing to settle for bronze, spends his summers racing mountain bikes—at the World Cup level. Twenty-two-year-old newcomer Tristan Tafel has scrabbled back from a soul-crushing leg injury at age 17 to win the Canadian Championship title in 2012. Either ski cross inspires racers to heal fast, or those who enter ski cross are made out of some strong stuff indeed.
On the women's side, Whistler's Ashleigh McIvor made history as the first Olympic gold medallist in the sport in 2010. Sidelined since with an injury (though we look forward to her comeback story, too), her teammate and Whistler cohort Marielle Thompson claimed the World Cup Crystal Globe in 2012. That's 1st place overall— which means she doesn't have to buy her beer for an entire season. Luckily, she's now 20 and can get into the bar. Kelowna's Kelsey Serwa is another ex-racer, and managed to claim World Championship gold in 2010 just a week after injuring her back, thumb and ribs after crashing her way to victory at the 2011 X Games. She's now on the recovery road from a knee injury, but given her track record, this probably means she'll be fighting her own teammates for top shelf. This includes Danielle Poleschuk, the veteran of the team, who is recovering from yet another leg injury.
So if you're seeking something different, and burlier, to keep an eye on, it should be the men's and women's teams of Canada's ski cross—because they are going to go down cold and screaming. Expect a few podium fires in the fight for world domination. Be not afraid of broken bones. They will mend. Glory is forever. ❄
Was Ski Cross a bad idea right from the start? Next issue, Steven Threndyle reports on the investigation into the sport's safety following the Nik Zoricic tragedy.
---
Tags: Ashleigh McIvo, Brady Leman, Chinese Downhill, Chris Del Bosco, Danielle Poleschuk, Dave Duncan, FIS, Kelsey Serwa, Marielle Thompson, New School, Shane McConkey, ski cross, skier cross, Tristan Tafel, X-cross, X-Games