---
Steven Threndyle examines what's been done to ensure the safety of Ski Cross athletes since the tragic death of Nik Zoricic.
 Taking a tragic fall on a dangerous racecourse is not how you want to make a name for yourself on the World Cup circuit. When veteran Canadian Ski Cross competitor Nik Zoricic crashed last March in Grindelwald, Switzerland, he sent more than one journalist thumbing through the press guide hunting for biographical information.
Launching over the final jump within sight of the finish line, Zoricic's trajectory took him off course and into a rock-hard, unprotected snowbank—concussing with such impact that he died instantly.
Like many ski-crossers, Zoricic started out as an alpine racer—his career guided, in fact, by his father Bebe, a coach with Ontario's Craigleith Ski Club. He was a bit of a late bloomer, too. Though he'd made the transition to Ski Cross in 2008, Zoricic's best results came in the 2011-12 season, when he finished 5th overall and contributed greatly to Canada winning the Nations' Cup as the number-one Ski Cross team on the World Cup circuit. At 29, his results were definitely on the rise; but then again, this was a guy who, at one of his first events, had competed in blue jeans.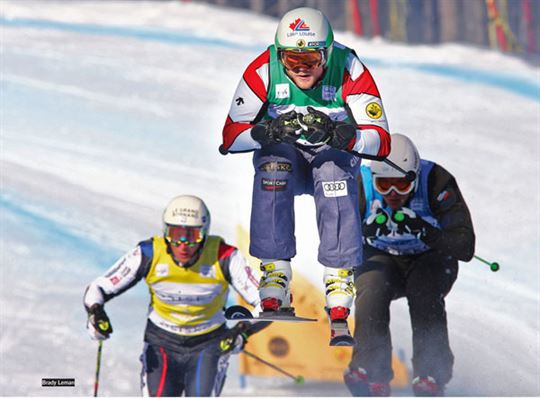 Zoricic's accident set in motion a chain of events that had course organizers and safety officers in Canada and Europe re-assessing the sport's risk levels. Several weeks after the death of their son, the Zoricic family called a press conference chaired by Tim Danson, one of Canada's foremost legal minds, who replayed a horrific slow-motion video of the crash. Danson's considered legal opinion was that the combination of a misaligned jump and the misplaced ice mound were major factors in Nik's death. The high-priced Danson has been working pro bono for the Zoricic family since the tragedy occurred; he is a member of the same Craigleith Ski Club where Nik's father remains a coach.
While this was the first-ever fatality recorded at a World Cup Ski Cross competition, many are saying injuries are all too frequent in this red-haired stepchild of a sport that has always had an uphill battle in gaining respect within the ski racing fraternity. Much of this has to do with the sport's origins and its curious path and eventual inclusion on the World Cup circuit in the first place.
Ski Cross started out as a two-plank version of snowboard cross—an early form of snowboard competition that, instead of borrowing from alpine-style GS racing, put four racers dicing side by side on the snow-cat-sculpted version of a motocross track. Snowboard cross originated as a regional circuit in Canada, but really took off when it was adapted for ESPN's X-Games. Early comps were wild and woolly affairs, and many spectators came out just to watch the multi-body pileups. A skiing version was added in 2004 with heavy involvement from companies such as Atomic and Salomon—the latter organizing its own circuit in Europe.
At this point, no one had actually risen "through the ranks of Ski Cross"—the vast majority of competitors started by competing in traditional alpine disciplines like Super-G, Giant Slalom or Downhill—singular races "against the clock" where only one person is on the course at any given time.
With the possible exception of U.S. ski racer Daron Rahlves (who took a spectacular wipeout during the 2010 Winter Games on the Cypress Mountain course), very few top-seeded World Cup alpine athletes have chosen to make the transition to Ski Cross. What usually happens is that alpine racers either retire voluntarily or get dropped from the squad due to poor results. Wanting to put those years of training and skill to good use, they turn to Ski Cross to win some glory and revive flagging careers. Canadian women skiers like Julia Murray, Kelsey Serwa and Georgia Simmerling had middling results on the World Cup alpine circuit, but were hugely successful in Ski Cross.
However, even among successful competitors, the toll from injuries to top performers has been high. Competitors don't retire due to burnout; they simply can't handle the injuries. Ashleigh McIvor, the first female Olympic gold medallist in the sport when Ski Cross made its debut at the 2010 Vancouver Games, announced her retirement from the Canadian team in November. The 29-year-old World Champion and World Cup winner suffered a serious knee injury in 2011 that factored into her decision to retire. Says McIvor, "My knee is still on the mend and I would be trying to push it to get results this season… I've decided that it's more important to me to be able to ski recreationally—now and for the rest of my life."
One long-time industry observer (who spoke to Ski Canada on condition of anonymity) said, "When Ski Cross was accepted by the FIS and the International Olympic Committee, the guys at FIS who run the alpine races didn't want it. They didn't respect the sport, and thought it was bogus, a scheme cooked up to make ski racing look like the X-Games. So FIS handed it off to their freestyle organizers, who, of course, had been doing safety on aerial and mogul courses for years.
"But Ski Cross is a very different sport—in Ski Cross racers go across the hill in a downhill/horizontal direction as well as a downhill/vertical direction. If you look at freestyle aerial and mogul courses, they are very small and linear because the direction of the fall line is aligned vertically. Ski Cross, like, say, Giant Slalom racing or Super-G, goes all over the mountain. The netting system is far safer for even the alpine speed events of Super-G and Downhill than it is for Ski Cross. The real issue with Ski Cross is that safety regulators need to have alpine safety certification and build courses to that level of safety."
"To the lay person, it would look like the course Zoricic was skiing was safe; there was some netting, but what we call the spill zone was negligible."
He was the first to admit that "to the lay person, it would look like the course Zoricic was skiing was safe; there was some netting, but what we call the spill zone was negligible." If you watch a slow-motion video analysis of Zoricic's tragic final seconds, it's obvious that whatever fencing had been erected provided no protection whatsoever from a frozen mound that should not have been there in the first place. The blue dye used to mark the direction of the course is clearly nowhere near the actual line taken by the racers.
Our source was also quick at defending and pointed out that he was "very pro-Ski Cross. It's been around for at least 10 years now and has proven its legitimacy. Fans and sponsors like it, there are even a few small-scale recreational Ski Cross courses that are open to the general public and that many skiers enjoy. I know from experience that my kids—both of whom race—as well as their friends love to try the Ski Cross course. It's the perfect sport for their hormones and temperament, and Canadians do quite well at it. They just have to do something about the safety."
Canada has been at the forefront of Ski Cross safety, and has adopted numerous measures since the Zoricic accident to ensure safety, to ease concerns by both competitors and their parents. It's worth noting that Ski Cross falls under the Alpine Canada (ACA) safety regulations in Canada, but is still largely governed by freestyle federations in Europe.
ACA's Max Gartner says there are significant cultural differences between how the sport is viewed in North America vs. Europe. "There is far more prestige in being a top-15 ski racer in the Alpine countries than there is in being a Ski Cross champion," he says. "It's an evolving sport. But right now it doesn't get the television audience and sponsor money that World Cup [alpine ski racing] does." Gartner expects this attitude could change. "The Germans, for one, are taking it very seriously. The shorter length of the courses opens the sport up to competitions on smaller hills. It's certainly attractive from a spectator point of view."
Dave Duncan is a former Canadian Ski Cross team member who said that over the course of his career, there were definitely times when athletes questioned the safety of the course. "Sometimes changes were made, sometimes they weren't. [There wasn't always] enough time being invested in the course-testing phase. On the day of the event, you might have bleachers, spectators and other obstructions that hadn't been there during the practice days."
From an athlete's perspective, while Duncan mourns the loss of his former teammate, he sees a very bright future for the sport. "If you go to any resort where young racers are training, the first thing they want to do after practice is hit the Ski Cross course. Maybe you're just racing each other for candy, but there's an instant gratification to racing side by side, jostling in the corners and crossing the finish line ahead of your buddies."
Gartner told Ski Canada that "there have been accidents over the years in downhill events and sometimes we don't see the problem until afterwards." Gartner reiterated that "the safety of our athletes is our number-one priority, and one of the key recommendations to come out of the second annual Ski Racing Safety Summit was the need to be a leader in safety both domestically and on the world stage. Safety is not just a tag line for us—we intend to walk the talk and make it part of our DNA." Indeed, Zoricic's father, Bebe, was part of the committee that produced the report.
Among the key changes was the appointment of Ted Savage, the International Ski Federation's (FIS) technical delegate commissioner for Canada, as a national safety consultant. Savage will help develop a safety strategy and co-ordinate safety initiatives in alpine, para-alpine and Ski Cross, as well as lead calls for change nationally and internationally.
ACA already employs race quality and safety co-ordinators for each of the individual race disciplines; Savage's new role will help to bring together those staff and other experts in the field.
In an ACA press release, Savage said: "We can't ignore our responsibilities in terms of responding to the obvious challenges of recent events. We need to build on Canada's ability to influence the rest of the world in skiing. We've always been leaders in both performance and event execution. Safety is first and foremost a result of partnership with all stakeholders."
One strategy will be to "implement a pathway protocol for the safe integration of Ski Cross racing skills." In other words, ACA coaches and athletes will develop skills specific to Ski Cross, rather than simply adapting existing alpine technique in the banked turns and jumps.
Gartner said he was delighted Bebe was able to play such a key role in the Safety Summit and he looks forward to continuing to work with the Zoricic family.
"On a personal note, these changes would bring peace to our family and I'm sure Nik would be happy to see these changes."
"My hope was to raise awareness about safety in Ski Cross—and that happened at the summit—and to present a united front to push for change internationally for athlete safety," said Bebe. "Canada will lead by example and other nations will follow. If changes are applied it will reassure parents, supporters and the ski community that Ski Cross is safe and is well on the way to becoming a leading ski sport. On a personal note, these changes would bring peace to our family and I'm sure Nik would be happy to see these changes."
While researching this story in November, FIS announced that new recommendations to improve Ski Cross safety would be implemented on the World Cup circuit. According to FIS, "The Ski Cross Working Group members come from Ski Cross, alpine skiing and snowboard cross and they have reviewed the homologation process, approved the course building manual, the list of official Ski Cross builders to construct courses and the work being done to further educate the technical delegates.
"A full-time FIS assistant race director for Ski Cross, Joel Franitch—a qualified alpine, freestyle and snowboard technical director—has been appointed and technical advisors will assist the organizers with their preparations and safety aspects. Additionally, all World Cup and World Championship courses have been inspected with detailed course maps, profiles and descriptions prepared for each course and the course tester program started two years ago has evolved, with qualified testers from recently retired athletes assigned to the competitions."
Reached shortly after the FIS press release, Bebe Zoricic was unimpresed. The family never received more than a cursory couple of emails from FIS expressing group sympathy.
We'll probably never hear a Swiss-based athletic organization admit that it might be wrong about, well, anything. But for now, the Zoricic family have called off the high-priced Toronto lawyers. Though FIS spokespersons deny that Canada took the lead on the Ski Cross Working Group, the similarity between the measures FIS adopted and that Canada suggested are clear. For once, Canada spoke, and the world listened.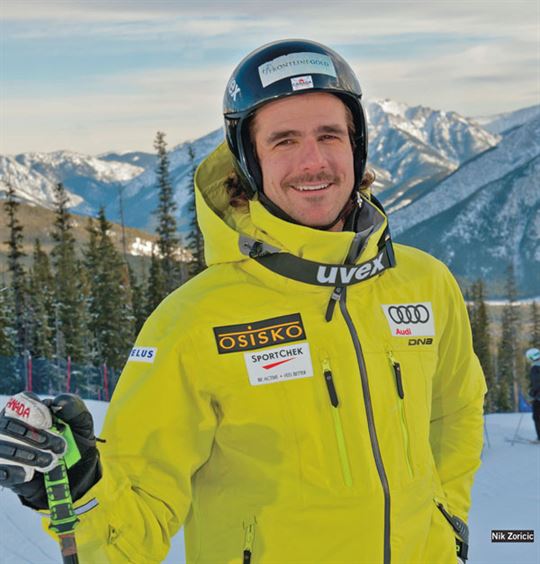 ---
Tags: Atomic, Bebe Zoricic, Craigleith Ski Club, Dave Duncan, Europe, FIS, freestyle, Grindelwald, Max Gartner, Nik Zoricic, Salomon, ski cross, Ski Racing Safety Summit, snowboard cross, Switzerland, Ted Savage, X-Games