Ski Canada @ 50 – 50 Years of Equipment Evolution
---
Former Ski Canada technical editor Martin Olson of Golden, B.C., takes a nostalgic look back at some of the gear that made us ski better and safer.
I cringe when I routinely see people kicking their bindings to clear snow off their boots. People would give bindings more respect if they thought about how far they've come in 50 years. Think back to bindings like the Tyrolia Clix 90. State of the art then, but they were made from stamped metal with exposed parts that sometimes broke off. They had sharp ridges that dug into notches in the toe of your boot sole. This was actually part of the design to keep your boots in place. It was trendy to mix bindings, for example, pair a Look toepiece and Marker heelpiece.
Then along came Look and the N77 in 1975 with that sleek, enclosed piston heelpiece and properly adjustable elasticity. That was the dawning of the space age for bindings.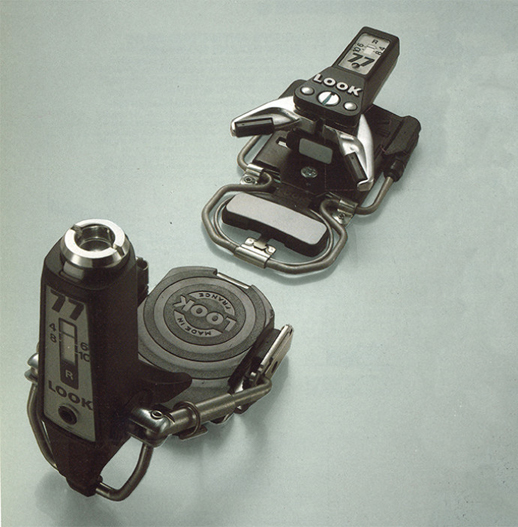 We have step-in bindings now. Think about that. But there was a time when it was a major procedure to get your skis on. I remember working at Lake Louise and wanting to go in for a break. I'd have to bend down to my Marker Long Thong bindings and unwrap about six feet of leather strap from around my ankles. Then I'd have to do it all up again when it was time to go back out.
People forget that those safety straps prevented runaway skis. Great, but they kept loose skis flapping all over the place, including right around your head when you fell. The injuries were too many to count. That's when we could have really used helmets.
Clothing has improved so much. It's now waterproof, windproof, lightweight, breathable and warm—all at once. Fifty years ago you were lucky to get one of those features at a time. Snow would cling like glue to my Anba of Austria jacket. Of course, the clinging problem went away when the "wet look" came along from designer David S. Reid and others. Nothing stuck to that, which became a problem in itself. When you fell on a ski hill, you didn't stop. People got hurt. A Japanese skier died at Norquay because he just couldn't stop when he fell. Slippery pants almost sent me right off a snowy chairlift with no safety bar at Lake Louise once. I was leaning forward a little to adjust my boot when the chair stopped. Some places wouldn't let you on the chair while wearing that clothing because it was too dangerous.

One of my favourite all-time skis came out in 1974, the Völkl Renntiger. It was a time when skiing was growing and there was more appetite for innovation. Things cooled off a bit after 1980 from an innovation point of view, but snowboarding eventually came along and had a definite effect on skis, too. I remember looking down from a chairlift and seeing a hard-booted snowboarder laying down tracks that skiers just couldn't do. Skis didn't have sidecut then and couldn't generate the force. Ski design had been moving in that direction, but only slowly, until snowboarding gave it a push. Remember, Salomon was making snowboards too, so there would have been cross-pollination.

Still, the speed at which ski design changed took everyone by surprise. Atomic and Rossignol thought shaped skis would stay a niche market. I remember being at Whistler and hearing a futurist guru talking about things to be ready for in the ski industry. He said the shaped skis that were turning heads would establish themselves in the market but it would take 20 years for things to really switch over. Well, it took about two years. Designers initially had some trouble maintaining torsional rigidity in the wide tip and tail, but as soon as they figured that out, the teeter-totter tipped and no one looked back.

50th, David S. Reid, Look N77, Ski Canada @ 50, Tyrolia Clix, Volkl Renntiger