Reading Time:
3
minutes
"It's good to be king," Tom Petty used to sing. These words are printed on Mikaël Kingsbury's lucky T-shirt that he's worn for every competition since 2010.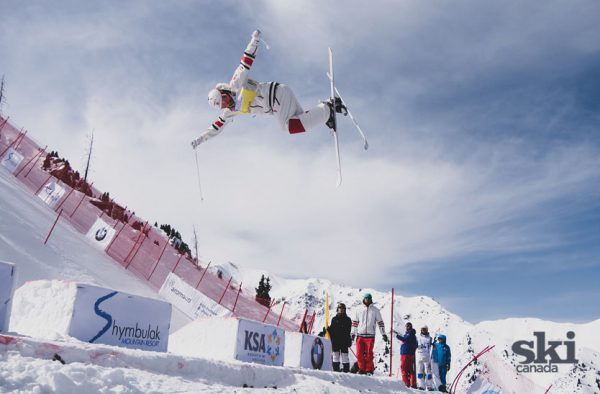 Kingsbury is officially the most accomplished mogul skier of all time. His dream started with the Freestyle Ski Team at Saint-Sauveur when he was eight years old. Today, the 27-year-old has already achieved the highest ranking in his sport, including Olympic gold at the 2018 PyeongChang Winter Games. In total, Kingsbury has 56 World Cup victories as of press time, four World Championship titles, 16 Crystal Globes and is the recipient of the Lou Marsh trophy, awarded to Canada's top athlete across all sports by a panel of sports journalists. (In a Tweet, he has since offered it to tennis star Bianca Andreescu.)
Kingsbury spoke with Ski Canada prior to heading out on the World Cup circuit.
Ski Canada: What fires you up now that you've reached all of your goals?
Mikaël Kingsbury: I still love skiing, so I'll keep going as long as I feel competitive. I like to compare the performances of players in their mid-thirties, such as Federer or Nadal. They take care of themselves and are still able to dominate later in their careers. I focus on quality workouts and I take better care of my body, with tune-ups plus a good diet. I now know what formula works for me. I want to extend my career and always be dominant on the circuit. You have to be more disciplined, but I have a lot of fun keeping fit now, because it pays off as I still see my progress from year to year.
SC: You're often invited to red-carpet events and seen as a star by mainstream media. How does that feel?
MK: It's fun to get invited to events like the F1, to get recognized and congratulated by so many people, even from comedians I look up to or others internationally not from our sports world. It's cool to see what skiing has done for me.
SC: How do you deal with the expectations to remain King of the Hill?
MK: I learn to use pressure as fuel. In those intense moments I have skied my best runs. Of course, I look forward to skiing in front of my family and supporters at Tremblant in January, a special event for me on home soil.
SC: We assume Canada is top dog in moguls, for both women and men, but other countries are catching up like Australia, France and Japan. With some top teammates retiring, how do you see your role as the veteran?
MK: We think of the golden era with Jean-Luc Brassard, Pierre-Alexandre Rousseau, Alex Bilodeau, Phil Marquis, Marc-Antoine Gagnon, etc. I'm the last one of the old generation. It's still many years to go for me, but when I do retire from competing, the Canadian team will be strong.
SC: You're probably the only skier who seems to love skiing icy moguls?
MK: Yes, I'm weird that way. [laughs] I love racing in difficult conditions, not because it's more fun but because I know I'll have an edge when everything else goes well. After all, I did learn in these hard conditions. It helps my results.